Another round of my Aesthetic Treatment at Desire@Central~!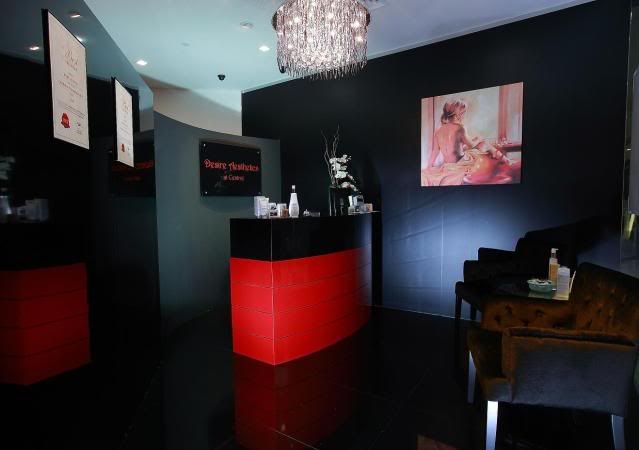 This time they are targeting on my Thighs & Tummy.
WEll...this is going to b a brief entry showcasing just the treatment on Targeted areas.
Photos will also b size down to the minimum in order to lure ur vision away from my V Jay Jay .
So.... how does Thigh treatment works?
Is somewhat similar to my 3G-RF face treatment as posted here:
http://dblchin.blogspot.com/2010/04/desire-central-treatment-i_27.html
Except the tool will b now used on my thigh which have already harbored tons of cellulite.
It aims to break down the fat cells using heat, increase lymphatic drainage & effective treat these cellulite.
Very technical right?
k Lemme explain in that dblchini language:
It means, these tools declare war with your stubborn fats by burning them to death. By using excess heat, your ugly fats will b drain out of ur dimpled thigh & soon to come, ur skin will b firm up almost like Andy Lau the Botox King.
Hope that helps.
The therapist has started working on my thighs.
She gel my upper leg, inorder to reduce less friction. roller coaster ride on my leg Wee~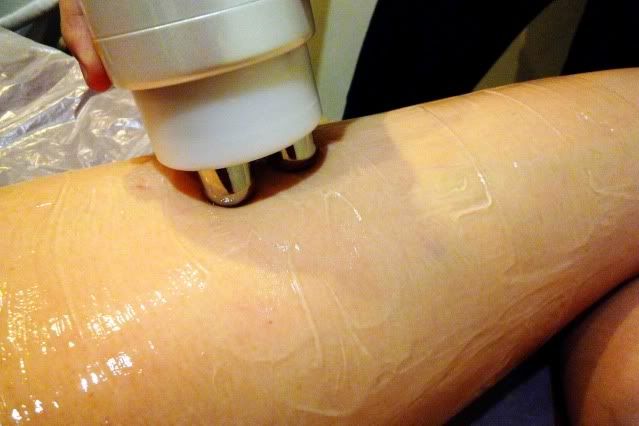 The feel of its pressure is like warm and aching.
Feels totally similar to body massage except this carries heat.
Is not a whole lot of dramatic difference after the treatment but I do feel that my bottom area is slightly Tighter. And a couple of days later I really do notice less cellulite forming but the result is faint definitely. U need a couple of treatments for obvious difference, I'm sure e significant end product will b satisfying after 5 full treatments.
Next~
Tummy 3G-Lipo (Vacuum)
This thing is crazy I tell you....It sucks up the skin real hard & is said to create pressure and destroy the fat cells.
Y do they wana do that?
Because, With this method, the emission of ultrasound on the skin surface produces certain pressure and changes it in e "Oh-so-technical language you wouldn't understand".
Ok nvm,
if my dblchinis insist on reading it, here it goes:
and changes it in the "interstitial fluid of the adipose tissue" , generating microbubbles that implode n burst.
And when it burst, it destroys the unhealthy fat cells.
It is said to b painless but seriously the pain factor is always present in these aesthetical items, Remember no pain, no Gain.
As for me I describe it as 'tolerable uncomfortable pressure'.
Is like Squeezing a piece of wet towel, u know how that feels on ur skin eh?
This Machine will cup over your skin n in a short moment that area covered will kind float up a little.
Pls forgive the minuscule hole over there, is just the impression of my navel piercing.
Another clearer pic.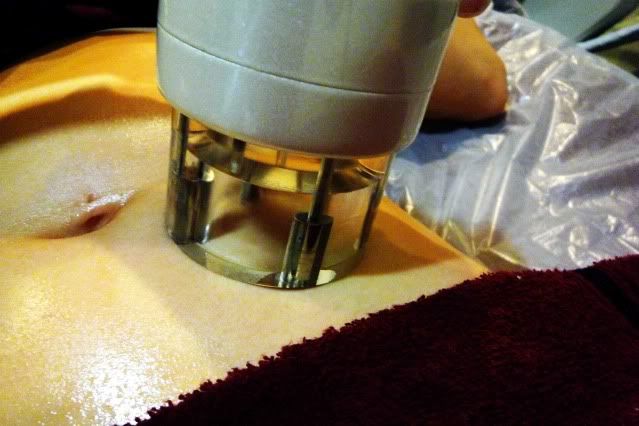 After they are done with this awesome Cum intimidating tool, therapist applied slimming oil over my tummy & thighs.
I get some marks on my tummy due to the suction but it'll go away after time.
I love this slimming oil, it doesn't makes me feel like I'm on fire unlike other slimming products.
Despite the discomfort, I enjoyed the tummy session very much. I love the way how my tummy seemingly looks flatter after that treatment.
But seriously is too early to tell yet, We need a couple more sessions to testify this is really good stuff.
So do stay tune for more exciting aesthetic needs coming ur way!
Oh yes & don't forget to check out the below offers.
Give something great to ur mummy on mother's day alright?
The promotion price :
3. $3,800

(They have installment plans too)


With the additional offer Attached below!!!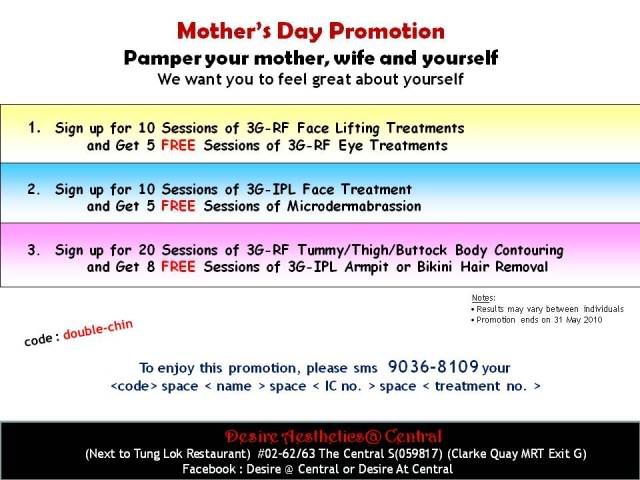 Also do check them out at the following :
Call or visit the following find out more!
6 Eu Tong Sen Street
# 02-62/63
The Central
Singapore 059817
(Above Clake Quay MRT)
Opening Hours:
Tuesday to Sunday 11am-8.30pm
Monday-Closed
Phone: (+65) 62258180
Or
u can contact ROSE Directly at (+65) 90368109
Join their FACEBOOK FANPAGE HERE!

http://www.facebook.com/pages/Desire-Central/113649141988715?ref=ts

And also don't forget the student deal!

TOODLES~!


If you have missed out my previous entries, do check them out here!