Sponsored Advert
Hiya dblchinis~!

Thanks fer reading my blog, appreciated really~
This is my 2nd posting for Desire @ Central as well as the official Beginning of my treatments! yayness right?
If you missed my introduction post, u can
click here
I can't imagine the transformation from dbl to sgl (Single) CHIN IS HAPPENING!!!
Ok enuf said.
Lets get down to that marathon baby~
First off, We have this BIG MACHINE, once again.

&

I had a quick piss before we start the session.

Ok for now lets check out the infamously known Floppy dblchin I have before the treatment.
U c how curvy the chini is? Blardy hell, I wished I can just zap them off like how I zap those photocopying papers. ok whatever.



now U know y I'm called dblchin eh?
(no photoshopping done except lighting)
&
pls don't fight for my rights at all by saying 'Oh, everyone has dblchin more or less'
Coz... I belong to the 'MORE' part & no less.
Enough of the sad sorry case lets catch a glimpse of the treatment. Yaynesss~
starting with Microdermabrasion
a WHOLE LOT of info,DIGEST WHILE U CAN coz
THERE's MORE...
Microdermabrasion is mechanical exfoliation that removes the uppermost layer of dead skin cells from the face, chest, back, arms and hands.
It aid the skin for next treatment such as IPL, vitamin and lotions to be easily penetrated and absorbed by the skin.
U know? Is like vacuuming the floor before mopping them clean.
This treatment is very 'popular' (just like lady gaga n her teacup) during lunch hours. It can b completed in a merely 30 mins. Well... it also depends on how bad ur skin can b....
If is somewhat like this:
Good for u! 20 mins is almost suffice

If is this, still not too bad!
U just need a little dusting n sucking out of those dirt in black pores.

U definitely need to c a PLASTIC SURGEON.
&
of course to get potential results, u definitely gotta do it on a regular basis.

After the procedure, your skin may be slightly pink and if u r a complete camwhore like me, you can put on make-up, and return to your daily activities with no down time.
It treatment ultra friendly for cross-road junctions like these:
• coarse textured skin of face, hands and body
• Enlarged and plugged pores
• Blackheads and other skin blemishes
• Age spots and superficial pigmentation
• Stretch marks and acne scars (may take a longer time)
• diminishes the appearance of fine lines and wrinkles
Ok lets start with Microdermabrasion on my face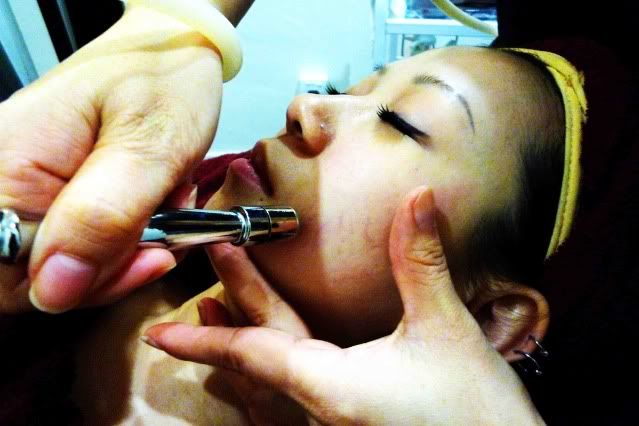 It feels like a mini suction taking away all the debris.
The pressure is always well tested on my hand before landing the tool directly on the face.
Mine last approx 20mins, although I do not have major congestion but I somehow do have a problem with blackheads & THIS is extremely helpful.
I love it can!
many molehills are now flat ground.
N Now for my eye area...
Notice that the suction is somewhat different?
Because the eye is a much more delicate area than other parts of my face, thus suction use has to b milder & much more intricate.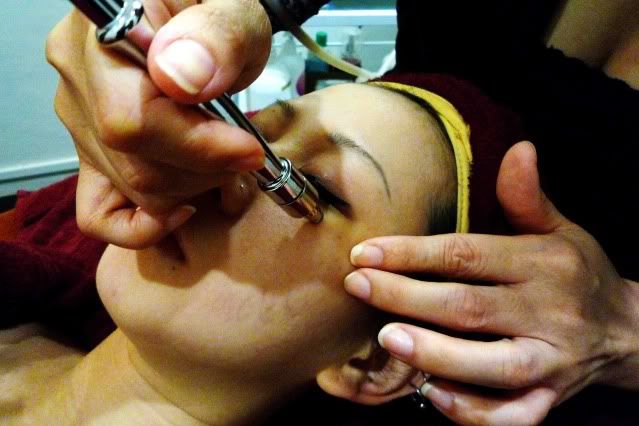 Next next~
3G-RF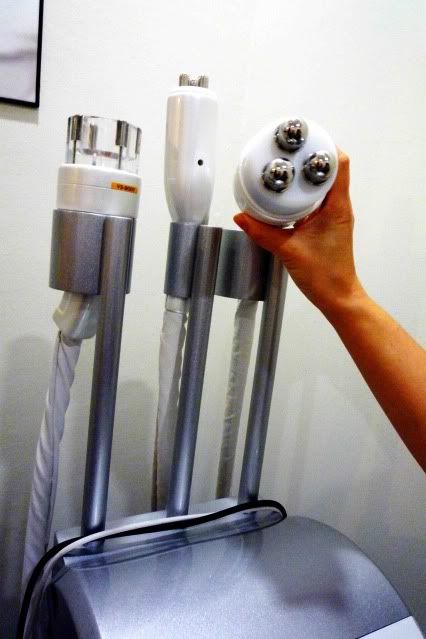 What is

3G-RF

???
Come, let Aunty Agon-chini explain to u:



Ok

3G-RF

remedies involve the use of electrical pulses that are utilized for the reduction in wrinkles by strengthening the skin.

This method actually carries heat energy to different ares of the skin to boost new growth on

COLLAGEN

(I'm sure U lady dblchinis will love to hear that)

It is a proven and effective procedure that can reach the lowest levels of the skin without damaging it. Although, I felt the aftermath warmness, but it is definitely safe to resume my daily routine.


First, the therapist apply this gel-like material on the areas that needs to b treated.




U know right?
As our skin matures and is continuously subjected to environmental effects, its connective tissue begins to break down, causing wrinkles and other signs of ageing develop.

The 3GRF energy penetrates the skin layers to selectively heat the skin tissue and the extra-cellular matrix (ECM) where the Collagen fibers are embedded.



I love how I heard when it says "heating causes an immediate contraction of the collagen fibers and at the same time increases the metabolism of the Fibroblasts thereby accelerating the production of new Collagen and Elastin fibers."
I'm those that rarely consume collagen drink & When I heard I was offered this treatment I'm really like a cow jumped over the moon!




After the Gel application,
She will then start using this tool to do circular motion on the required areas.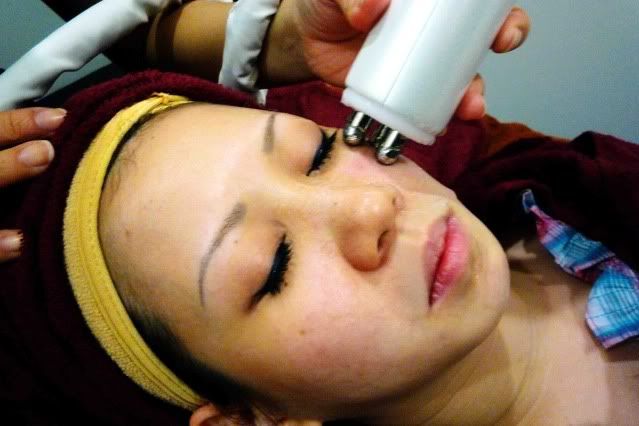 But no doubt, this is not a Painless treatment Neither it is a Painful treatment, u will definitely feel the Slight discomfort whenever the machine sweeps through your skin. Well... Some SICK people actually enjoyed it uber much!!!

I mean is just like blackheads extraction, Some people enjoy it & some don't. So that's what it is all about.

This is definitely within tolerance range, U might not b able to fall into deep sleep throughout the entire session But seeing is the result is indeed satisfying .


c my hair all wrapped up like a full-time maid.
I really did notice minor slight lifting after the session. YAy.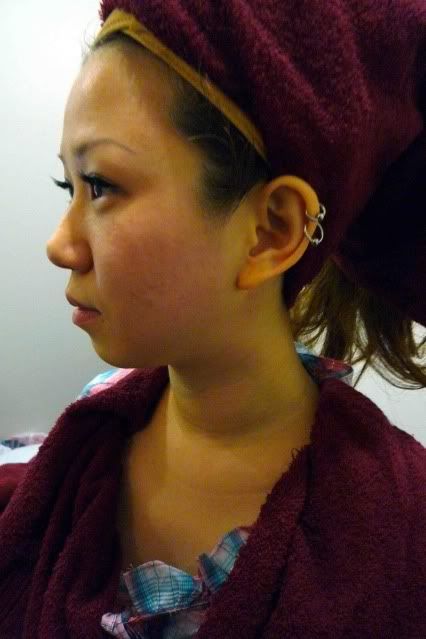 &
One last step...

The Cooling mask
I heartshaped my lips n my nose because I'm breathing through my mouth & my nostrils are bloody round. I like Oval nostrils, more sharp n angmo-ish.
Anyways.... this is me transforming into a Shehulk & I fell asleep thereafter.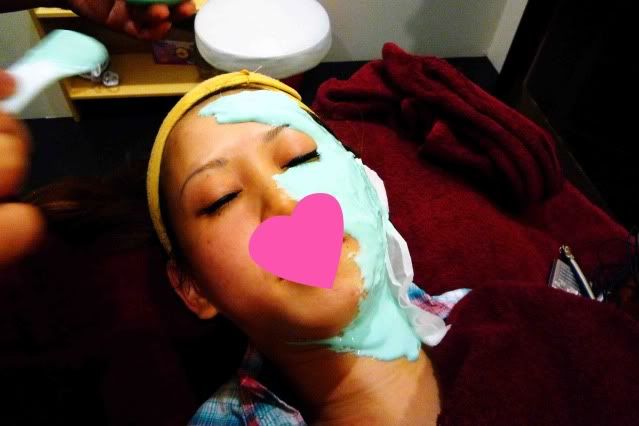 &
back to dblchin when the greenie wears off.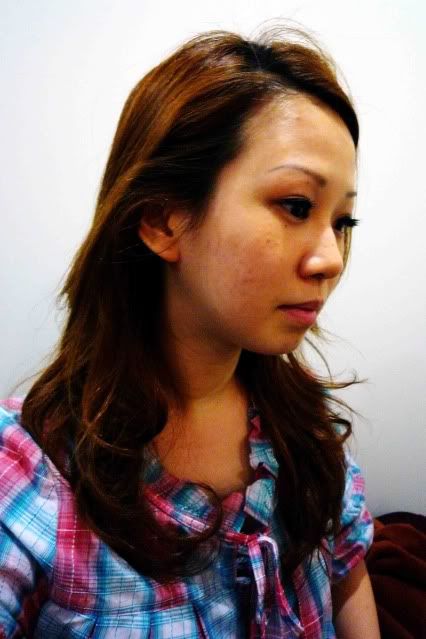 I love how it firms up my jawline.
Plus my face, eyes as well as my (in)famous dblchin


Desire @ central warned me about getting minor aching after 3GRF sessions are really happening!
But I totally enjoyed the Soreness (now u can call me sick) , it feels as if I've fun 10 laps around the field using my chin!


This machine is really awesome, U ought to try that out urself.



N now...... FOR THE AWESOME DEAL~



The promotion price for Mother's day are :

3. $3,800

(They have installment plans too)



With the additional offer Attached below!!!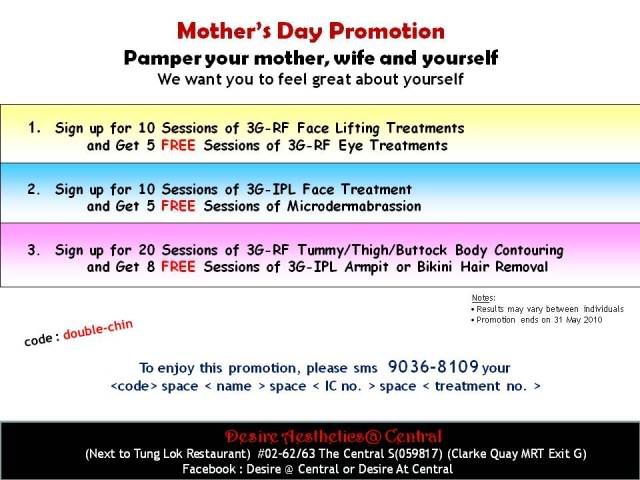 So do check them out at the following :
Call or visit the following find out more!
6 Eu Tong Sen Street
# 02-62/63
The Central
Singapore 059817
(Above Clake Quay MRT)
Opening Hours:
Tuesday to Sunday 11am-8.30pm
Monday-Closed
Phone: (+65) 62258180
Or
u can contact ROSE Directly at (+65) 90368109
Join their FACEBOOK PAGE HERE!

http://www.facebook.com/pages/Desire-Central/113649141988715?ref=ts

And also don't forget the student deal!

Toodles~
*They are my Aesthetic sponsors, I'm not paid to advertise.