Time for Hydration Dblchinis!
Hada Labo, well known for having the most hydrating effect in their essences are now with Nano Formula.
Read my past post about Hada Labo here:
Hada Labo Preview Launch
Hada Labo Review
Fight against the sun with Hada Labo Super Hyaluronic Acid UV Milk
They are kind enough to send me 2 items, SHA hydrating Lotion & Moist Eye Cream for review.
Hada Labo SHA Hydrating Lotion
This 170ml bottle contains hydrating goodness you can never find in other products, it contains 3 types of Hyaluronic Acid that deeply penetrates the skin nourishing and helping to restore skin's barrier to prevent moisture loss.
Using a product knowing that they do not contain harmful ingredients and being preservative free is very essential. With Hada Labo, there are no unnecessary additives which may harm the skin giving me a 101% assurance to generous use of this product.
The use of this product is different from all other lotion. What you need to do is to apply it on your palms and gently pat on face until your skin fully absorbs the lotion.
With Molecule size of 1/20 HA, Nano Hyaluronic Acid is now able to penetrate easier & deeply to moisturize the skin. Super hyaluronic acid is also twice as moisturizing as the retention capacity of HA keeps skin hydrated and smooth for a longer period of time
This formula is an improved version of the old lotion (read
here
) it absorbs better into the skin and is less sticky. The old lotion was too sticky for my liking but moisturizing as hell.
This, less sticky but still as moisturizing, Me likey.
Moist Eye Cream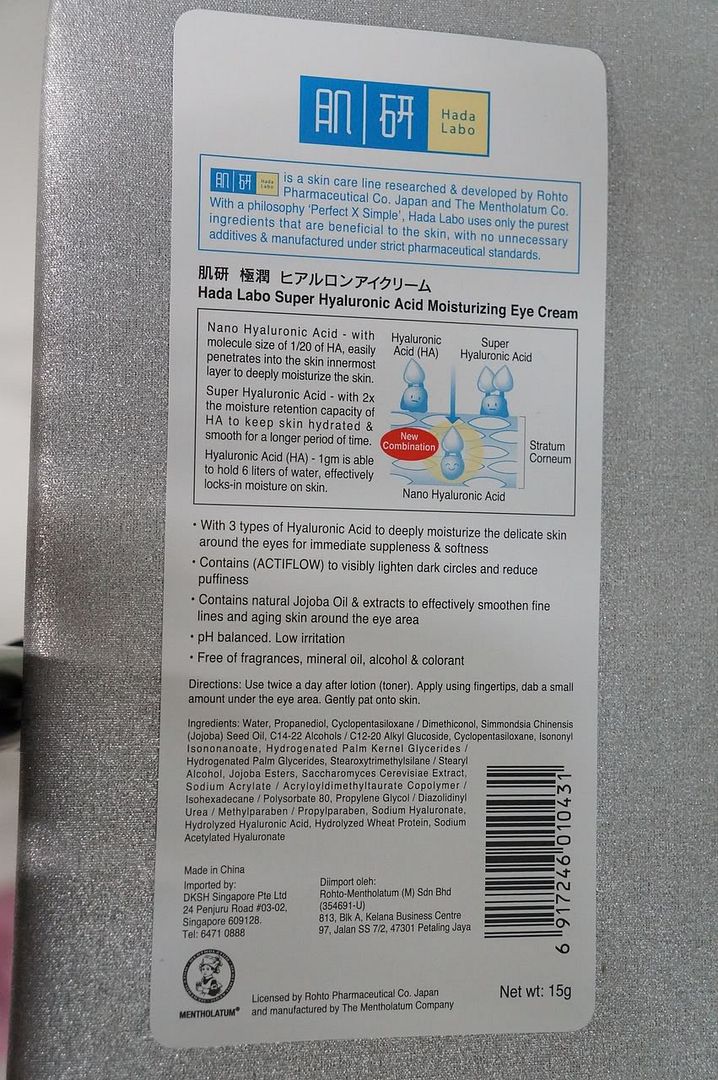 This 15g of eye-cream is more concentrate than you think, so potent that you need that much (yes see below) for both eyes.
This tiny drop is suffice to moisturize your eyes giving them the thirst they needed.
I'm super impatient when it comes to apply eye cream, I expect it to fully absorbed into my skin by the time I'm done from outer to the inner corners of my eyelids. Hada labo's eye cream indeed has pass the mark of my expectations, texture is smooth and easy to glide not creamy thick that works like paste and it absorbs really quick into my skin. I'm sold.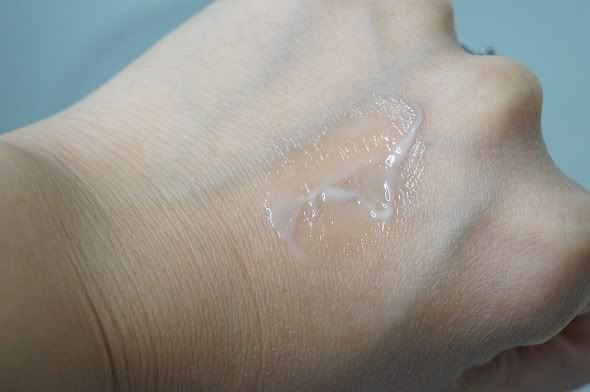 Thanks for sending these life savior for my skin Hada Labo, you made me a happy girl.