R u ready for the most happening party to wrap up 2010 (well, almost)????
YES! Is the
ZOUKOUT 2010
!!!!!
Every year this event is getting hotter and hotter
&
The tickets prices are rising higher and higher....
Well... regardless of that,
David Guetta is the main lineup!!!!
~♫ ~
All the crazy shit I did tonight
♪
~
♪
Those will be the best memories.
...
♪
♪
♪
♪
♪
♪
♪
~
Thanks to AQUALABEL I got to party at zoukout with 2 other frds.....
FULLY sponsored~!
Thanks, madness!!!
OH! Wait wait wait.....
Before U go, U need to look fresh and rejuvenated to go on with the long night.
However, if u choose to go unprepared,
good luck....
I just hope u dun get mistaken as a beach ghost.
This is when pre-preparation comes in.
in short I call it
Pre-Toxing
your skin.
Keep your face awesomely fresh before u head out for more intoxication.
Yes,
u need all that energy to party, so y detox when u can pre-tox?
Lemme share with u how dblchin pre-tox.....
U want to keep ur party night of the party looking like a sexy devil or hippopotamus?
dblchin choses sexy devil though she's quite far fetch from one~
But regardless...reducing your sodium intake is the way to go and u need to stop gaining all these unwanted puffiness or bloated faces.
And thus additional salt intake, especially late in the night will actually causes all these unnecessary weight gain.
So try to avoid late dinner or supper this is because ur body needs a good 4 hrs to digest the food before u crash for the night.
And also drinking water is VERY VERY IMPORTANT! Try to achieve 8 glasses of drinking water everyday.
But.... Do avoid doing it before bedtime, this will increase the bloated-ness as as well as puffy skin.
But... if u enjy being a hipppo, do defy by all means.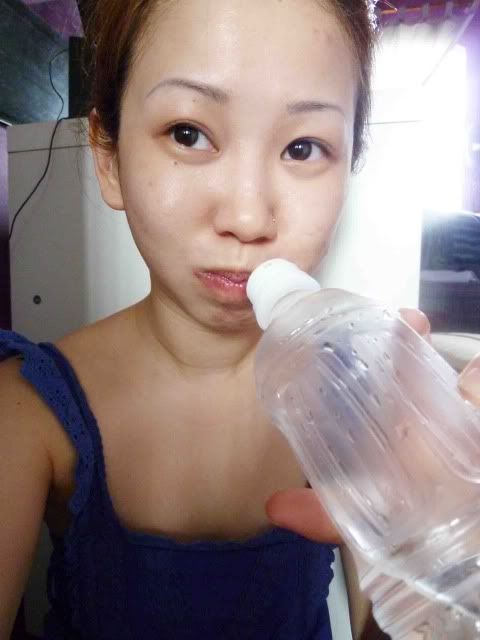 Ur skin will also b ultra dehydrated(expect that alright) after those late night parties so...
better safe than sorry!
What to do? what to do?????
calm down!!!do not panic like a loose chicken!!!!
I have here with me a Aqualabel Reset white mask.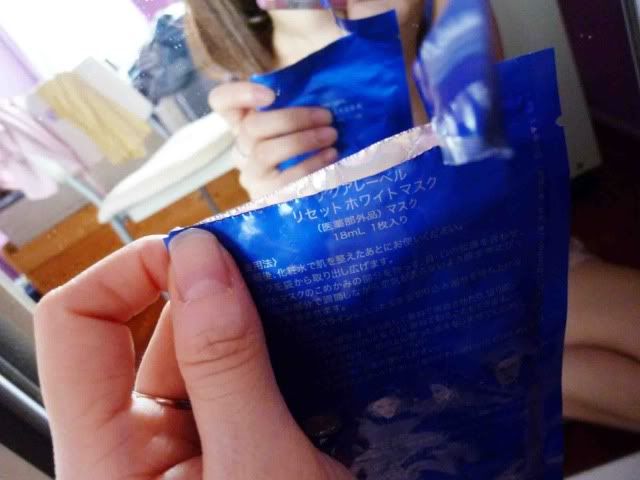 a 5 min intense hydration 1 week before the big night out is definitely sufficient.
but
if u want an additional hydration u can use this for a good few mins right before u apply ur makeup and u will head out with supple skin without worrying ur makeup will turn cakey or dry.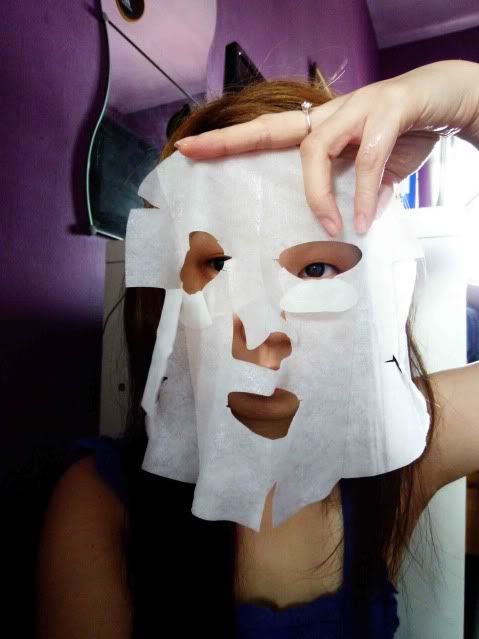 This is what I called, RELAC one CORNER.
After I'm done with my face, I always giv a thought to my neck as well.
While patting the essence on my face, I applied the mask onto my neck.
I mean...y waste when u can do so much magic with this little sheet?
So when u r done, just pat everything in!
Oh, veggies and fruits are very very important!
Dun forget they give u the energy looking fresh and the helps to aid digestion.
Just imagine U didn't empty ur bowels for like 3 days & u look dull &
full of shit in your body (no pun intended).
Would u still have the mood to go partying the night away?
So take a variety of them but not the same old fruit or veggie for the entire week.
Also toning the face is very important.
I'm using White up lotion R, Rich in hydration to prepare my skin for the next step of skincare.
pour some on the cotton pad and use swiping motions across the face.
Of course not forgetting your neck.
Unless,
u intend to leave ur neck at home that night of partying.
Although, the night light is dark and dim,
when the spotlight cast it beam on my face, I really want to look flawless...
This is y I choose to spot treat my face with,
Aqualabel Bright White Ex.
Simply pump them on the back on my hands,
and dip my q-tip in...
And treat the targeted spot areas.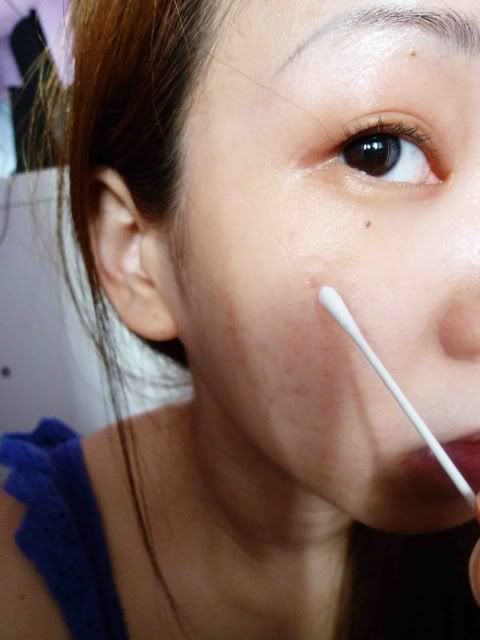 U can also apply them on uneven skin areas to speed up the whitening process.
Now u can jolly put ur face infront of the spotlight and call out to david Guetta for no reason.


So now ur face has become even and more radiant, is time to protect them.
U wouldn't want to spend so much effort in whitening the spots and let it gets darker again right?

So here comes the White protect milk UV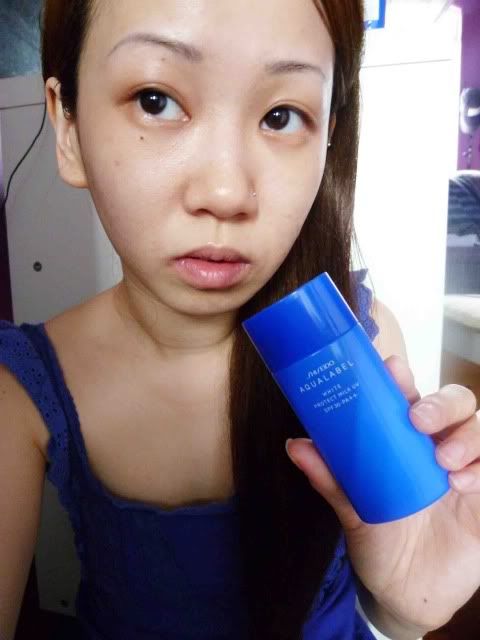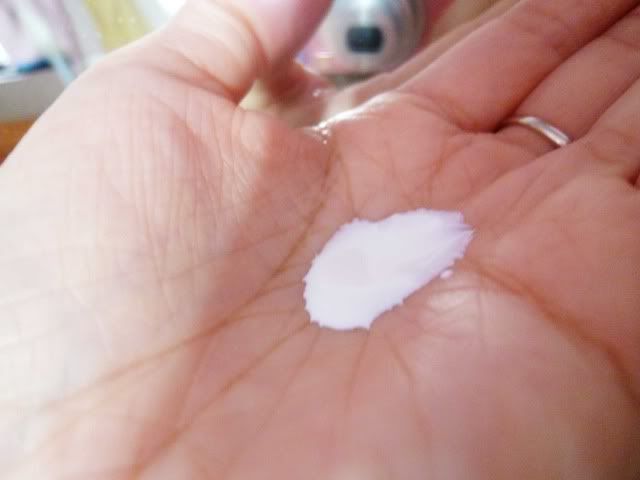 Use it daily to protect ur face from the raging sunrays that cause wicked signs of aging.


The substance seep in really quick, so do not have to worry abt white patchy clrs remaining visible to the eye.




well of course...
If you need more sun protection and even skintone.
U can choose to go for Aqualabel White up base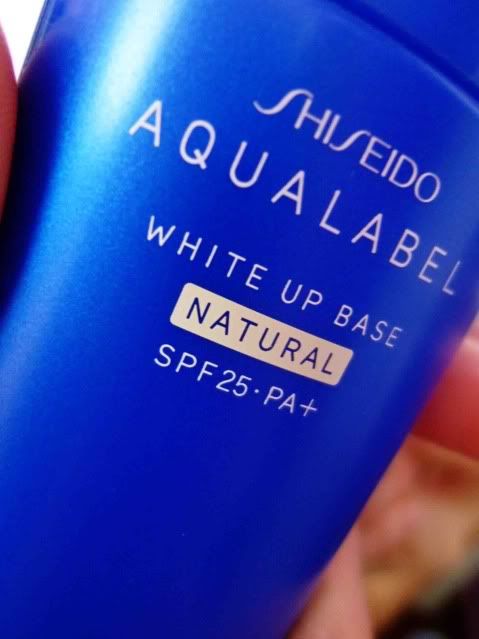 It comes tinted, and very moisturizing.
This is the perfect base tool before u put on ur makeup.
On the big night of ur party do rmber to put this on before u put on your foundation and makeup!
This will keep them lasting throughout the night!






And I'm saving the best product for the last.
The ultimate skin booster.

Aqua Enhancer WT



This is a powerful booster that locks seal and moisturize all the goodness into your skin.

U just need to pat them in at the last step of skin care everyday (before sunblock and white up base) until ur big day of partying.
But even after the party night u still would wana keep up with this regime coz this is an awesome agent to upkeep.


pat pat pat on the face.

Pat pat pat on the neck.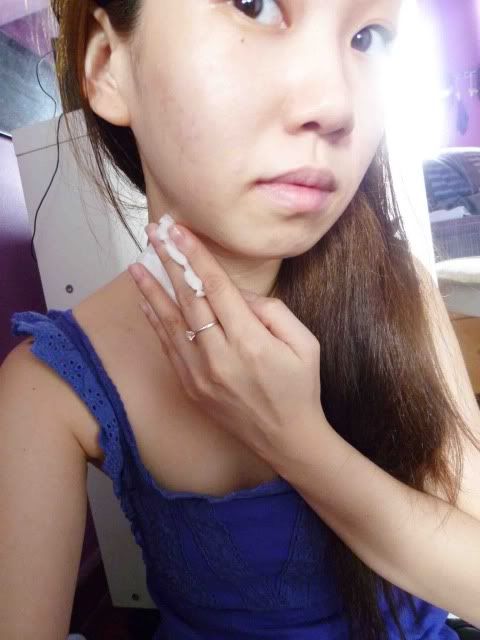 REFRESH!!!


Can u c my skintone even out, charged with energy now???
bye dull skin spots & pigmentation!
hello good skin & partying!!!
Anyways...
Thank u AQUALABEL!!!
ur sponsored tickets have earned my frds a crazy nighout!
Yes, these are my 2 closest frds I'll b bringing~!
Daph and jojo~!
We celebrated many parties together
Sleepovers~
Halloween
Bdays
And now....
~*~!*~!*~*!~*!~**!~*!~!*~!*~!~*!~*!~*!*~!*~*!~*!~*!~!*~!~!*~!*~!*~!*~!*!
ZOUKOUT 2010!!!
~*~!*~!*~*!~*!~**!~*!~!*~!*~!~*!~*!~*!*~!*~*!~*!~*!~!*~!~!*~!*~!*~!*~!*!
*confetti**confetti**confetti**confetti**confetti**confetti**confetti**confetti*
~*~!*~!*~*!~*!~**!~*!~!*~!*~!~*!~*!~*!*~!*~*!~*!~*!~!*~!~!*~!*~!*~!*~!*!
~♫
All the crazy shit I did tonight
Those will be the best memories.
I just wanna let it go for the night
That would be the best therapy for me.
♫ ~
Have a great DECEMBER dblchinis!
Toodles~!
*I've no affiliations with Zouk.
*tickets & products are sponsored by Aqualabel
*context are all written by ownself.