Hihi dblchinis!!!
Removing make up is uber important for any girl who likes doll up.
N if u r trying to remove a set of smokey eyes with a lousy remover, u might just end up looking like this...
ok the above doesn't count, this panda is way too cute.
It also doesn't help if the remover irritates the hell outta u.
And so today, ok in this post, I'm gonna review on biore's new makeup remover!
To test the efficiency of a makeup remover, u'll need...
A camwhore pic accompanied with makeup... Although not the prettiest camwhore on earth but still... Can do.
Camwhore with Biore products.
I have their hydra-clear makeup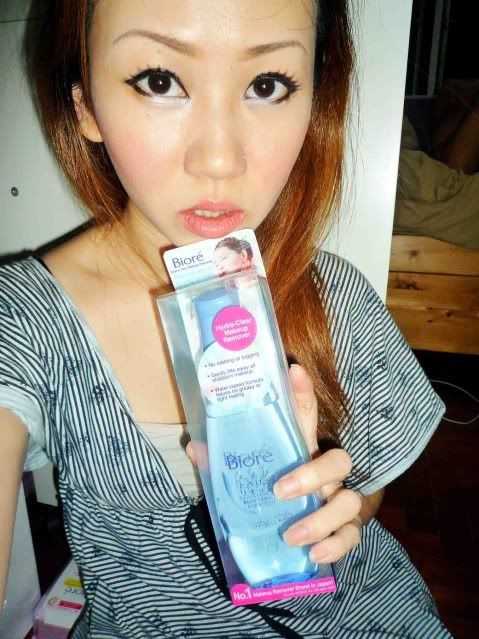 and makeup remover for eye and lip.
Let's do the pink one first (makeup remover for eye and lip)
C the obvious spilt of pink n white substance. Yea, gotta shake well to mix them both.
hey hairbow is just for deco. Nice right?!
Then pour them onto a cotton pad... See the goodness of the pink liquid...
place them on my eye for a few secs, then wipe off gently. Pls do not exert any wrestler's strength, u'll only get red n swollen lid n premature wrinkles.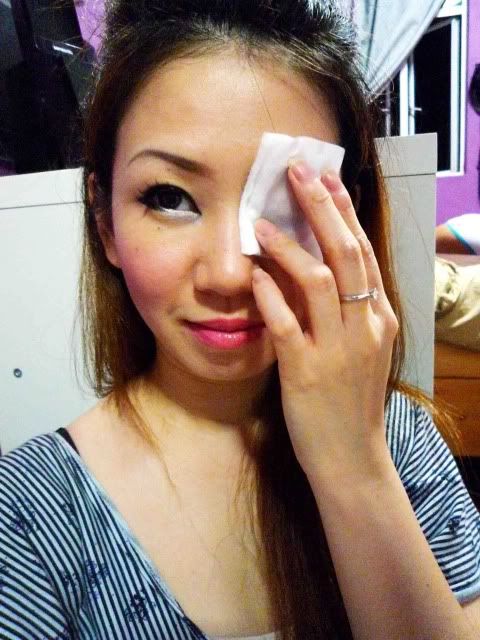 There r still stains on eye makeup even after the first round wipe, so I did a 2nd swipe & out comes the falsies and makeup!
However, I do feel a tingling sensation during my use of the eye makeup remover But dun get me wrong, it definitely do not sting, just tingle.
It works relatively well, removes my eye makeup effortlessly.
Next, hydra-clear makeup remover,
Just gently rub on and wash off with water.
Semi gel-like texture , doesn't feels oily at all
feels like gel turning into water when I rub them on my face.
I'm not a fan of this although it feels relatively quite clean.
Probably it just lack of what oil cleanser has, the visuals of emulsifying.
This doesn't turn white when in contact with water.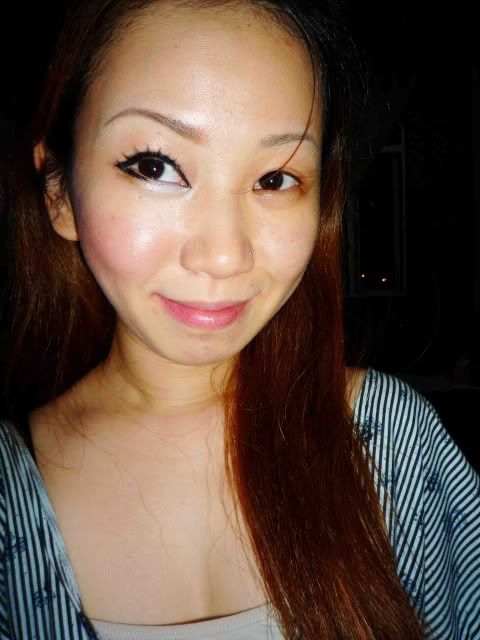 Ok now, with 1/2 my face remove, I'm already celebrating my solo Halloween partyyyy. But I'm not going to do anything alone, so I decided to remove the rest of my makeup with...
The make up wipes.
I'll b using it to remove the rest of my makeup, n so...
Makeup wipes really comes in handy when u have no water to cleanse ur makeup with & is good for traveling.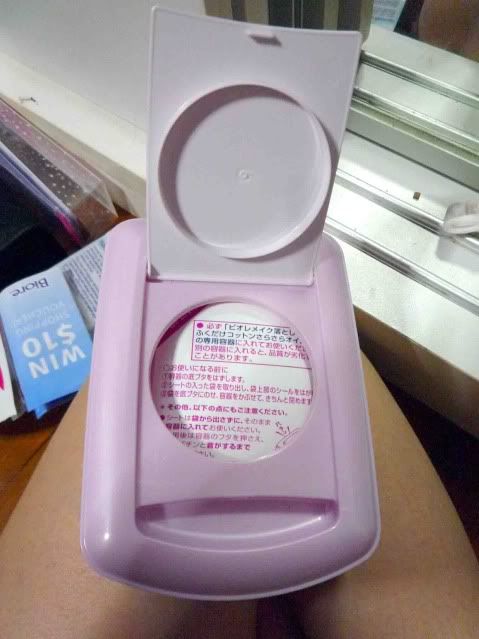 I'll placed them on my eyes for couple of secs, and rub them gently. The wipes are good for quick removal as it is able to remove stubborn make up as well.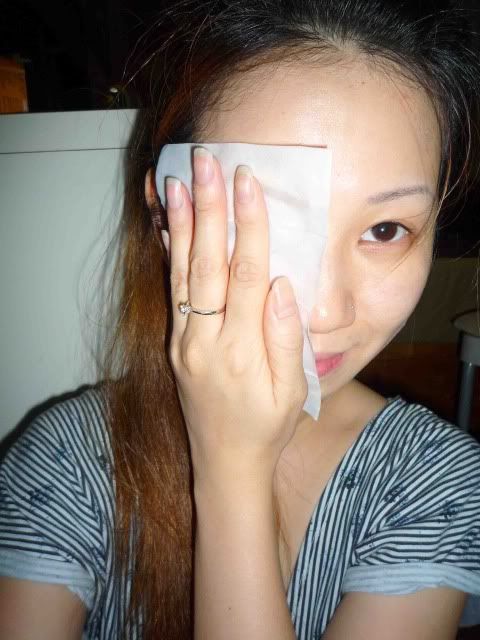 All the make up on just one piece of wipe~!
It cleanses eyes and face makeup rather well.
However, to ensure everything is clean, I will do a 2nd wipe to get rid of all excess makeup.
But even with makeup wipes, I would still double cleanse my face with a foam cleanser to ensure everything is clear of oil and dirt free.
& last but not least
dblchin With her somewhat pixelated shot of her clean face.
naked faces are somewhat to b shared in a discreet way!
LOLX!
And now u can start collecting samples to tryout for yourself!
Don't wait, click here now~
Toodles~!