Hiya dblchinis!

I always thought that my eyebrow embroidery with amy (at 1st salon) was the key to everything on my brows. Like I can save up alterations for a good few years.


However, beauty takes effort and taught me not to b too dependent on the embroidery because I realized I've been letting my brows look far too short when I went for the Benefit workshop.

Aside from the last Cake making session, they invited AWESOME Guest from Hongkong!
And they are Maki and Wing~!
Lets check out how awesome they are in a bit.
From this workshop I can definitely c that my brows are brought another level and
that includes shading and drawing with the right technique.
Let's check out the pictures on how I've been properly educated in
pimping my brows.
Lets check out those Picctures~
First u have to measure and determine your brow position in 3 areas :
The start of ur brow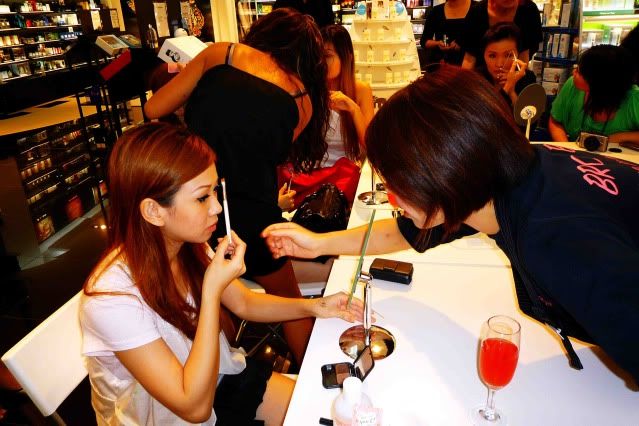 The arch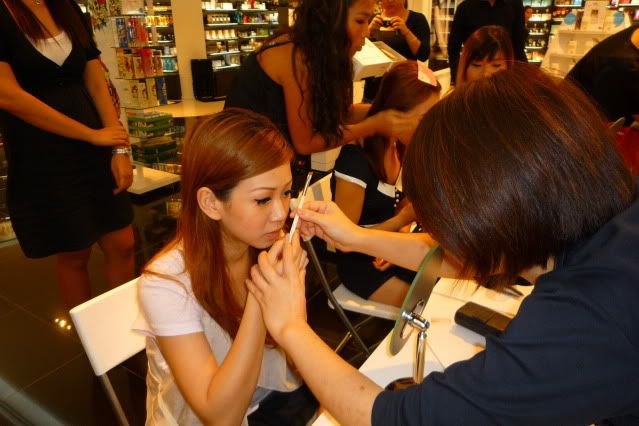 and point where the brow ends,
no picture... but U get what I mean right?
Nvm Show u an ang mo pic of which I found on the internet.
Ya la ya la shes chioer than me, say whatever u want.
Once you have detected these 3 points , u can start drawing them.
At first, Amy the awesome brow consultant assisted me with perfecting those brows.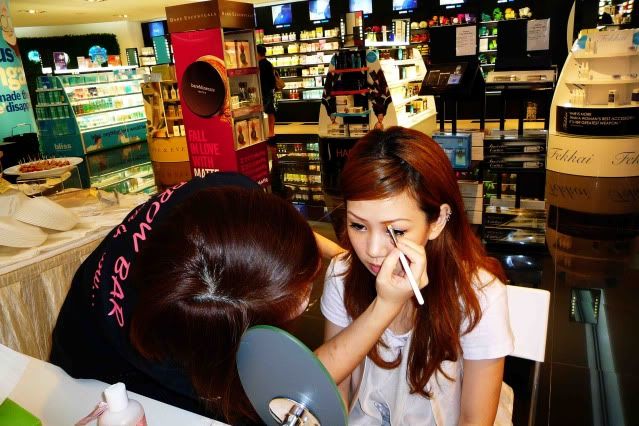 And she did some highlight on to the areas where the arch needs to b more define.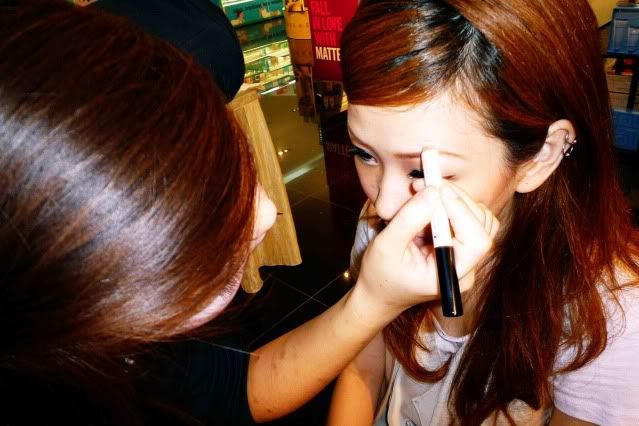 So I gotta blend quite a bit onto that area needed.
And after it is completed. She cleans off my brows & now is down to myself.
Lets start shading...
Do work on it carefully,
DO NOT OVER-SHADE, U wouldn't wana end up like This:
TOO thick.
From time to time, do check-in check-out the mirror to c if U've been drawing correctly.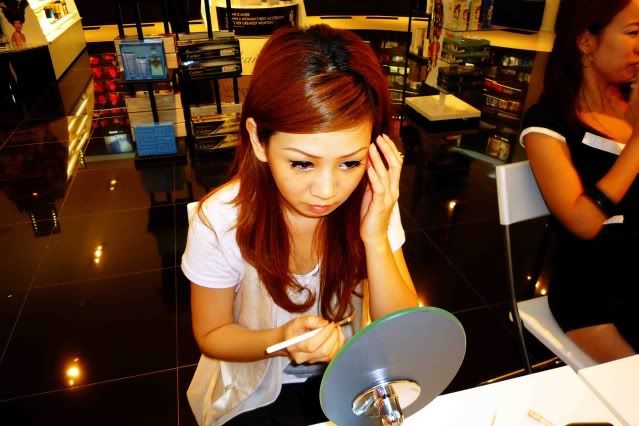 Short Demonstration on how to enhance the most important feature on ur face:
The brows, Of course
June
! U r such a Lucky B*tch
Bloggers at the workshop~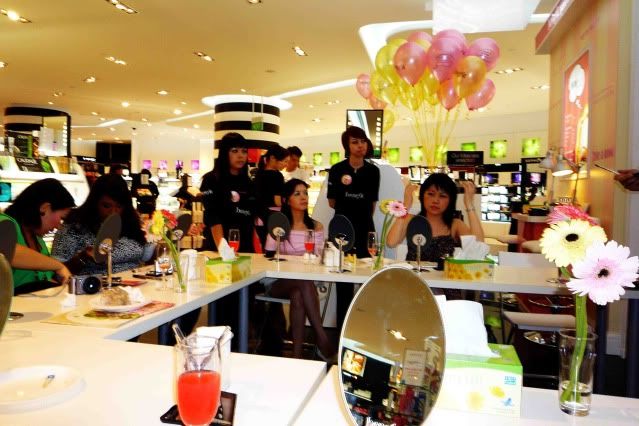 How can a workshop b short of foood???
YUMMY TREATS!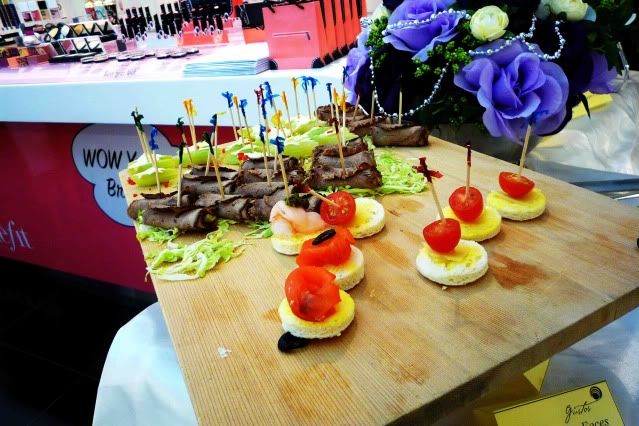 I helped myself like a coyote in the making
Heya dblchinis, check this out: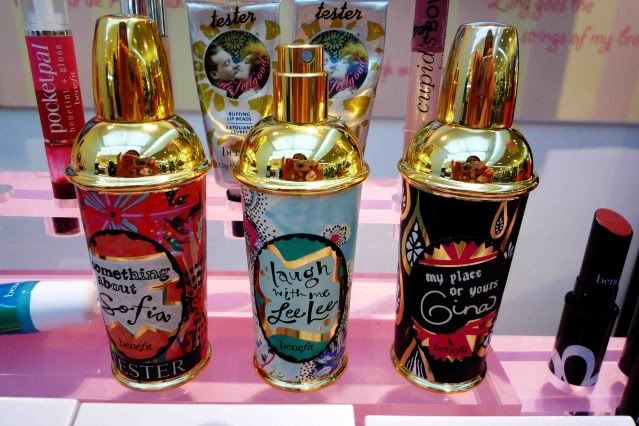 So much effort on their Eau De Parfum packaging!
*Applaud*
And we tested out these brow clrs!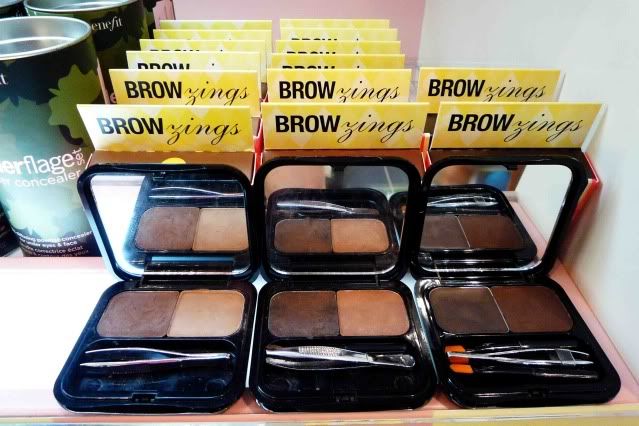 *Mimicking Ris Low* Thanks Yous Sos Muchs for yours hospiterrrelley Benefits!
The brilliant duo! Brow experts!
Wow those brows now~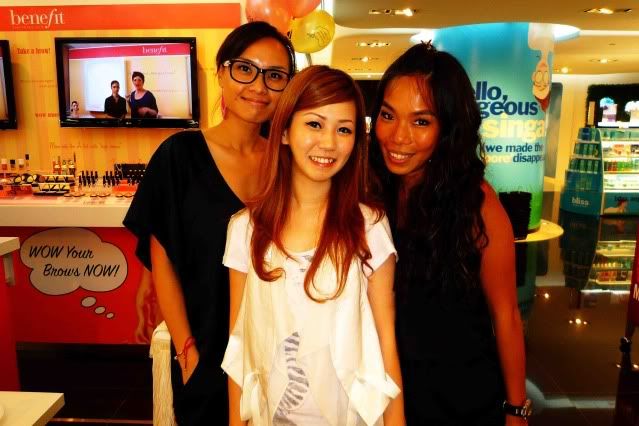 Seriously with such awesome workshop what can u b short of?
THE GOODIE BAG!!!
Time for Camwhore City©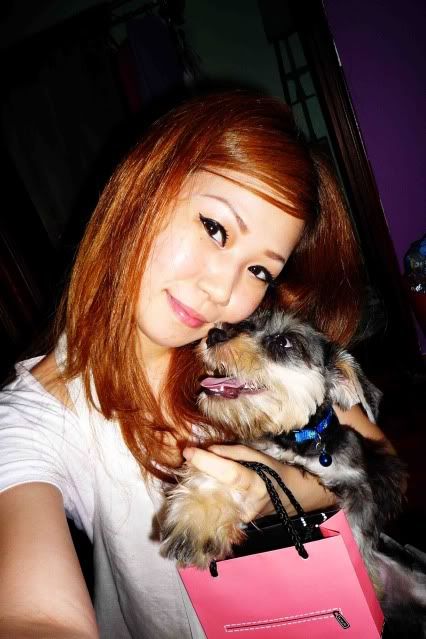 I think my side parting is too side, looks as like I'm covering up my receding hairline like some old uncle u've seen on the streets.
By force, these dogs have to camwhore with me.
dblchin the owner : 'Hey tubby (the dog) check the the brow palette'
Tubby : 'Whaaaaat!!! I DON'T BELIEVE IT!!!! Y didn't they giv u some Free dog food???'
eh, whats that?
like Street directory, they show u how to draw ur brows the Benefit way!
Come take a peek on closer~
On the left, there are 2 shades of brown, One in light hue for colored/bleached hair like mine and one mostly cater for deeep or even ur natural colour.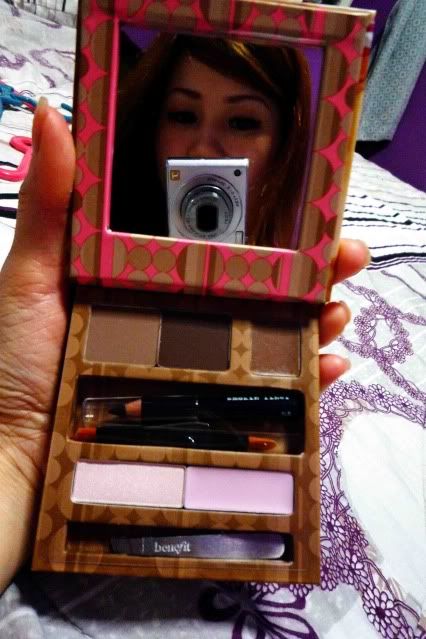 Oh yes pertaining to the above, try to match ur brow shade according to your hair colour. But if ur hair is jet black, match it with a gray tone.
Black will make up look like him once. again
The one on the extreme top right is a brow gel, is cater to get more grip in outline your eyebrows.
2nd row, Brow tip applicator and a pencil eyeliner. The bristles are soft yet strong, they give a define shape when u paint those brows on. I truly enjoy using this brush.
On the third column is a the highlighter, something to enhance the definition of your brows.
The one on the right is in a form of powder and one on left is a cream base highlighter.
I dun really use them v much, and the colours create a purplish hue which I dun enjy much.
And in e last row, a pair tweezers for ur emergency needs:
Aside from the brows, if u c a strand of electric looking hair sticking our from ur underarms probably at a measurement of an inch or longer, u know what to do.
Hmmm... and what else???
dblchin the owner : 'Richie, Look what mummy got? Eyeshadow!!!'
Richie : 'so what? I'm hanging out with this ang mo Chio bu, check out her picture. Chioer than u mummy'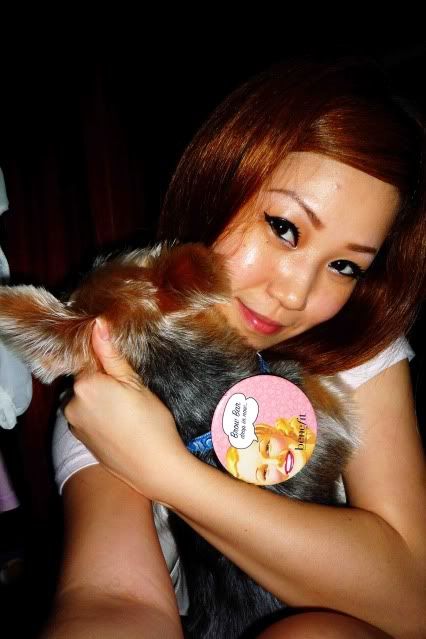 Blardi hell! *throws son on the floor*
Lastest but not leastest, check out my narcissist, camwhore city© of the day pix
I match a oversize inverse printed tee with a chiffon vest
and a pair of black Shorts with ruching at the thigh area.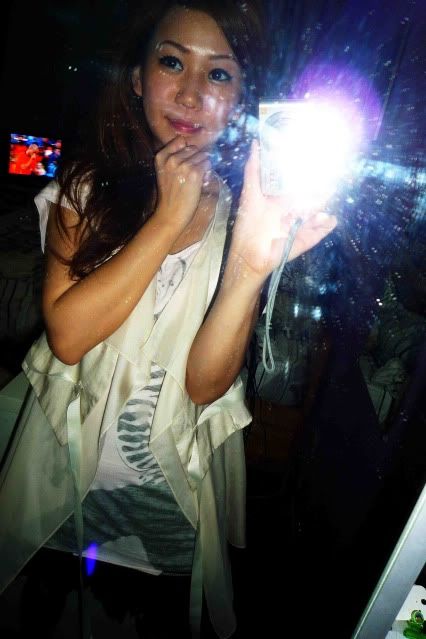 Overall I keep the colours pastel and simple with the use of zen : Black.
So toodles dblchinis~!