I always thought that my hair is beyond hope, so frizzy and entangled to the point where I had a hard running my fingers through my them. Just like oil and water, for me is pretty much impossible to maintain bleached tresses and still look salon beautiful at the same time, not possible at all.
This is what I wake up to everyday.
A full head of mess.
You'll soon discover multiple colours with knots in them. Well of course it'll look much better if I painstakingly spend hours styling them but like running against time I really dislike wasting hours in front of the mirror trying to fix this.
When I was first introduced to John Frieda, I had 2 different range to choose from:
John Frieda Full Repair or Frizz Ease
To be honest, I'm in dire of both range because I need to repair my damaged ends and frizz the haywire hair strands. In the end I decided to go for Frizz-ease mainly because I would prefer to aesthetically enhance my hair, like a 5 min fix and headout than a slow long process of treating the damaged hair follicles.
Also given that poofy volume I had with my thick coarse hair, is like a throwback to the 70's and I definitely don't want that revive that moment (only applicable to theme parties).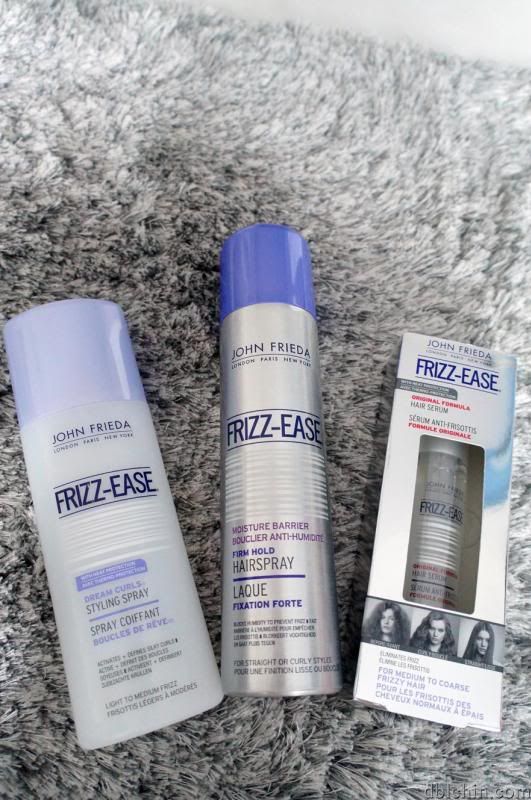 Introducing John Frieda Frizz-Ease Range (from top left):
John Frieda Frizz- Ease Shampoo
John Frieda Frizz- Ease Conditioner
John Frieda Frizz- Ease Intensive Masque
John Frieda Frizz- Ease Styling Spray
John Frieda Frizz- Ease Hairspray
John Frieda Frizz- Ease Hair Serum
I love using the shampoo, is like giving my hair a good thorough wash even though is only targeted to treat the frizziness. I'm not sure what type of fragrance they've added in but this is the first time I have a shampoo smelling like power berries leaning towards the blackcurrent flavour. The crazy thing about it is the smell is so addictive I double cleanse my hair using the same shampoo just to sink my nostrils in that scent it again lol~
Given my hair condition as you all know is damaged and frizzy, instead of solely using the conditioner I used both (conditioner and intensive masque altogether) to combat the frizz. The treating products ironically do not carry the berry scent, well it does smells like a family of Frizz Ease but nothing close to having these antioxidant fragrance. After rinsing out my hair, I could feel my hair softer and smoother, not salon beautiful but good enough to keep them in place.
Like I've mentioned right from the beginning that I woke up with a bedhead of unruliness and this,
John Frieda Frizz- Ease
Hair Serum
is my secret weapon to serenade the Fizz back to sleep.
It is said that 1 is sold every 30sec in UK.
Hmmm, I'm not convince just yet because nowadays most products uses this kind of gimmick and I'm seriously a little sick of seeing the same old marketing trick that until I started using it on myself.
I pumped out the product a few times till it reaches the size of a $1 coin, damn...I cannot say 50 cents anymore because the new currency is so small, touch already also no feel!
Ok back on track, I run it through my hair, give it a gentle rub at the hair ends and wait around 5 mins for the product to set in.
Here's a comparison of the untreated hair(left) and the one that is coated with Frizz-Ease Hair Serum (right)
You can see the product tames my hair, not to the point of silky smooth but at least my hair falls nicely in place without crazy strands sticking out from the sides.
This result is almost immediate, it doesn't leaves a sticky or greasy after feel.
Here's a side by side comparison.
The left picture shows a bad enough knotted hair that I wake up to every morning (Note: My hair condition is that terrible, I did not deliberately tampered my hair to such state)
The one of the right is only coated with serum and nothing else, no blow drying, no brushing, just fingers running through hair and neatly arranged with my hands.
This is by far the most worth product, it works really awesome for coarse fizzy hair like mine! However, I wouldn't recommend this product for limp flat hair, so do keep in mind if you have very limpy hair use it at your own risk!
Last but not least check out Selected Watsons/ Guardian stores when you have to chance because John Frieda Hair Care is something that's not to be missed!
Hope you like my review!
*This is a sponsored review
(The remaining styling products I hope to review when I get to chance to use it on my bridal clients (hopefully) and for now I shall put that on hold. )