Little did I expect my purchased came up to S$155.00 worth of items; includes shoes, bags and clothes.
I opted for the JPB ( I suppose it stands for Jipaban ) Express Delivery since is free for orders above $150 and it took 5 days for my orders to arrive. Well, technically my order is ready to deliver on a friday but I unfortunately missed their call before the despatch set off so it was delivered on the following monday instead, I have to say it took was pretty fast!
Apparently yes, the stuff that was on sale was really dirt cheap can! I bought nothing over $15 bucks, even shoes!
I was thrilled when my purchase arrived because I was really excited to check out if what I see I really what I get.
So here you have it, 2 huge boxes above. The one of the left contain 2 pairs of shoes I've ordered and the right carton box are the clothes and bags.
Here are my shoes:
Suede No Back Strap Heels in Orange $10.00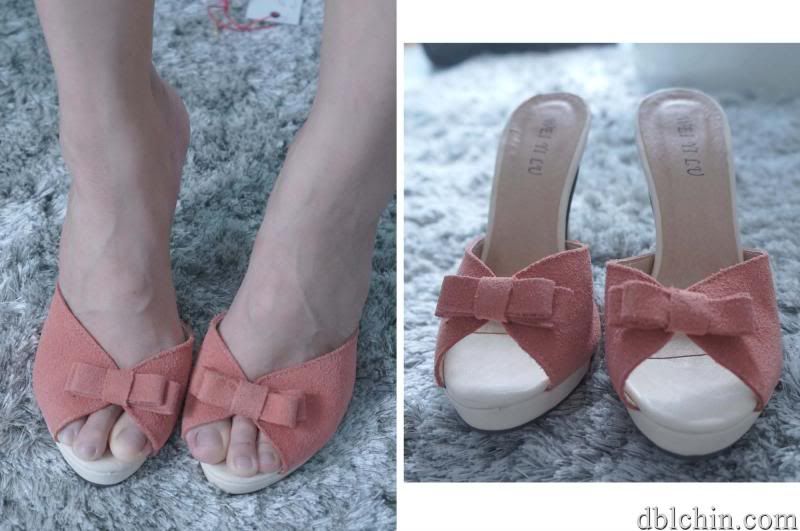 Omg can you imagine how cheap the shoes are, where to find $10.00 suede shoes that fits perfectly?
Cross Bandage Heels in Grey $15.00
Ok now you are granted to bare your lungs out.
Reptilian Mini Sling in Mustard $10
Some choose to pop champagne so I choose my cheap way, strutting down the streets with my bold yellow sling and embrace the 'new fresh air' given by our neighbouring countries.
Duo Opening Clutch Bag $10.00
I really love the way how this bag is constructed, you can store a lot more than you think with both front and back opening, it also comes with a strap for slinging.
However, there are a hell lot of 'dimples' on this bag, I believed is because the bag was compressed together with all my other purchased and stuffed in the carton box.
I hope the recessed will surface in time to come as I store the bag individually. Overall I really like how is constructed and how chic it looks.
Tote in Green $15.00
And the quality is so bad that parts of the superficial layer is peeling off, exposing white stuff underneath. Have you ever encounter your PVC goods stored in your drawer for the longest time and one find day you take it out to inspect and everything starts to peel even with a light scrape? Ya this is happening here.
To be honest I really like the size of this bag and how it comes with a handy sling strap, I also have already started using it but I think the lifespan of this bag will be pretty short due to the negligence of quality.
Ok enough of bags, lets move on to apparels.
As you can see I'm hardcore on shorts.
Floral Shorts $10.00 matched with Tote in Green $15.00
From disappointment(on the green tote) to delightful!
A triple yes to my floral shorts and it fits like a glove! The self-tied ribbon in front which you can't really see clearly is the feature to this pair of shorts, they made me look really nice! The quality is pretty decent too!
The good thing is I don't need to depend of the tie ribbon in front to hold my waist up, there is actually a smocking band behind that hugs my body neatly.
Best of all, because of the elasticity behind, I do not need to untie the ribbon when I m heading to the restroom, I hate wasting time.
Polkadot Shorts $10.00 with Reptilian Mini Sling in Mustard $10
One my favourite type of design, similar to skirt-shorts and very roomy indeed, good enough to do a gymnastics spilt.
Quality is decent like most blogshops and fabric is very lightweight for our weather.
This has already became my staple outfit, 1 week wear 1 time.
Frontier Pocket Shorts $10.00 with Duo Opening Clutch Bag $10.00
I haven't worn this out the streets yet but this pair is very dangerous for full stomachs.
I must think of a day where I'm only munching on peanuts for meals then I can fully present myself in this and because is so body hugging it will definitely NOT work with many layers of top tucked-in style . Also do not wear Grandma's panty, visible line will show. Best of all don't wear any.
Drill shorts $10.00
Actually I don't intend to buy this one because I need to hit the minimum spending to entitle for free delivery so I decided to add this into my cart box.
Ok not bad la, very back to school style and I have to say the quality is really good! I kinda enjoy the detailed pleating and darts at the front.
Peppers White Shorts $10.00
Ok this pair of shorts feels like a 2nd skin except that it fits somewhat loose around my waist area.
I really like the spiciness on the repeated prints very summery and hot literally.
If you are unsure of what I'm talking about, please see as illustrate:
The real camel toe
U Front Pencil Skirt $10.00
Please Thumbs up for my page :D
*Products are Not Sponsored, opinions are my own.