Hello Dblchinis,
Ever wonder what's the first sign of Ageing? Dull skin, loss of elasticity, fine lines.
Everything slows down once one passes the age of 25.
Not good :(
All these hormonal aging means... the diminishing of collagen.
Why is Collagen essential?
Since collagen is one of the most predominant protein in a body, it is important to think further than beauty itself. The part where only X-rays shows, your joints and ligaments.
It helps to keep the connective tissue intact that not only vital for skin elasticity but the attach 2 bones of our ligaments, like our elbows, kneecaps, etc.
There are so many collagen in the market but which is to choose?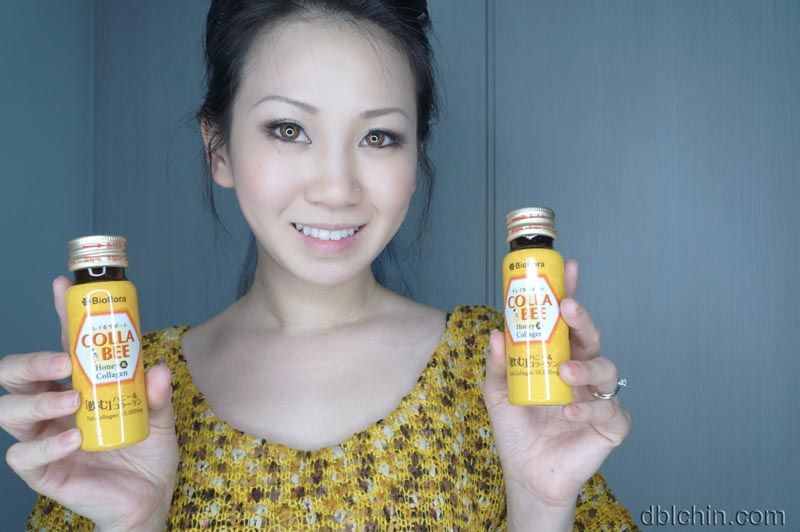 They use 10,000mg of fish collagen which is absorbed easily by the body due to its low molecular weight.
It contains 100mg of Royal Jelly and 1000mg of Manuka Honey - these are a rich source of nutrients for improving the overall skin texture.
Contains 160mg of Vitamin C or equivalent 8 lemons packed in each healthy 50ml bottle.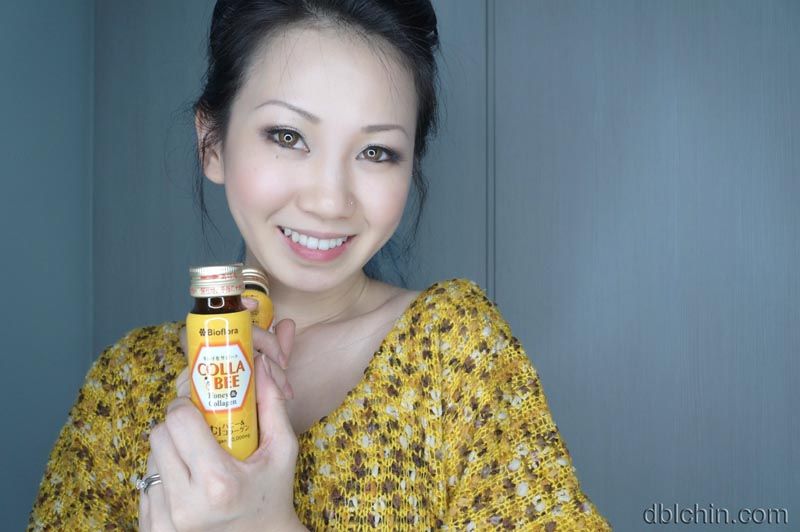 Did I mentioned that it carries a taste of tropical mocktail??? Make a guess!
With all the bright mustard yellow pictures you have seen here, you might have guess it right! Pineapple, yes Pineapple! Taste just like our famous singapore sling.
Best serve chilled.
Things to Note:
like a concoction, shake well before consuming
For maximum effect, drink immediately after opening and before bedtime.
With its function of speeding up metabolism, you'll be sure to shed those extra weight gained during Chinese New Year at the end of the day.
After a course of a period of over a month, my skin feels extremely 'Doink, Doink!'
Bioflora also comes up with a variation of pure honeys,
Linden Honey and Acacia Honey from different flower extracts.
I have to say, they taste extremely Yummy! I'm not so into Acacia honey because it is said to ease constipation, which is never in my books I get diarrhea too often.
Acacia honey also helps to improve blood circulation and detoxification of liver. For overall weekly detoxification, add one full lemon to either of the honey to 500ml of plain water once you wake up! Add more honey if you want it sweeter!
While on the other hand, Linden Honey that helps with insomnia is perfect for me, I'm a light sleeper so a small cup of honey before sleep is best thing I can ever get.
I'm sure there are many other ideas what one can do more with their honey, like adding a dollop into that yogurt or sweeten warm drinks instead of sugar, which I love most is drizzling them over my pancakes before serving these yummy glaze syrup on plates.
Special for Dblchin Readers:
You can now purchase a box of
Bioflora Collabee Honey and Collagen
at a Promotion Special of $70.40 (U.P. $78.80) , just key in '
Clara
' before adding your order to
cart
!
Lets all embrace firm and youthful skin inside out with Bioflora Collabee Honey and Collagen!

♥Dblchin
*This is a Sponsored Advert.