Even though I have absolutely no inspiration to blog, I tell myself before I get engulfed with cobwebs I better start to post something decent for the week.

Like a new start to the beginning, Watsons has something instore for us this 2013 in April, new packaging, new products brought in from big brands like Shiseido, Olay, Elite Models etc. Yes, very beauty related indeed.
So being an invitee I was glad to head all the way down to Watson's Beauty Day out event held over at
7Adam
7Adam Park
Singapore289926

We have a Watsons' representative to grace the opening for us.


To be honest, I wasn't exactly enjoying myself at the start because of the confined and restricted space that almost got me hyperventilated.
After a while when we begin touring, I'm glad the products laid across every booth miraculously cured my shortness of breath.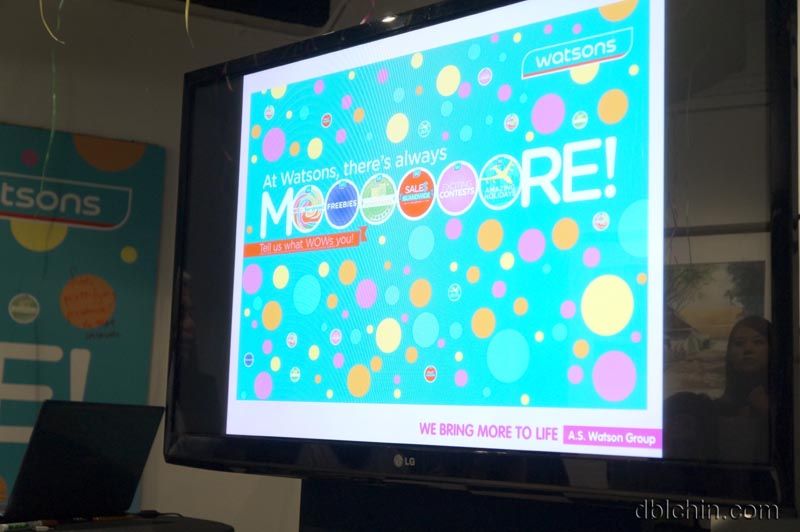 Esther and me holding on to a bottle of Brands Innershine Berry Essence with Grape Seed Extract. It is said to strengthen collagen and improves skin's elasticity to keep it firm and youthful looking.
We were suppose give toasting to the milestones Watsons has achieve by far.


Later we were divided into groups accordingly to the colour of our floral wristbands to being our tour.

The Famous Clinical Skincare from Dr Wu already made its name in Taiwan and now onto our shores.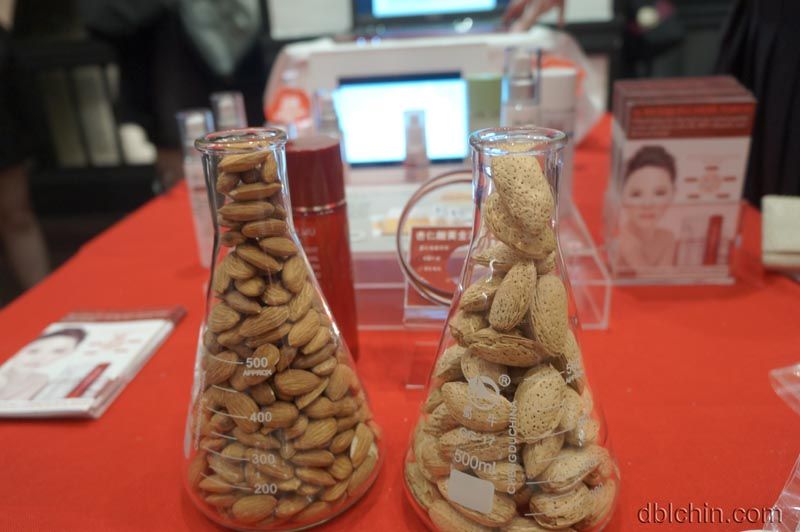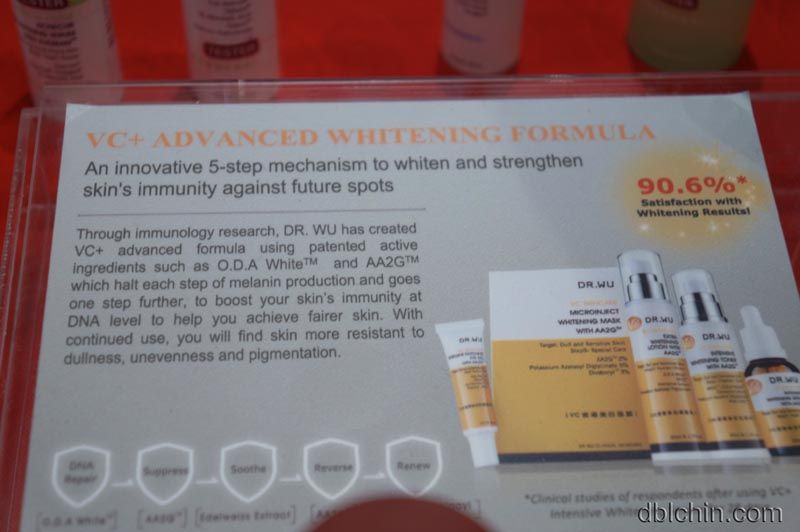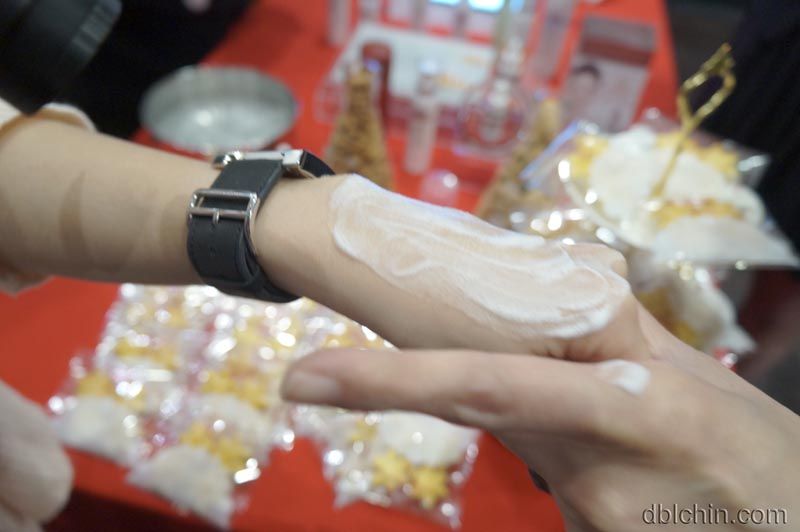 We were then given a light introduction to Dr Wu Skincare.
Dr Wu is a

clinical professor & practitioner with the National Taiwan University Hospital as well as a off hand

scholar & an artist. He believes in targeting the fragile skin of the modern women

restoring youthful skin tone & texture.
I'm very interested in its Renewal cleansing mousse with Mandelic Acid, with all that bubbly foam it seems to be in close relation to my usual Biore Cleansing foam except this time round more clinical aspects.

We were then led to the Heroine Make sections where my engine starts to warm up.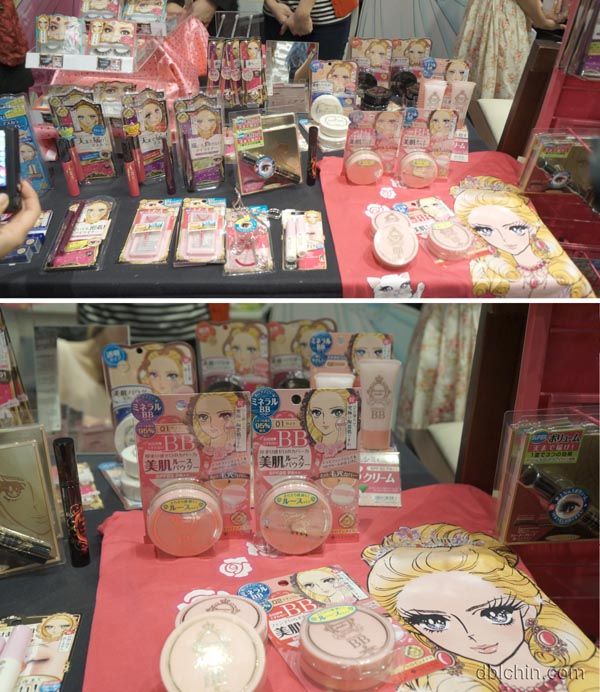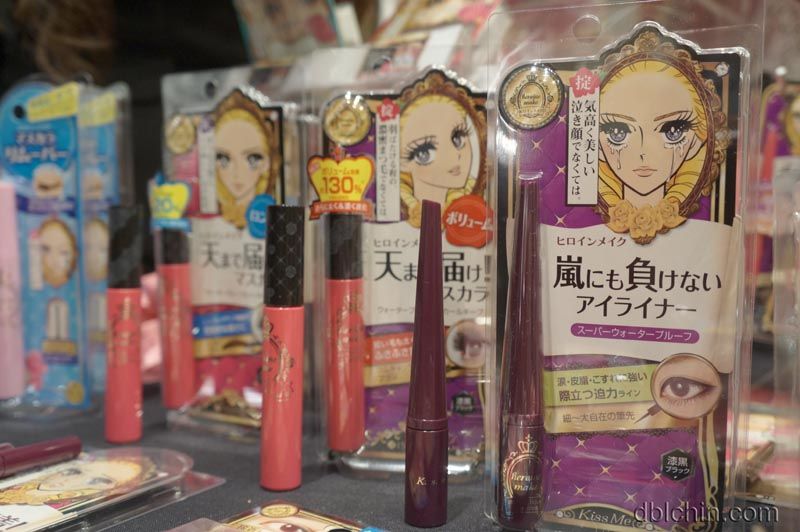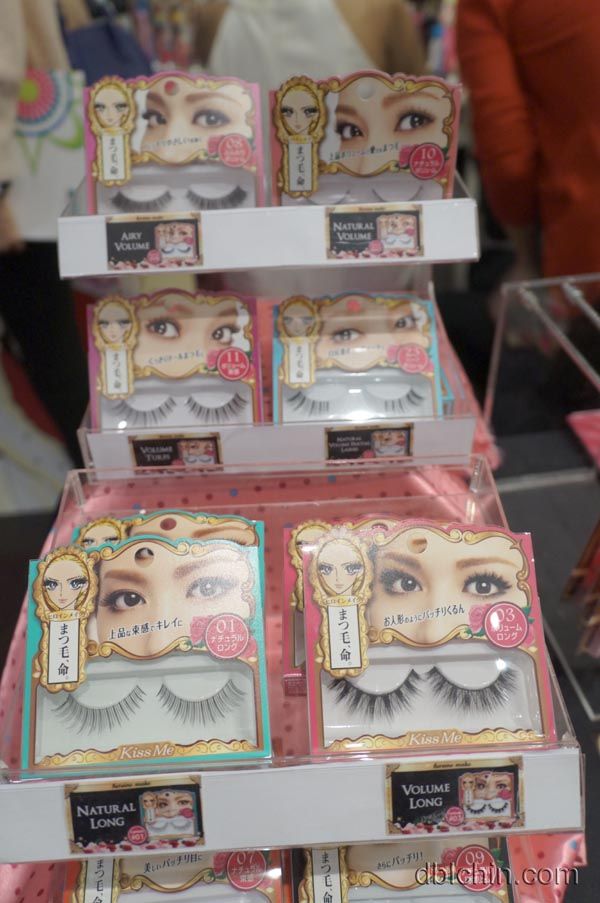 Seeing so many handy items, I was immediately aroused into fiddling with these adorbs collection of beauty. A new addition of puffs, mascara and falsies are added into the already existing collection of Heroine Make.

Carrie from Cambelles is ready to get her lash coated with the newest mascara they've brought onsite.



I quickly got acquainted with the husband's of that life size Paperdoll figurine.



with Holly, me looking priceless even without any elaborate makeup thanks to my dentist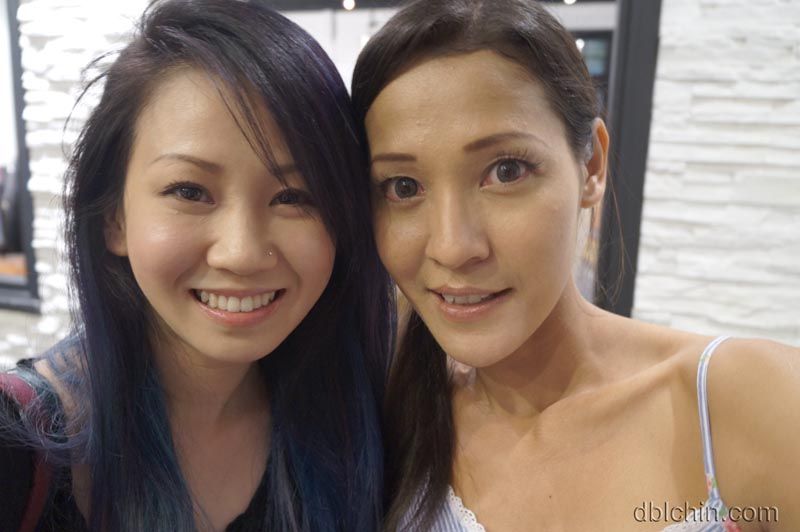 Elite Models Cosmetics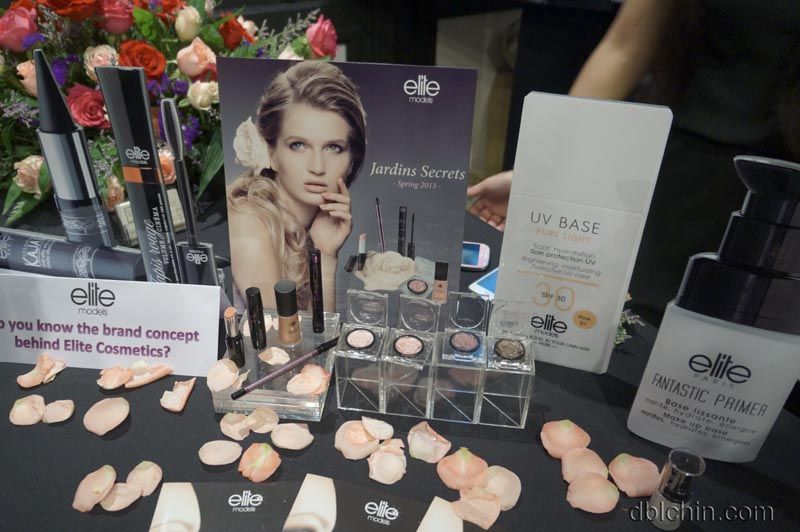 They came up with a couple of very interesting products; Primer and Kajal pencil that is usually not found in conventional makeup range. I was happy to have the luxury to touch and smell the beauty brand swatching it from time to time.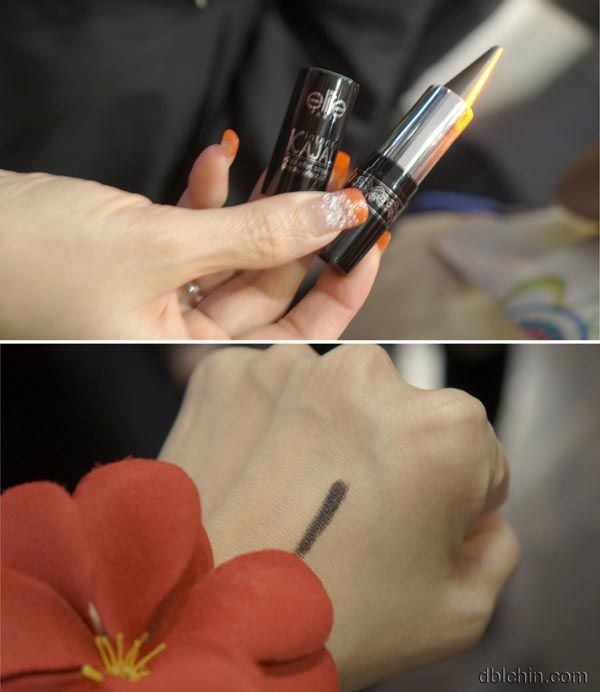 Rock Beauty London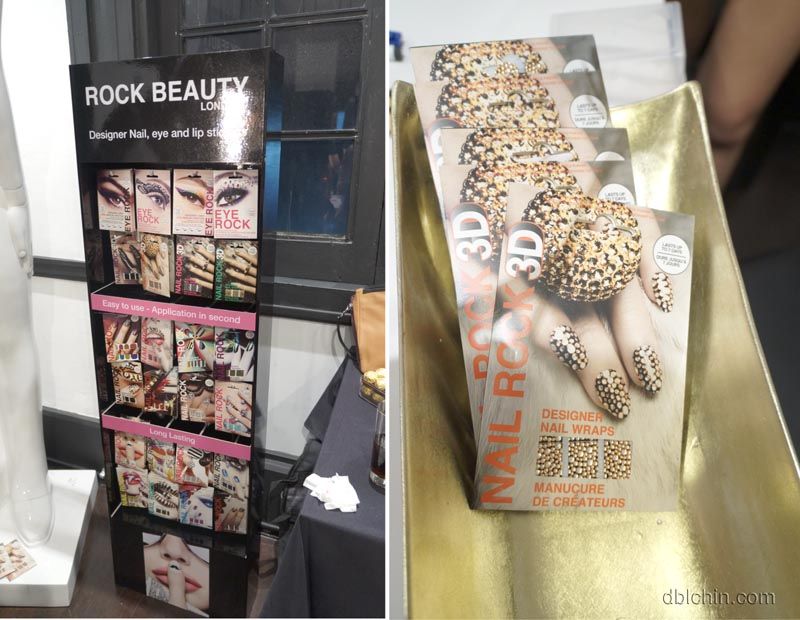 These are no ordinary nail foil, they are very 3 dimensional, the one you see above are protuded circles where you can feel each and every groove as you touch them, the contours of these circles are visible at every angel as you tilt your finger around. Is so interesting to the fact that I let out a light shriek when I was touching these nail stickers.



Plenty of designs to choose from!



These eye Rock Crystals gives an instant glamour look, a great party getup.

Olay Regenerist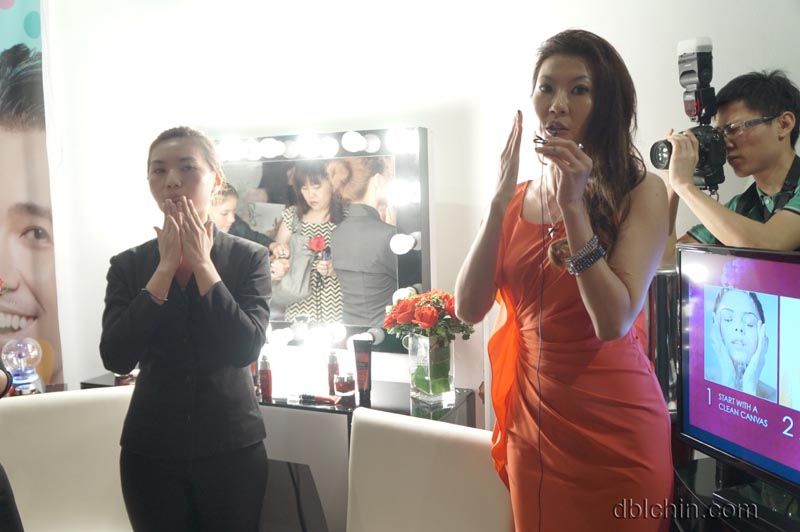 Irene, blogger from Moonberry.com shares with us her facial regime using Olay Regenerist and the benefits of this beauty range.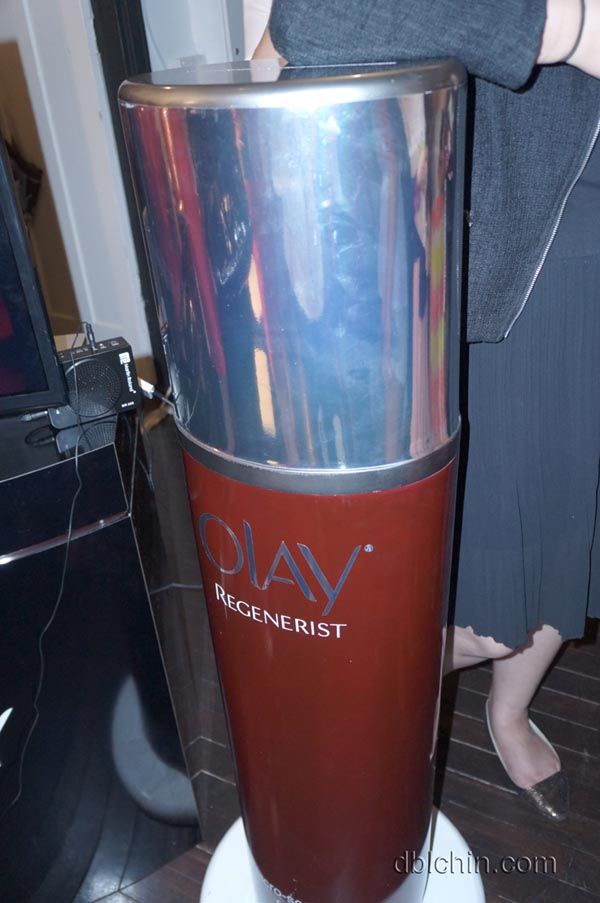 Olay Regenerist offers advanced anti-ageing skin care products that help regenerate skin's appearance without drastic measures. I'm lemming to try their Micro-sculpting Cream, which is said to hydrates, lift and firms skin, a good combat for my dblchin! Glad I have it in my goody bag.

Toni & Guy

Toni and Guy has participated in countless fashion shows aiding famous designers from all over the world to complete their Model Runway looks.
This time round, the Creative Director of Toni and Guy had came up with different looks using various range from their hair products to create a casual to Glam rock look.




He then did a demo of one of our fellow blogger Verlyn showing a scrunch of the hair will simply change the texture and look to the hairstyle.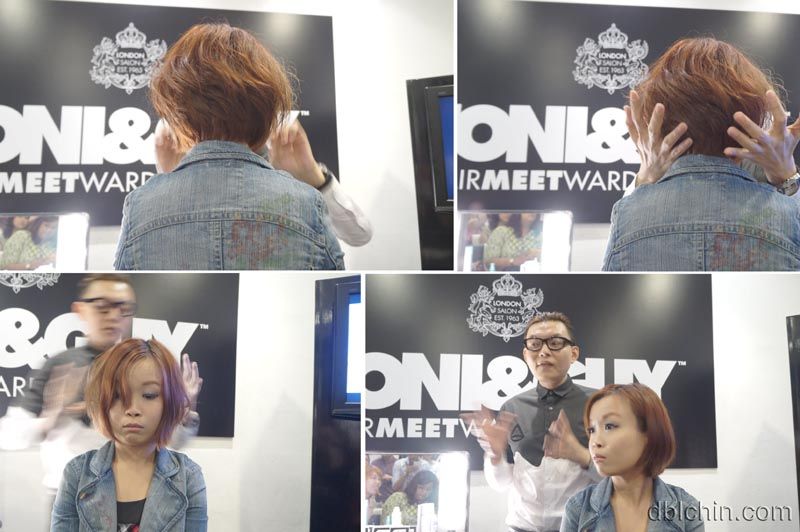 The few collection that will make appearance in Watsons.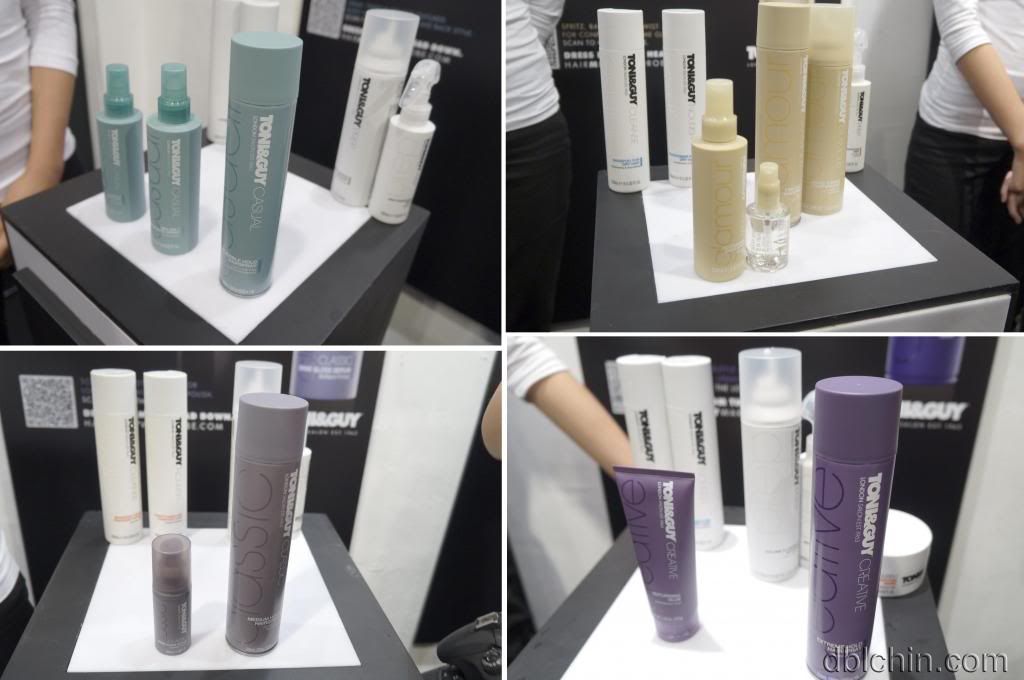 Eyemazing, Jewelove, Candydoll, Avance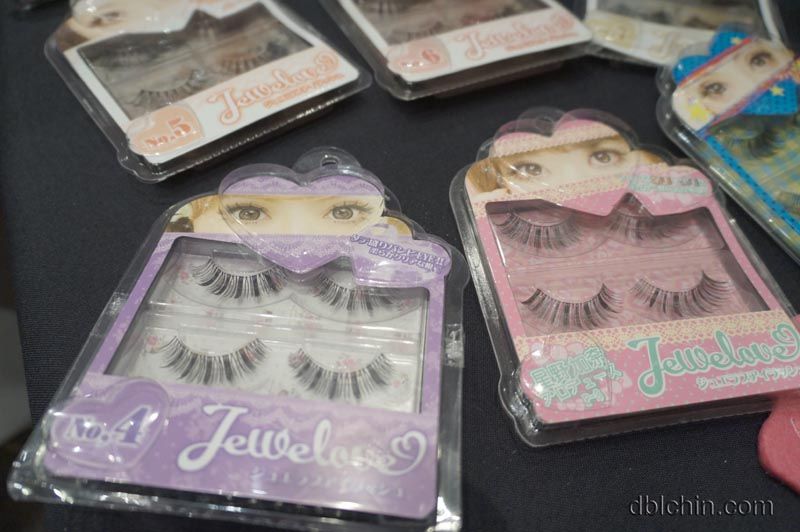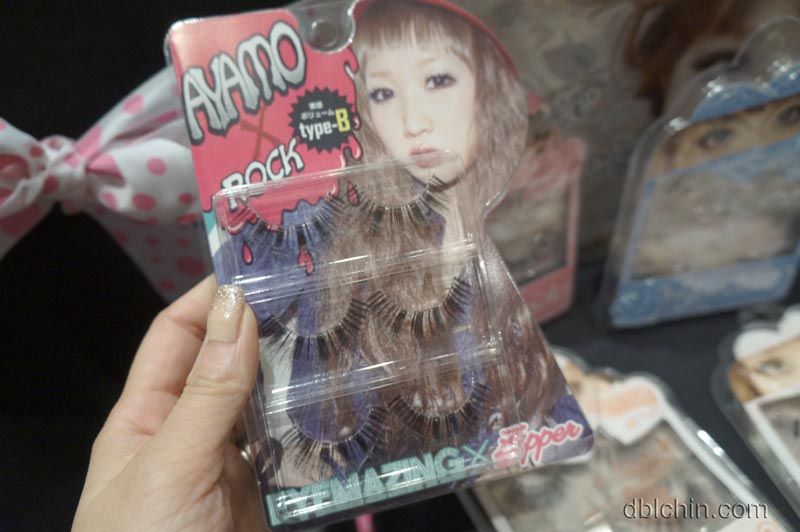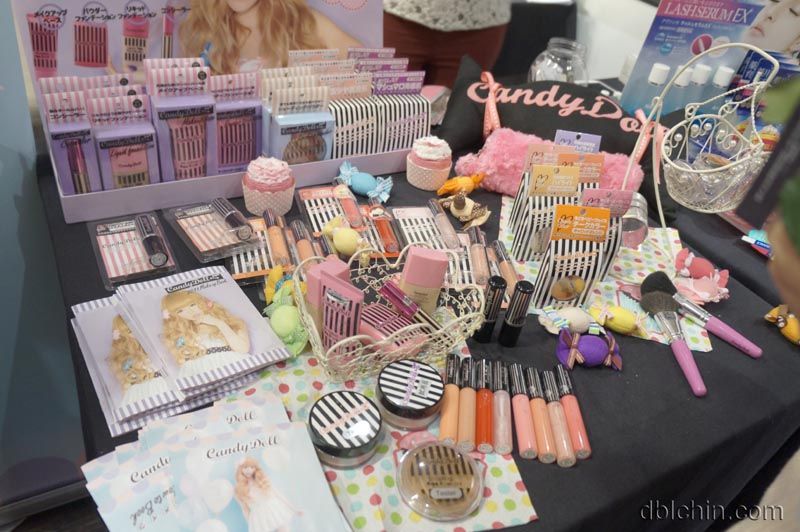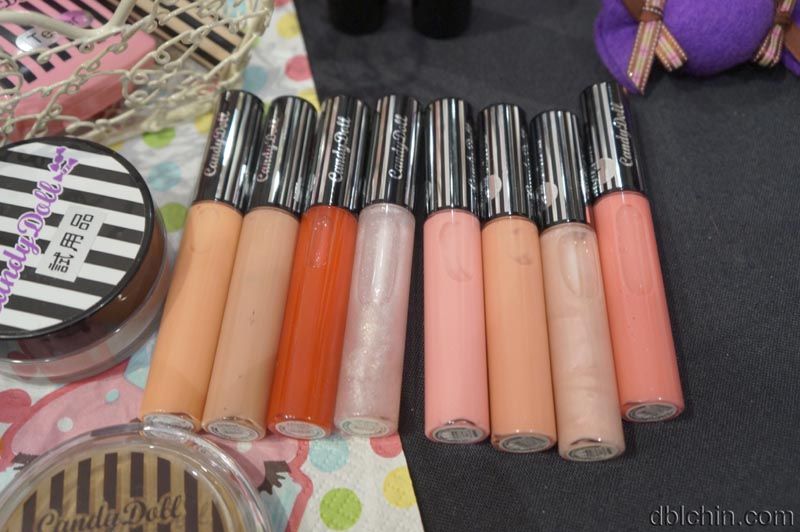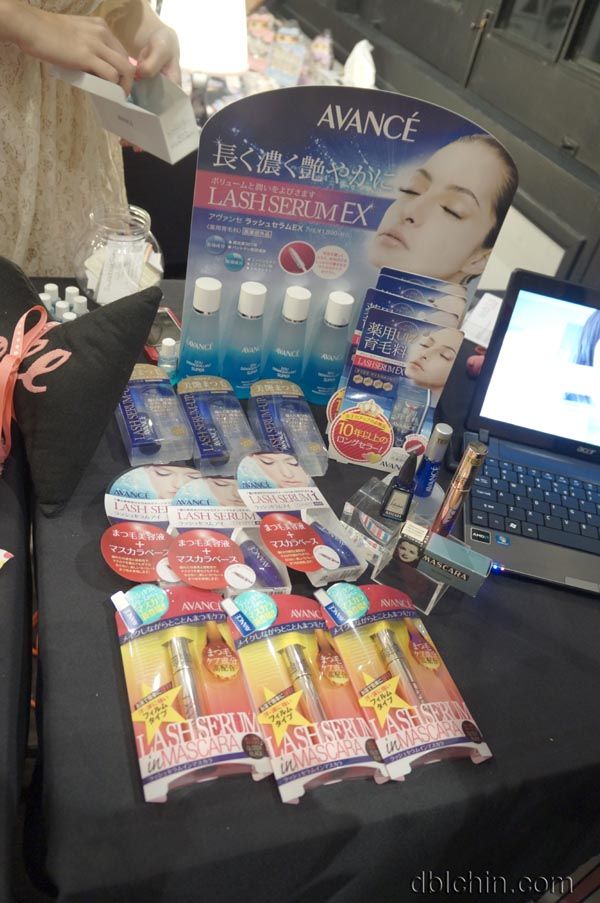 4 Major Japanese brand that brought on my interest. With so many new Falsies coming in from Eyemazing and Jewelove, you bet I'll be popping by watsons at least thrice a week!

I've got to try on one of the newest falsies from Eyemazing even before is launch in Japan, can you believe that?!
It has this fluttery purple tail that immediately jazzes up the eyes without the help of eyeshadow.
Please pardon the semi-dried glue and my bloodshot eyes, I had a long day at work.



Thanks to this beautiful lady for the application of falsies, she was very meticulous and careful!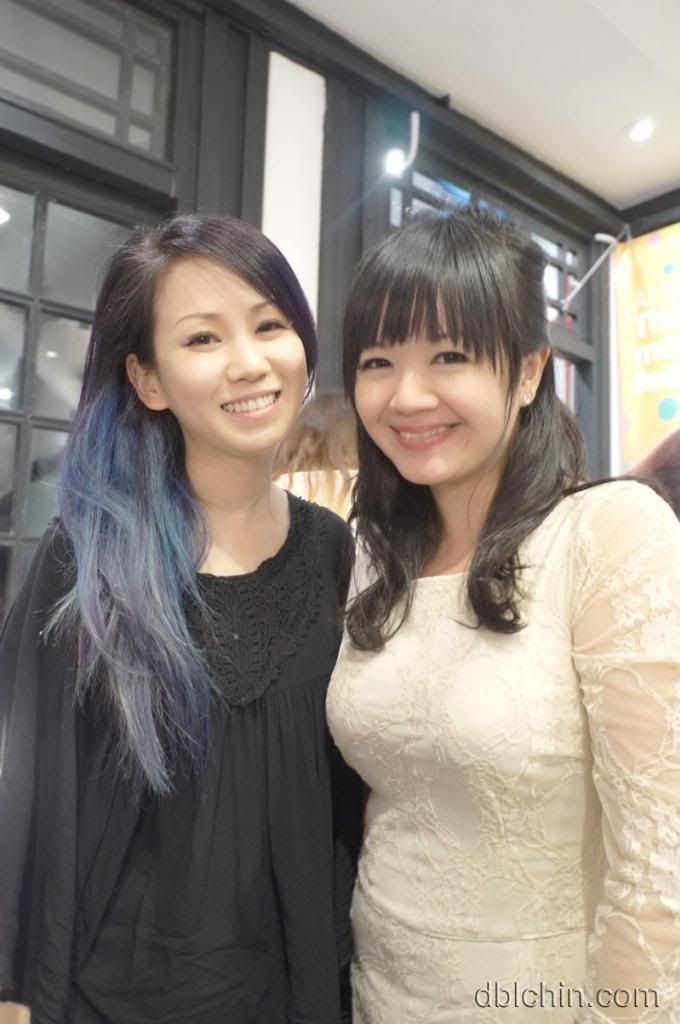 Is great to be meeting up with an old friend, Jaslyn's from M.O.S.S the distributor for these Japanese products.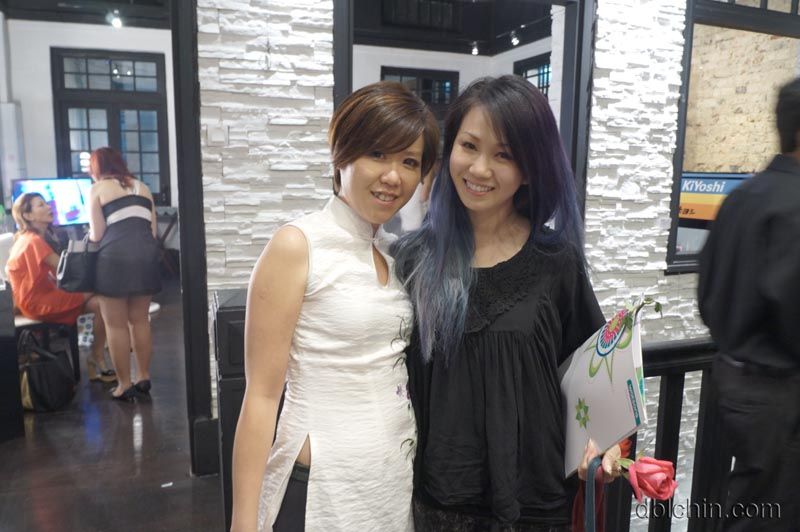 Then is Senka with Charmian.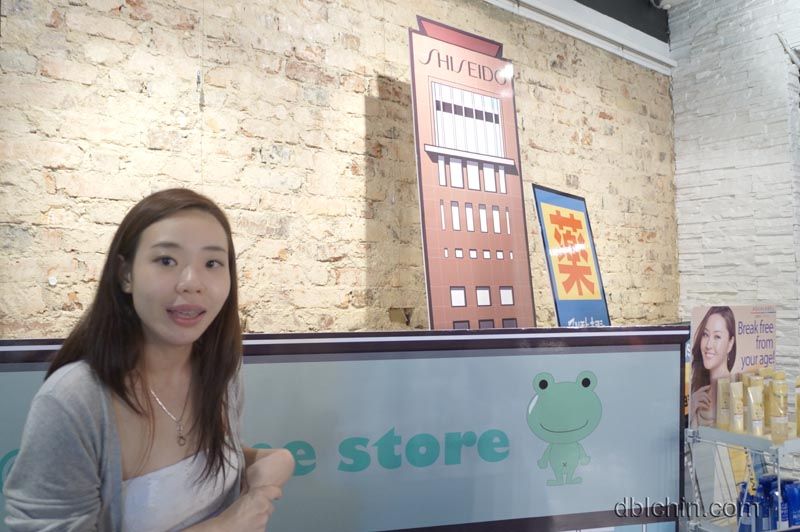 Incase you haven't notice I've blogged about Senka Before, read here for a more elaborate write up.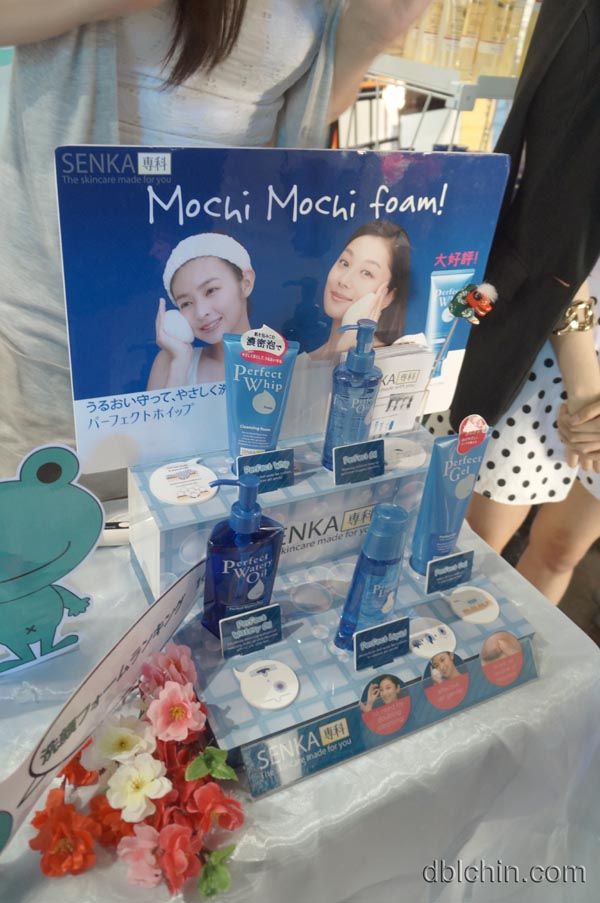 Under the big umbrella of Shiseido comes my favourite Skincare range, AQUALABEL.
My proudest moment because I emerged as the winner for a competition held 3 years ago that brought me all the way to Japan on an all expenses paid trip. (Begin reading here)



This time round, they brought in a new Range of products in Yellow (almost gold) Packaging, sole purpose is for firming.
I'm not sure what's instore for this yet but I will soon once I get my hands on them.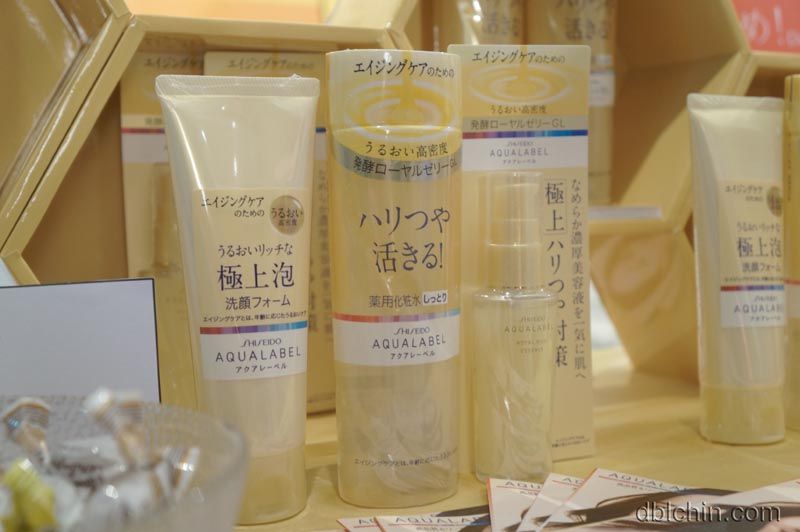 Catching up with the beauty bloggers.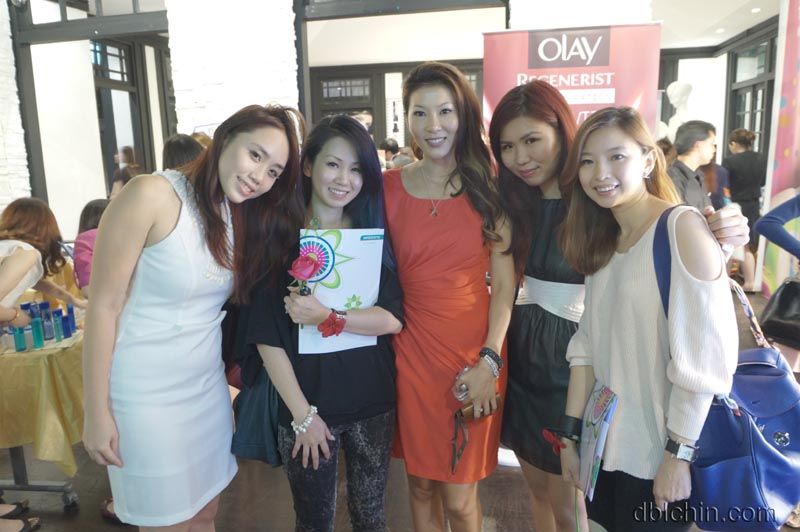 Brands Innershine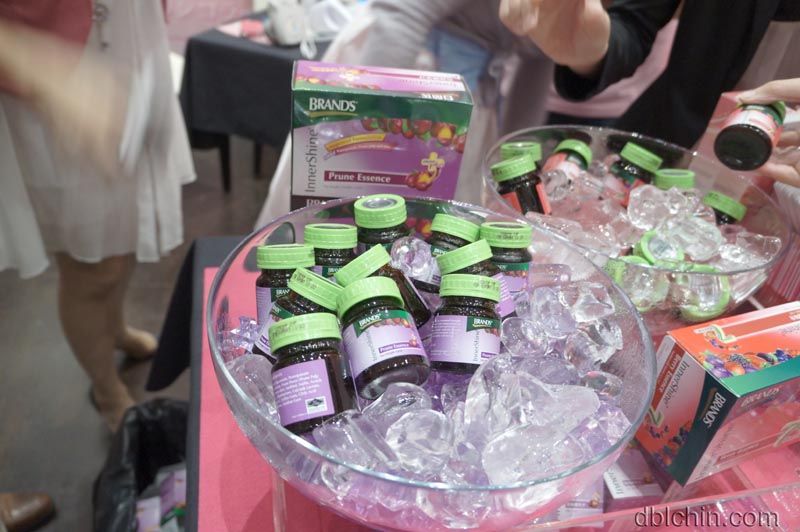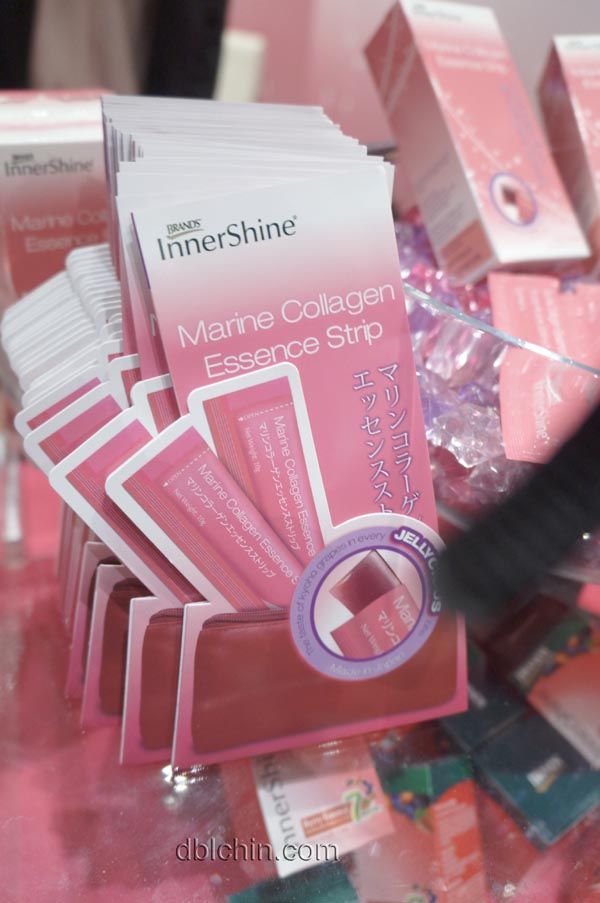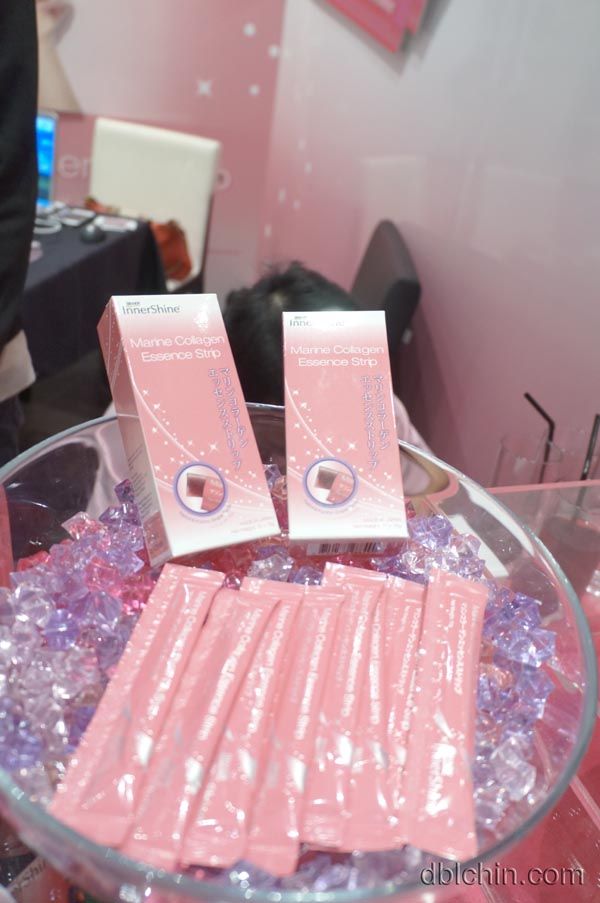 Everyone knows Brands, the developer of Chicken essence where you often send in as gifts to mothers' of newborn, get well soon patients...etc.
Little did I expect they actually came up with yummy treats for the ladies, Marine Collagen essence strip! It spell Y.U.M.S when I slurped one into my mouth.
I've got a pack in my goody bag and very afraid that I might gobble them up all at once. Collagen overload.

And last but not least Pure Beauty, a watsons specialty brand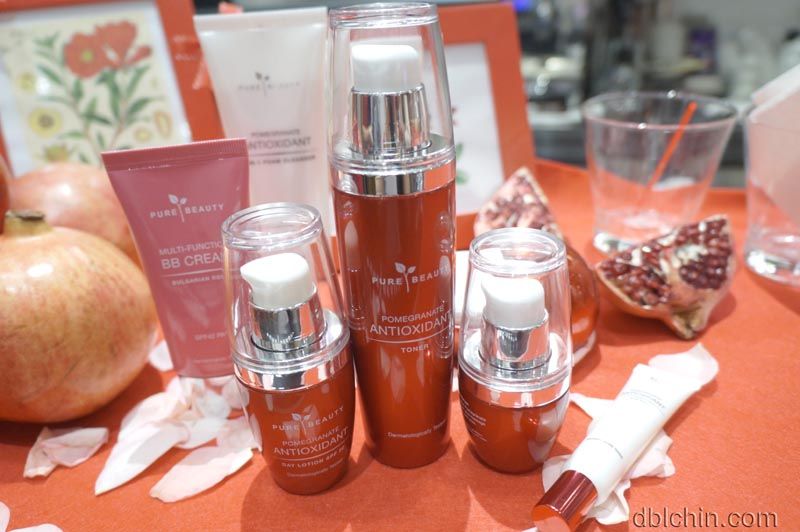 A product that focus on pomegranate, ahhh...we all know where this is coming to; Antixoidiant.
Very well, my body is in dire to fight free radicals and combat aging.
I suppose I've got one of the fighting agents in my goody bag, please allow me sometime to talk about this.

Hope you enjoyed this image heavy blogpost, I'll see you in my next!
♥Dblchin