Hellow Dblchinis
Apologies for my delay in my blogpost, I'm trying to blog as much as possible. Up till now I'm still screening pictures from Krabi, I tell you is no joke if you are narrowing down almost 1000 pictures. To make it worse, I feel the need to give every picture a 2nd thought before deleting because they are a worthy bunch to publish.
But for now is
Kick It Side
, a K-POP new cosmetic line from Skin79, instead of the usual BB creams, you get to see more colours from this Collection. Yes, we are talking about
Eyeliners
,
Eyeshadow Base
,
Blushers
and
Mascaras
!
*celebrates*
Kick it Side Lets Go Glam
Eyeshadow Base in
Metallic Pearl (Come on) S19.90

Loving this sparkly pearl eyeshadow base, it sets a subtle base for light day makeup. It glides really well but it takes a few layers to get the right amount of shield against deeper pigments around the eye area. I do not have a before picture but you can compare the faint difference between my top lid and lower eye area.
Unlike Maybelline's Tattoo gel eyeshadow, this jar is made of plastic. Even though is much lighter in weight and handier for small purses, the packaging somewhat feels a little cheap. Thank god the appearance is immediately compensated with the polka dot capping, I guess that's the only selling point in terms of cosmetic out look.


Kick it Side Fantastic Eyeliner in Trembling Blue S14.90


This is a strong blue, almost electrifying I have to say.
It could be a little 'wayang' if application is not done properly and if your smudging skill is not precise, many things could go wrong, say having a 'blueblack' on your eye.
To be honest, even though I still prefer liquid liner but I have to say this automated pencil-gel liner (with a sharpener embedded at the end of the eyeliner) totally blew me away. I think I'm born to love loud colours, purples and blues are my best friends.

Before Mascaras/Falsies/Contact lens


After layering/Mascara/Falsies/Contacts



The trick is all about layering when it comes shocking colours.
This case, I chose to layer a clean precised black liquid eyeliner over my blue to make the eyes pop.



Touch up my inner Corners and waterline with Eyeshadow Base in Metallic Pearl

Kick It Side Mascara- Poseidon Lash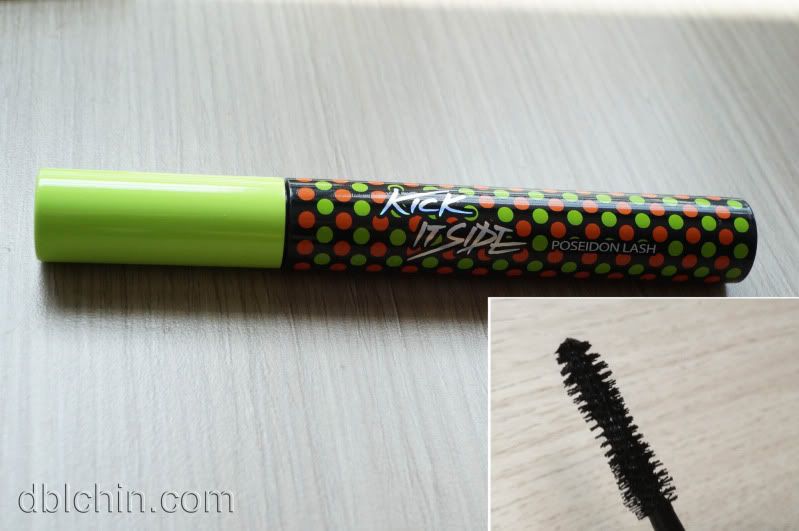 As usual I used my favourite Signature Kate Mascara Base which has accompanied me with countless mascaras test and still is the best Base I ever used.
Poseidon Lash gives luscious volume which is just what I needed for my thin sparse lashes. Nowadays I'm more into demi lashes rather than a full set of Falsies which is a little too heavy for daily use. So the first half of my eye(inner) is supported with generous coats of mascaras and I'll go easy on the outer half of my eye to further enhance them with falsies.

Right: Before Application
Left: Shiseido Curler/Kate Mascara Base/Poseidon Lash (NO FALSIES)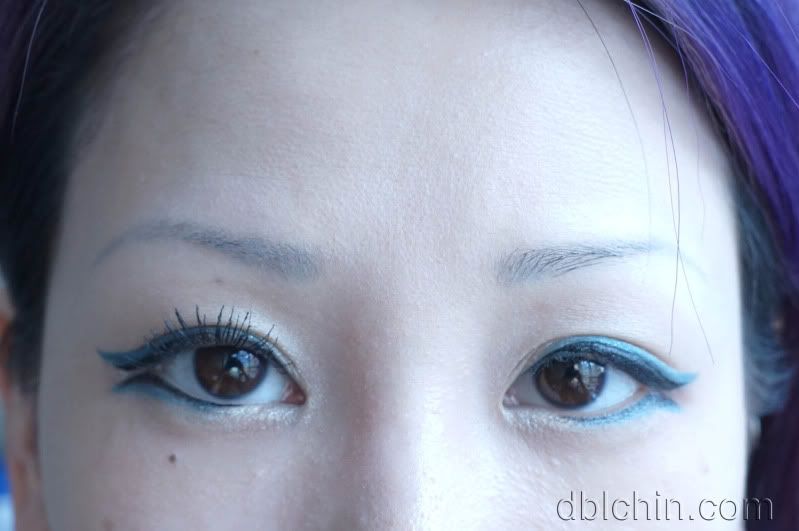 Once again the complete eye look.


♥Dblchin

Please Thumbs up for my page :D