Women, all shapes and sizes crosses path with 'aging' at some point of their lives, an undeniable factor of succumbing our body to gravity.
When one passes the age of maturity (especially 25), collagen starts to slow down and all that's left is old age creeping the hell out of me.
Think saggy skin and wrinkly boobs (not time yet but I'll get there soon enough)

A horrible

#TrueStory

.

Regardless of that, I never thought of seeking help to boost that region because:
#1- Given my frame and my genes, my boobs WILL always be small no matter what, so why bother?
#2- Since I have small boobs, I'm believe there will a limitation to the sag level, so no need to boost.
#3-I think my breasts are still pretty perky, at least I'm not able to throw them over my shoulders so... No need lah!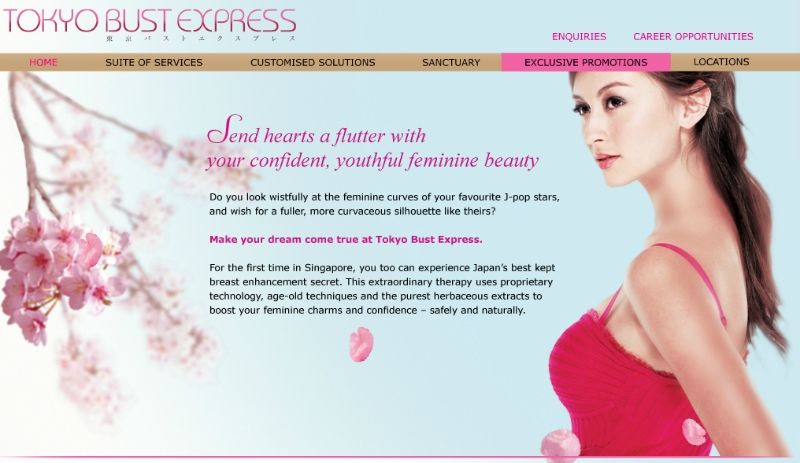 Ok I was so wrong, I was about to find out about my boob sag is level 99 when Tokyo Bust extended an invitation to try out a customized bust treatment at their 4th outlet, City Square mall.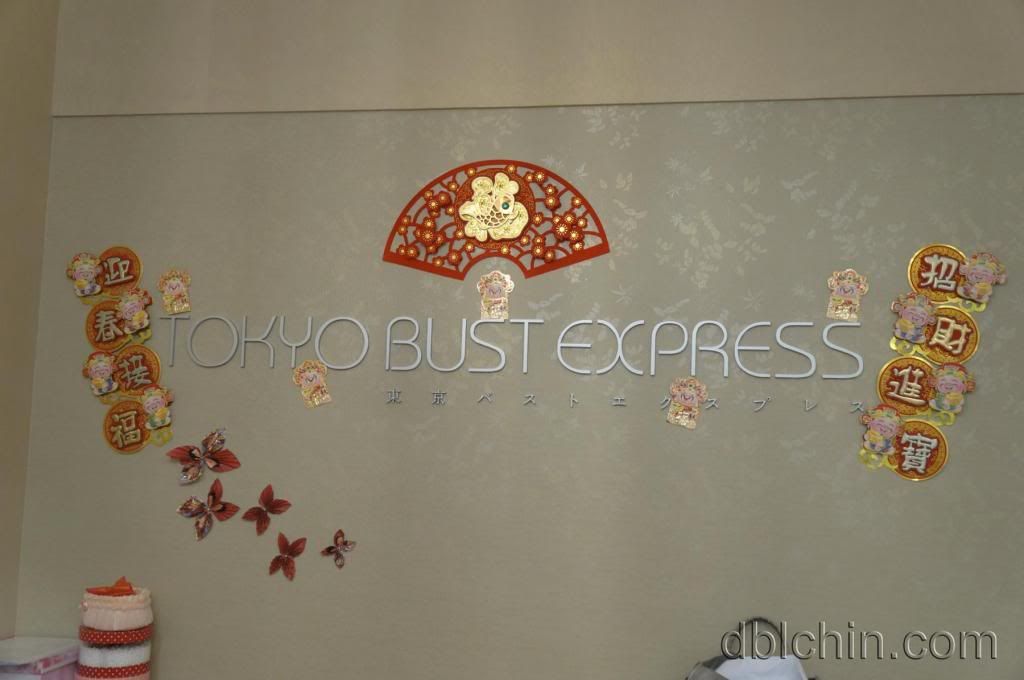 Tokyo Bust Express City Square Mall is Located at:
180 Kitchener Road
#B2-39
Singapore 208539

When I first step into Tokyo Bust, I was greeted with 2 happy smiles, the satisfaction of having a pair of perky twins.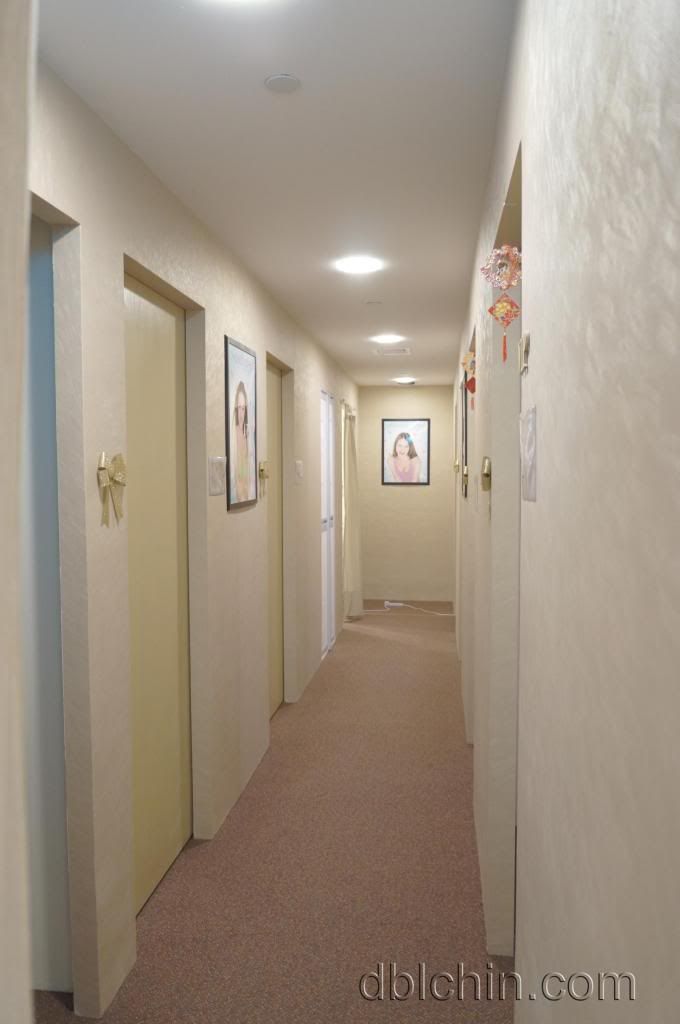 The interiors of Tokyo Bust looks simple and minimalistic yet they managed to hype up the walls with Chinese New Year Decorations, I guess old tradition still stays :)

Before I start my treatment, I was first treated with a cup of chilled floral tea for thirst quenching purposes. Refreshing as it might taste, I was in for a big shock about my sorry boobs.

But first, welcoming flowers!



They must've know I'm a little colourful sunflower which is why they've picked out Gerberas!
These lovely boost of energy is sitting by my TV Console right now, giving me a chance for a quick look at them every morning before I leave the house for work. Thanks!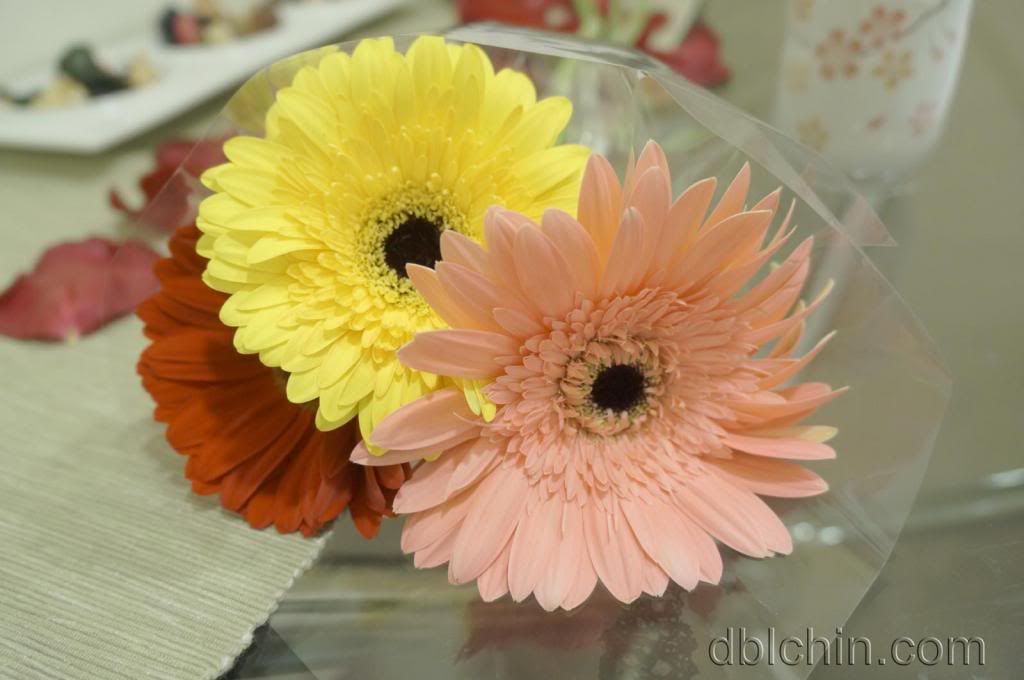 Now we get down to the technical detail with my consultant a.k.a therapist a.k.a Bust Inspector for the evening,Taylor.


There are a few key things to find out before she starts customizing to my needs:

-My Age
*Ehem* hitting the big three...

this year

*coughs* but my birthday is still 8 months away, so technically I'm still in my (late) Twenties *cough young right... *cough*

-Whether I Married/Single


*Married



-Do I have Children
*Not yet

-Ever experienced drastic weight loss


*No that I know of but I experienced a drop around 3kg in the past and that was a big deal to me

, I lost my boobs completely.



The reason for raising such questions is because, the boob sizes are subjected to change (lose firmness and elasticity) overtime due to age/weight loss, breast feeding...etc any that applies.

She went on to check the condition of my bust (strip time) and was baffled by the sag-ness despite my tender looks *Cries*
And to make things worse, my nipples are uneven (tmi I know), one is sagging lower than the other.
My main problem lies with the bra, it is not secure enough to support the busts, I blame that on my petite frame.
From now on I can no longer address them as twins, fml.

However, out of all the negative response something positive thing did came out of this inspection, is that I'm a B-cup afterall!
Not that flat chested actually, hehe :D

In order to correct the problem, Taylor is customizing the below for me:
Step 1-Bust Scrub
Step 2-TT Bust Up
Step 3-Bust Massage
Final Step- Bust Suction


Tokyo Bust Express uses the safest ingredients (100% Natural Active Phyto Ingredients) consisting the following to achieve natural perky bust :

Fenugreek Extract- Helps hormonal production
Mexican Wild Yam Root-contains beta carotene to optimize breast development
Dang Gui Root- used to treat menopause, super effective in assisting body with hormones.
Humulu Lupulus (it does sound like Oompa Loompa isn't it?! haha)- to facilitate mammary Glands.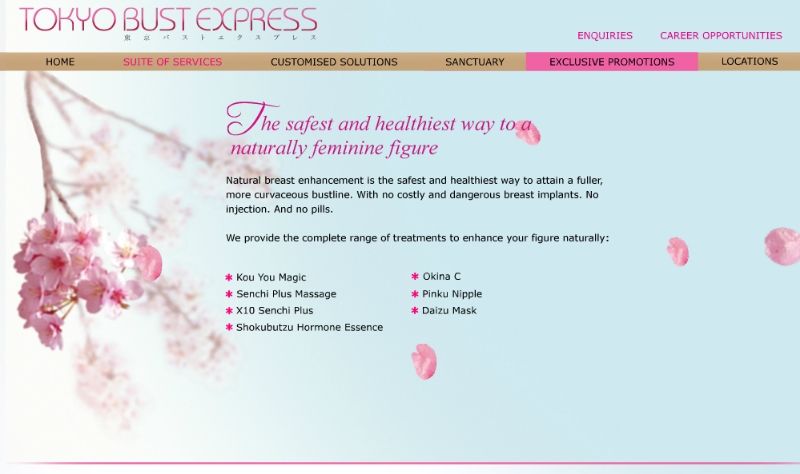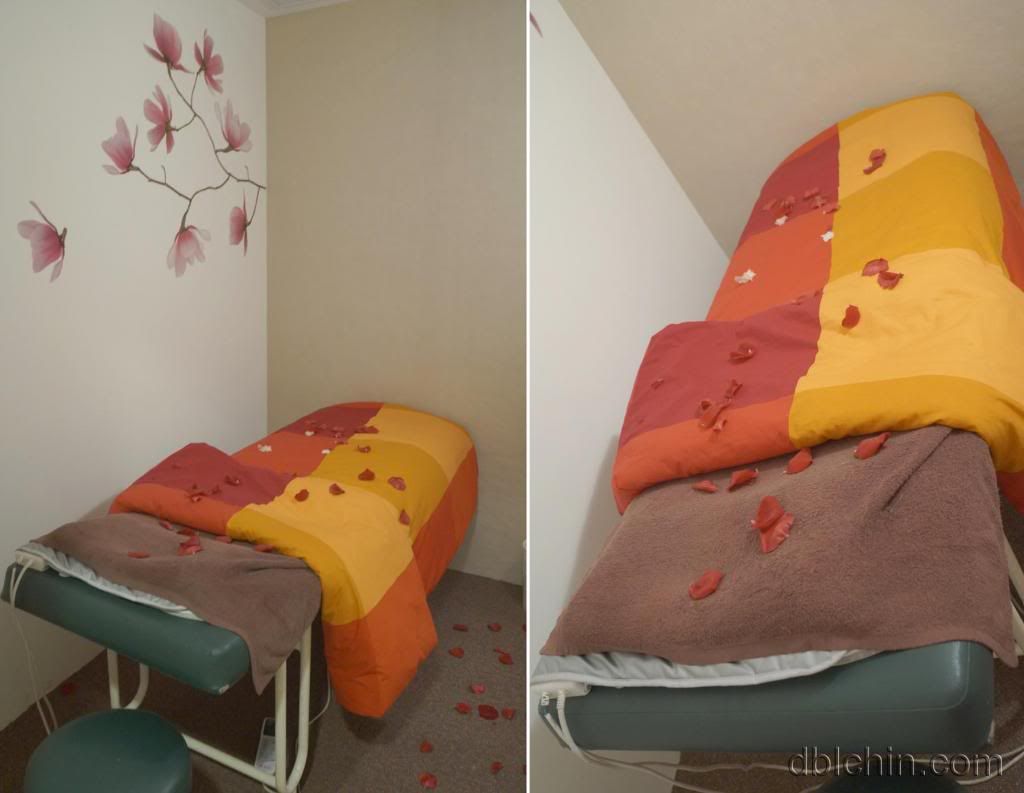 I was then led to a room with lovely sakura wall stickers with flower petals scattered over the treatment bed and carpet, I've unknowingly stepped on a few and immediately felt the freshness of the petals running through my icy feet.
I felt like these people from Tokyo Bust knew me even before met me, even the quilt cover is in a burst of warm inviting colours, just like my personality!

I then changed into this dusty pink robe.
Is inevitable to look flat without bras ok so don't judge!



This pic is very action pack, see my gek sai face macham I'm about to experience agony. Apparently is not that painful just heavy pressing on the shoulders and chest to prep for treatment.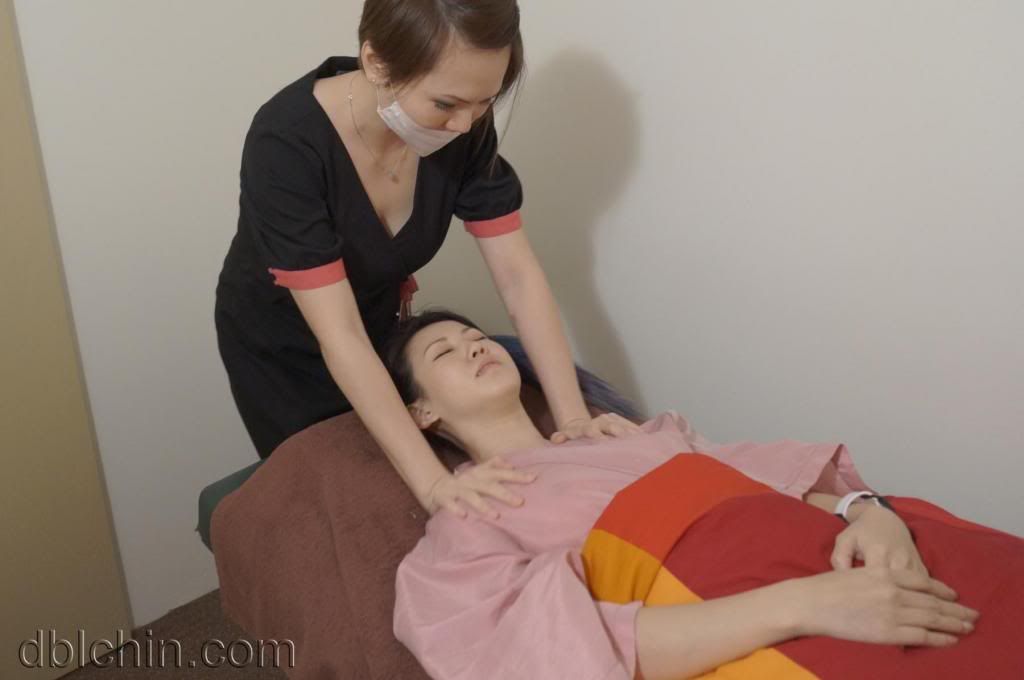 The first treatment was Bust scrub, I was little shy at first exposing my owl eyes to someone I first met, let alone the touch of running the hands up and down on them but I soon submerged into a comfortable position because there is nothing much to be shy about really, judging by how professional Talyor is.

After my skin was fully exfoliated, we then proceed to the 2nd treatment which is TT Bust Up, a pair of plate-like looking device with hollows in the center are placed over my bust to emit current in stimulating the growth of my glands. Achievement- a fuller looking breast.
To be honest, when I first felt the wave of electricity, I thought these devices are going electrocute my boobs.10 minutes later, I got so used to it I told them to power up the current for the rest of the 10(total 20 minutes)

Then we proceed to my most un-enjoyable segment, Bust Massage. Maybe I've got more bones than meat, it somehow felt uncomfortable rather than relaxing.
Taylor says I'm not letting go my muscles enough. Somehow, I've got to agree with her, my actions always always so rigid that even when I head for my usual body massage at other salons.
Despite the pain, I managed to brace through the massage because this segment is very important, it is essential to further stimulate the glands by massaging. Taylors proceeds to located and applies pressure to the gland, also tries adjusting the baby fats from my back and around my armpits back to my boobs.
This is also the part where she tries to even out my the distance of my nipples by massaging the boobs upwards.

I'm finally able to relax my muscle as we proceed with the last step of this treatment, the Suction. Once again in pairs, 2 oblong bowls are cupped over my bust to create this suction effect. The process consist of having the device suck on my boobs to create tension and monetarily releasing it (takes about 5 secs for each interval) zonked me out completely.
For the rest of the 20 minutes I slept like a log and when the buzzed sounded, I knew was the end of my bust treatment :(
Man, I missed the suction thing, is like I could sleep better with having that over my boobs than my regular bed, lol.

See that Huge difference in diagram.
This sheet is pasted against the wall with me standing in the same direction towards the wall. Taylor then proceeds to take measurements using my nips as a guide before treatment(blue text), then retakes another measurement of the after treatment (pink text)
What a significant difference, now everything is evenly spread out.


As for the pyramid diagram, it the tip represents my neck and the 2 ends represents my nipples as a guide. The distance of my boobs to my neck are raised from 18cm to 17cm (less sag), the circumference of my boobs is measured wider from 71 cm to 72cm (bigger in cups) and the distance between my boobs are brought closer from 17cm to 16cm (more obvious cleavage)

Overall is an epic adventure for my sisters. Just like the making of bread, they were watered, electrocuted (ok not counted as part of bread making), kneaded like a dough, left for yeast and finally into the oven for toasting.

Out came a pair nice bun buns, swee.

Satisfaction at last.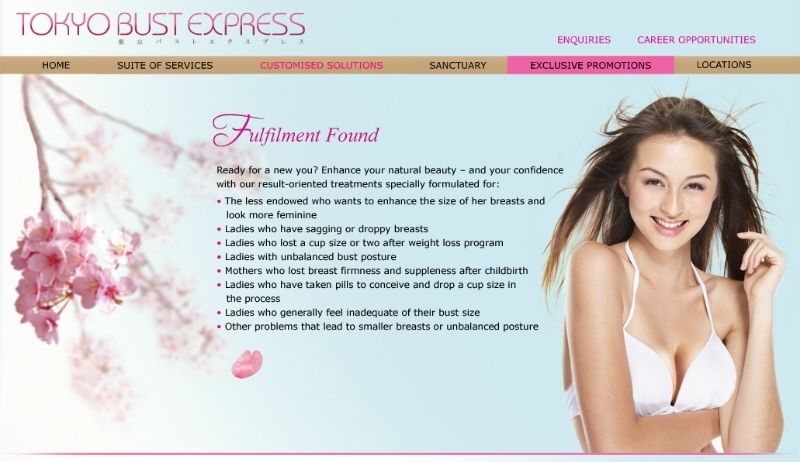 Now you Dblchinis can get to win huge prizes from Tokyo Bust Express, including Takashimaya Vouchers!
Just answer a simple question below.

Q:

Tokyo Bust Express uses only natural ingredients for the various treatments

.

True

/

False

All entries will receive:
Personalised Bust Analysis
3 x Bust MAX-UP Treatments worth $1088
Daizu Volume-Perk Mask worth $488
Lucky Dip Chance to win $500 worth of Takashimaya Shopping Vouchers / Treatments / Fair Price Vouchers

1. Leave your details
Here
2. SMS DCT_FullName_NRIC_Answer to 85330226
3. Call 6262 6161
Terms and Conditions to apply:
a. Females above 18 years old and above only
b. Strictly by appointment only.
c. Promotion valid for 2 months
d. While stocks last for prizes
Thank you Tokyo Bust Express, I've learn so much from getting the right bra and keeping my boobs in shape!
Receive Tokyo Bust Express treatment at your preferred location now :D
City Square Mall
180 Kitchener Road #B2-39 Singapore 208539
Park Mall
9 Penang Road #11-06 Spore 238459
Nex Mall
23 Serangoon Central, #03-32 556083
Novena Square 2
10 Sinaran Drive #B1-111 307506

♥Dblchin

Please Thumbs up for my page :D
*This is a sponsored post