To be honest, I'm much over the BB era, especially when most BB cream turns grey looking when I applied them on my skin. Is like I rather have a more yellow base foundation that doesn't carry any therapeutic function rather than a grey tone BB cream equipped with skin caring properties including my most important of skincare regime 'sunscreen' yet making me look rather dull after application.

When I received moisture white BB cream from The Body Shop, I wondered if I'm doing the right thing by accepting this because I'm pretty much convinced that BB's are out of my life. But I KNOW, everyone deserves a second chance, maybe I would learn to accept it again. This case, I did fall back in love with,

The Body Shop Moisture White Shiso BB Cream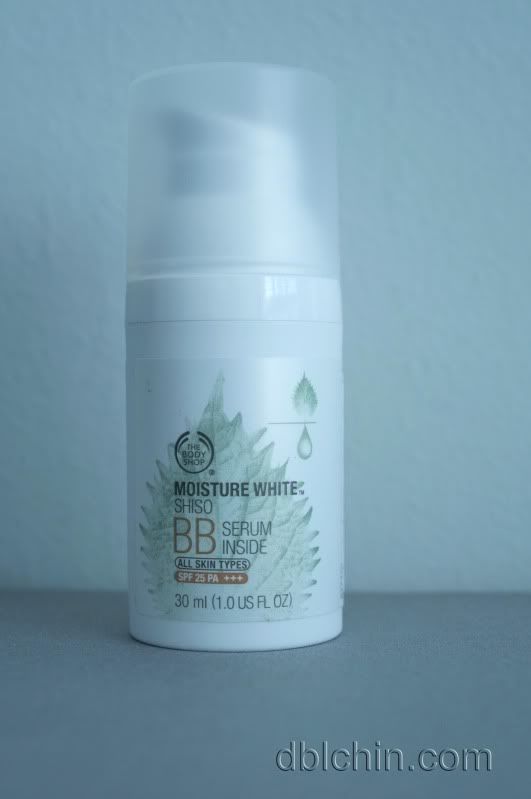 It comes in a midgety pump size bottle of 30ml, rather cute looking and handy, this product carries a combination of makeup coverage plus the power of Shiso whitening Serum. It's Whitening agent helps to brighten and lighten skin, I guess that's the trick in preventing my makeup from turning grey.

Also Shiso, a very powerful herb that targets to reduces early melanin signs, getting into the root of hyperpigmentation way before it hits the skin. With Shiso extract, the effect of coverage is even greater for uneven skintones and pigmentation.


The consistency is very thick like any other BB creams but apparently when I pump this out from the bottle the color is somewhat brighter looking than the other BBs.
It works really well with the blending, helps to conceal pores and manages to even out the darker areas around my eyes without the need of using a concealer.



My skin is a little on the dry combination side so whatever dry formula goes on it might result in obvious thin fine lines peeking under the foundation. Glad this BB cream doesn't gives that crackled skin effect, I actually experienced a flawless subtle glow after the BB cream settle in about 30 minutes later.
As the day goes by, my skin actually appears more brighter and lighter also maybe a little oilier but no biggie, I always bring out my handy foundation or pressed powder for light touch-ups.


I have to say I enjoyed this product even though I truly felt that it doesn't carry the overtime whitening effect but is good enough to look radiant for the entire day.

This is definitely a keep.

♥Dblchin

Please Thumbs up for my page :D
*product
is sponsored