*Sponsored Items
Hello Dblchinis!
I'm a serious hardcore fan of watsons, I buy almost all their housebrand, from sanitary pads to wet wipes.
So when they approached me to be their brand ambassador, I'm so not surprise...NOT! OF course I'm overwhelmed with excitment! Like finally I get to be an ambassador of that major household brand!
Then again, I have to say they came to the right person, like they will never ever regret this coz I utilized their product till the last bit *blow nails*
So I received their very first package, truckload full of goodies~

Ruby Kisses HD polishes ($9.90)!


From left : HDP29, HDP19, HDP02 & HDP10
It is long lasting and chip resistant, easy application and colour comes out intense and deep not like those watery and runny nail colours.

I'm using HDP19 here for that intensifying look.
Checkout my ZA blogpost!



Nail art sticker comes free with every 2 Ruby kisses polished purchased



I love jazzing up my nude nails with these nail stickers!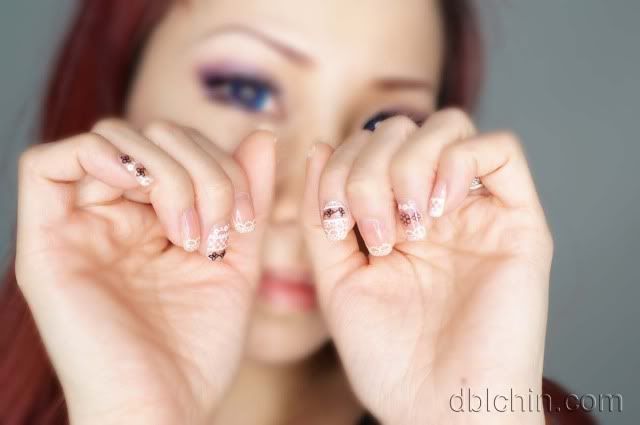 I'll do up another blogpost of how I did my nails.


I also received products from DHC, Japan's number one direct mail skincare brand and the leading provider of high quality beauty products.


This time I'm trying out the very first medicated Conezyme Q10 skincare series well known for its anti aging properties and effectively boost skin repair.
It took DHC 6 years of pain staking research to achieve the Q10 skincare range which increase 10 times the effect of Q10 in the skin.

What's Q10?
'Coenzyme Q10 is naturally produced by the human body and is necessary for the basic functioning of cells. A powerful anti-oxidant, Q10 is known to fight free radicals, damaging particles that contribute to the aging process. In normal conditions, the body is able to produce as much Q10 as it needs. Unfortunately, levels of Q10 inevitably decrease with age: this is particularly true for the skin, which becomes an easy target for the attack of free radicals and the weather.'
DHC Medicated series contain key ingredients of water-soluble Placenta Extract, a natural ingredient renowned for its moisturizing properties; Collagen, which provides the skin with elasticity; and moisturising agent Hyaluronic Acid, which retains moisture in the skin to leave it firm and smooth. Vitamins, specifically Vitamin E and Vitamin C derivatives,further support the effect of the other medicinal ingredients for quicker results


DHC Medicated Q10 Gel (40g S$69.90)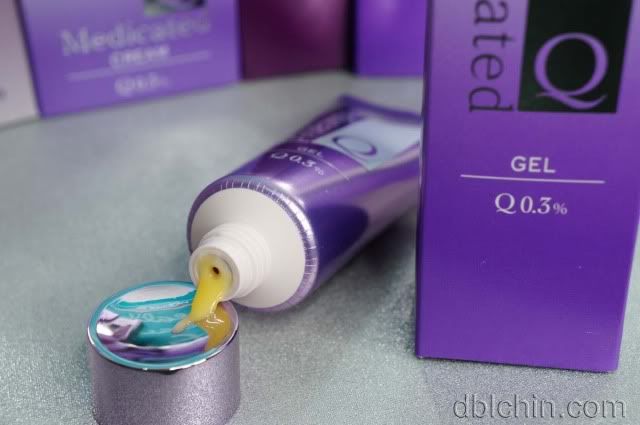 A very light weight gel that contain a mixed of luxurious ingredients that helps skin looks instantly fresh and radiant. So in short is like a quick fix, if you need an instant booster, this is definitely the product to go.
And it smells like...nothing, yes fragrance free, less scent means less skin sensitivity.


DHC Medicated Q10 Cream (50g $79.90)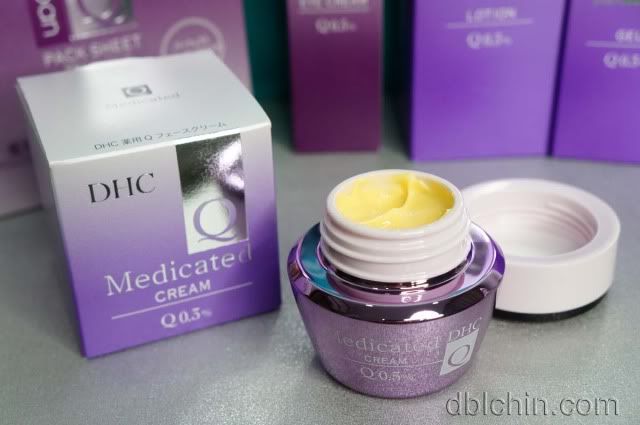 Rich looking moisturizer that is so potent that it defy the law of aging. It can penetrate to the deeper layers of the skin to supply moisture and play a significant result of decreasing fine lines and wrinkles.
It says cream but actually is not creamy at all! Pretty light weight and glides really well onto my skin. I'm loving this!


DHC Medicated Q10 Eye Cream (25g $69.90)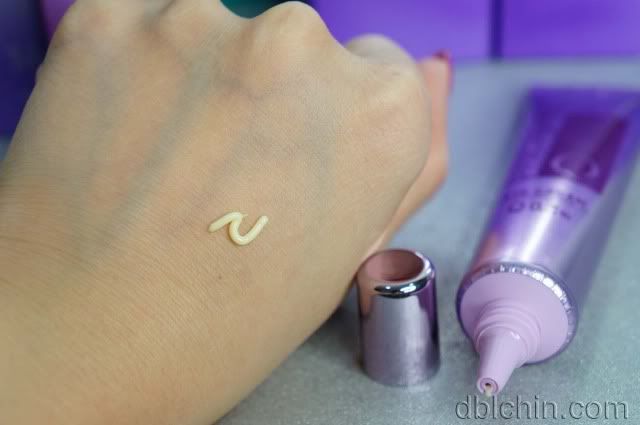 Fine lines are the key to aging and seriously I'm so not looking forward to that. DHC has specifically developed an intensive eye cream that is also complemented with other nourishing ingredients including Placenta Extract and Licorice derivatives to support and boost the effect of Q10. This is really a time miracle, I cannot afford to grow old that quick!


DHC Medicated Q10 Lotion (160ml $69.90)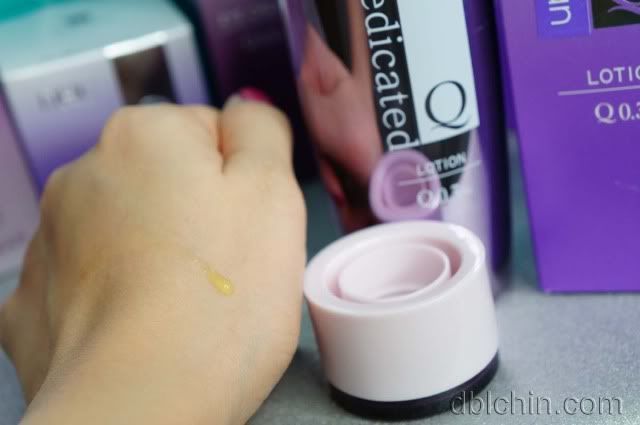 A yellow texture lotion? Ha that's new! This product provides skin with an instant sensation of smoothness and elasticity, from the first moment you apply on the skin.
I apply my lotions, toner onto a cotton pad and use sweeping motions upwards, so whats your style of applying?


DHC Medicated Q10 Milk (100ml $69.90)



This is the bomb to improving dryness. DHC face milk promotes deeply moisturized firm skin
and excellent moisture retention properties to help improve skin texture, vitality and natural beauty. Bottle is pump feed so you don't have to worry of getting messy all over with this runny liquid.



DHC Medicated Q10 Pack Sheet (5 pieces per pack $49.90)



I love mask with Collagen properties, it definitely boost my skin giving it the radiant they ask for. Together with Hyaluronic Acid and other beauty essences, this mask has sufficient nourishing and emollient properties to effectively improves the texture of the skin.
However, I wouldn't advise you to use on a too frequent basis because of its deep penetration, be cautious and only use it when your skin is in need of special attention and care.





Watsons vouchers are also included in the package which gives me the luxury to spend comfortably for things I love.
Told you I'm a Watsons House brand lover, 2 out of the 6 items are products by watsons.
My major fav is the floss, wide angle and reachable to tough areas, I stock up many many with my vouchers liao.
Great smile comes with great care, like what my dentist always advise, only floss the teeth you want to keep!



*DHC flagship stores retailing the full range of DHC products including DHC Medicated Q10 Skincare Range can be found at Watsons Bugis Junction, Compass Point, ION Orchard, Ngee Ann City and Raffles City.
DHC products can also be found at the key island stores at Watsons Choa Chu Kang Lot 1, NTUC Hougang Mall, IMM, Jurong Point, Parkway Parade, Tampines 1, Tampines Mall, Vivocity and East Point.