Hey dblchinis~
People around me always giving me Awesome critics about my dress sense.
Lets read some live testimonials:
'PearlinS thinks I'm fashion Savvy,'
'JoanneL commented I'm a ever changing chameleon'
Brother thinks I look fat in every outfit'
'Another bro refuses to give comments on my outfit'
'my parents agrees that I looked bloated in most outfit'
'my bf says is best if I don't wear any outfit when I'm alone with him (I made that up) '
with the probability of 2 good reviews VS amount of crap my family has given (bet they are in cahoots),
I've decided once again to review about fashion.
This time, the clothing are snt from....
LOVELYSPREE.COM
They total snt me 4 tops in 2 different collections~
Lets take a look at collection 1
3/4 sleeve full length top with graphic prints~
Is a little warm for summer now, I'll wear it during Autumn then.
but...
who M I kidding, S'pore only 1 season, SUMMER
Actually I could use this for colder days like the past few months, so I gotta wait for another 7 months for this to happen.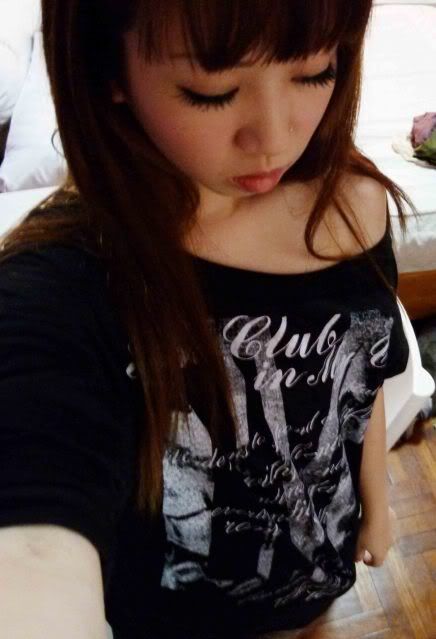 SIAO AR! U think make of fur izit?
This is truly good enough to wear out in the evening for dinner or hangout with friends
However, when u r baring ur ass towards the hot scotching sun, don't wear black
This pic nothing much, just to show u how straight my teeth are with the aid of
Invisalign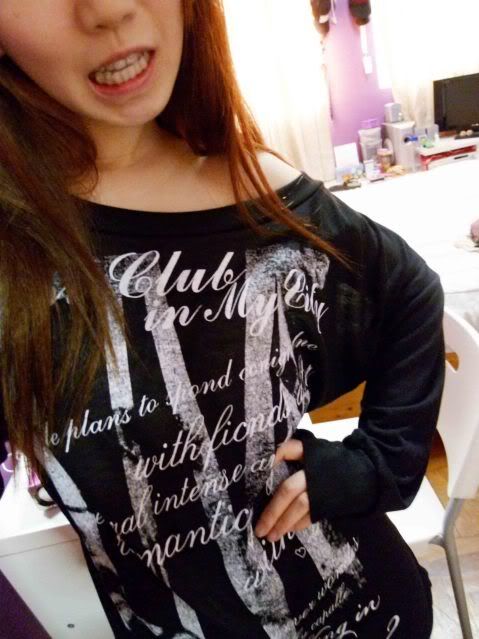 The clr of graphic print use is good enough for you to pair with a simple bottom, just black body with white print.
U know when I see tees are printed multicolored especially with combi of green, Red & white.
Is as if the whole roulette wheel is slapped across the upper torso, I almost wanted to place my bet on the chest like that.
Is ok if u don't get what I mean, I get what I mean can liao.
Because is body length, you can just simply throw on a pair of leggings or shorts and headout.
I wouldn't recommend Denim though, looks too heavy if paired with jeans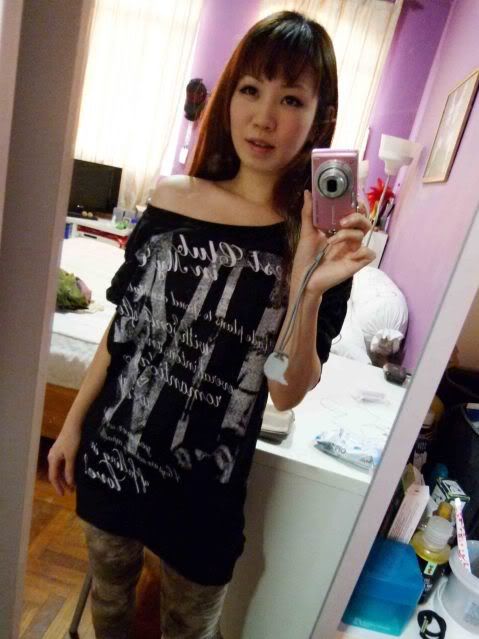 Sometimes Being petite is good, other ppl wear can barely the belly button but give me wear can cover until my arse.
Check out this studded white top!
I love tops that are adorn with embellishments.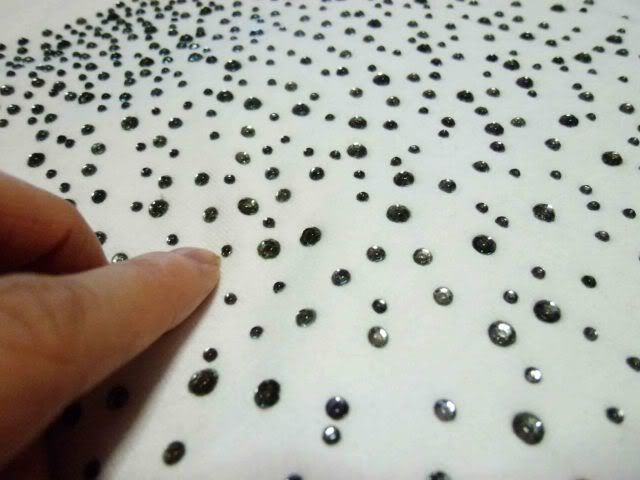 Quality of the outfit are truly decent as well.
IS not uber GOOD, I mean if you are looking for top notch quality U should head to branded boutiques. For me, I can only afford to buy a skirt and chew as ration for the rest of the month.
To support my former statement, this is definitely not made of low quality where the studs are cloudy or old looking, U know how some cheap diamante look like right? lack of luster and such.
Well... this does not.
I'm pairing it with my high-waist shorts.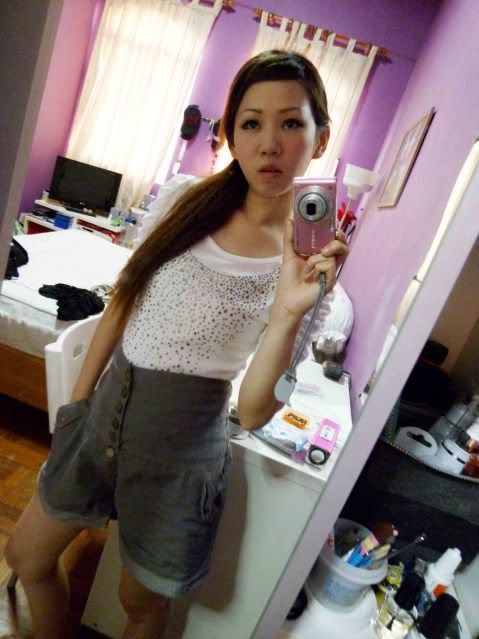 and can u see all my messy clothes behind?
Yes I do prioritize,
work first,
laundry later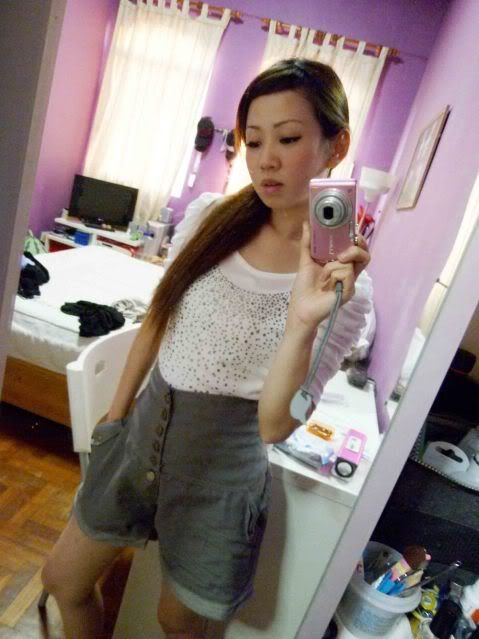 OMGAWD!
That's me camwhoring! Quick Clap!!!
Love the gathers at the sleeve area.
O MY GAWD!
Another camwhoring pose! Quick Clap AGAIN!!!
Grey long sleeve with Gathers at neckline.
This one makes me look really cute.
I mean How cute can I not get when I show my Peace sign?
Cute = NOT ugly & Adorable.
I will totally wear this out with my hot shorts or simply tapered pants.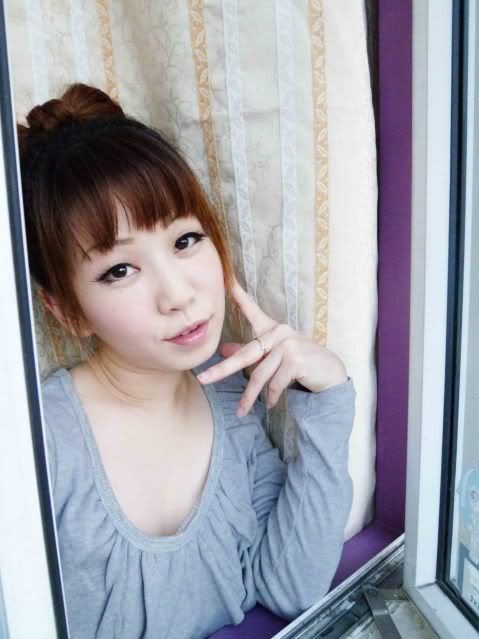 I like the ruching at the bust area, makes me look like a triple D cup right?
Is all in the mind people.
Illusion drives men crazy.
ok this one... also to show u my teeth v straight.
I'm in this position eversince my teeth got straighter.
Yea
INVISALIGN
.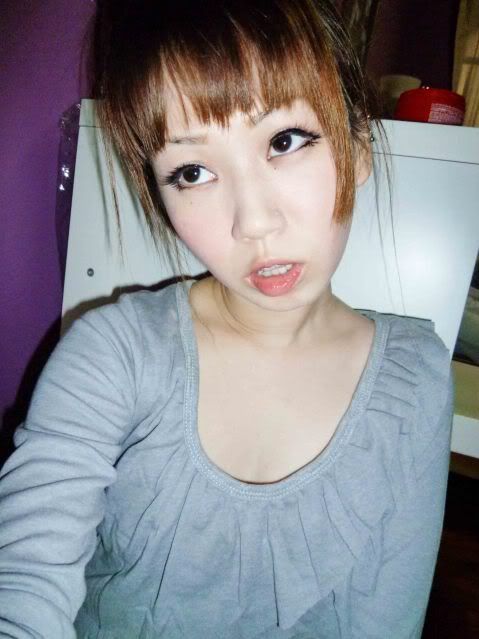 But my expression quite spastic.
Take a closer look at the detail, because ruched details are cut raw edged thus I strongly suggest that you wash this top inside out.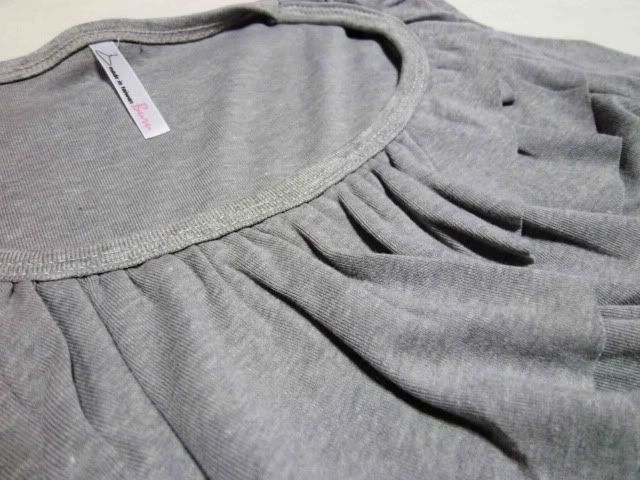 if you wash it as per normal it might cause the fabric fray or stretch.
I'm wearing this top with a off white tapered pants.
If you are wearing a top with quite a bit of details, try to minimize the bottom with a neutral colour.
Overlapping over Sleeveless top.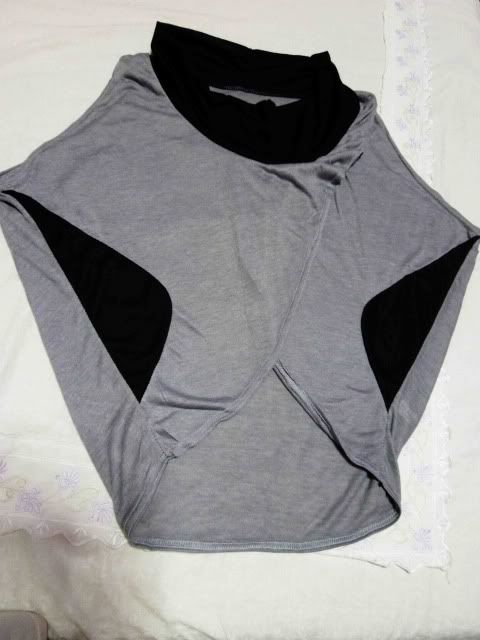 This top is very Zen inspired.
It has black block colours at the collar and the sides that makes the outfit looks interesting.
You can match it with either black or grey skinny bottoms.
Love how the outfit drapes across my body and that the collar hangs loosely on my neckline.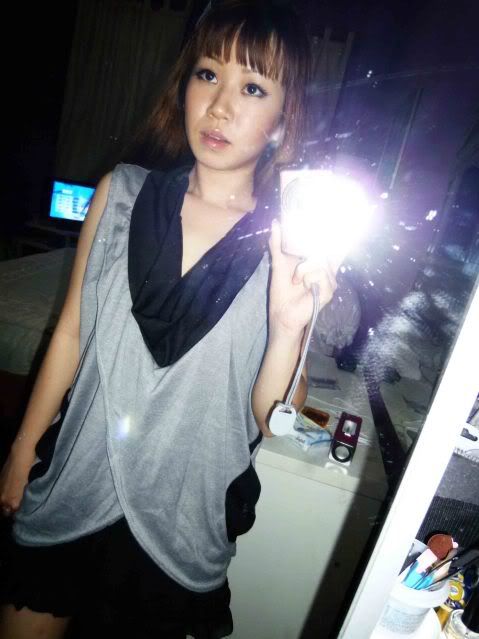 I'll recommend to wear something inside as the length of the top is a little short for me & also the armholes are big.
You can put on a simple cami or tube top inside.
In my case I'm pairing the outfit with a petite shorts.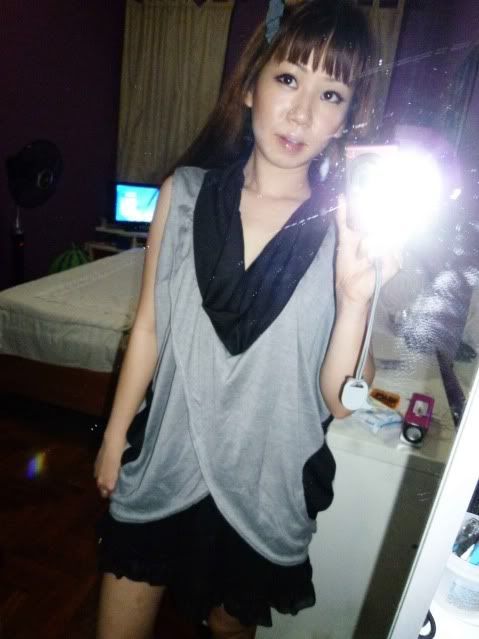 Clothing snt to me by
Lovelyspree
matches excatly with the photos on their website thus rest assure that U will see what you get.
So I guess without hesitation, do hop over and check them out~!

LOVELYSPREE
LOVELYSPREE
LOVELYSPREE
LOVELYSPREE LOVELYSPREE
LOVELYSPREE
Toodles~
*This is a paid advert, clothing are sponsored. However, blog entry is entirely composed with my own words.