I was afraid, I was petrified... when I first stepped into
hotel RE!
I was even more afraid when
Patissier Patite
invited me for a cake session.
The problem is...
I CAN'T
BLOODY
BAKE
!!!!
Beating people up is my forte but, baking.....???
Seriously...
All my pastries either come out too soft
or rock hard.
& So my legs trembled all the way from Pasir Ris to Hotel RE! (Located behind OUTRAM MRT)...
Until I found out that....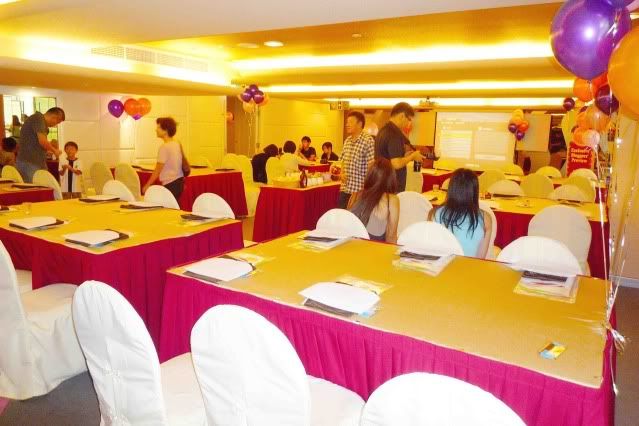 I'm not here to bake *thought to self 'heng ar!'*
instead I'm here to....
DECORATE!!!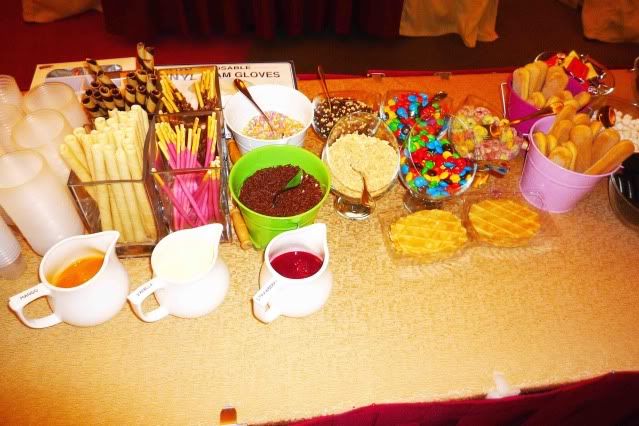 Check out all these million yummy decos!
Just like the combination of Beauty and charm,
hotel RE!, Patissier Patite & dblchin are having a private rendezvous cake decorating party!
Check out the awesome decorations~!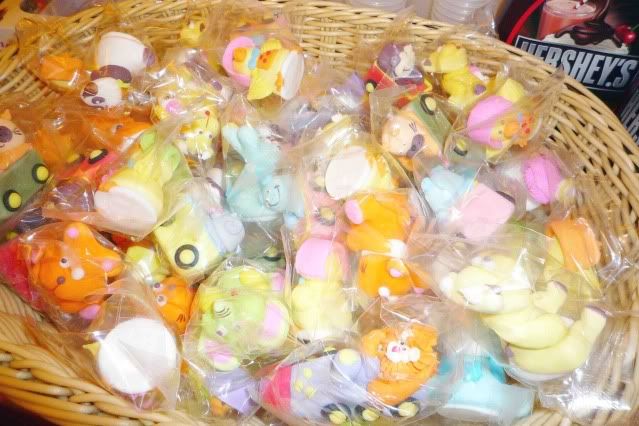 Ok a little about Patissier Patite.....
Available in Singapore Meidi-Ya supermarket Liang court.
U can get cakes off-shelf (@ $25) and self decorate them With Yummy candies (@$16)
The premium Ingredients are all over the world! U get the chocolate from Belgium, coca powder, cap fruit puree, whipp cream from France, Gelatine from Germany and Trehalose from my favourite COUNTRY : JAPAN.
We are each given a chef hat & an apron, check me out with the chef hats later.
Since there are only about a handful of bloggers/media
&
there are way enough fork to go around,
I'm gonna kiap these forks inbetween all the gaps of my fingers so I can eat 5 cakes at a time.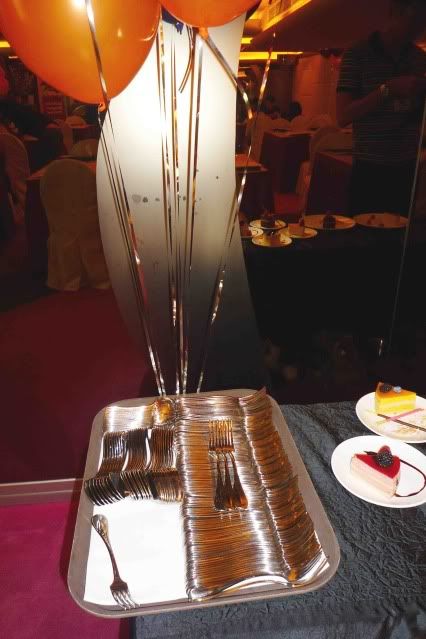 AWESOME deco-bits!
I rejected the servicing spoons since all the 8 forks kiap between my fingers are faster to dish these out.
haha. I wana laugh at my own joke.
Cakes!
Loving those slices of sweets!
That comes in total of 3 flavours:
Chocolate *yay!*
Mango *mega Yay!!!!*
Strawberry *not so yay*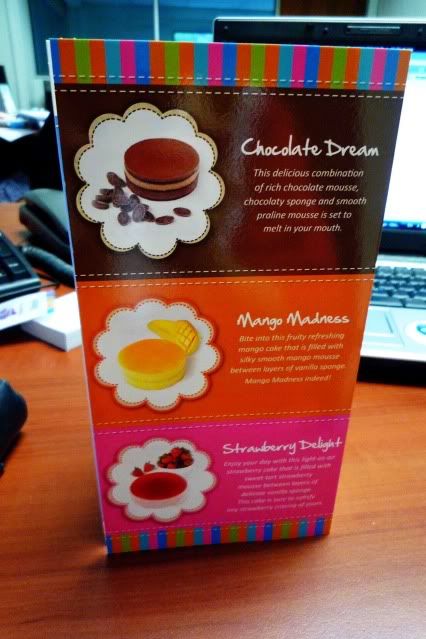 but not too much though, dblchini might just become decaychini.
But I wasn't very happy about the ready decorated cakes,
I wanted my very own made-to-decorate pastry so I took a out the blank slice of canvas & started doodling it with edible goodies!
C I very hygienic one!
I used gloves to touch the candies.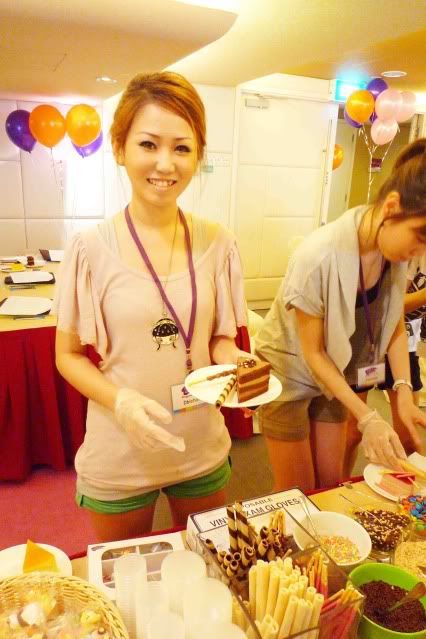 To pour the syrup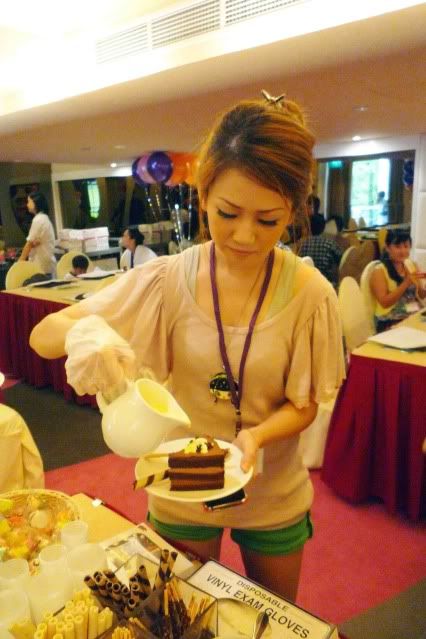 And threw it next to the finished product!HAHA!
Imperfections r always among the beauty of things.
So is my cake!!!
A clearer shot of the
glove
cake.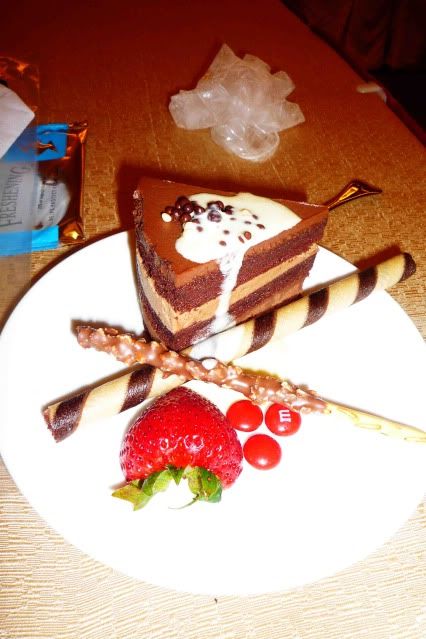 As I'm typing this I'm practically drooling quite a fair bit.
I had thousand regrets that I didn't managed to finish my cake that very day.
This cake is decorate by....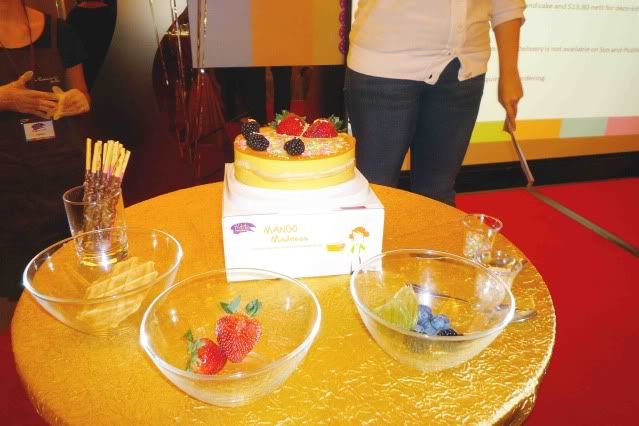 Cannot remember.
Oh did I tell you that we are so darn lucky all of us got to choose our own flavour of cake (just like the above) to decorate?
So I chose mine!
U dun need to know Tango to decorate a mango!
Freeze to bits!
Here's my cake!
Actually I shouldn't have dripped the pink syrup right in the centre, coz it looks a little like period blood.
But,
but,
but,
but...
Everyone (self-proclaimed) says that is DARN NICE.
So I said is a work of ART!
This is so enjoyable!
And Gotta know 2 new friends:
Ju Ann
& (shit whats her name?) Angeline (I think).
by the way I ripped this pic from facebook page so join them
here
and
here
!
U may now call me
E period blood creator AKA Chef DBLCHIN!
TOODLES~!