way way way dblchinis~
Drafted this earlier but didn't get to post it until today.

&
Yes! I photoshop myself!!!
But to what extend?

What is considered over photoshopping to u?
How much do u want to c a person being photoshopped?

Does it mean by not having the knowledge/skills of photoshopping means U r original?
Say for example:
Does it makes u saint, Just because U dun use the word 'FUCK'
Well... If u say yes then I'll b the baddest badass girl in the UNIVERSE.

BUT UNFORTUNATELY, NO.

I get questions raised from this frd when debated on how different I look in real life and photos. She answered "erm... U photoshopped urself right, that's y look different"

I'm like... Actually NO, is makeup.

But I dun denied I photoshop myself.


Seriously, I dun care whether dblchinis r gonna call me a lying bitch, after this. Or a ugly fuck that needs plastic surgery, OR I need to b shove in Plasticzilla's (credits to Xiaxue) mold.
Or
my grandma Wrinkled ass looks chioer than ur face.
I'm still gonna show u the pics.


RAW PHOTO
Original Image


Pic comes like that, Very raw isn't it? And bad lighting.


PHOTOSHOPPED IMAGE.
This is the extend Which I usually use for my blog entries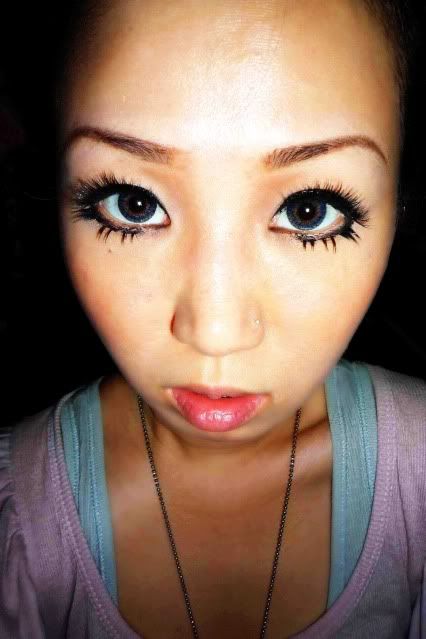 Not the best lighting but u can measure my efforts of making the pics brighter. Usually I'll stop at this point. But then again, I will extend my skin to photshopping them to a softer smoother mode.
I might just need to touch up a little more on the sides of my lips, it seems as if I have not clean up the leftovers of my dinner.



HIGHLY PHOTOSHOPPED
And in my opinion, this is a highly photoshopped image which is too bloody tedious to achieve for me.


I dun think I'll ever go to such measures, the enlarging of the eyeballs are far too cumbersome

Can u Imagine If I spend like 3 hours liquidifying my eyeballs just to make them wee bigger so that I wun look like the real me in realife.
But skin softening is definitely usable in this pix.
Ok la I show u 3 separate images also no use, maybe u can't see a significant difference.
So This the gif animation so u can spot them!


I enlarged my eyes, Photoshopped the sides of my nose to make it smaller. Seriously I know I have button nose but I dun bother to even make them sharper coz... I duno how to. HAHA!
Changed the lighting to a softer cleaner mode. Clean up the impressions on the sides of my lips.
That's about it.

so....Y do I photoshop?
(btw I photoshop almost every photo I posted and that includes all the animals, scenery and other non-living things)
Yes to make myself look chioer.
To give you quality photos even I'm not the best at photoshopping.
To b fair to my advertisers by not posting shitty photos of their products even though I'm not much of a photographer.
Maybe my photoshopping skills are not superb but I always try to make it better but real.


And same goes to this:

The one of the left is an untouched original photo by natural lighting. I took this at my window pane that is y it is emitting strong lighting to my hair colour.
And My skin colour is originally v fair.

In this pic I never Photoshop any of the features jsut defining of the chin & the lighting & softening of the skin.
Actually my nose is really button but how cme it looks much defined in this pic? like I say... is makeup.
Contouring is the bomb dblchinis~


Ok what, after photoshopping I dun look that different
right? Right? RIGHT?
But OF course Without the help of makeup, I'll look VERY VERY DIFFERENT.

U can c all my fugly photos
here
Not enough? PM me, I'll send u more.
Anyways....
I'll do whatever makes dblchin a happy girl.
Bye losers
And Love u dblchinis~!