The day after yesterday n the day before tomorrow, we came to our final n my favoritestest destination:


HARAJUKU.
It meant so much to me.
It realli does.
So....I save my best dress for the last.
@ the JR subway.
This is the Yamanote line.
zj told me to trick my dad that I've managed to capture a pic of a real salmon.
u mean he can't tell if this is a poster huh? duh?!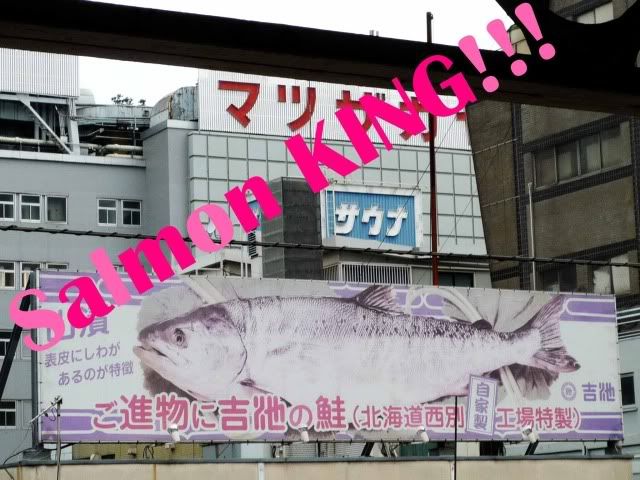 When we alighted at harakjuku , I can immediately smell the harajuku scent, glance on the harajuku people, feel the harajuku air & listen to the harajuku voices.
Wow, woW, WOW! This is freaking Harajuku isn't it???!!!
I'm so utterly impress with myself, this is totally descriptive.
I guess we are all just lucky, like stepping onto dog shit. They have one kickass event going onsite & we got to see the spectacular performance.


Come on follow me... & u shall capture the essence of their wonderful street show(S) through my self-proclaim excellent photography..
.
practicing @ the yoyogi park.
So I showed him this.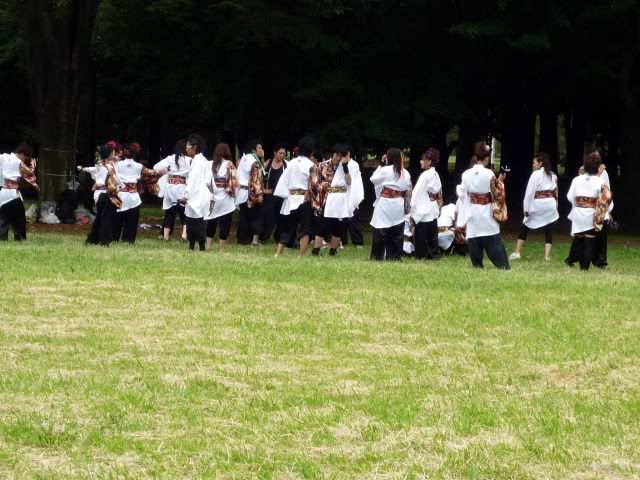 I took a quick snap of these booooooutiful costumes.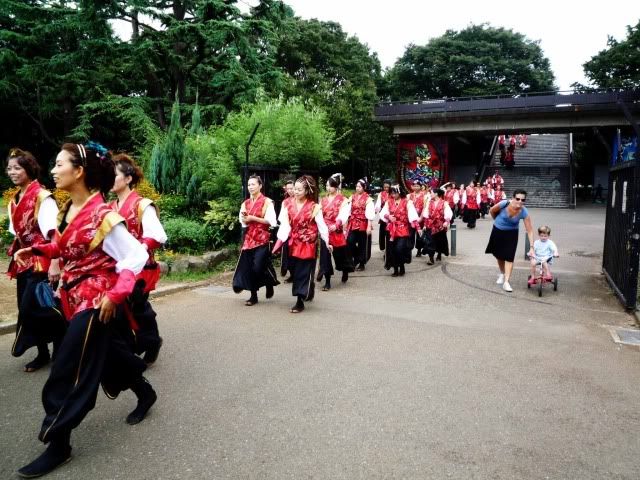 N of course, a quick snap of the beautiful people.
I held one pretty oba-san captived near the park & threatened her with 2 choices: 'take picture or ur life?'
& I escaped!!! yay!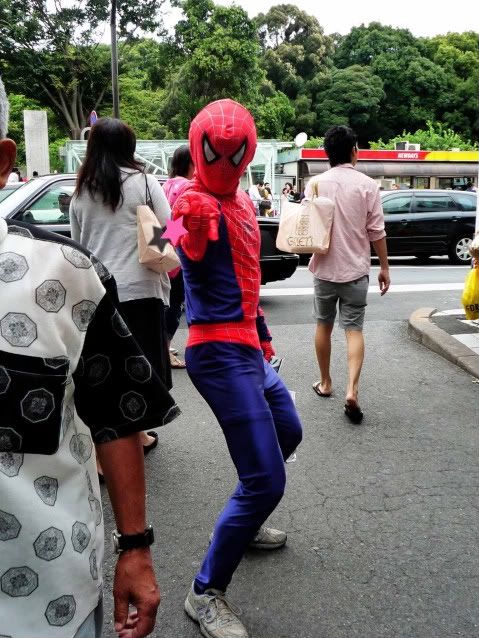 This huge man brought 2 huge dogs with huge bibs holding on to his huge leash
wah...descriptive...
check out these on-stage remarkable performance.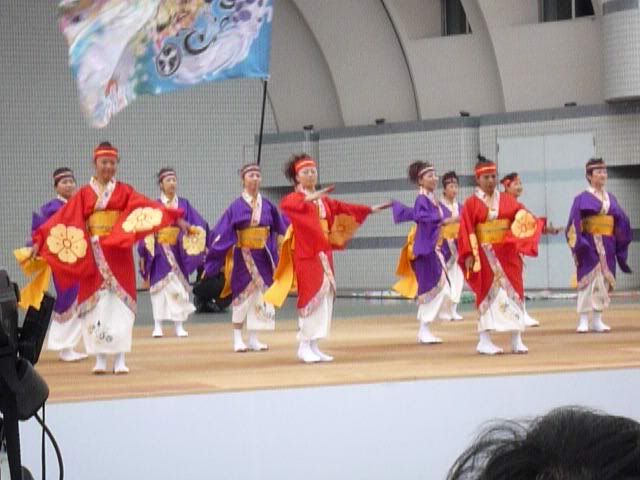 while checking out those japanese acts, I spotted a dog on a wagon.
So I asked for permission to snap its photo openly.
Cute right???
zj n me took picture together with the Japanese boys!
what a crowd.
Its sure happening in here!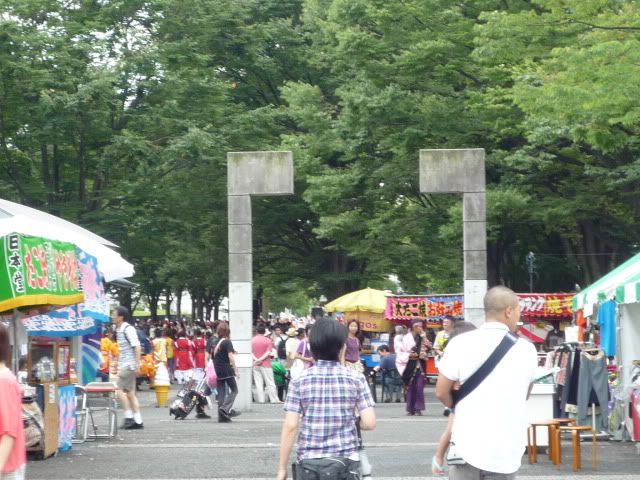 e Japanese!
C the amount of lightness they bleached in their hair, is so bloody nice
n
the kid is uber cute!
I spotted some hip nuts nearby so I locked in my photo taking chances.
Jealous bo???
well...don't b, not everyone gets a chance, I'm just the minority.
I forget to rotate this photo.
He looks hot like that anyways....
We went on exploring the dominion of harajuku later on & we came across this:
yoyogi stadium
It held hefty amount of events previously.
like olympic... blah...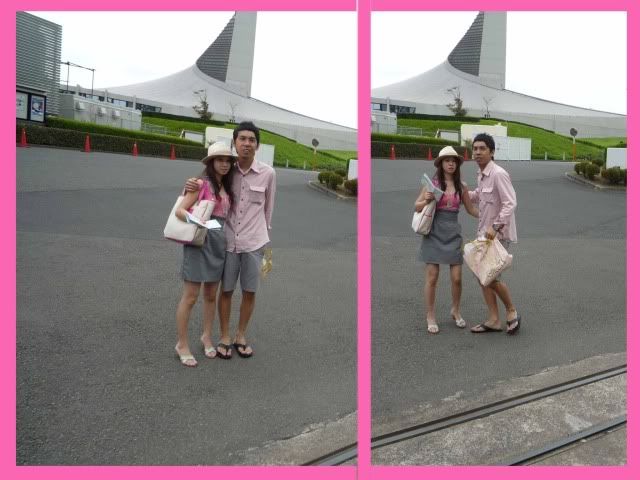 I took this interesting shot across the road.
The house so anime-like.
I acted like as if I'm studying the map but hell ya~I actually know shit.
All in Japanese, how to read like that?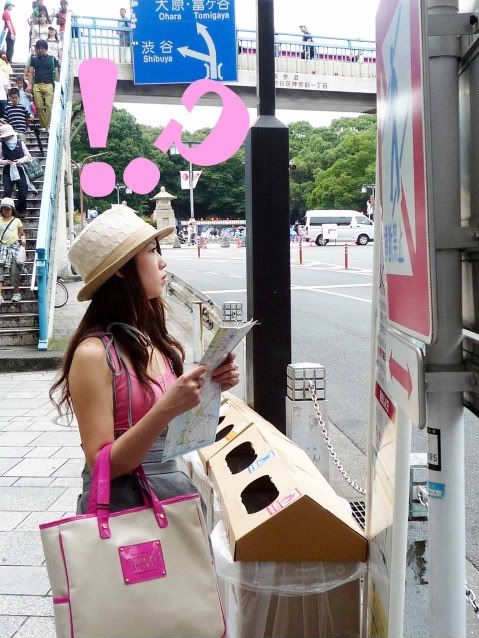 Enuf of the parks, lets get back to the streets of Harajuku:
This gal promoting for some iphone thingy.
She posed for me, nice right?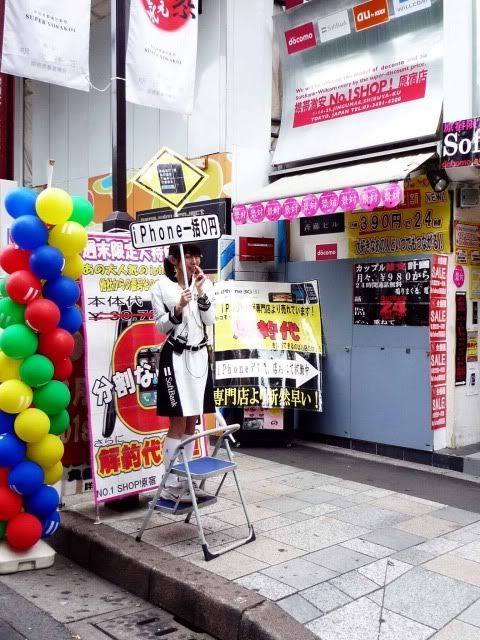 Mad love these oji-san.
Look so stern but dress so wacky.
Walking rainbow. Sweet!
Some stores along the main streets.
it looks..... metallic.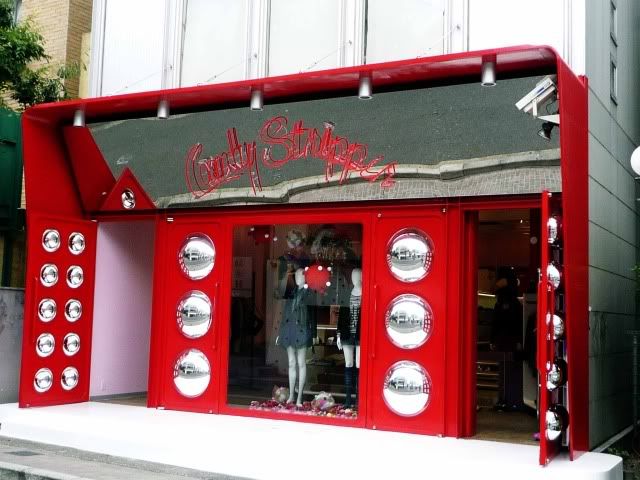 I didn't know these are 2 substantial characters until my friend commented on my facebook pic & I thought they are just random punk pussies!
check them out
here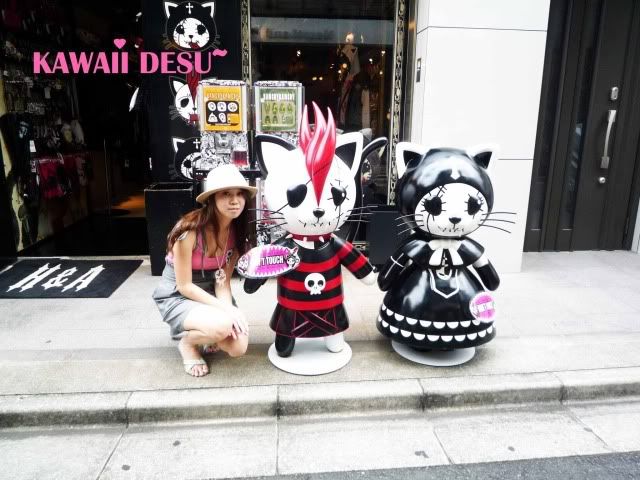 This is the bestest hot ramen I ever tasted.
Knnz... the soup base taste like heaven...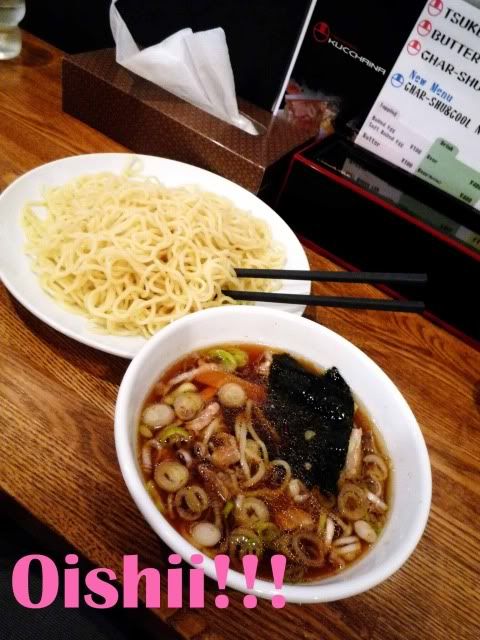 I'm @ Harajukust
Instead of looking for
Wally
or
Waldo
, try looking for me.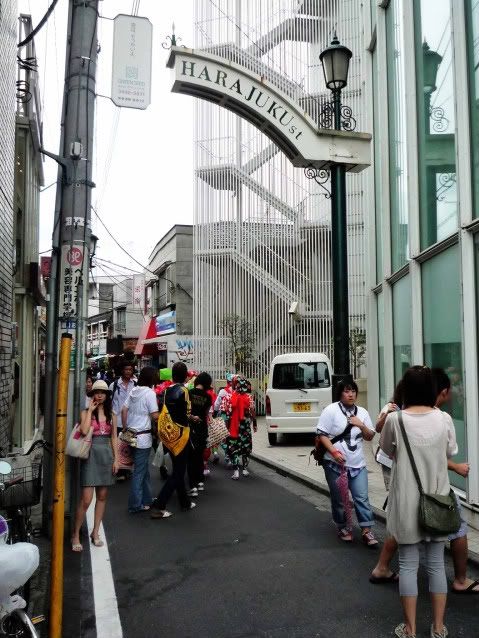 One of the stores that sell fireman items!
Oh shucks...I'm torn between 2 men...
I posted this for fun but I realli digged my own captions.
Their mains are similar to our orchard road.
Massive crowd n performance happening behind.
little children dancing.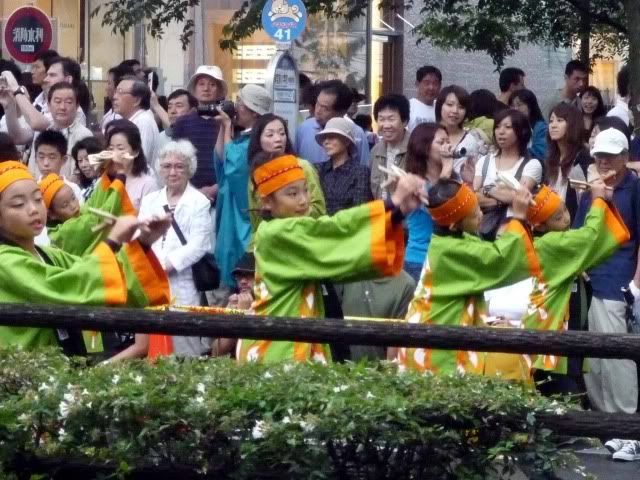 \
n old ladies
This bare-back man holding a huge flag, swaying it back n froth.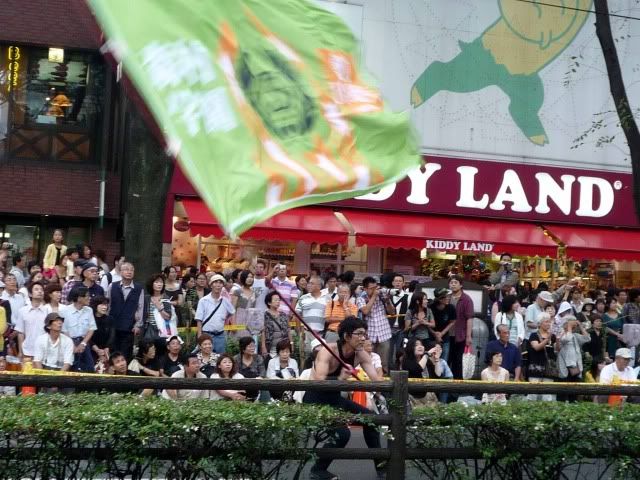 who's bringing sexy back?
Not justin Timberlake this time round!
Kay, this is the flag for the festival.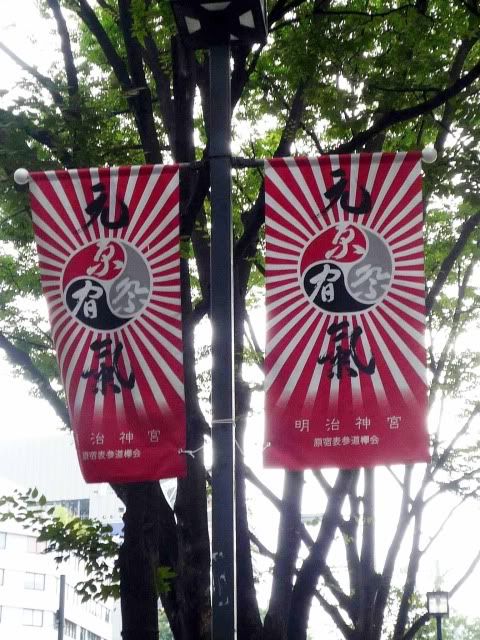 Several peeps we've met deemed intersting.
First off:
The girls in pink,
N we are not just talking abt the borderframe.
psst...is not a wig....
2nd target:
2 Caucasian residing in jpn for good whole 5 yrs.
They are the ones who showed us the Takeshita street.
final target secured.
a gal in lolita costume.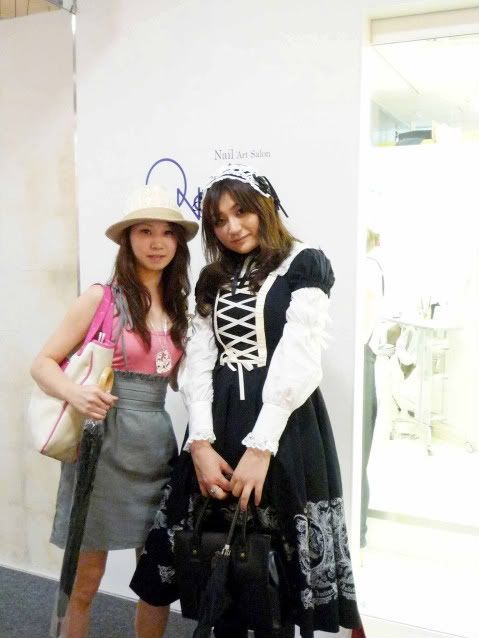 Takeshita- street, where the cos players normally hangout.
We were just too late, they already left.
long gone.
to add on to our misery, it rained heavily later in the night.
We returned to our pig pen for a final rest.
n our loots!!!
Due to the rainy weather, they had lined our purchases with an extra plastic film!
awesomeness huh.
This is y I never wana come back.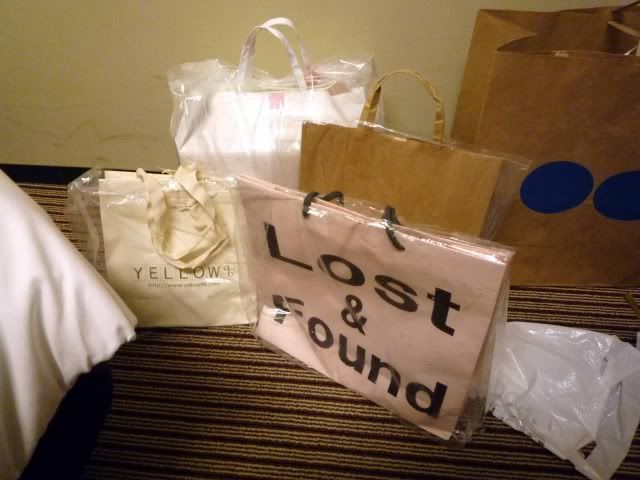 On our final day, we met with
stormy showers
& almost unable to make it back. We walked brisk for 20mins in the to the JR link.
Zj was drenched like a wet chicken, his hands are full n thus he couldn't hold on to the brolly. I'm no better, I looked equally bad like a piece of wet tissue.
When we reached the station, We had to heave our luggage up flights n flights of stairs. Some train stations are not equipped with escalator or lifts.... n we had to change several lines before reaching the terminal.
By the time we got to the airport, we are left with 1/2 hr grace before flight departs. Both of us run for our lives towards the check-in station, I never even run so hard during my school times.
As mentioned earlier, We must've stepped onto not 1 but a couple of dog shit, we really did managed to board the plane @ the eleventh hr, N everyone on the plane are waiting for us.
Never felt so embrassed in my life. Seriously.
But it didn't stop me from camwhoring on our way home.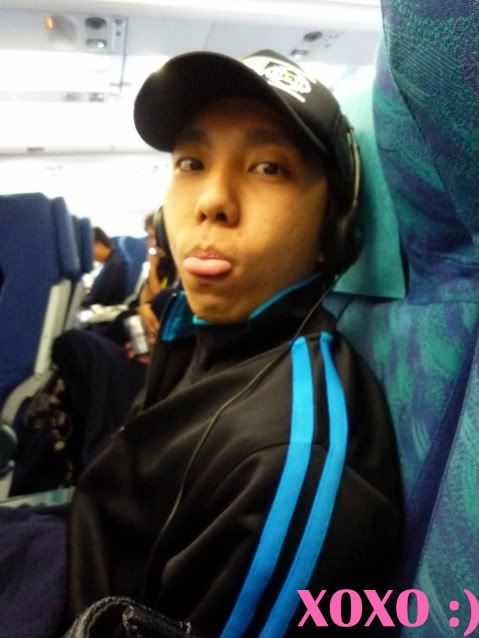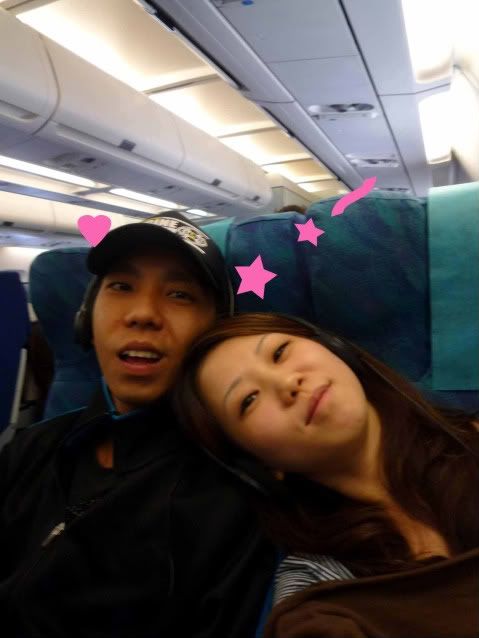 I heart japan.
~~~~~~~~~~~~~~~~~~~~~~~~
~~~~~~~~~~~~~~~~~~~~~~~