Here I'm showcasing my cooking skills in Jammies!
I'm giving myself a pat on the back, whipping up a dish of sambal mussles which I never tasted in my life before. Look tantalising right!
2 bags of snacks nicely packed in a CP Food Heater pack.
Off we go!!!
Here's a cake for the old...
And cakes for the young!
Me carrying the little nephew to get a better look at his cakes
Can't helped but chuckle at this!
I delegated the photographer role to our niece Pheobe, apparently she did a good job at taking the food and cropping off human heads lol! I was like aramak! y u chop of ur papa's head? She hit me with a legit yet ridiculously funny reply and said that I instructed her to concentrate on snapping the food so whoever is dishing it out is not that important! *pengz*
Le husb helping himself to the mussle, I see slight improvement in Pheobe photography.
After that she got tired of playing around with the cam and handed it back to me.
Everyone is enjoying the food I've prepared!
Pheobe and le bday boy Evan.
Everyone gathered around to celebrate Godpa's bday, what a joyous occasion and Evan is camping at the back exhausted from all that swimming activity he had earlier.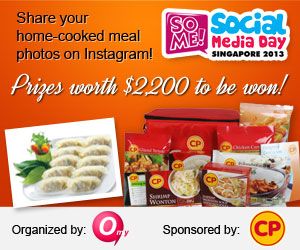 Click picture to lead you to contest site or
simply click here