Hi Dblchinis,
I'm sure if you
follow through my blog
you would've know that I've took on a new role, part-time Salary worker and part-time homebody. So I decide is time I start putting my past culinary skills to use even it means a D7 for O'levels in Food and Nutrition.
My Level of cooking is very much the same throughout the years, usually is either a pot uncooked rice or burnt dishes and people wonder why I rarely cook.
But, but, but like I said earlier since I stay home most of the time now I should do what the government wants us to do, start 'upgrading' myself to an excellent wife instead of the usual good one!
The way through a man's heart is his stomach, since I put on a good load of 4 kilos I have to right to expand my husband's waistline as well, till death do us part feh loh.
When
OMY together with CP Food
offered to send me food products to promote cooking for the family I was of course in a 'challenge accepted' mode, what better way for a family get together than filling our stomachs with delish stuff.
So then a few days later, I received a truckload of not only edible but yummy food.
It consist of a few categories:
The convenient pack that comes with rice and side dishes, with instructions clearly stated at the back. from left clockwise:
1) Teriyaki Chicken with Rice
♥
2) Stir Fried Chicken and Basil with Rice
3) Spagehetti with Chicken Sauce
4) Chicken Green Curry with Rice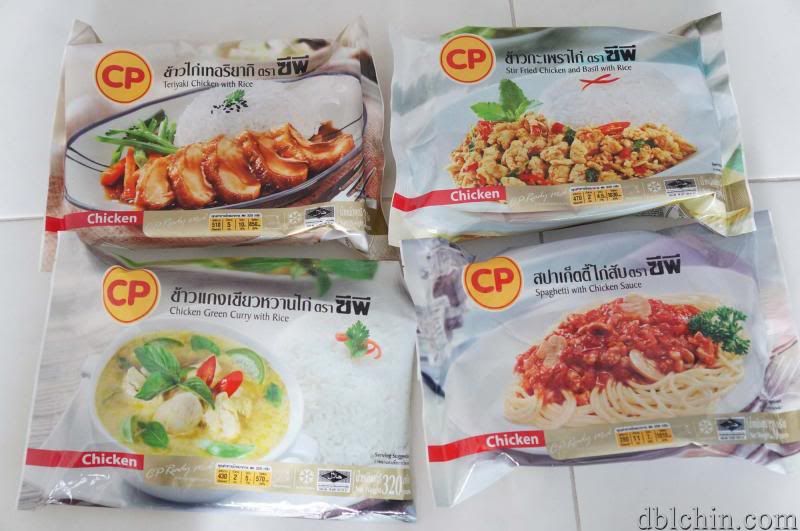 Nothing is as simpler, so long you have a microwave at home you can cook this.
And we have the individual pack of specialities:
from left clockwise:
1) Charcoal-Grilled Chicken
2) Chicken Cake
3) Glazed Teriyaki
4) Pepper Kicks
5)Japanese Golden Crispy Chicken
6) Japanese Crisyp Gyoza
7) Chicken Pop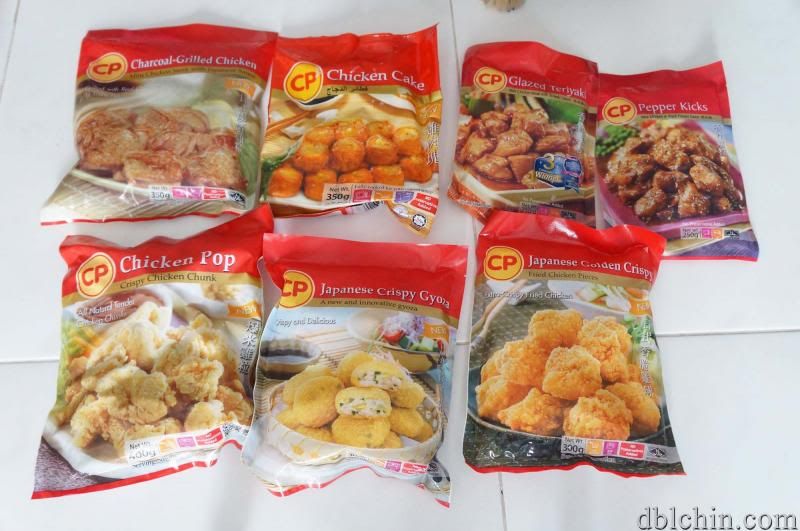 from left clockwise:
1) honey Wings
2) Curry Wings
♥
3) Roasted Mexician Wing Stick
4) Spicy BBQ Chicken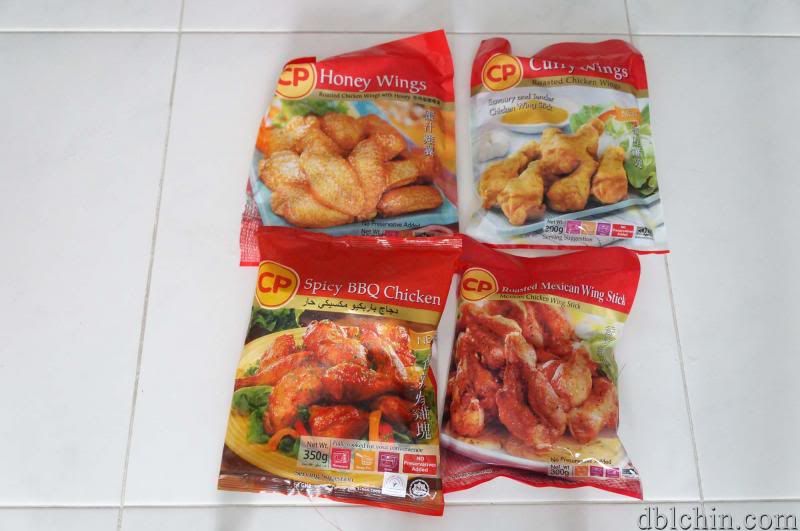 from left :
1) Fully Cooked Gourmet Mussels
from left clockwise:
1) Shrimp Wonton With Sesame Sauce
2) Shrimp Wonton
3) Shrimp Wonton Tom Yum Soup
4) Shrimp Wonton With Noodles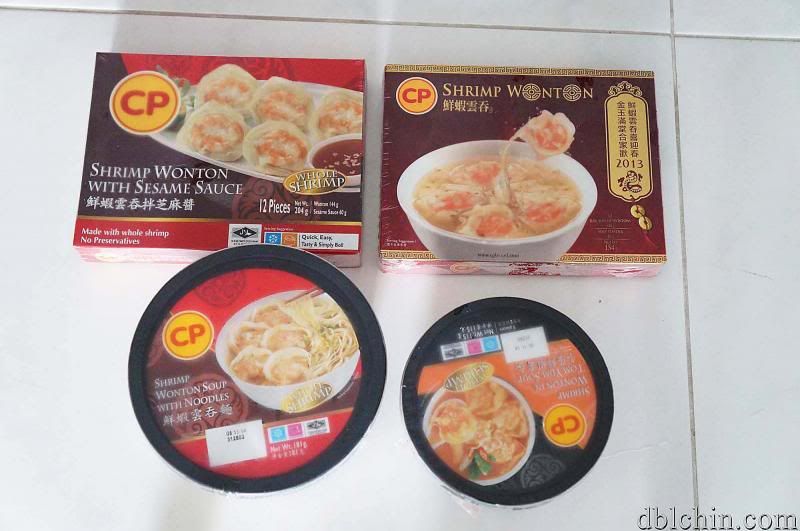 So far I've tried Almost everything except a few wontons and those mark with a
♥
are my Top Picks.
We decided, since so much food are presented to us we need to get down and dirty with the Kitchen. Picked a thursday where I could whipped up a quick meal while the man returns from work and still get to catch
Silver's
maiden play (Fourlies) at the Arts House later evening.
However, on that very day my husband was caught in a peak hour jam :( , like I always heard from my dad's favourite radio station 97.2; 不管你是跑车,快车,普通车,乌龟车,慢车,巴士,咯哩,大卡车,一再遇到塞车你就是不能动的车。
By the time he got home it was around 7 but everything was piping hot and ready except that I wasn't dress yet, so I lup on my favourite dress and heat up the the rice pack a min longer and viola you have a complete meal there!
It took me 15 mins in total to get all the food on the table, no prepping needed.
Just pop them into the microwave, same time using the healthier method with my Air Fryer for the fried stuff and add water to the wonton paste and heat it right under the stove for 5 mins and...done! This makes multi tasking a total breeze.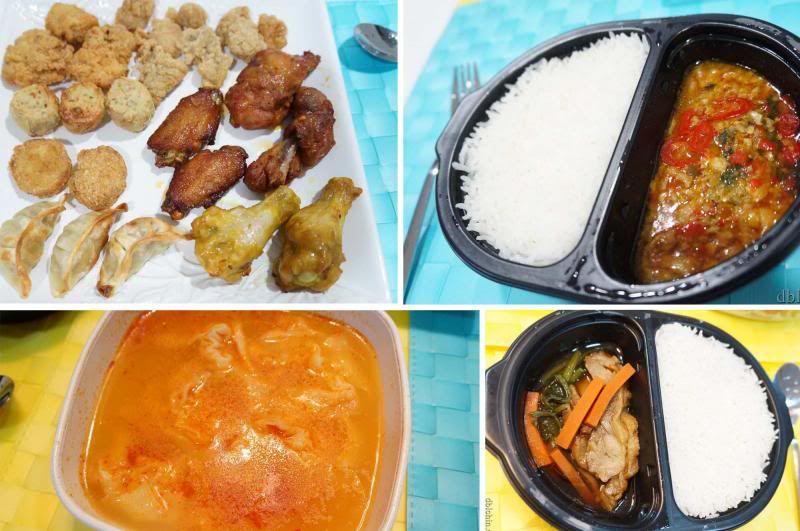 From clockwise:
1)
♥
Japanese Golden Crispy, Chicken Chicken Pop,
♥
honey Wings, Spicy BBQ Chicken, Curry Wings,
♥
Chicken Gyoza, Japanese Crisy Gyoza and Chicken Cake
♥
2) Stir Fried Chicken and Basil with Rice
3) Teriyaki Chicken with Rice
4) Shrimp Wonton Tom Yum Soup
I have a top pick of all top picks and that is.... the Chicken Gyoza! Man this beats everything, it tasted heavenly!!!
Next, The Basil Chicken Rice is comparable to most Singapore thai restaurants! The rice apparently is so soft and chewy, I was expecting it to be hard rock when I kept it in the fridge for days. The chicken meat is wooshhhh Thumbs up!!!! This meat and sauce is wickedly awesome, good for the taste buds but not so good to my weak digestive system, so those with fragile stomachs you've been warned.
Unfortunately, the Teriyaki Chicken is a little disappointing for me, the sauce is very runny and it doesn't seems to simmer into the chicken very much :(
Last on the list the Shrimp Wonton, think I added too much water to the soup paste but it still tasted pretty good except my husband is a little unhappy about the diluteness.Hmm... but from the looks of it, got the Thai soup feel what! U say correct not?
We managed to finish up everything by 7:30 and that includes documenting the food, camwhoring and eating.

Then we rushed like speedy Gonzales for our play is due to start at 8.
We got there a little late but is ok we only missed that little bit of the story.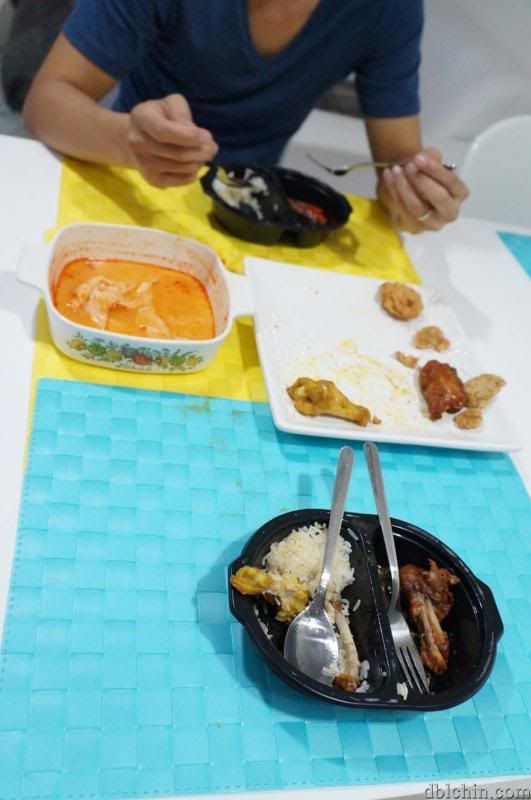 The 'I just gained some weight' look.
Whenever my husband gives this expression I can't help be think the uncanny resemblance to Johnny Depp. OK! WHO M I KIDDING?!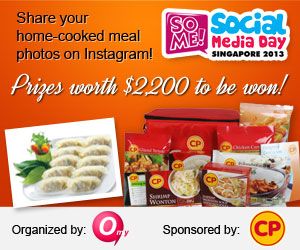 Click picture to lead you to contest site or
simply click here
Ok I've done my family get together for Part1/2, now is your turn. Don't worry, very simple and got very attractive prices to win!
All you need to do is :
1) Cook for someone you care,your family, loved ones or anyone you care enough about.
2) Post a photo on Instagram of your home-cooked meal, hashtag both #sgsmd2013 and #cpfoodssg in the caption to enter this contest.
Prizes
1 x $1,000 CapitaMall shopping vouchers and CP Foods product hamper worth $100 for Best Submission using CP Foods product in their home-cooked meal (product name must be included in the photo caption).
1 x $500 CapitaMall shopping vouchers and CP Foods product hamper worth $100 for Best Submission using non-CP Foods product in their home-cooked meal.

10 x CP Foods product hampers worth $50
Good luck to all and hope you'll fatten up your loved ones like I do!
Please Thumbs up for my page :D
*Food products are sponsored, opinions are my own.