Now that Summer has decided to sweat the buckets out of us, I think is time I show how much joy I can make out in such a sticky weather.
(images from Google search)
I decided is time I head for an nail overhaul this season.
Having no idea in mind, I begun collating my Summer inspirations from all over the web.
Apparently I wanted everything to happen; ombres, sectioning, gradients with many many pinks! I'm so overwhelmed by the amount of elements I wanted to achieve it was almost impossible to make up my mind until...
I saw what my (god) Sis-in-law wore on her nails. Pardon the graininess, my phone quality gets real bad when the skies darkens.
She had on this subtle pink gradient that couldn't possibly to go wrong under any circumstances.
So I decided that's it, it'll be my next nail colour for the next 1 month or so.
I showed my Manicurist Corine the above picture and she came up with her very own version of pinks!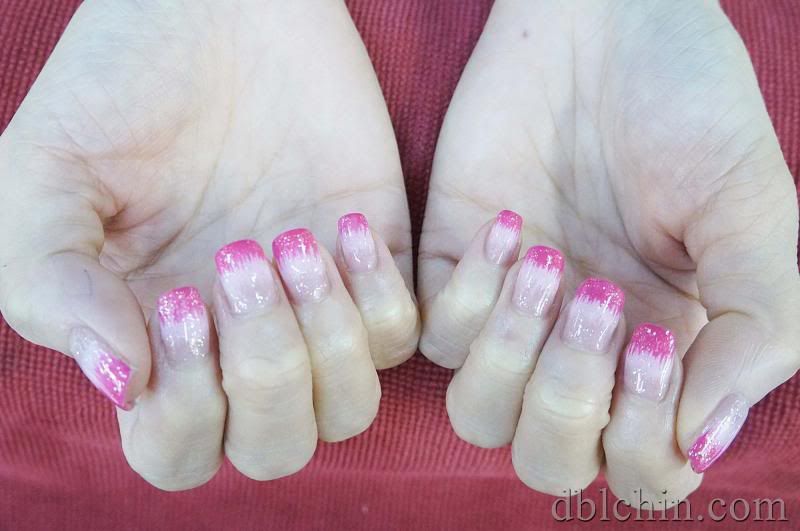 To be honest, I'm a huge fan of blings, jewellery, 3D nails art but this time round I decided to go easy on that and went with glitters instead. For now I'll be keeping all 10 fingernails short and neat until I've completed my makeup course. Also neater nails makes me feel less retarded when dealing with household chores, and yes I cook and clean sometimes.
Corine started with a basic nude pink gelish coat all over my nail bed, then a 2 coats of pastel pink goes onto the centre. Lastly, she used a stronger much noticeable pink at the tip giving it a slight soft bam. The tiny streaks you seen there are created by a slick brush tip, very creative indeed!
Due to the various techniques different manicurists used, when you compare both the abov nail pictures they actually looked very similar yet unique in their own way!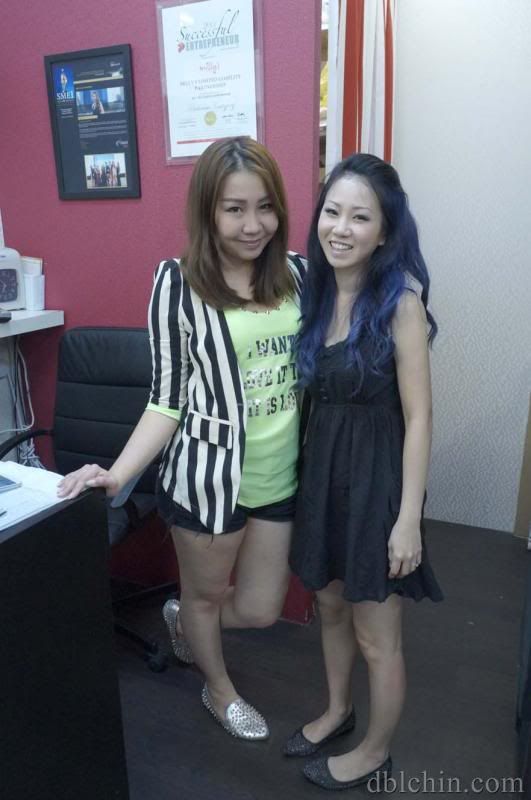 After heading down to Millys for countless times (thought not as frequent as Elaine, you should see
her nails they are amazing
!) I still don't get a chance to bump into Milly. But When you least expect something, it'll magically appear in front of you!
Forgive me for slouching which I don't even understand y, my height is already not helping with the posture.
we caught up with a mountain of stories, gossips and laughter even for a short session.

Thanks Corine and hope to c you again Milly!
Outlets to visit at your convenience:
Milly's at Far East Plaza
14 Scotts Road #03-131
Singapore 228213
Tel: 67376723
Operating Hours : 11am - 10pm (Mon - Sun)
Milly's at
Bugis
Bugis Village Extension,
Level 2 @ Bom Bom street.
Tel: 63384137
Operating Hours : 11am - 10pm (Mon - Sun)
http://www.millys.org/
https://www.facebook.com/millys.beauty
♥Dblchin
Please Thumbs up for my page :D
*This is a sponsored treatment