Forgive me for bailing out on you last 3 days, I was busy busy busy!!! Overwhelmed with work due to month end closing.
To further shorten my work week, I had also block out my (last)tuesday to show Janice aka Chaigyaru around in Singapore.

Is also been a while since I saw my favourite dynamic four, the Ninja Girls (yay!) so we set a date to hang out yesterday.
And guess what I've been doing today? Is something related to Night Owl Cinematics, do watch out!

Having that said, my days are pretty much used up for the entire week.
But I gotta admit, this is not a good enough excuse not to blog, so here I'm still slogging my life away.
Except this time with passion.

Payless sent a $50 shoe voucher my way during last christmas but I didn't get to redeem it until I visited Changi Point Shopping Centre recently.
Incase you haven't heard about Payless, they are a self-help store where shoe on racks are presented in sizing terms so customers could go right up to their size section to try out the respective shoes they desire. This way people like us could enjoy an uninhibited and relaxing shopping experience without having to call out for the staff, having to wait for him/her to head to the back room to retrieve the shoes, having to wait for more waiting and finally to drop head in disappointment if the size is out of stock. That's a hell lot of time wastage.

I truly enjoyed my undisturbed shopping experience at Payless, I wasn't tailed nor under the eyes of watchful staffs yet was attended to when I needed help. Their pleasant attitude was indifferent to every customer (referencing on a lady before me and me), I'm pretty sure they didn't know I was a blogger and was there to redeem the voucher before hand, so the extra friendly services wasn't just to get into my good books.

Lets see what I've picked!

Open toe Black slip-on wedges



This man made material has a suede powdery finish yet doesn't carry the 2 tone suede effect that might sometimes cause the shoe to look unintentionally muddy/dirty.
The top stitching right down the centre gives this shoe a sophisticated design and polished look, something I've been looking for the longest time. I know I've been drama and this is an excellent toning down lesson yet retaining a little of me (yes, that bit of drama-ness) by having a divided seam at the center.

The open toe wasn't at all comfy, I had some abrasions on my middle toe (I wished I could point it out to you!) while I was walking, probably because of the way this slip on's are constructed.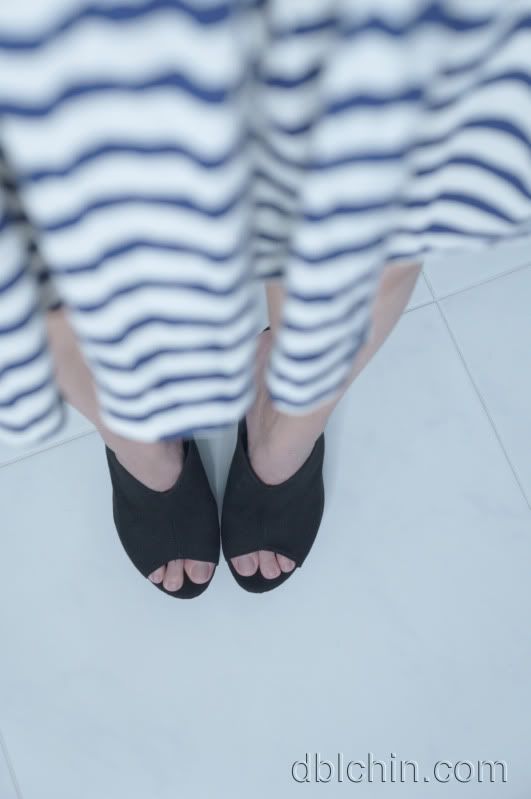 However, I have to say I'm VERY satisfied with the height on this pair of wedge. Slightly higher than 5inches, it magically slims down my legs down making it look long and lean.
What can I say more?



Now is your chance to win a total of 5 vouchers, each valued at $10 from Payless.
However, something to note: shoes from Payless starts from under $20 but not to worry you there's a wide selection to choose from- accessories, bags and even outfits! I've officially got you covered for Chinese New Year!


Do what you need to do alright?
Thumbs For Dblchin Blog's Facebook page and share this picture! simple as that! I'll announce the winner by Thursday and your voucher will be will on your way!

Good luck!
♥Dblchin

Please Thumbs up for my page :D
*product is sponsored