Well...hi there...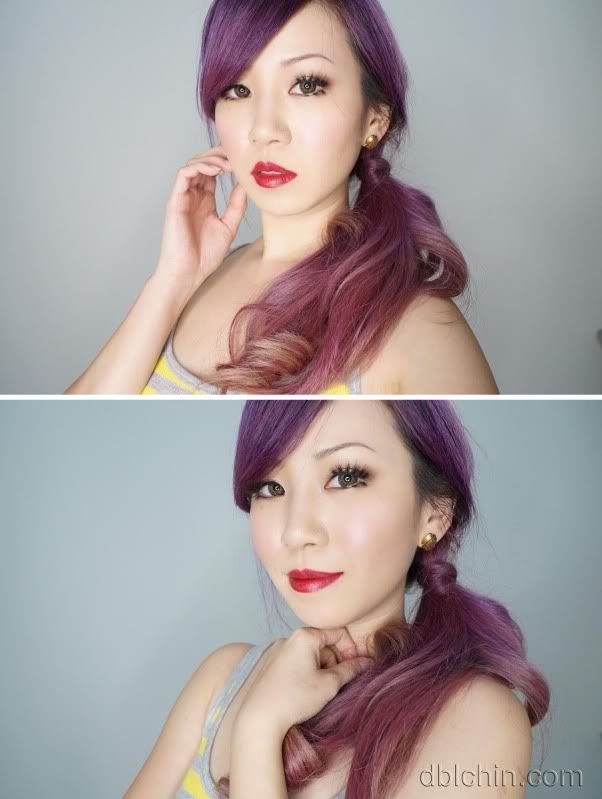 Pardon me for that half bucket introduction, I know is not my usual practice but guess it makes more sense pairing that hand-on-cheek mouth half ajar picture with a mysterious 'hi...' than my usual 'Hello dblchinis' ending with a triple exclamation which I can totally relate nothing to, yes not even my own pictures this time round.

Guess I had this look pretty well executed, it was the first doll-up since my 'recovery' thus I'm supposed to look well rejuvenated and fresh over here, also is Jacelyn's Solemnization how can I not look my best for her?

It's been a long time since I took the effort to put on nice earrings, make sure my lips were precisely sculpted with Boulevard Berry from Stage(unfortunately is no longer available in Sing but u can still get it over at msia) and got my cheeks flushed with Clio Art Blusher for the big night.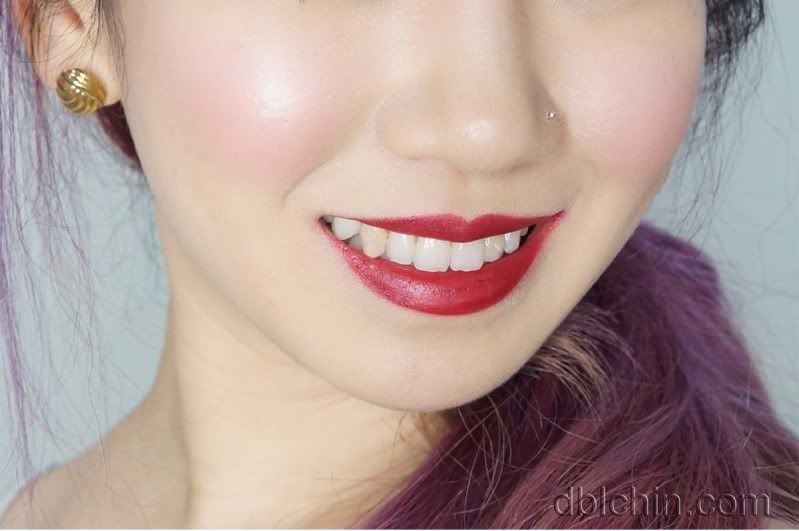 My Brows were drawn using ZA Ever Brows BR21 and shaded my eyes with colours from the Naked 2 palette.
Incase you are wondering what contacts I had on, I'm wearing Freshkon Color Fusion In Misty Grey. Goes pretty well with the eye shadow colours isn't it?




My hair was tied to one side and I did a wrap around with my own hair strands, also curled them for a more feminine touch.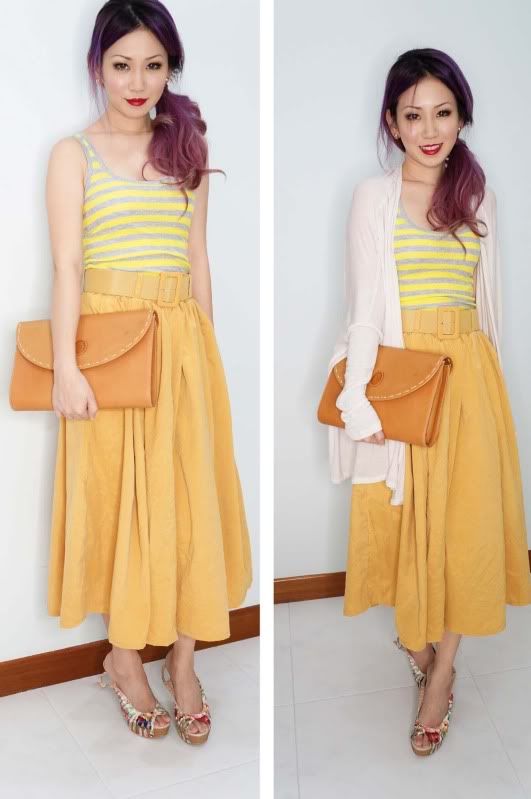 I'm prepared to set out with a dry rusty look than my usual girly dress up, I pretty much feeling like a desert ground right now (not a place I like to be in). This is my first attempt with that mid-waist orange skirt (comes with belt) pass-down from Karen, her clothes fits me perfectly even though most of them are crossing the boundaries call 'tight'.
I had this stripe tank top for the longest time already, never knew it would come in handy again, guess good old things really does the job.
The clutch I am carrying is an old trussardi leather that was pass down from a relative, I'm beginning to sound like a picker but I knew was meant to do this, turning junk into treasures!
The weather was chilly, so I threw on a cardi from Cotton On to battle against the cold and also to hide my modesty. (Yea right!)
And lastly, a pair of killer kicks (yea it nearly murdered my feet) from D & C.

I was oblivious to the theme (Retro) Jacelyn had set for her Solemnization, Sure I was surprised and relieved at the same time when our friends mentioned about this.
Surprised because I knew I must've missed out the fine lines from the invitation & relieved because my coordinate happens to run cohesively with the theme set for the evening.



Thanks for the great time Jace, I hereby wish you and your Husb a wonderful and blissful marriage, Congratulations.

♥Dblchin
Please Thumbs up for my page :D