Whooowoooh! I can't believe I haven't been blogging for one entire week, is like FML I have no mood to do any shit and FYL you don't get a chance to read anything interesting for the past week.

But today, now, this very moment, I'm resurrected as I type with so much intensity as if I'm like rewritting the great blog history.
True fact you'll find no epic history here, however, if u pop by expecting to see something awesome you are seeing no less than an elaborate event that might just sweep you off your feet like for example, the following minus that grainy shit ass phone quality pic.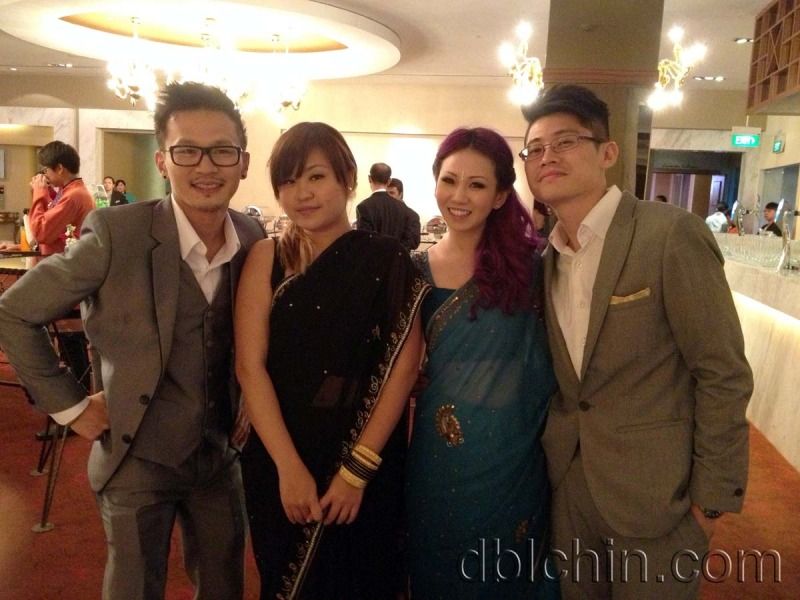 My friends and I at a good friend's Indian Chinese wedding which I have blogged about shopping for sari the other time round at Little India.
We were don in fancy Saris accompanied with accessories and proper hairdo this time round. Of course being a hands-on person you might probably figure that I had my hair and make up done all by me for myself. More pics of that later.

Check out the gorgeous ladies, we are so game for luxurious sequins in every colour aspect.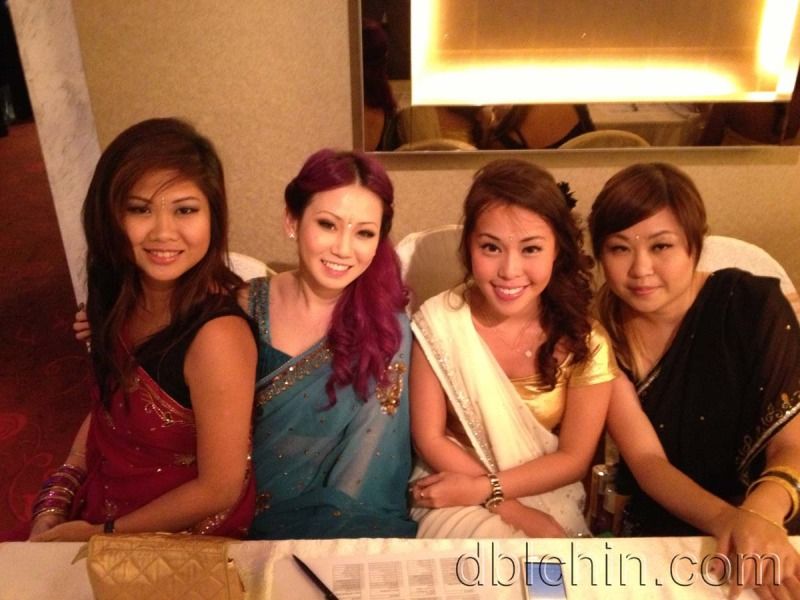 The boys working very hard to keep the sound system going for the after party session!
I'm sorry to say although they might look like a pair of match make in heaven gay buddies, they are actually pretty straight.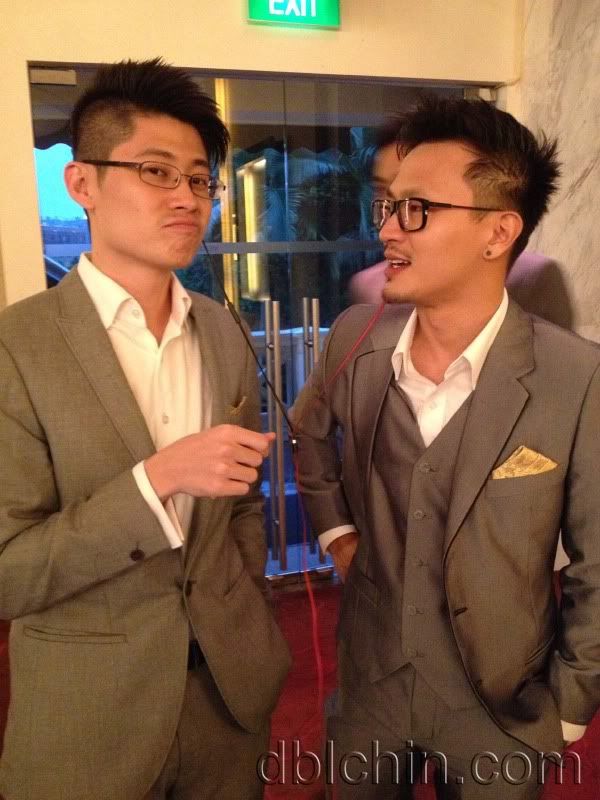 Alfian, the one with the most loveable character, I think by far at this moment I only have one best malay guy friend: him. He is like Fucking Yandao ok!!!
Sorry my demure moment has just gotten off track.



Bride's Sister, like the real sister not like me the jie mei kind but still jie mei by blood one. Geddit?!
She looks like a Persian princess, is true! u all know me, I cannot bullshit one! She is really very chio!!!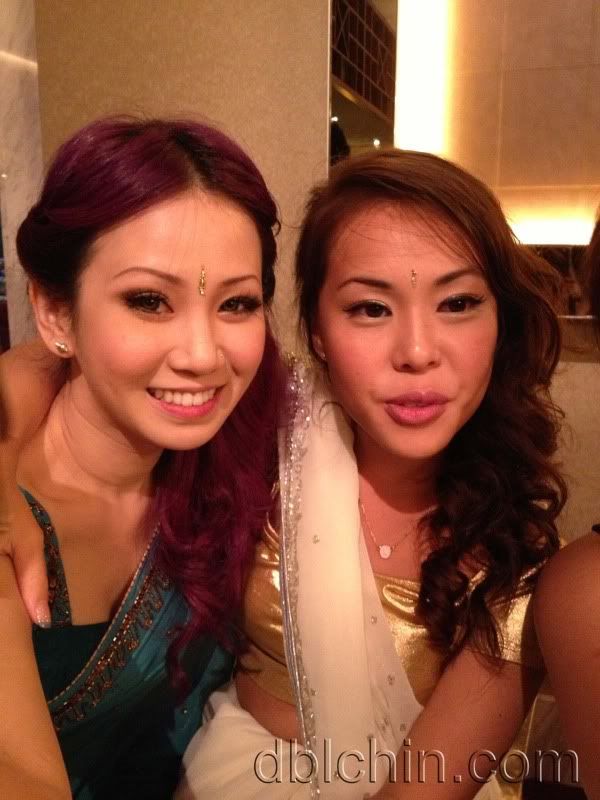 Here's me, also quite chio albeit not shy but don't care la I know u all will say is nice one.
Had my hair center parted, so it could show the Bindi better (A self-adhesive Indian gem where is usually stuck between the browns.)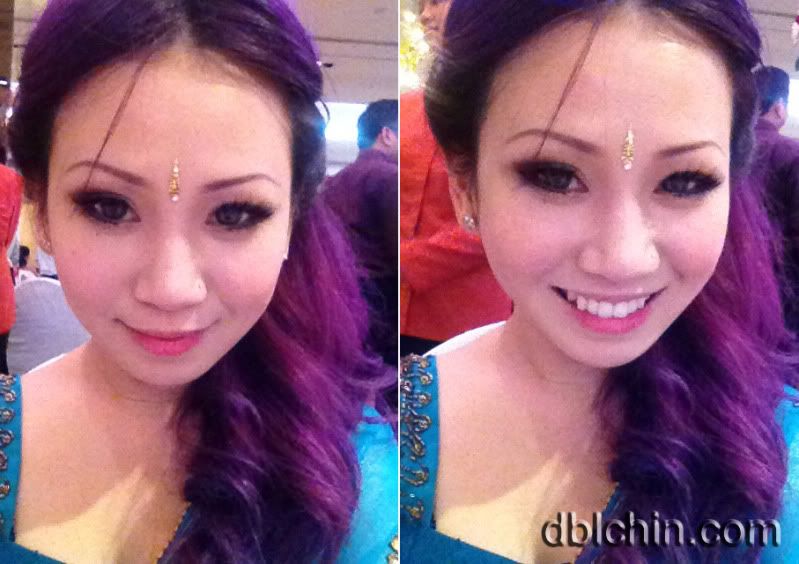 Also did a messy pretzel twist to one side and finished up by curling the ends with a tong.
In any case if your Bindi falls off or doesn't feel that sticky anymore, u can to use a good alternative like eyelid/lash glue as an adhesive all over again.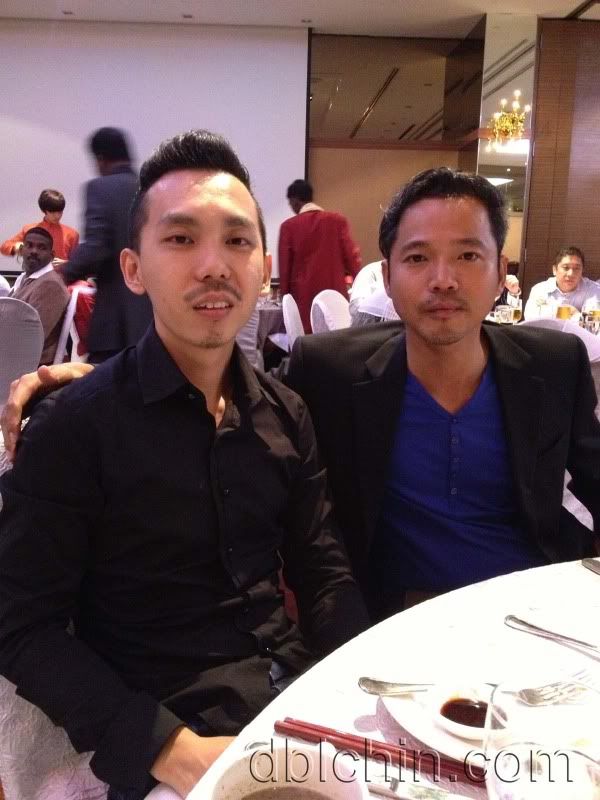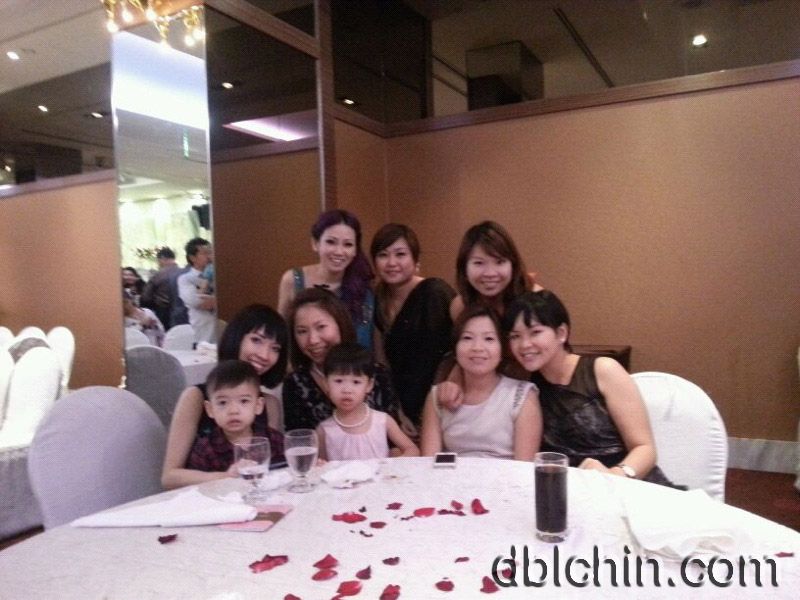 The Bride and Groom Looking Gorgeous with their Photographer Leslie, which happens to be my wedding photogr too, I highly recommend him coz he takes awesome pics!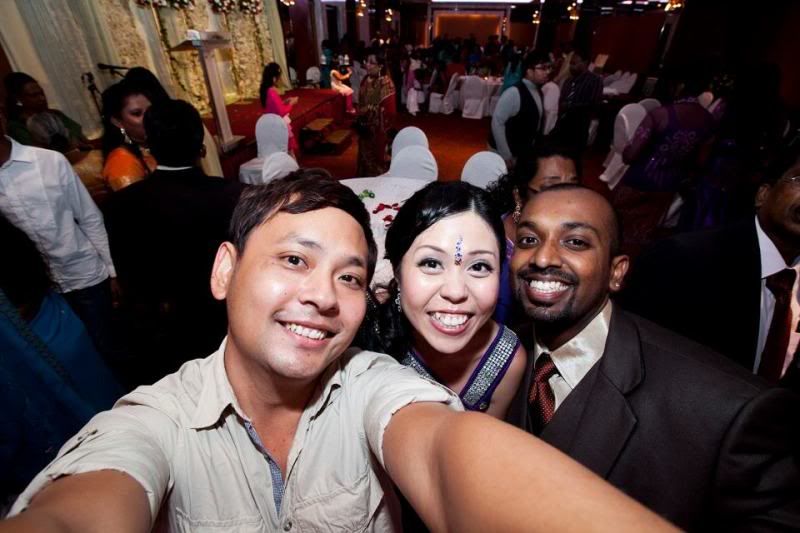 More pics of my hair.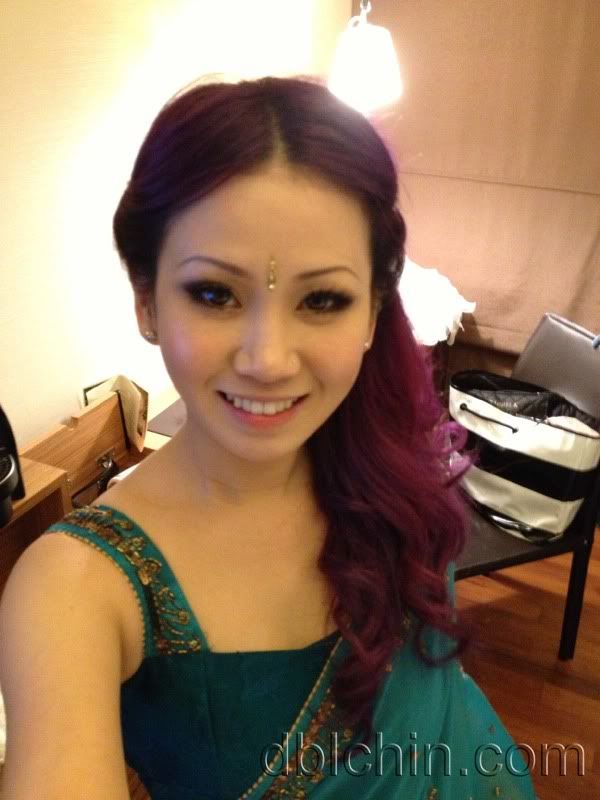 A clearer view of my messy back, actually it could've been neater because I'm short of hair spray and a proper comb!

Side Track: People are constantly talking about my purple hair, so here's where I got my tresses done:
Shunji Matsuo


391 Orchard Road #05-23,




Ngee Ann City Podium B




Singapore 238872




Appointments: (65) 62381522, (65) 62381514



My Sari is pretty heavy with the substantial embellishment lining up the entire fabric.It could be tied in different ways, I prefer having that toga feel to it thus explains y part of my hand is concealed under the giant layer of sequins, also the real reason is to hide my gigantic arms.


Do not Fret, is just my tummy and the faint looking mole right below this sentence.


The entire sari is connected (excluding the blouse and petticoat) as a whole, one piece.Part of the sari is folded into different layers and tuck into the waist as the bottom piece and the remaining is loop over the shoulders as a top piece. Is pretty complicated though but I'm glad we have a sari lady to come help us with the tying.

If you want to get a feel of how it is like, You can check out the video here!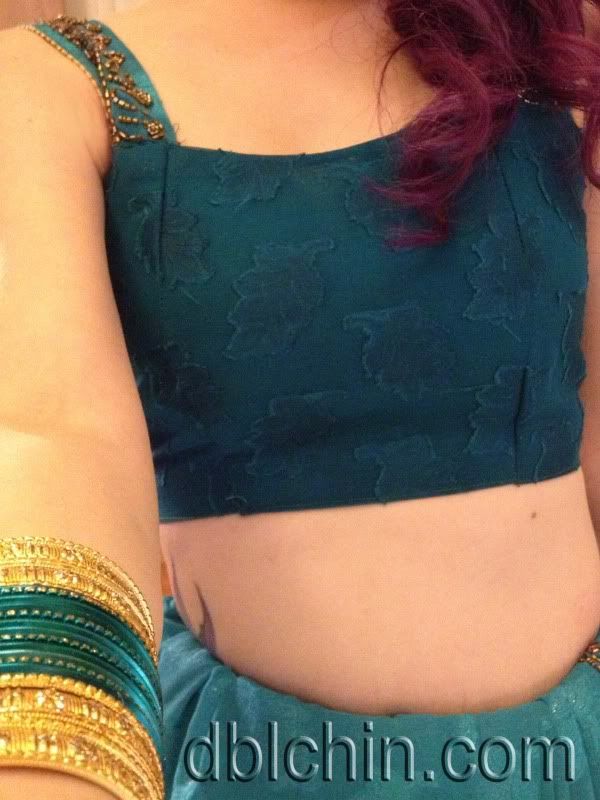 This Gorgeous Blouse, which originally is part of the sari. Is cut, sewed and painstakingly stitched beautifully by the Bride's Mom-in-law.

It sure gets pretty lucky to be one of her close jie mei!
Everyone is seriously admiring my blouse and my dressing! Got Value added bonus when one indian relative from the groom's side came up to me and complimented me to heaven saying if there's a sari competition I sure win! wah lao my heart pi po pi po so happy!!! I win liao la!


Wishing my lovely friends a Blissful and happy marriage!

'The wedding may last for a day but a marriage will continue lifetime and beyond.'

Dblchin-anyhow-but-you-get-what-I-mean-quote

♥Dblchin
Please Thumbs up for my page :D