Hey Dblchinis~
Last weekend was a truly busy one, I was at the salon (Shunji Matsuo Ngee Ann City) since 12pm to get my hair coloured. Both colourist, Justin and Jayden are hard at work trying to achieve the shade I requested for. Bleaching, dying, washing, treating and for a moment I look almost like the tail of a mermaid.
I sat on my ass for more than 5 hours (could toast an egg), finally it paid off when I looked at the finished work but still totally dread the waiting time *gives grumpy face*. Ok, more of that on a separate post.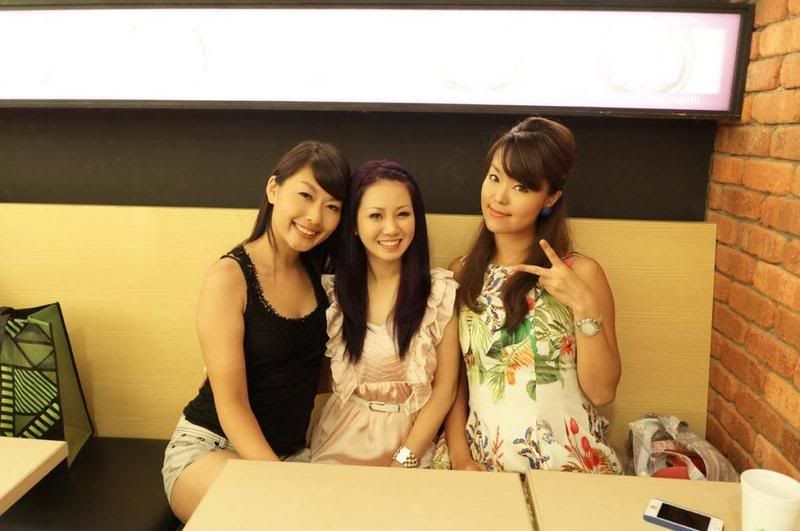 (cute pastel pink top given by
Karen
)
I'm suppose to meet the
Ninja Girls
(Sakura and Tsubaki) at 3:30 but I had to push it back an hour later because the hair colour took up so much time. So in hope to get to meet them on the stipulated timing I was hurried Jayden and told her my behind time schedule.
However, time overrun, I had to apologize profusely and told them to give me another 1/2 hour to get my tresses done.
Finally, We managed to meet at 5.10 and we quickly head over for some yummy delights at ion B4. Unfortunately the food hall is having a major overhaul (SERIOUSLY?! U opened barely for 2 years and you are refurbishing that area?)
Left with little choice, we settled for Japanese food located in one of the eateries along the aisle which are yet to tear down for reno.The food's quite yummy actually

Here's (left)Sakura and Tsubaki
There are 4 ninja girls in their group and is a shame I didn't get to meet the other 2 but Sakura assured shes going to introduce the rest to me soon! Can't wait!
All of them these girls from Japan (that explains the Ninja) and they are residing in Singapore currently,

I had so much fun meeting them, so glad that they are around my age group!
Is reassuring to meet people that are close to my era so when I talk about something they totally understand that I'm not just talking rubbish. We chatted about family, spouse, new friends diving, and most importantly, girly things.


Looking at these pictures I already missed them!
See you soon Sakura!