*Sponsored Post
Hello Dblchinis!
Is pretty unfortunate that we will be seeing the last of Budget Terminal as it is going to make way for Changi Terminal 4 really soon. R.I.P Budget.
So What's going to happen to the airlines at Budget Terminal, especially our Tiger?
Not to worry, this strong mastiff
Tiger Airways
is moving to a new home!

I was honored to be invited for their House Warming Celebration at Changi Airport Terminal 2 with a few other bloggers.

But first, we need to trail the tiger.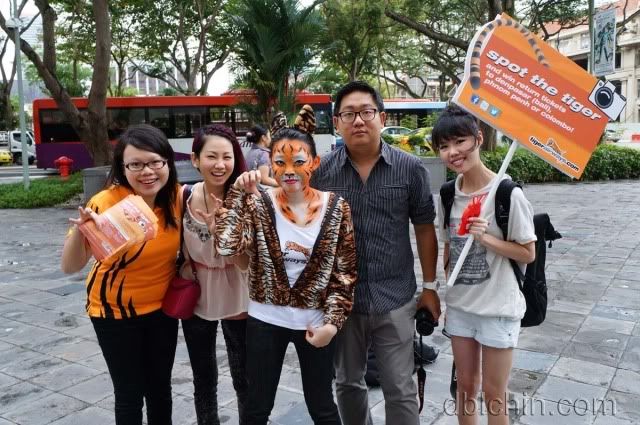 An on going contest to win Tickets from Tiger Airways, one has to Spot the tiger at City Hall, Raffles Place, Bugis!
Take a picture with the tiger and upload to Tiger Airways facebook page for a chance to win free tickets to selected destinations!



Just like what this guy did!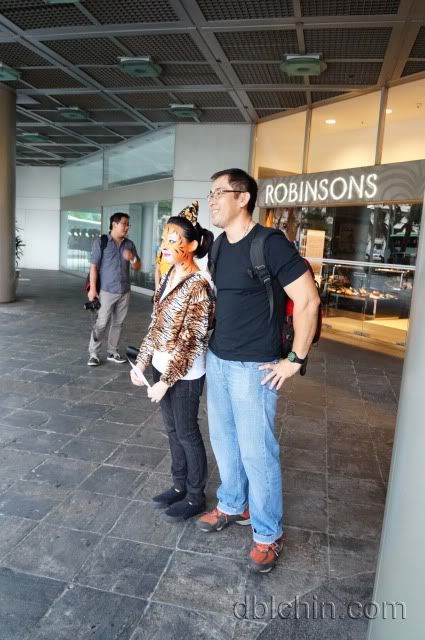 (Location : City Hall)


My Make of the day, nice not?




Salah, paiseh this is the right Make of the day.



Crystal (left) from Tiger Airways & Melissa (right) are heading to the airport to welcome the Tiger!



Mel and I went for another staycation program at Oasia hotel the last time and I'm so glad to c her again! Pssst shes fairer than me!




When we got to the airport, we see an ambush of female tigers lurking around on twos. I was panicked, crossed my fingers and hoping not to end myself up on their dinner table.



When they turned around, I'm like chey, these tigress so cute one. More like I eat them up. Alvin! y ur eyes closed!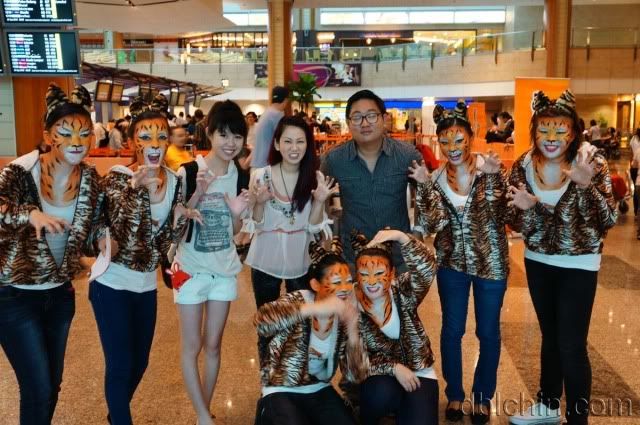 Tiger Airways departure point will now be located at Terminal 2 Hall 6.



Barricades printed with the leaping tiger logo .



Cute Ladies.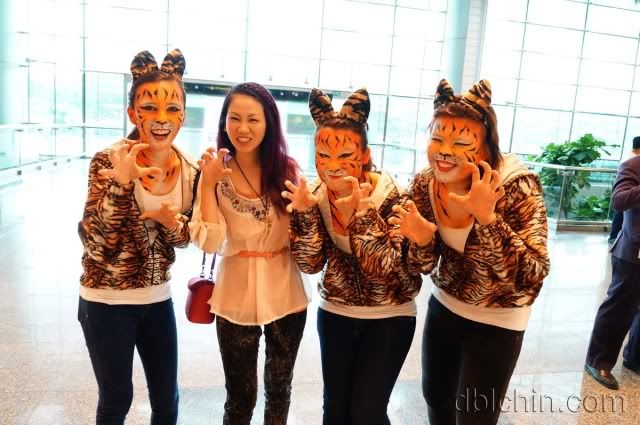 They hired Cheerleaders to stand in line as they prepares to perform before the 'REAL' Tiger graces its entrance.



This cheerleader on the left is particularly happy as she gossip to the one opposite her.



Tiger come liao!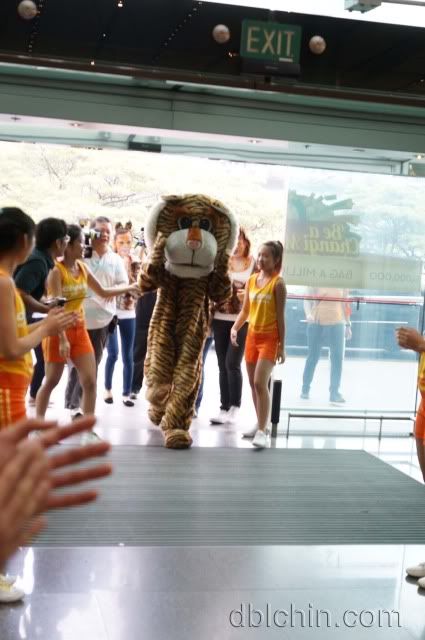 This Tiger very harmless looking, I was expecting a more ferocious one.



Cheer leading performance sure sets the mood.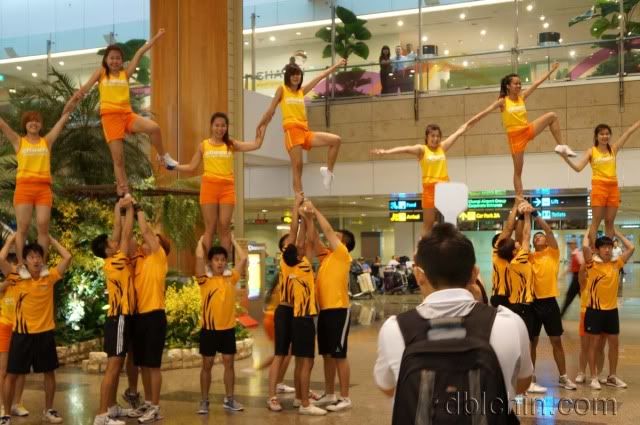 You go Tiger!

Photographic memories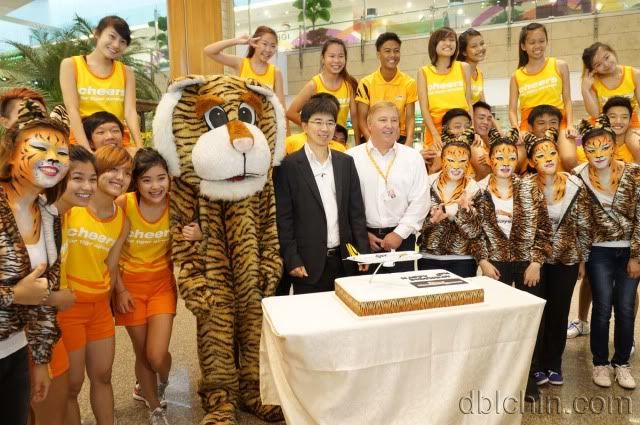 Seriously y this Tiger look so stiff one!


Let me give you some action!



Entourage of Cheerleaders



We caught a glimpsed of the Tiger Airways Office when we head over to collect our goodie bags.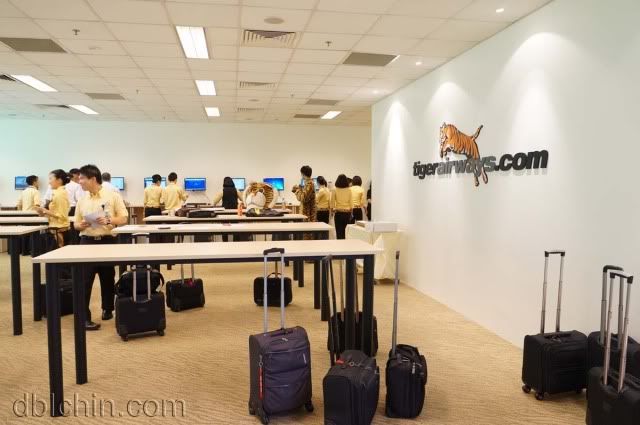 Cabin crew busy check their schedule onboard on the next flight.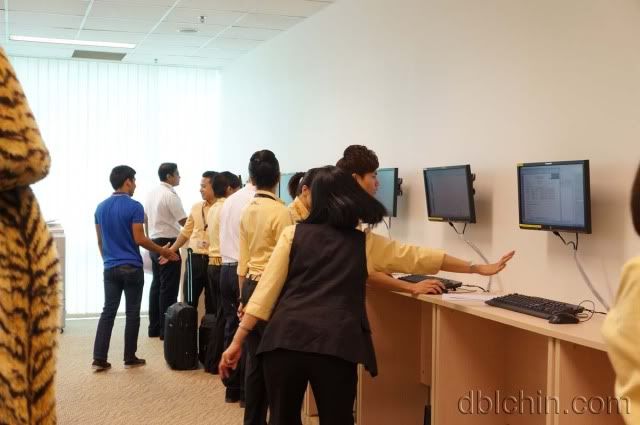 Thank you Tiger Airways for the wonderful opportunity to experience such hype on a Tueday morning.
I've been sponsored 2 return tickets to ANY Destination that Tiger Airways flies to, yay.
My Husband and I got married like 5 months ago and we haven't gone for our 1st honeymoon (No Honey how to make babies?!) even thought we have been talking about it for the longest time.
Now, we really are going to take action thanks to the free tickets, most probably Taiwan. Shiok Shiok!

Last but not lease,
By far the most intelligent species within a tiger, back view of a Human.