Good Day dblchins!


Nothing much, Just wanted to show you a few pieces of super affordable-cheap clothing that I got from City Plaza.

I bought a total of 11 outfits(dresses + tops) for an average of 10 bucks each
&
I'm majorly proud of my thriftiness but not that proud coz I bought so many without batting an eyelid.

U see huh, when I buy super cheap cloths in bulk, I will parade around the house Showing it off to Mr Lim piece by piece my purchases. He will then judge me with that cheap slut look, at the same time pinching the fabric with his thumb and forefinger and shaking his sorry Extra-Terrestrial head to prove that the garment is lousy.

Srsly where can u get cheaper garments of decent quality at a not-so-dirt-cheap-but-cheap price?

The ones I bought r quality fabric like chiffon hor, u see la later.
OK I admit, impulsive buys like 2 out of these 11 pieces but hey probability of me failing is low.
Paiseh I'm not showing those, I relly don't like to wash my dirty laundry in public.

Lets check out the (partial) stuff that I've bought.

Ok this is not cheap stuff, but I got this for a discount coz my friend is working there.
So I cannot tell you the actual amount that I've paid.
BUT you can find them at

makers mart

#03-138B




This is a 2 way dress, like 2 way cake foundation like that.
The same concept of using it wet or dry, you can wear it front to back.

For morning wear go work meet boss you can wear as per above la, decent like your colleagues will never know what you are up too.

Then at night you flip the back to the front, immediately you see a huge contrast of neutral and strong blue overwhelming your chest.
Then your neckline suddenly plunge like everyone wants to stare at your pair of glory like that.
You also can meet your boss in such attire if you know what I mean.
Today plunge, tomorrow promotion *Dramatic wink*


The quality is superb, go check my friend out now!




This off-shoulder Mint dress is like super bridesmaidsy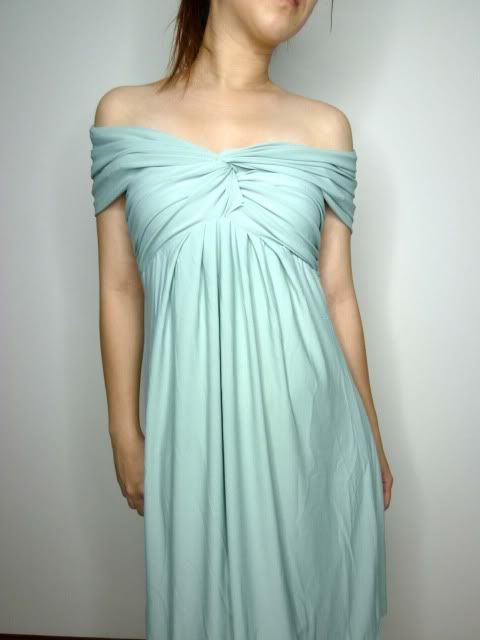 it looks so soft to the touch but the workmanship is not too good.
Is $10 bucks, so I just give take.
Besides I can make amendments with my sewing.
What I like about this dress is it doesn't look cheap, maybe coz of the spandex.
I love how it body hugs the top torso that accentuates my mini shoulders.
I don't really like the length thought, is a little too long but can cut coz spandex wont fray.



Toga dress in mint green too!


This dress is beautiful but the smocking under the bust makes it looks a little cheap, so must definitely pair it with an atas looking belt.
Totally digging the details at the shoulder, it jazzes up the entire outfit making it look less boring but still gotta look for a nice belt to go with it.
10 dollar! 10 Dollar! Good buy, best buy, muz buy!


Tunic top with mandarin collar S$10


This is one of my fav of the lot, is like casual yet classy, feminine yet edgy.
So much of the less in more going on with this top.
I super love the trimmings on my shoulder, it feels like a patriotic officer waiting to blast those sorry assholes that bomb twin towers .
Apologies u can't see the detail here but don't worry I can't see it from here too so u are not blind afterall.
However, Not too worry, I'm gonna feature this in my next OOTD look
AND I'm sorry if you discover my black panty seeping thru the fabric, I wear a nude one the next time round I promise.


As for the rest of my purchases, I will do more OOTD post, just gimme a chance to keep u in suspense first kays?