Hi dblchinissssss!!!
Went for a
KissJane
event sometime ago.
So what is
KissJane
?
It is a multi-brand boutique concept store that aggregates the best collections of local blogshops under one stylish storefront.
U will find exciting outfits from featured blogshops :
-All Things Lovely
-Eating Zombie
-Kristine
-Lacepipe
-MegaGamie
-MGP
-MisspPixie
-Rivervale
-The Scarlet Room
The Stage Walk
-The Tinsel Rack
-TracyEinny
They invited the fashion extraordinaire
Trey Wong
& our belly dancer host.
Trey talks about being bold and block colours are super 'in' this season~
There he goes holding a maxi tube dress with layers of bold colours across the white body.
The good thing about KissJane is most of the design r limited, they rarely hold stocks so u do not have to worry about wearing the identical outfit as 100 other girls out on the streets.
Their clothes are not exorbitant but yet they have bring in good quality outfits that are affordable at your taste.
U can rest assure they have clothes from the working class to casual day out or formal party dress.
I've alrdy check out the branch at Bugis and the outfits are wow-ed.
As U all dblchinis know, I love freebies...
SO HERE U GO!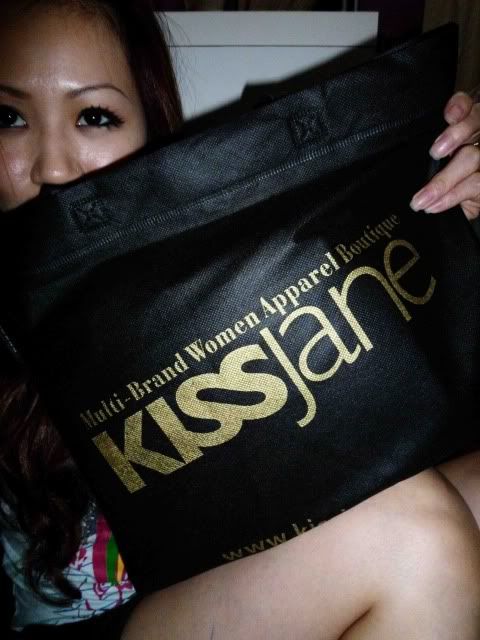 hugeload of stuff.
Essential shampoooooo is
♥
bubble hair colour~
is all about pampering ownself and indulgence
hair cocktail from Liese
least vouchers from KISSJANE!
I spent it on a dress for a GREEK Theme party, stay tune for my blogpost!
I love dining at MOF.
Y didn't this come earlier?
Exclusive samples from Benefit~
Thats alllllll dblchinis~!
Toodles!!!
KissJane Outlets:
KissJane @ Citylink Mall #B1-39, Tel: 6884 9219
KissJane@Bugis Junction #03-13A Tel: 6338 5548


*I'm not paid to blog this.