aye, aye dblchinis!!!

My blog title super long and epic, like some Aphrodite Goddess,

But actually is just my personality.

No, I mean the name of the ship, for real.

&
When I told my friend I'm going to royal Caribbean legend of the seas they thought I'm acting in some upcoming drama.

but sorry ignorant friendssss, actually only 1 said, so friend,
this is called the "Royal Caribbean" cruise.
Proudly organized by OMY
&
I'm gg for a 1/2 day tour,
with food provided (YES!!! PIGOUT!!!)
Awesome right?



A mountain of bloggers had arrived to experience this breath taking tour with the 70,000 tons legend.

With my weight of 0.044092452436799996 tons (I used weight Exchange to convert one kays), I can easily lift the legend signboard with my pinki.



Anyways, among these bloggers I see familiar faces.
daintyflair & Nadnut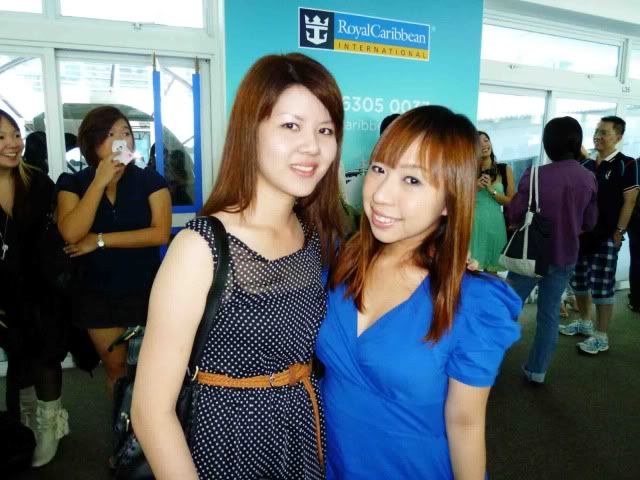 Both of them si bei caribbean lo, wear polka dots and blue.


I'll tell u more when we board the ship.
In the meantime, just try to window cruise.





ok ok we are boarding soon,


R u ready???
I think I'm going to get a heart attack coz I duno what I'm taking abt in my next sentence.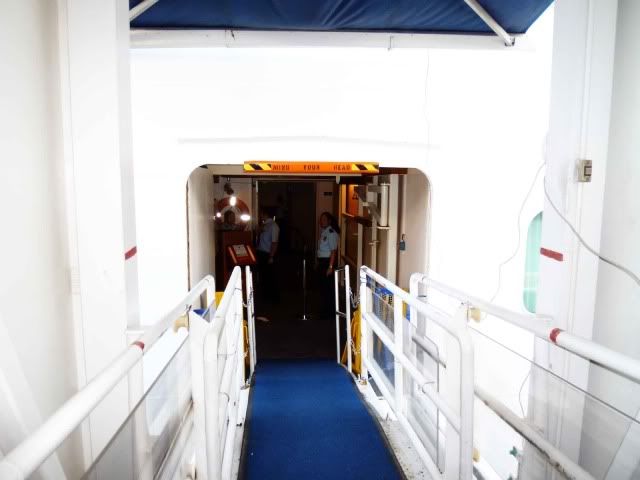 Across this thing is the ship.
Across this ship is maybe the hall.
Across the hall, the outside of the ship
Across the outside, is the sea.

Thank god for my fantastic knowledge of limited vocab.



Whatever it means, We have boarded the ship.
And first things first,
Handcuffs for the children.


These neon wristbands are made easy for kids if they are r lost on board.




11 decks to this giant
After the climbing, Nobody needs a gd foot massage as much as I do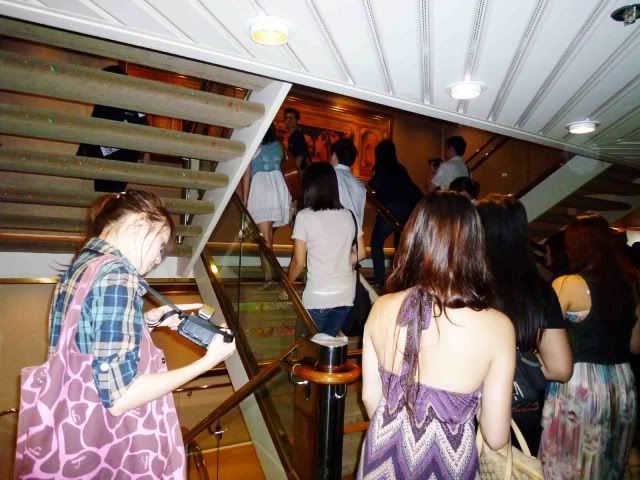 Looking massive is not enough eh? now classy as well?
Life is unfair, Y can't I look as elegant as Miss Royal Caribbean Cruise Legends of the Seas ?
y?y?y?????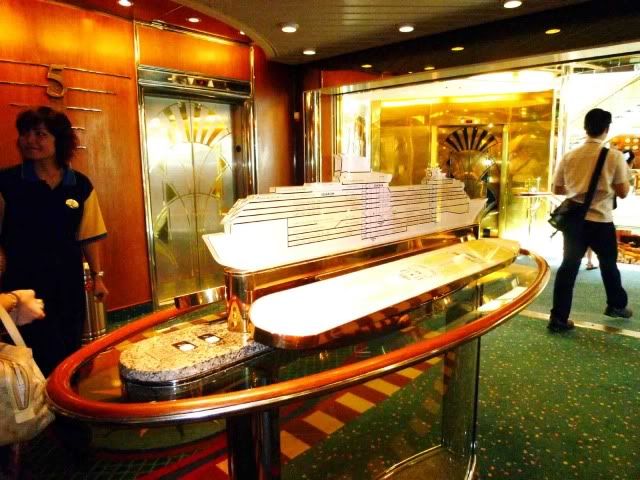 Guide-to-decks in a silhouette of the cruise.
Did u c ship shape spa and beauty centre? That's where I want to go.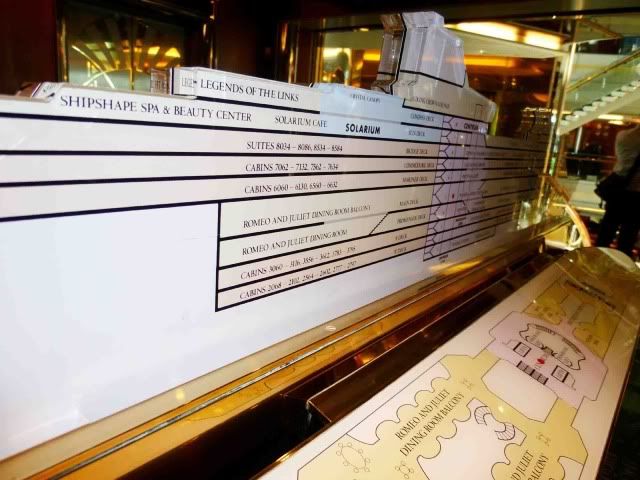 Come come .... show u the massive hall way...

C this one?
Massive not?


Actually this is not a cruise la, is the latest shopping centre at Orchard.

ok. is a cruise.


How can a ship not accompanied by gold?
I think my necklace broke, may I cut some off urs?





Ok before we start lurking around for food, we need to get briefs.
Oopsie, I mean briefing.
Sry, hunger makes one person insane.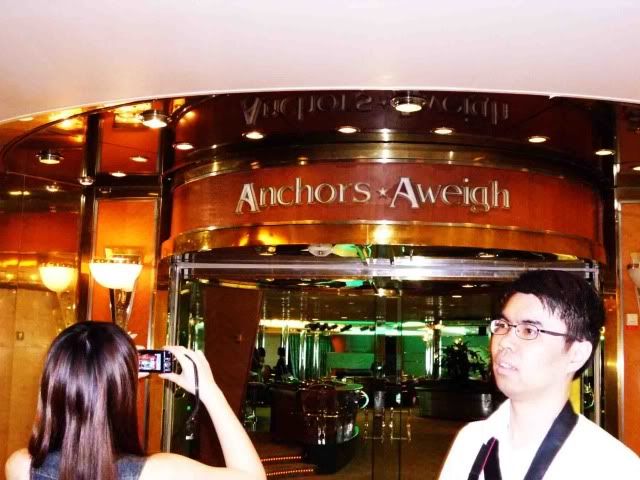 So we head to the Anchors Aweigh.
Sorry If u r asking for this guy's number, I have to say I really dunno him.




This lounge is relatively spacious.
And awesome place to chill the hell out.


And so we did.

Thats Feliza, Sab & Pris along with Dainty & Nad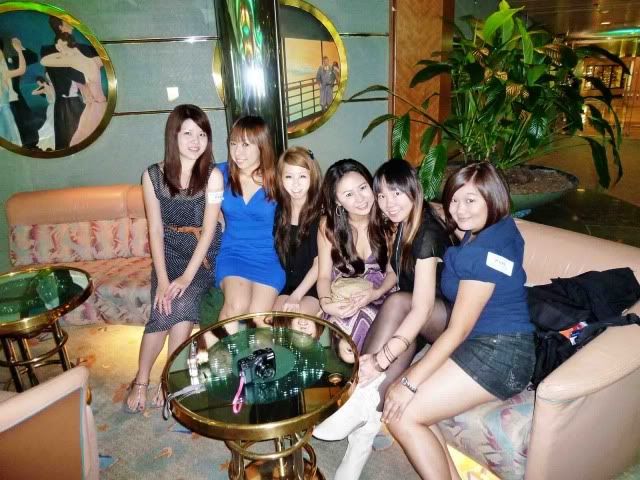 Being able to camwhore is the best tool in life.


ok briefing starts!
Alvin from OMY , talks about the criteria and all sorts of happening programs lined up for the tour.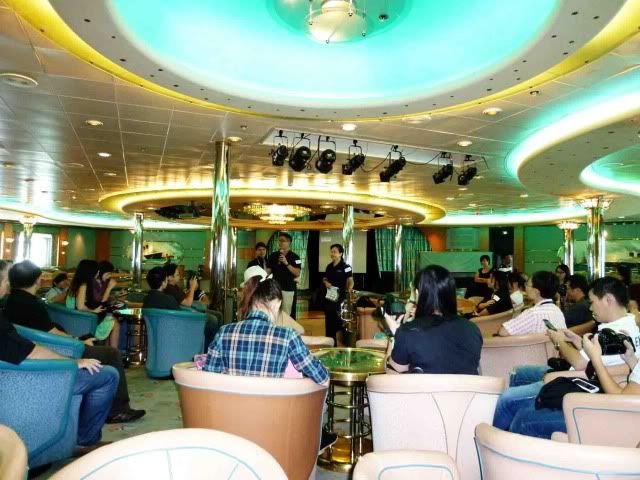 Lets have a short introduction abt Royal Caribbean:

she mainly departs from Singapore and basically cruises anywhere within the asian port region. Royal Caribbean has 11 decks of leisure activities and accommodation for her 2000 passengers onboard.
and
their sundecks are amazing, it is loitered all around the poolside... heaven on earth.


Enough of typing, writing, texting, more pics!

The Entertainment room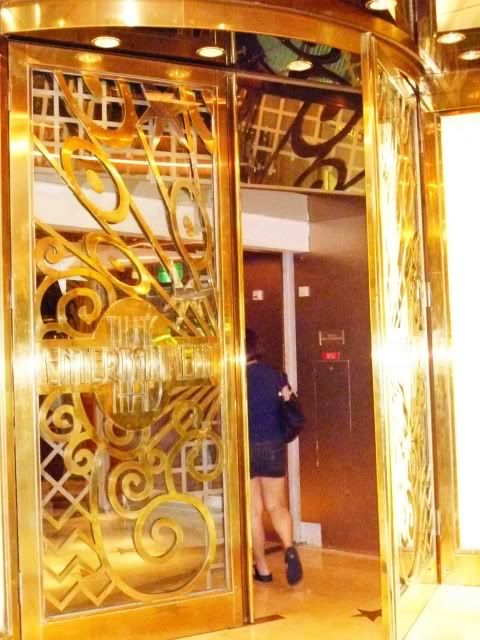 Is like a huge theater with plenty of seats.



As and when musical takes place here, there are ample spaces for everyone!





Nanny tourguide of the day says "hurry hurry, we gotta head off to the Casino Royal now, if not u r going missed ur lunch"
Did I hear lunch?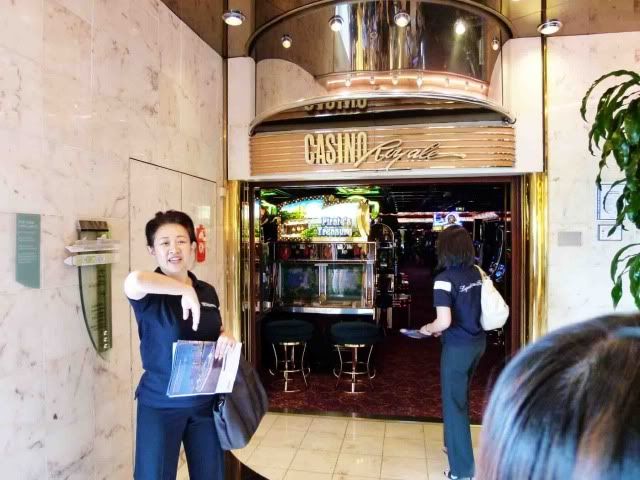 No pics allowed in the casino.
Anyways I wanted to place my bet but got no banker. too bad.


After bringing us through the Casino, we pop over to Schooner Bar.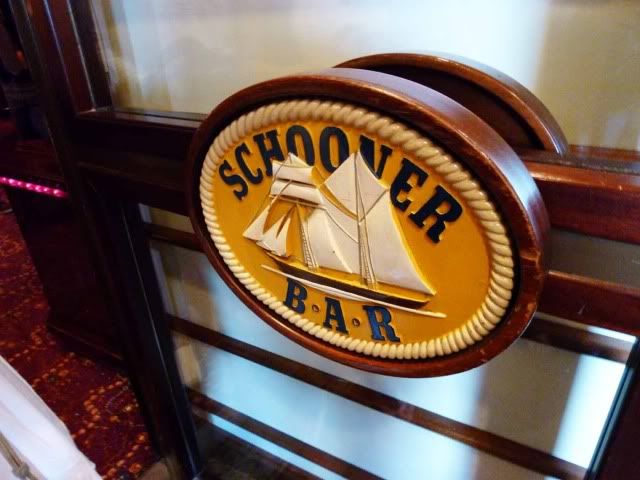 model of a ship.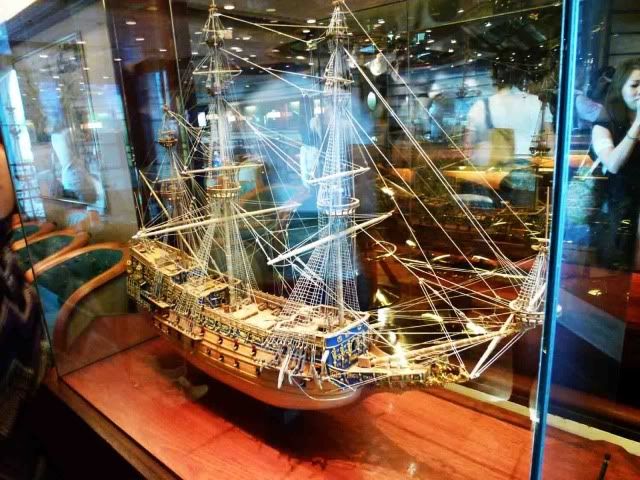 These 2 pretended to drink something but they never did, just sit and camwhore...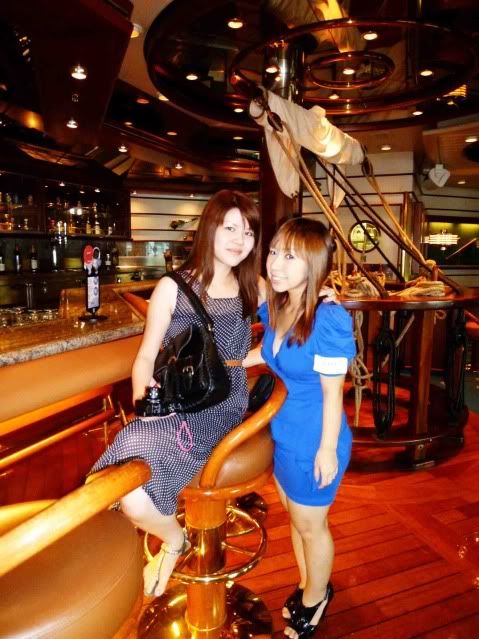 And sab is like posing with the Grand piano.
check her out, some sexy goddess, si bei see through.
Sorry I forgot, she wants to b princess.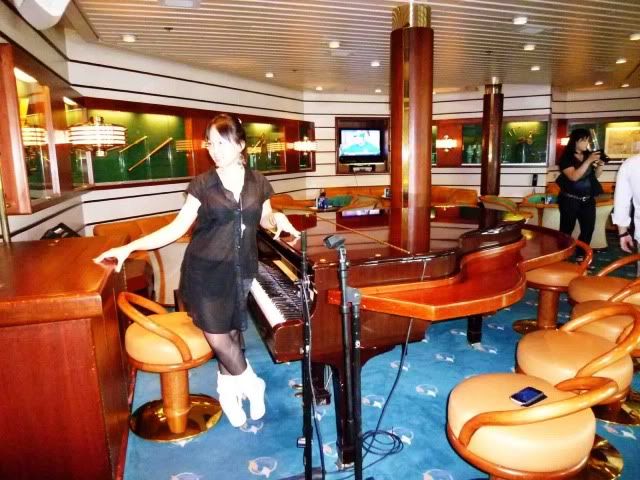 Now back to the Champagne Terrace where u can basically see the whole structure on the interior happenings.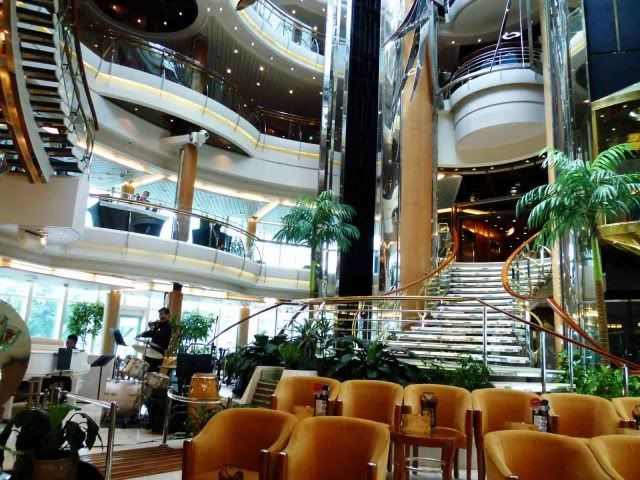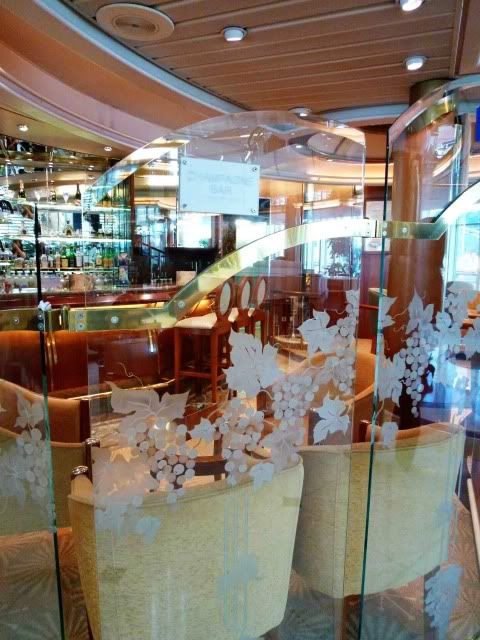 Ok now for the exciting part, r u ready not????



YES! THE SWORDS!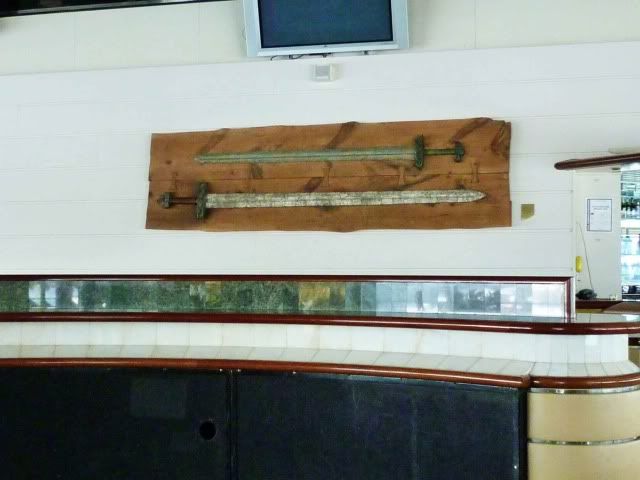 Actually I wanted a death duel with Nad but the swords are too high for us to reach so...never mind la.... nx time then fight.

Anyways Most Exciting beside the swords is the....



*short drumroll*
.
.
.
.
.
The pool!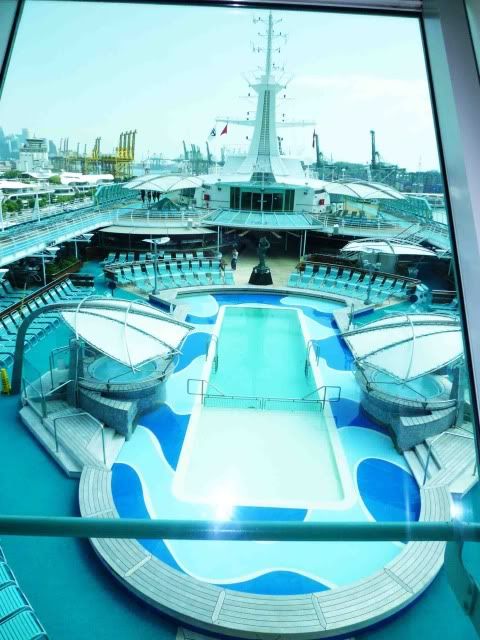 I'm not lying abt this litter loiter, see the sundecks.
U can like lie on 1 for 2 mins the hop on another one.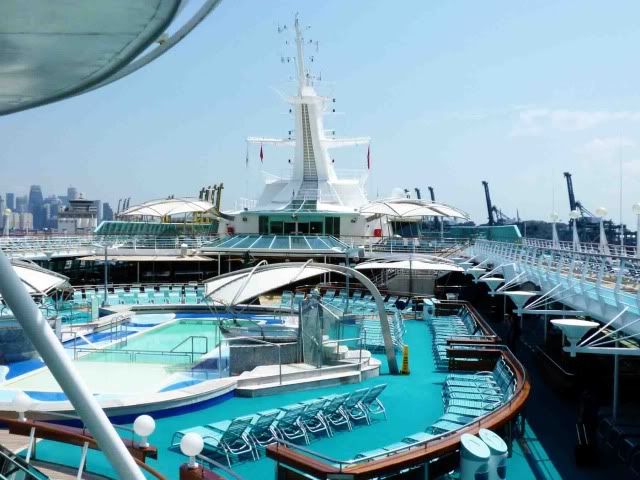 How Nautical!
I LOVE IT!!!




wah lau... If only I can steal one home....
just one...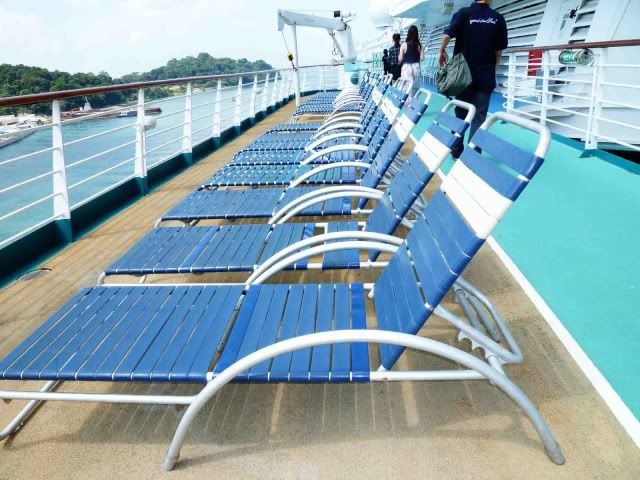 I told my bf, he v funny say I want to put on the balcony and let the lighting strike me izzit?
Funny not?
Funny right?
Seriously when the joke is about me, nothing is funny. U may stop laughing. like now.



We are now walking outside of this big girl's body.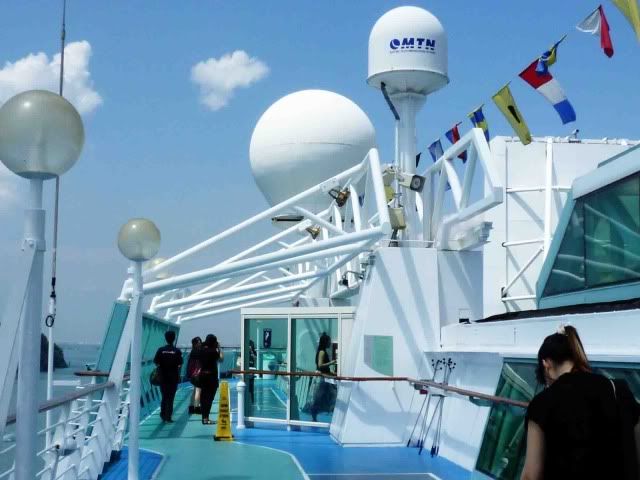 It says R.o.y.a.l C.a.r.i.b.b.e.a.n from the logo.
Dun ask me can fit not, it just fits.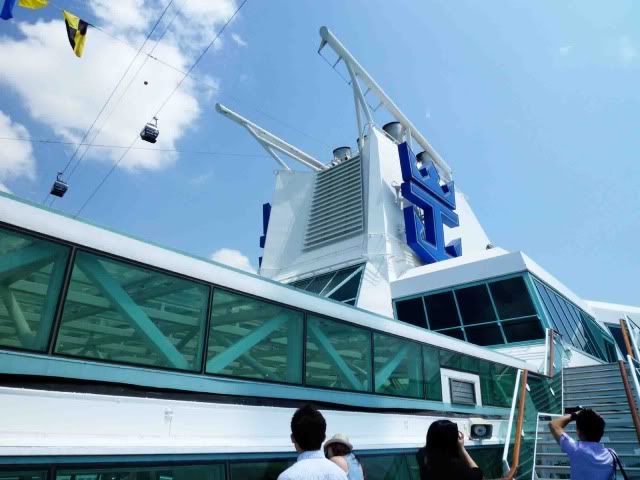 Can play hop scotch somemore!!!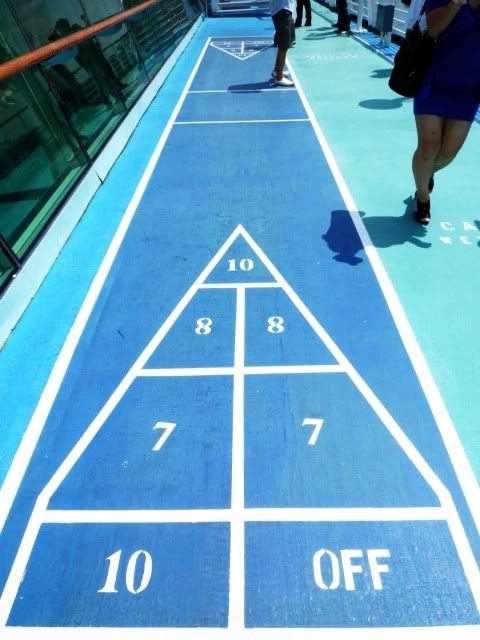 Oh paiseh, is shuffle board game,
never play b4.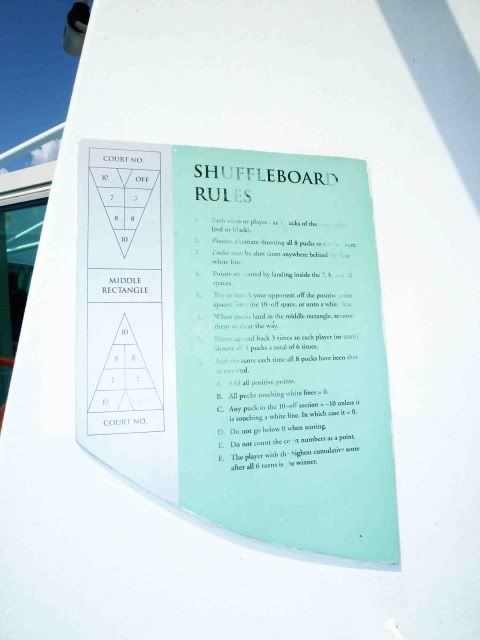 If u r missing home, like living on the 9th storey,
Just climb this.
after that u Wun miss home anymore.
This thing Gives me weak knees.




See the flags! So colourful can~



And the mini outdoor golf





Here's Nad adjusting her panties



Here's dblchin acting like she knows golf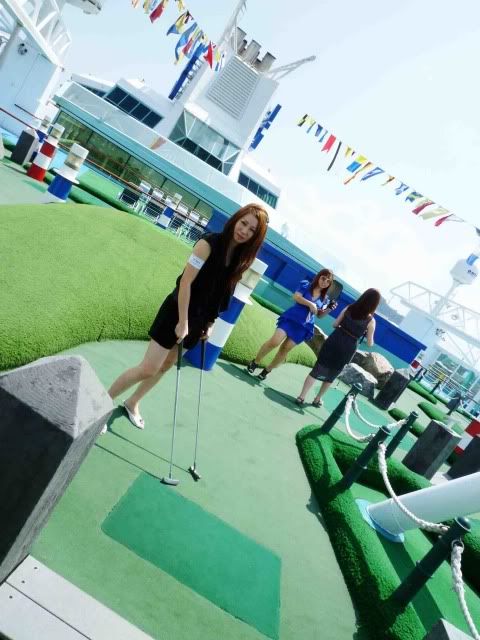 Here's feliza wearing maxis and playing golf



I think I forgot to zip...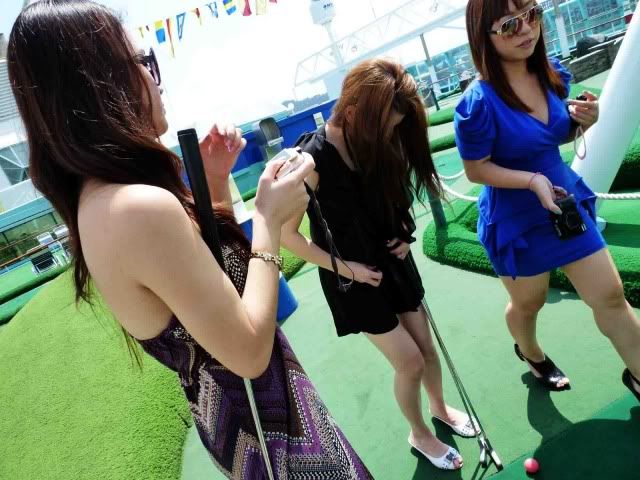 Next, we head to places wher kids and young teens, sometimes even adults love most!

The arcade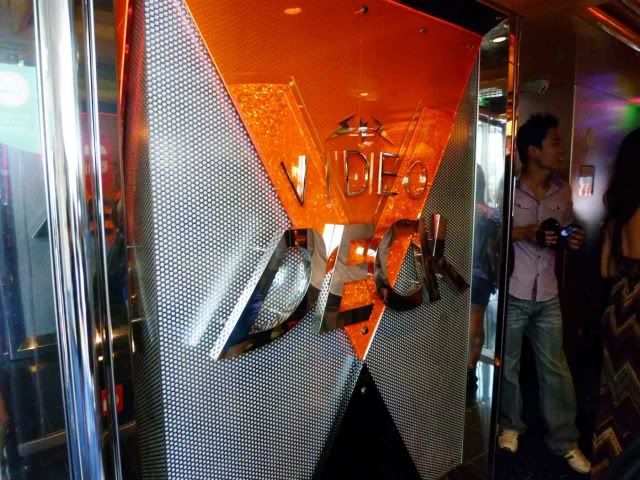 This young lady is rocking the look!
Actually I want to ask her to kneel down pose & pretending to strike the guitar and stick out her tongue like ah siao but paiseh laaa, Dunno her v well!




Now the children's corner.

Nowadays kids are picking up the R & B Trend, even lady gaga's poker face is being played there.

C we've got 1 kid at the children's corner with a pair of size 5 shoes.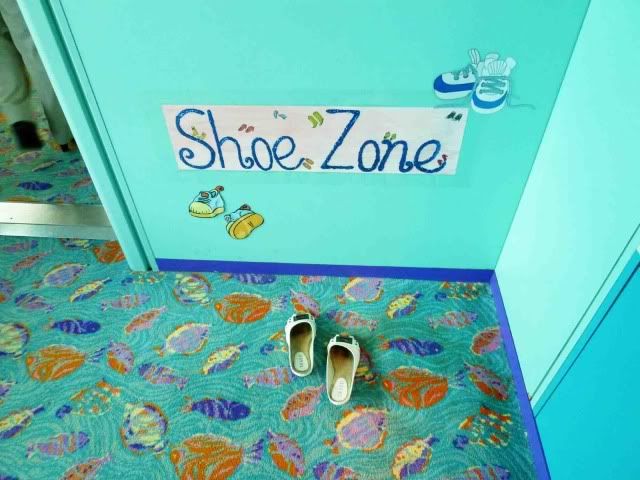 Spot elmo & I'll start my story telling!




Go sit down over there, I'll share with u Elmo's world in a bit!






After telling the Kid with shoe size 5 elmo's adventures,



we headed to the Karaoke room, called the "Optix Teen Disco"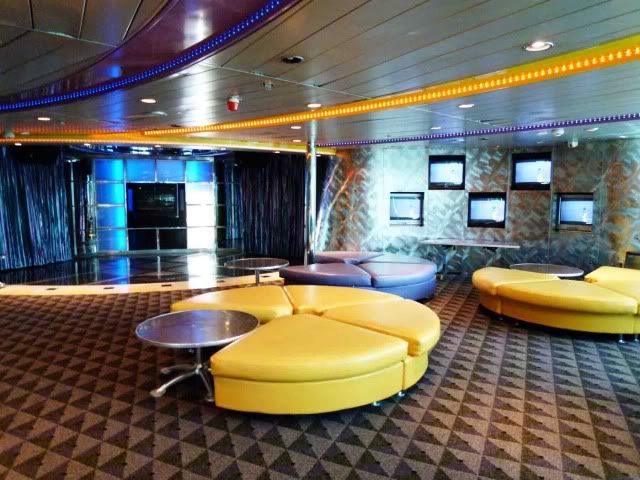 This place is for teenagers also known as the 'UNDERAGE'.
Wah... I feel euphoric when I spell this word out.
Like I can go up to a teengar and grab them by the collar and give them a tight ass slap for drinking alcohol
Coz,
no alcoholic serve okays.



Next We arrive to this eat all u can buffet dining area...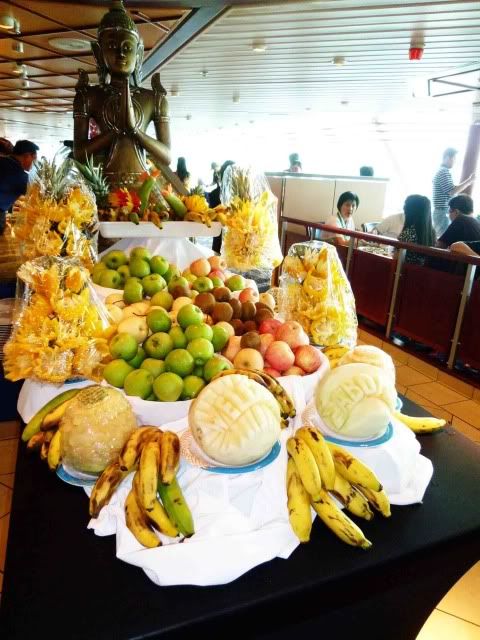 The food....



looks delicious....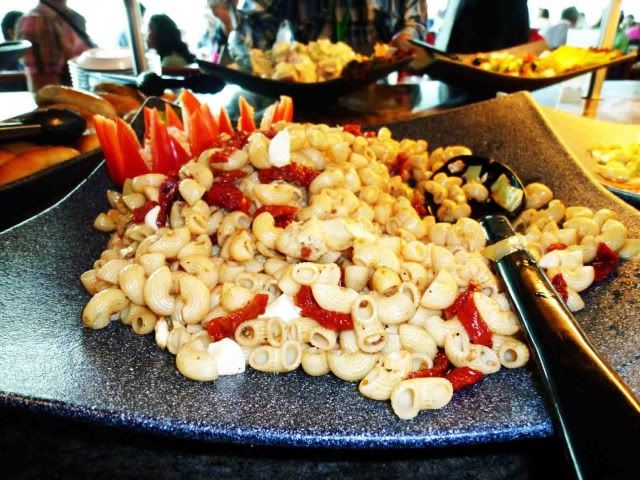 yumms....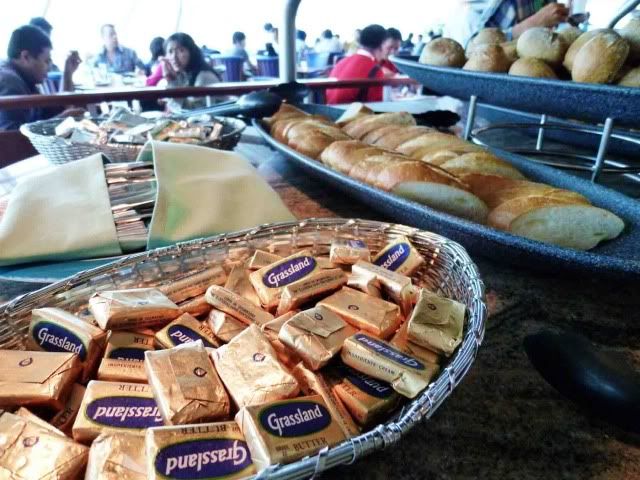 I didn't take much photos here because I'm closed to famish, I'm afraid I might just eat up my camera when I play back the photos.

Ok lets ditch food for now.

They have an awesome outdoor area too. swee~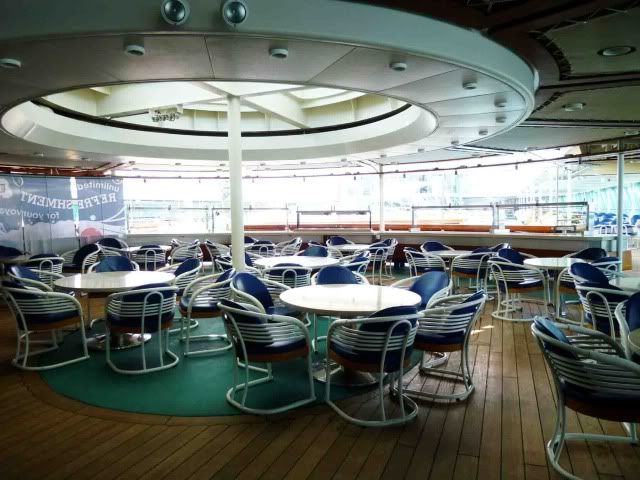 Nice! can see our reflection




If u aren't too keen about out door swimming pool,
U can come to this indoor pool with jacuzzi!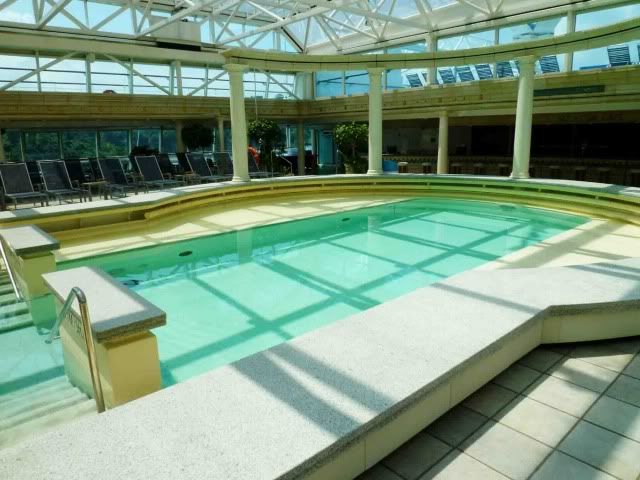 But no striping naked.




I love suntanning...in the shade.




Ok this is my fav place of all times, actually the places everywhere in this cruise are my fav place! HAHA!

Lets take a peek thru the wind screens




yea the beauty centre!!!



and the rooms for a peace and tranquility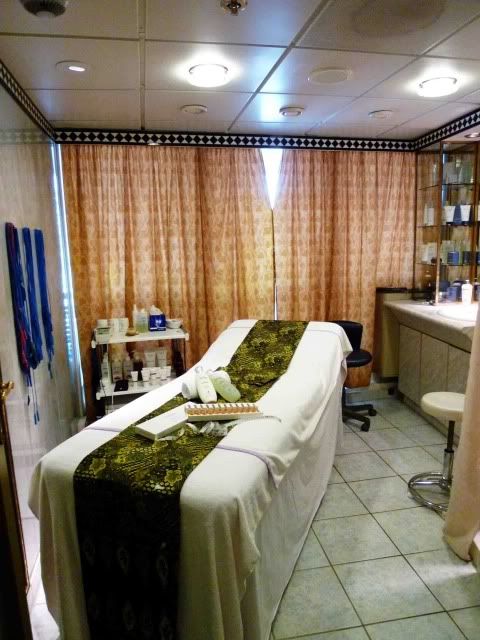 I need a masseuse now!!!




And get trapped inside the capsule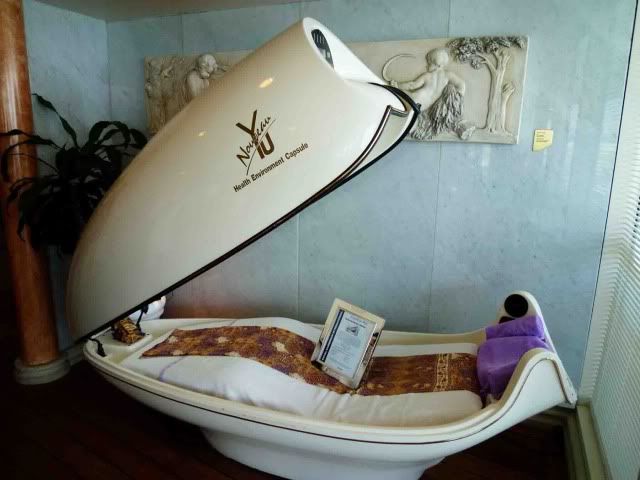 the fitness room.




Fitness sure gt mirror.
This is when camwhorers make full use of it



and cutesy dumbbells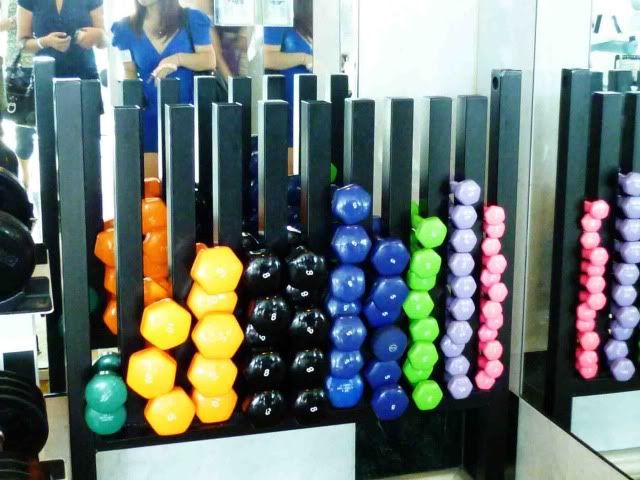 And now for the suite...


The interior stateroom
Usually comes in twin or queen size beds.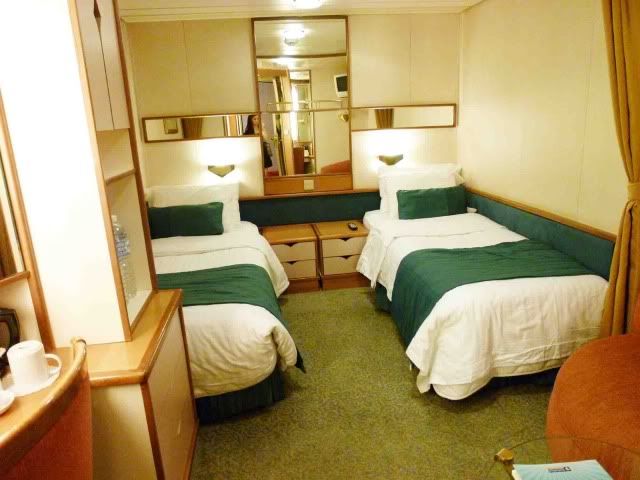 Some interesting decors when we pass by to the other suites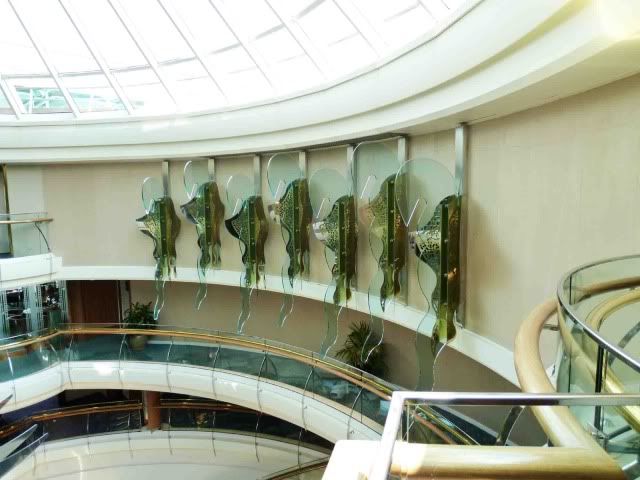 The Royal family suite

Got c the royalty not?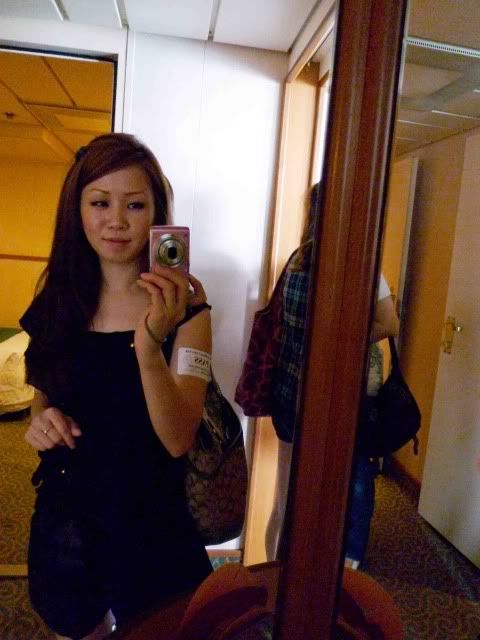 This family room is massive i tell you..



Triple mirror for ur self viewing pleasure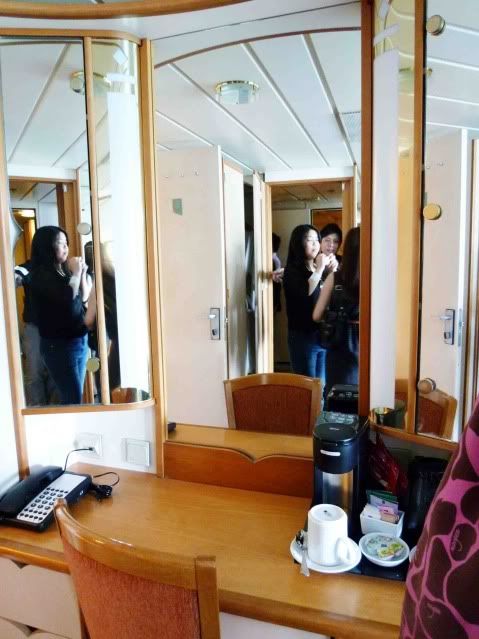 Bathroom gt long bath !


and toilet bowl!



Spacious isn't it?
I want to stay here! argh~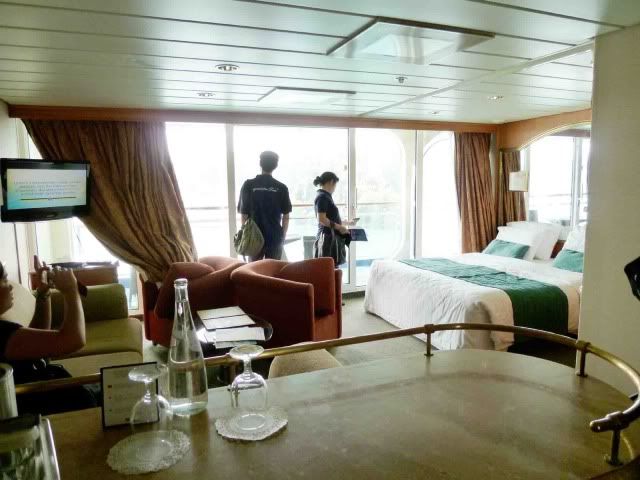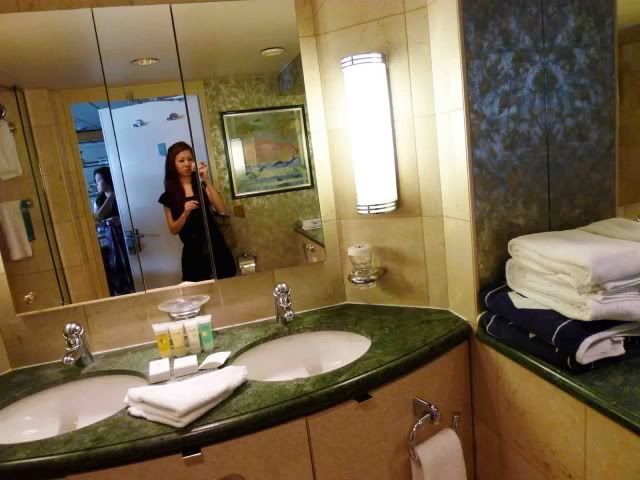 The owner's suite!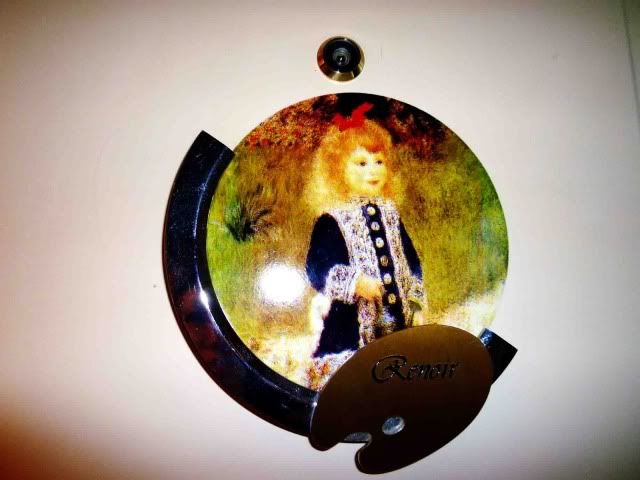 Got painting somemore



and facing the sea... how nice...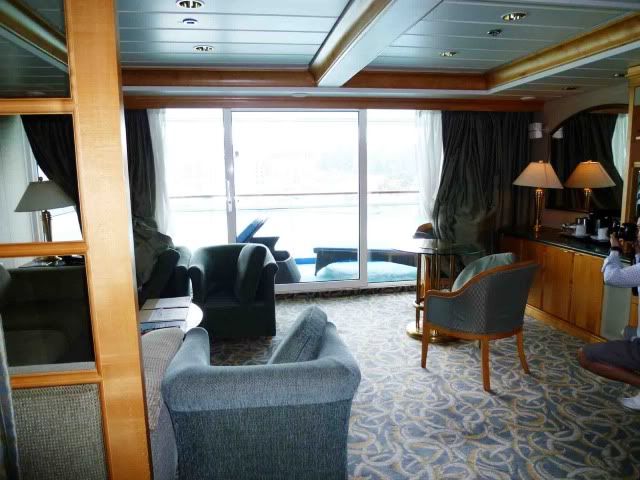 Lottery no! who want to buy?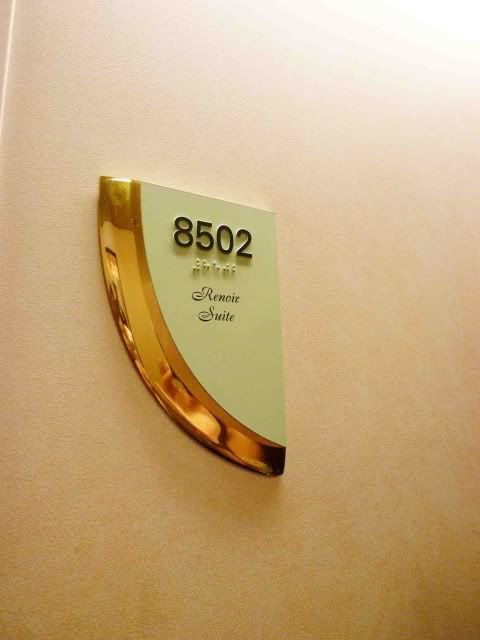 And now for the EPIC SUITE.

The ROYAL CARIBBEAN
ROYAL SUITE



another 4D number.




now u know how awesome this room is,
Got piano!



isn't this the golden tap the NKF use...?


No la! Is for pee pee one!!!



Sucha HUGE bathroom in a ship ley!!!
I definitely can fit one of the sundecks in.


I also can soak myself for 2 hrs until my skin turns prune.



not forgetting the Massive mirror!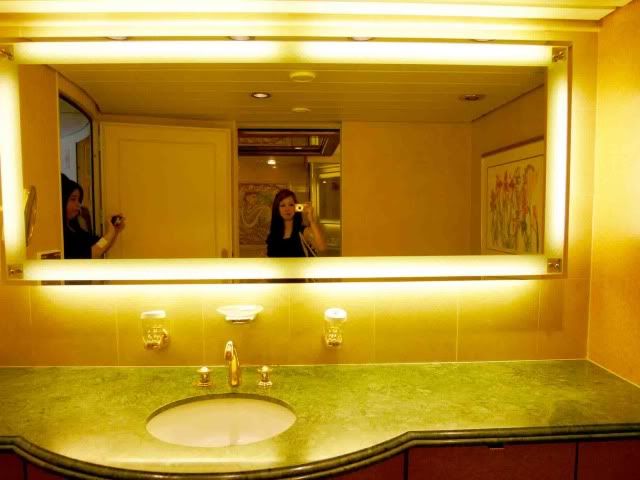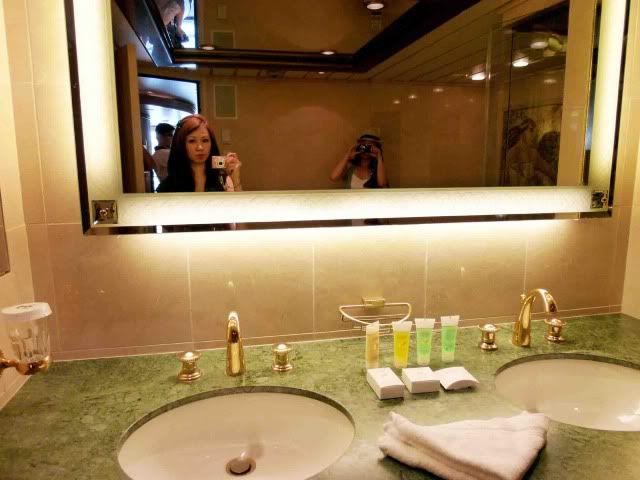 The bedroom.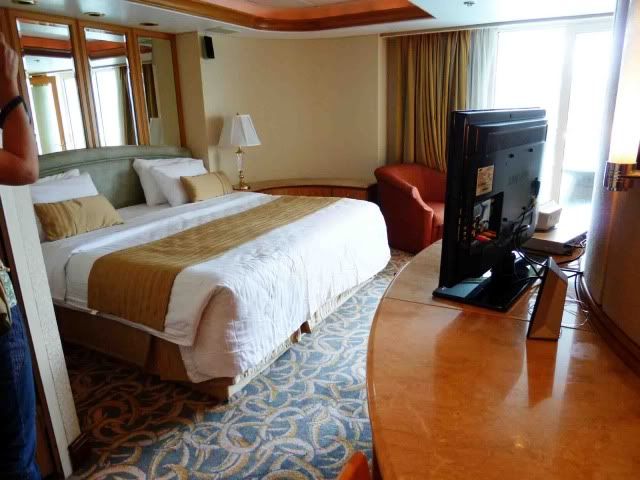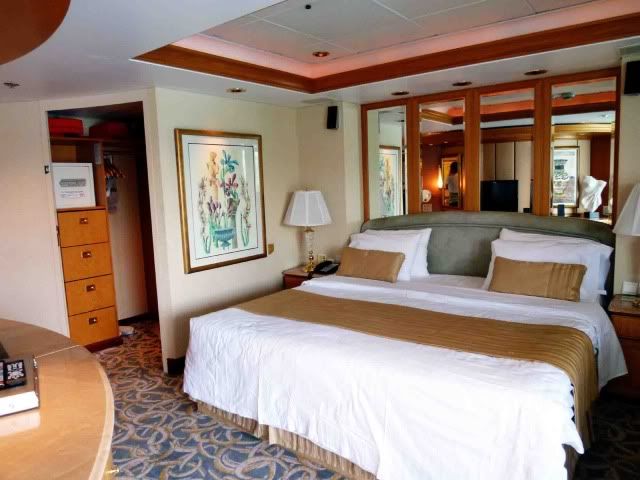 and the walk in wardrobe.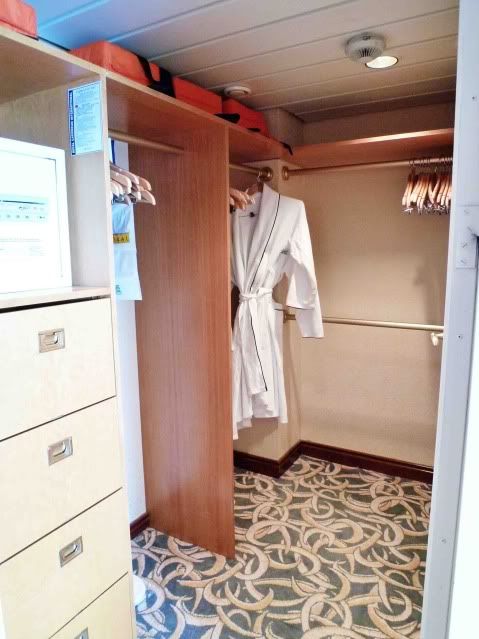 And of course, the rich Indian couple who owns this room for a gd few days.
They are happy We invaded their room.
I should have lie on the floor and refuse to leave.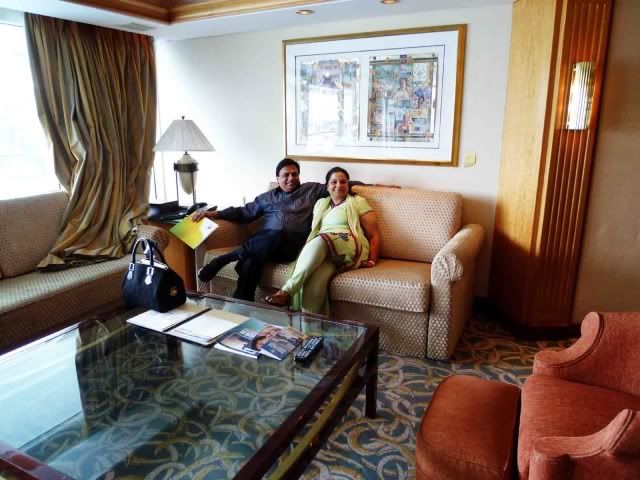 Oh here another room, a special one.
They do decorations if it happens to b ur bday!
Talking abt hospitality!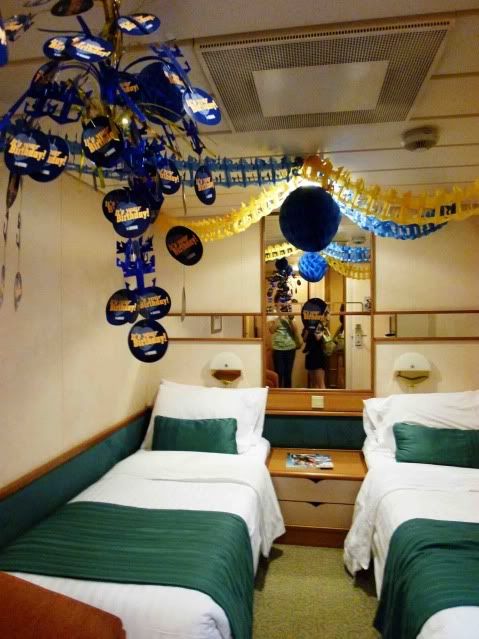 U know what???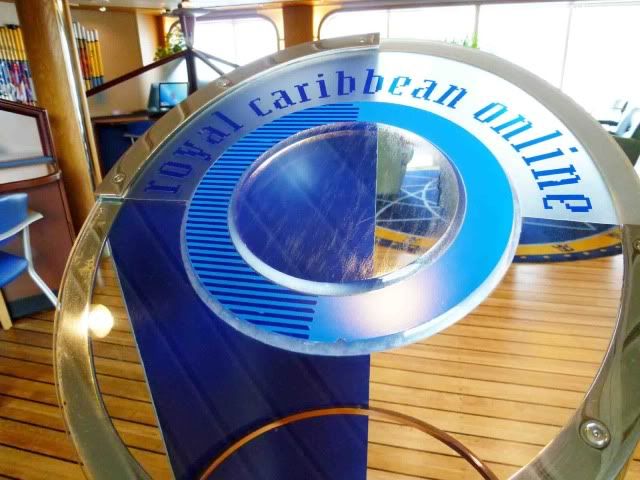 ROYAL CARIBBEAN SAYS IS LUNCH TIME!!!!!

at the Romeo & Juliet room.
Fine-dining okays.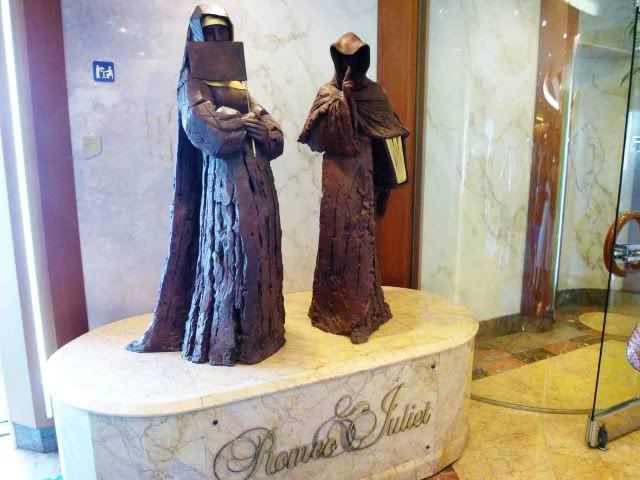 Well... not quite the romeo and Juliet u seen in the movies...


Lets camwhore a bit before the food comes...




Glad to b served by Sachin




For my appetizer

Asian-style Chicken soup, wah the broth super potent.

Now u see the wanton....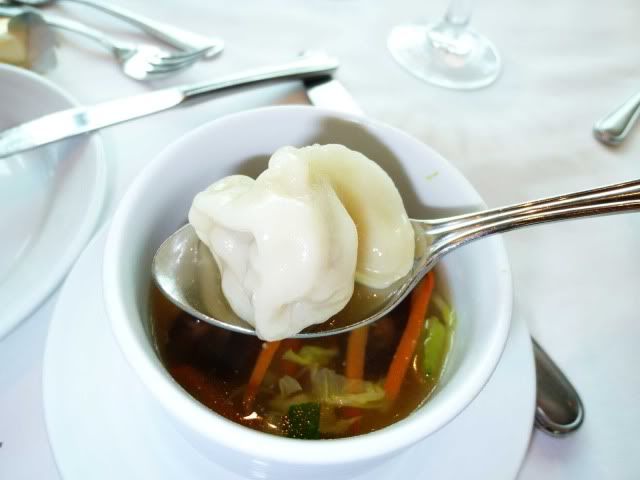 Now u see only 1/2 the wanton.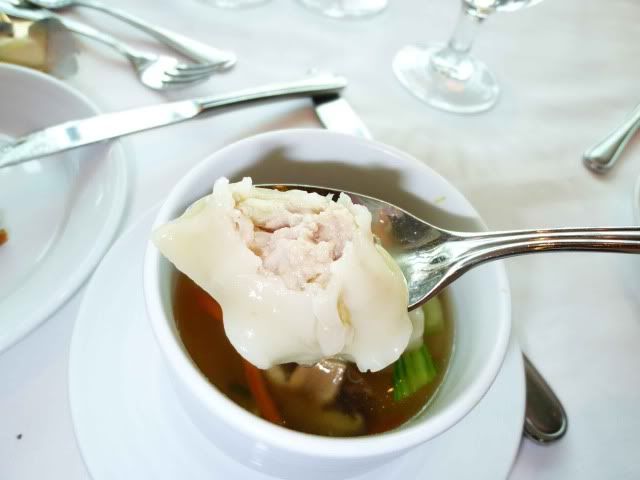 Feliza order a shrimp cocktail royal, basically is prawn salad but the name v atas.
Yumms...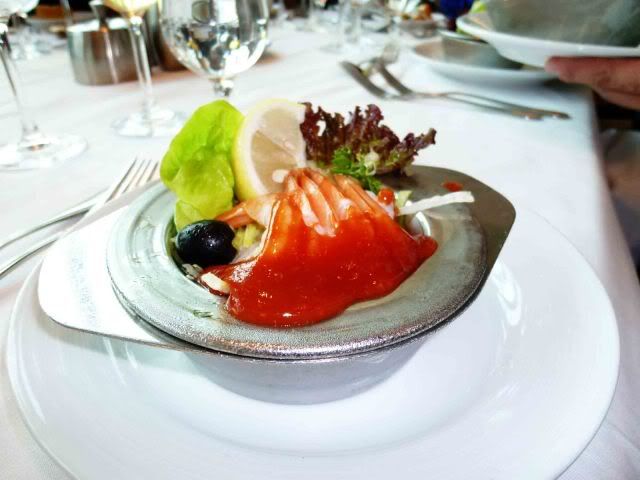 Next for my main dish.
Lamb shank with rosemarry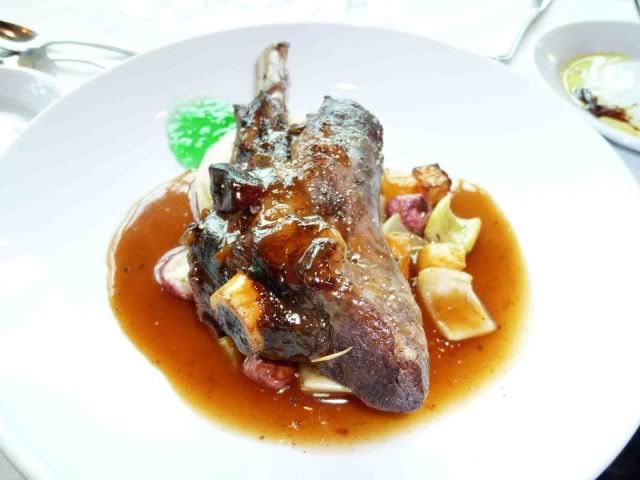 with mint sauce in green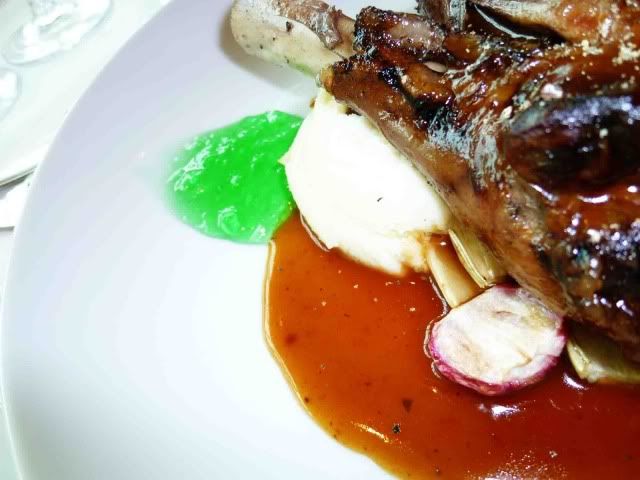 'Chef's Halibut'
in short,
Fish for feliza!




And last but not least for our meal,
The dessert, Ivory chocolate fondue
But I'm too full to devour.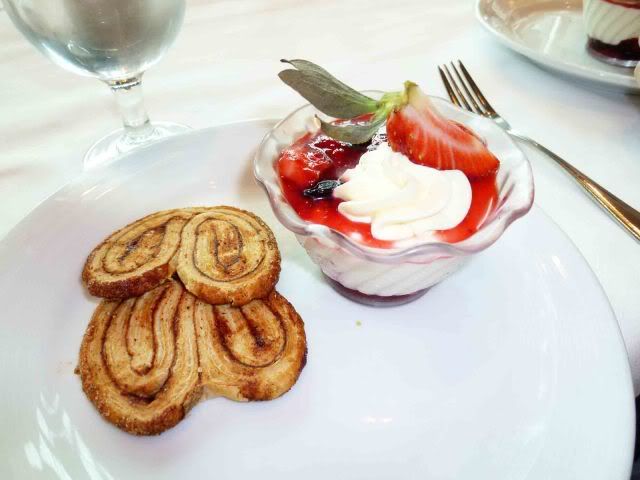 Now everyone is full and happy!!!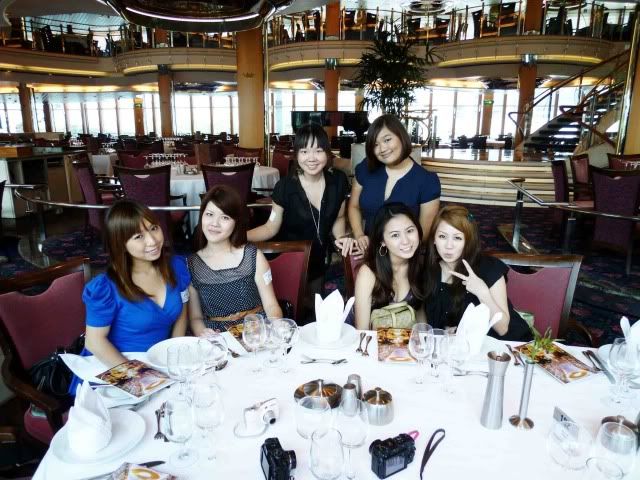 Thanks to Royal Caribbean~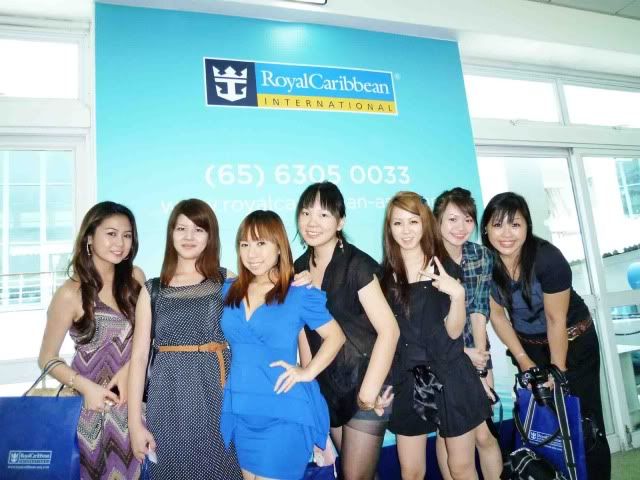 Toodles~!