I got invited try out a free
'
Laser Skin Rejuvenation for Wrinkles at HealthTrends'
Worthy of
$320 per session
.
Blardi expensive can!!! Heng I got to try that out for free~
It is said to boost collagen production and removal pigmentation.
& DECREASE in PORE SIZE,
that's the most important treatment I require.
I really detest blackheads. nuff said.
(pardon on some pics photo quality, they are shot with my iphone)
So I hop on to the wagon and head to their clinic for my awesome treatment!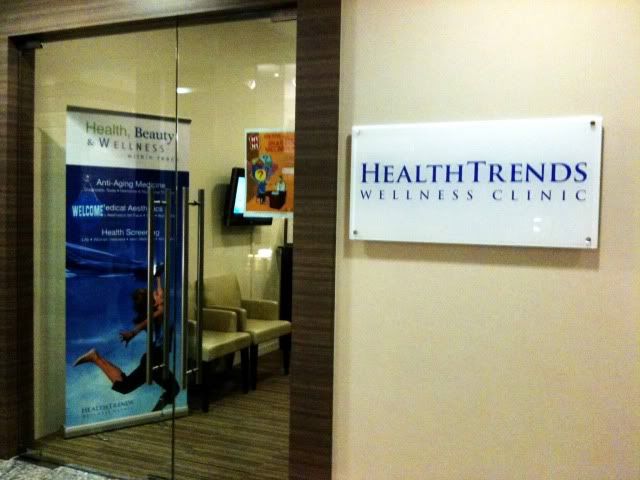 Simplicity is the key to Great skin!
Ok la not really la, not everyone is gifted with great skin so....
This is what Aesthetic Clinics are for!
This is what the reception area looks like.
Bright enough to c ur blemished so as to treat it well!
Ok While in anticipation, I was served with millions of questions.
Pregnant not pregnant?
Suffering For Medical illness?
Taken any of the following in the past 6 months?
That's a lot right?! But good I'd say, at least they get to screen u thoroughly before sending u for any treatment~
First, ur face gotta b clean and free from outside dust to prepare for the actual treatment.
So Alicia, the clinical staff helped me to remove my makeup. She is super gentle I nearly fall asleep.
Zzzzz.....
Ok after the removal I was Expecting a solemn, middle aged prim n proper doc only answering to the question of ur aesthetic needs.
But When I met doc yap, he is really unconventionally young & wacky! Best of all he doesn't speaks the old man language! I immediately got drown with comfortability.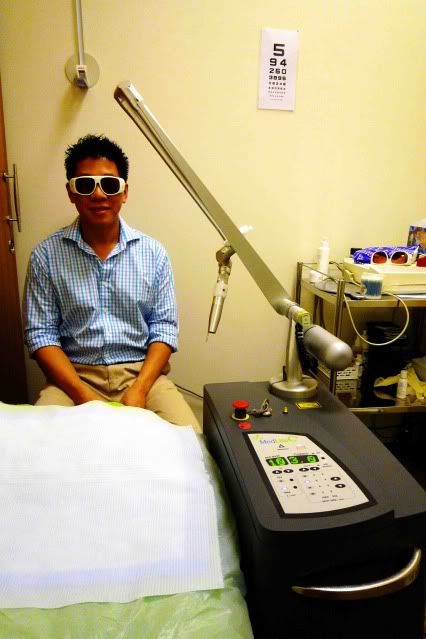 Doc then showed me how the laser beam works and demonstrates on his own skin. And later he got me to tryout to test my pain level.
and asked
" pain not? pain not? not pain right? Hiya not pain one la, k let's start!"
And I laid down. Well... I wouldn't want get fried on something delicate and soft so i put on the eye guard given to protect against the laser beam.
This laser is suppose to work throughout my entire face and neck to boost the rejuvenation of collagen as I've mentioned earlier.
Incase u dunno what this laser sounds like, is nothing close to the light sabers Jedi uses. That one is 'wonk,wonk,wonk...' and this aesthetic beam is 'piak, piak, piakkk'
bet I just increased ur knowledge in soundwave.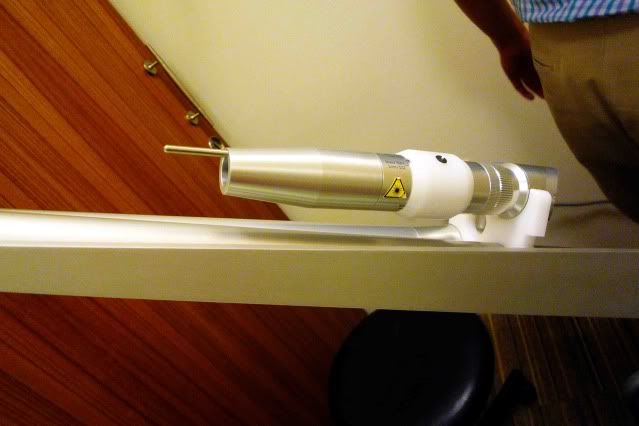 Initially, it felt quite alright when laser is working round the forehead but when it gets to the areas where my blackhead harbors, the little prickly pain gets more intense.
Well regardless the level of pain it is kinda mild one la, like 1/10 of an ant bite. Except, maybe 10 ants at a time.
Still, everyone has their own limitations so this is rather subjective. But I can assure u that this is definitely tolerable.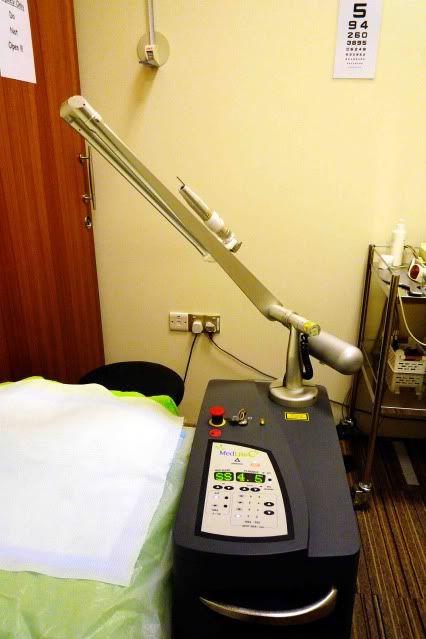 The Goggles doc has to wear to protect his eyes when his is doing treatment on me .
After treatment there is no downtime. I c neither redness nor swelling on my skin except for the bits of faint pink on some small areas.
Although 1 treatment doesn't show significant result on me, it somehow manages to purge a good amount of blackheads over the nx few days n I'm definitely thankful for that.
And now for the exciting part just fer u dblchinis...
A freaking contest!!!
1 lucky reader on my blog will receive the same treatment 1 did for FREE!
All u need to do is :
"post a comment below and give me one reason on y u r keen to win this treatment and best entry Wins!
"
Contest ends on 28th jul and winners will be announced on 31st! Do leave down your email address so I can contact u if u r e winner!
By organizing such an awesome contest, u dblchinis can also support me back by clicking on that follow button in the left sidebar on my blog and also twitter.
However, this is not compulsory.
Non-followers WILL NOT be Penalized and also stands a fair chance in winning this contest.

Sorry international users, this treatment is only applicable in Singapore
Welll..... In addition, readers who join :
HealthTrends Facebook
&
Twitter
will also get insanely discounted prices for all of the above treatments for a limited time period.
All you have got to do is to Quote your Facebook or Twitter username when u call up to make appointment!
That's not all, dblchinis also get to enjoy these fabulous prices
~
- Acne Scar reduction by Mosaic eCO2 fractional laser. Promo price: $699 per session. (UP $1200 per session)

- Skin Rejuvenation and removal of pigmentation by USA Medlite C6 Laser. Promo price: $215 per session (UP $320 per session)

- Skin Rejuvenation and removal of pigmentation by Rejuvenating Peel by TCA. Promo price: $55 (UP $280 per session)


Wah wah wah!
Contact
Rochelle (tel:6235 0990) @ Ngee Ann City. Now!!!

TOODLES~!
*Although this treatment is sponsored , every word on this blog entry expresses my own honest thoughts and opinion.
*free treatment is only applicable in Singapore