Hiya Dblchinis!!!!
After Being the face model for 女人我最大 Queen- makeup artist Kevin 老师 (Taiwan makeup variety show) in 2009,
They've asked me to b their model again!
(click here for last year Pictures)


It is truly an honor to b drawn by Kevin 老师 once again!

This time, they are coming up with new products from Legere (available in John Little Singapore) hence the introduction and makeup demo.

And Thanks to Ezan from Black Peony, she contributed loads of pretty, good quality photos for my entry!

Is definitely a fun & fruitful experience~

And most importantly, upclose with Kevin 老师 himself!





This year, Legere's event was held at 4 different locations:
Marina Sq, Plaza Sing, Jurong pt and Causeway pt

So lets check it out shall we?



MARINA SQUARE



I'm suppose to go turn up on stage bared face *yikes!*
So pls forgive me if u get nightmares from looking at the following pictures, I meant to act as a dreamcatcher.

Kays first, he preps my face clean (infront of the audiences*yikess again*) to prepare for BBcream application



Then... he started fumbling for other items that I can't remember...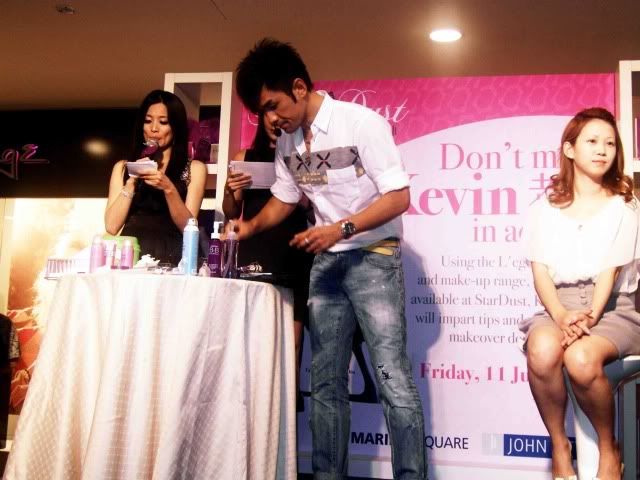 And.... he is still fumbling...



Ahhh... finally After applying on the Bbcream, he set my face with Legere loose powder.


I wore a crochet sheer butterfly top accompanied with a mock button high waist skirt.



And now for the makeup.
Kevin 老师started by drawing my brows. He mentioned everyone should draw their brows according to your hair colour, but pls do not use black (use grey instead) to draw ur brows if your hair col our is black, u might just end up like shin-chan. Or worse, might as well use a black ballpoint pen to draw them if u wan it stark black.
My hair clr is light auburn thus he used a medium brown colour on me.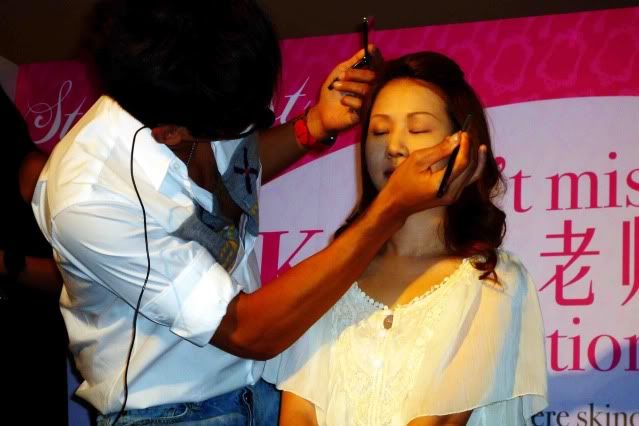 After which he contour my face, making it more define and sharp asmy nose bridge is a little flat & blunt.



And I got my eye makeup almost done...



Well...almost...




Viola! DONE!




C the amount of cameras I'm facing! Scary!!!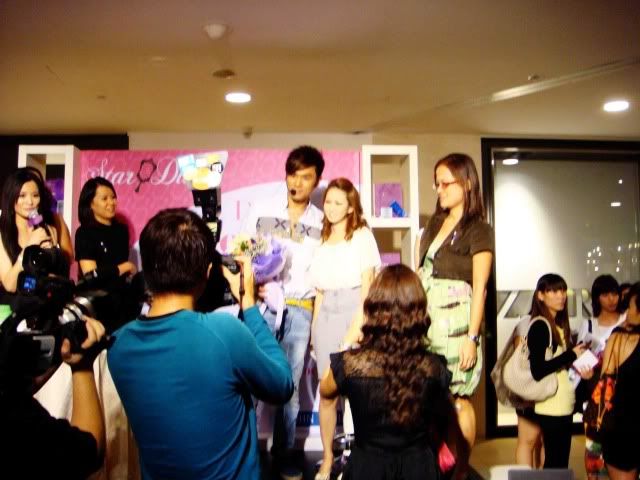 My face is still a little swollen as the event was held like excatly a week after my wisdom extraction. So I went onstage like a semi-jiggly puff.

But the next 2 days seemed better.


Day 2 of Legere Event



Plaza Sing & Jurong Point



After finished the makeup touches, Kevin Interacted with the audience.


And show casing my final result to the audiences!


I wore a simple gray body length Tankie & paired it with a body length vest just right enough to cover my modesty yet still good for my Grey spandex leggings to shine.



I also didn't forget to camwhore with the Hosts & Legere people!



Blardi hell, everyone's taller, I ought to wear 10 inch heels the next time, better adorned with swaroski. oh yea before, I better learn to walk like gaga.


Cannot decide on which photo looks better so I posted BOTH!




And a shot with the celebrity artist.


Sorry pic blurry, Which such zlurry photography skills, the person must b a lousy driver.


Day 3



Causeway Point



This place is madness I tell u, The stage is mini but is filled with audience ...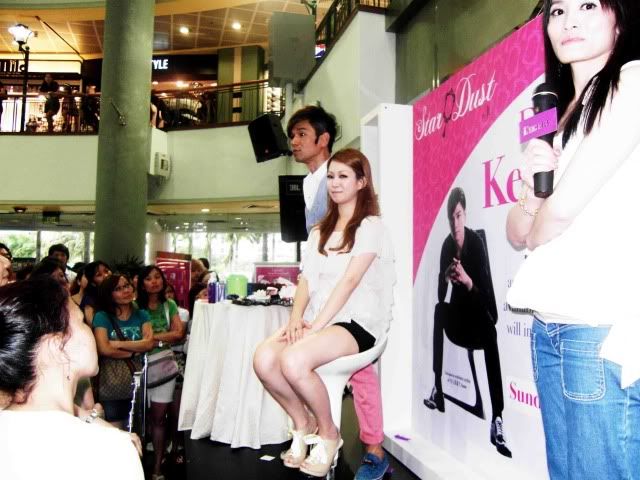 See! Scary not?dblchin never lies!




Kevin 老师 smacked a kiss on my lips!
*shakes* Oops! Dreaming....




After the show....



Camwhore City©

begins!


With another model.


She has awesome skin I tell u.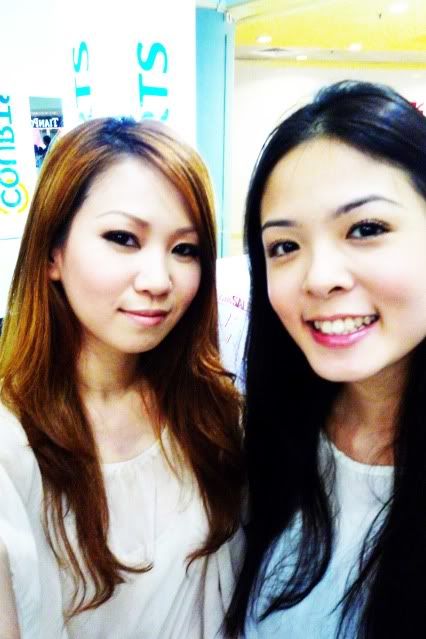 Haha! That's me!


I paired my shorts with a netural butterfly sleeve top.

Thats me again!
Like What the.....




dblchin with one of the host!
Taiwanese are brilliant in hosting! 99 THUMBS UP!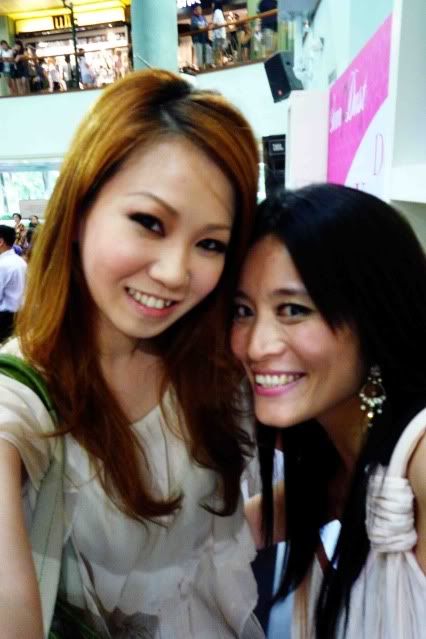 Kevin's 老师 Assistant!
She is sooooooo bubbly, I'm gonna look for her if i drop by Taiwan!




Saving the best for last, Finale shot with Kevin 老师 himself!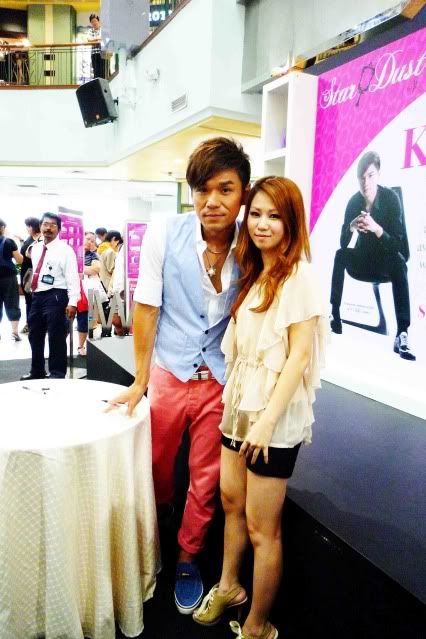 And His creation!

Toodles dblchinis!
*I'm just the face model for Legere, I'm not affiliated with them

.

And every word on this blog entry expresses my own honest thoughts and opinion.