Hiya dblchinis!!!
Recently we've got a weird something that came to my bf place last 2 sundays*screams!*
Is hideous, brutal and ate a couple of mangoes plus a birdie.
Luckily I took all the evidence down & did a thorough analogy.

At first the bf's daddy told us is probably an EAGLE!

wtf?!
Well... true eagle eats small birdies but based on the below evidence by detective dblchin, is unlikely an eagle causing act...

Continue watching....
.
.
.
.
.
.
.
.
.

.
.
.
.
.
.
.
.
.
.
.
.
.
ok Who would've such mighty force to separate the pieces and pry open the cage?



Then we saw blood stains on the washing machine and on it's cover.
R.I.P

And it destroyed some items...


I didn't know eagle needs eyedrop.

R.I.P
And then we saw some half eaten mangoes left on the 2nd storey.
(Initially the mangoes was placed on the Dining Table Located on the first storey)
I'm thinking... Blardi hell, this eagle has
99.5% IQ to execute such humanely acts, then we saw some impression leftover by that 'eagle'.
Luckily these mangoes are sticky enough, they are the crucial evidence left behind by that hideous something.
And of course it triggers my ingenious act, I used baby powder to sift out the culprit.
And I Found this:
Oh yes before we go on, bf thought this act was done by my dog richie, he scolded him until the our pooch back flipped 10 somersaults, Paw sniff his nose like Bruce Lee and challenged bf to Fight in a death duel....
Actually no la, my dog went on a hideout, full of ??? in his head
.
.
.
.
.
.
.
.
.
.
.
.
.
.
ok and I found this: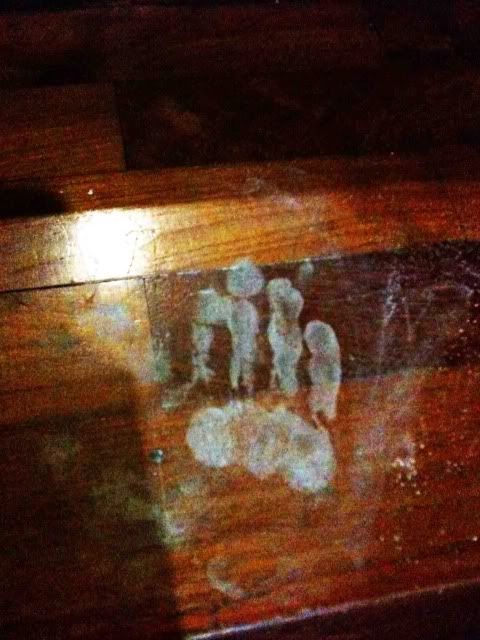 This is Almost 1/2 the size of a Human Palm!
More evidence!
And richie paw's is so tiny like the one circled in black.
How could it b him right? Poor pooch, got scolded for nothing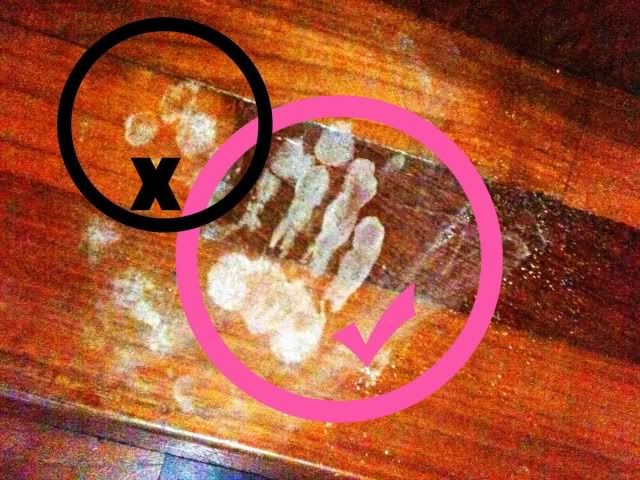 Seriously!
Can an eagle climb the stairs?
Can Richie take the steps 1 PAW at a time?
NO!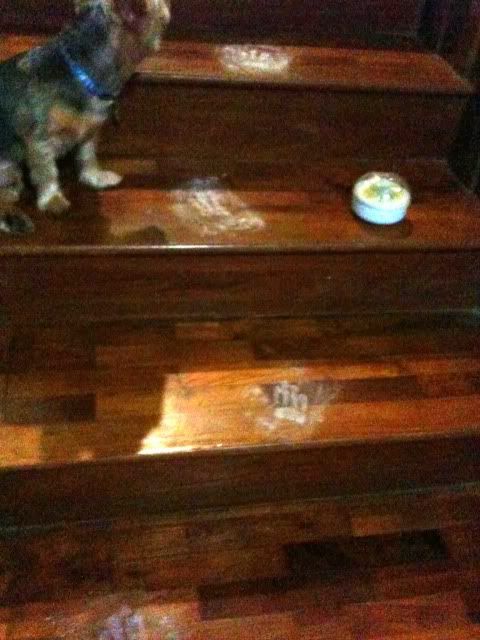 btw Richie looks so tiny next to the footprints and luckily he is safe. Thank god.
In the end we concluded that (below proof that is coming up) this was done by a primate, Some sort of monkey but definitely unsure of its breed.
My Supplier even funnier, he said is a GORILLA! WTF!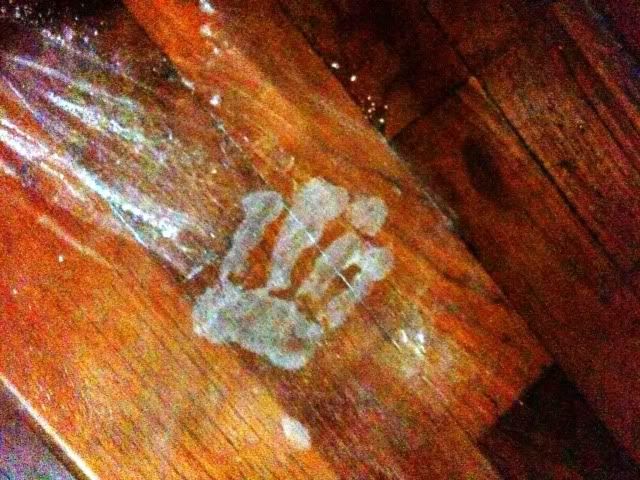 Last week, it strikes again, Tugging another birdie's cage, this time We saw no traces of blood.
I hope the bird escaped somewhere safe by now.
And evidence reported on stomp and Chinese newspapers that Loyang Residents have been complaining about monkeys attacking their home, creating a havoc.
U can check out the articles here:
Wild Monkey Article 1-STOMP
Wild Monkey Article 2- STOMP
Additional info discovered this morning:
CASE STUDY 1:
Neighbour's Maid said she saw a monkey coming towards her in an aggressive manner, while she was
bathing
, washing the car.
She got really shock and frighten and hid herself inside the car (Somehow or rather I dunno y, I wanted to lol) and the monkey scamper to and fro on the roof of the car and started banging against the window panes. I think it gave up after a while and she ran back the house. No wonder I saw this deserted bucket when I brought the dogs out this morning.
CASE STUDY 2:
Another Neighbour, We called him Ah BUI, coz he very fat and roam around the estate do nothing and somemore Always very Kaypo (Busy Body) checking out people's houses, was
identified as the monkey
seen carrying a long pole around the estate, trying to fish for something to hit on.
I think he is also looking for the monkey, I should hand him a mirror.

CASE STUDY 3:
Actually this is not a case study but anywho, Old Aunty Neighbour who gave birth 3 sons and a daughter same round to knock on bf's gate, she told us she saw a monkey scampering across other ppl's houses.
My bf v bad, he thought shes is old and blur and maybe she saw a little boy but mistaken for a monkey until the maid told him what happen.
With 3 true case studies,
People keep saying, talk cock only but no action.
So AVA pls take action, NOW.
Toodles!