I guess Most of u who have been following my blog knows that I'm yearn madness in (set aside the freebies) Japan fashion culture.

&
When I got invited to Shiseido's 40th Anniversary partyyy I immediately realized that Reverse Bungee is useless right down to the last bit, Coz my heart flutters with excitement better than any of these thrill rides.



So I excitedly agreed to the invitation.....




This moment. This life. Beautifully.


Yes, When u r graying with whites & reminiscing, do not harbor any regrets.
Coz living once with bursting clrs is enuf said.


Shiseido Started in the 70's, way before my dad tackled my mum & gave birth to me. They marked their humble counters in Liat Towers along the now busy orchard road.


I have to say they have came a remarkably long way achieving the great whitening experience, which is also their forte in the cosmetic industry.

They have house/sub brands labeled in quirky names & designs like, cledepeau, ZA, Ettusais & Majolica Majorica. That has help build greater success along the way.

Pls giv them 10 rounds of applause, clap until ur hand tired I also don't care.



First We got introduced to their huge displays of Shiseido skincare.

The Extra Rich Version.




Bio-Performance Range




Benefiance Range



&
The skincare range





To minimize ur boredom & Maximize ur excitement,
I've prepare a series of Miss Camwhore City © photos with(out) friends slotting between intervals throughout the entire entry.





kay lets proceed.


I love how ettusais counters are kept in such neat n sweet order.
The counters are always bright n simple.



Check out the unofficial ambassador.
Say hi to the ducks STONING over here & not forgetting the Beauty Advisors over the counters.





On the other hand, Majolica Majorica, MJ in short plays a huge contrast of complexity.
They throw in so many colours for their dollies but yet they come together complete as a family.


No clash of the Titans but splash of a mouthful Victorian colours.




ZA found in drugstores like Watsons, Madly Raved for their Foundation.
I like using their concealer, it hide my flaws n dark circles very very well


check out the Vibrant hues displayed here, simply brilliant.



ok

Have a break, have an interval of Camwhore City ©
The Lovely ladies I've met for that event
June, Gin & Renzze





Some of the ad campaigns going on.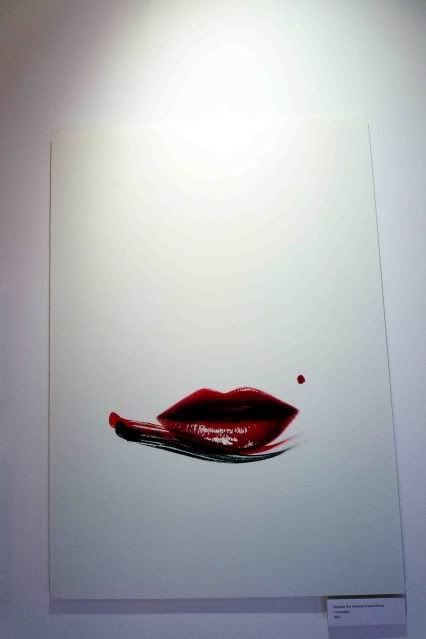 Isn't red a marvelous subject?


one of their very first fragrance.


Black n gold, very very classic.




Another awesome commercial Camwhore City© Break.
cosmetic warriers, e onsugarettes & Glitzy


Awesome blackdrop isn't it?




Nothing much, just an outfit of the day look + the regular camwhore City© look.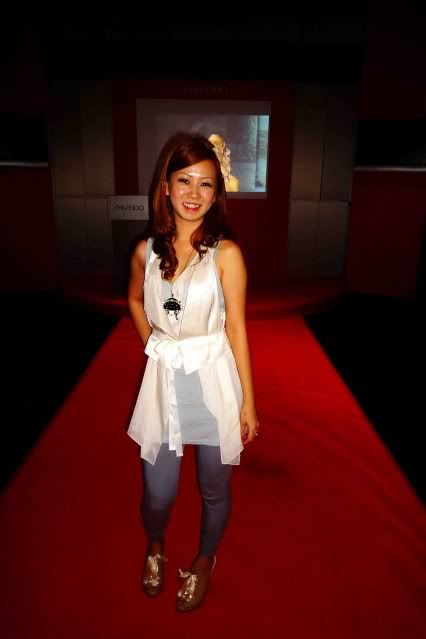 Walking down the red carpet like a celebrity! HAHA!



Later on, we move into this big hall with presenters giving us speech of Shiseido's Glory.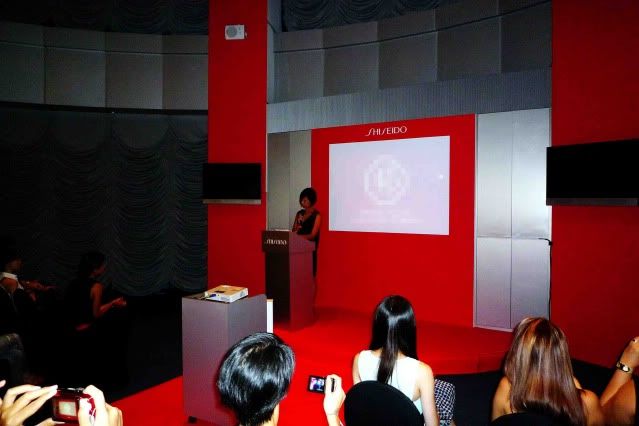 40th years!
many other milestones to come.


They had several video interviews with big names of the industry, on the thoughts of Shiseido brand name.
Eg. Tangs



All feedback given are positive n these players are looking forward to new suprises from shiseido once again~



after all the speech n formal education, we Kan Pai (toast) with sake to successful story on their achievements.

At first when they mentioned about toasting,I nearly wana say "Yam SENG!" like wedding like that.
Then I realized wrong lorh~ Instead Is Japanese culture to say kan pai!
But I guess bottom line, the meaning is still carries e same, cheers to every happy occasion~


We had sushi & drinks & Someone tries to murder me by adding a spoonful of wasabi into my saucer.
guess what?
Natural disaster strikes & My tummy had a round of avalanche the next day, lucky it is not potent enuf to kill me. If not no more dblchini entries




Anyways...With all the toasting n such, We definitely didn't forget to camwhore.
Now no more commercial break, just purely camwhore City©.

With the lovely Renzze
cute n dainty~




Posing with our over the top headbands.
My cammy didn't do Christy headband's justice, her's really lovely.




Oops, Now I didn't do christy's eyes justice!
That's Eun in the middle, she wore this incredible pumps & kept on shooting with her fish-eyed lenses.
Y other people so awesome n I'm not? *grrr...Eliminates awesomeness in the world*

Ok I forgo the Elimination, Coz I camwhore her.
Last but not least for the event itself, we have the onsugarettes farewell
Joyce
,
Chan
,
Dee
&
Witwit
Ok enuf of the event camwhore session, lets get down to another camwhore segment.
The private camwhore City©.
U know when I told there are goodie bags to collect, I leaped another level up the sky.
So lets get down to figuring out these awesome FREEbies I got.
Duno y, this is sucha nice pic but the camera lense is dirty.
Polishes from MJ!
Now I know what's happiness!!!
Shiseido Professional shampoo and hairmask
Yes my hair needs pampering once again after going through the harsh chemical colouring.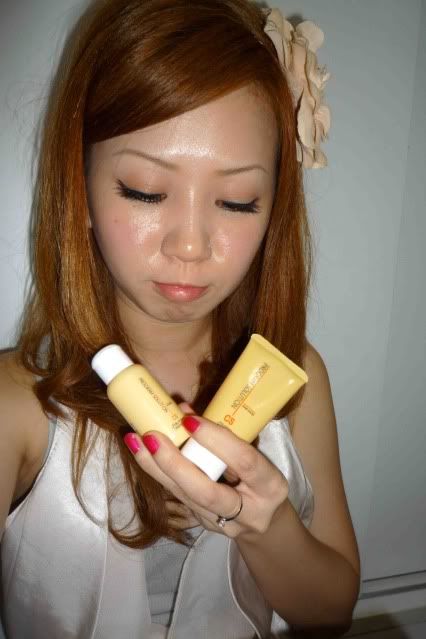 Know y I pout not?
Coz I wished the bottles are bigger!!!
Now For skincare me self
ZA Future defense
And Ettusais medicated skincare for acne.
No acne on dblchin yet? So so so so??? prevention is better than cure can! Steal all u want on my bra and panties BUT this!
what's that eh?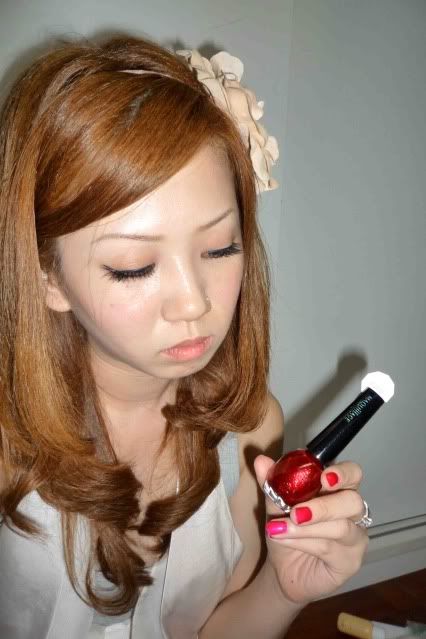 WAH!!! Beef Red Polish from Maquillage!
Lurves X 100000~!
Lastest of all good things
A multi-purpose bag for your makeup needs!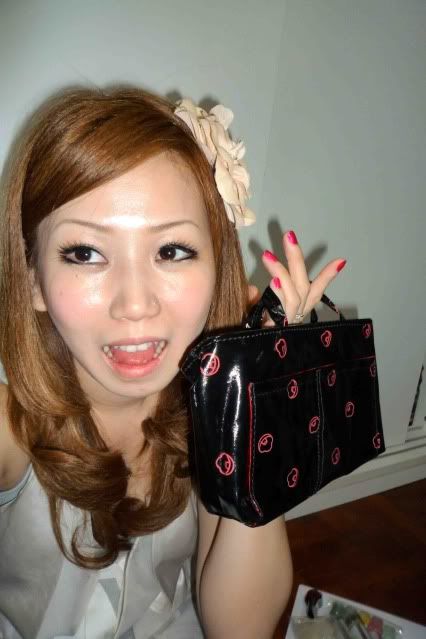 Now I can put all my makeup in this Booutiful bag!
Or maybe... I can pretend to at like Tai tai(but actually v cheapeskate) and bring to supermarket like coldstorage!
But first, I'm gonna let u dblchinis get Green with envy! haha~
Lets drown ourselves in heaven once again~!
Toodles!