Hiya dblchinis!

In order to relive the eminent era of my fashion boldness I decided to do an entry on my past Graduation outfit.


But first I've gotta pronounce an epic introduction of my slutty friend:

This man is helluva fashion freak.
He has been my best pal since the yesteryear, Whereby we cow peh cow bu (means the way u throw vulgarities like how fucking easy u crack an egg everyday) @ sparks n canto.

None other than:
JOHN LIM
the awesome Couture Master.
I seriously had a hard time finding a 'fashionable' look, almost every bit of his fb profile pics are bloody slutty. so... Lets just make do with this.
Check out his awesome 4 Dimensional skirt,
U might b able climb
Esplanade
(e famous Pokey shit in Singapore) get a ticket issued (+ Jail maybe) but U definitely can climb EFFORTLESSLY over the top of this John's 4-d planade.
PLUS this is freaking wearable.
Try wearing Esplanade situated @ marina over urself,
if u seriously able to achieve that by not stabbing youself to death (Strictly NO PHOTOSHOPING) I'll eat ur bf's balls.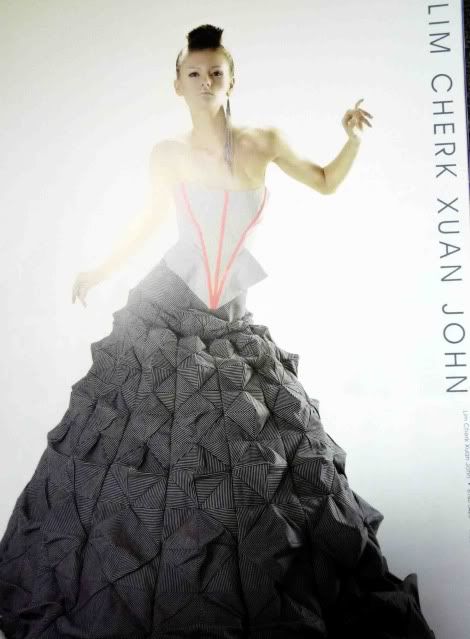 Check out that mad grey bustier, the hot pink piping brings out the awesome shape of her torso.
R u climaxing already? pls don't, no one wants to mess up this magnificent piece of art.
John's a champion in his workmanship.
If u need any made-to-measure work or any bridal needs, pls don't hesitate to contact him at
.
.
.
.
.
.
.
.
.
.
.
.
Aside from myself, I felt need to feature another awesomie.
Coz they are so freaksomely awesome that u wouldn't believe Sun rise,raise, rice, rose from e...erm.....e............er.........................................................................................................
.....................................................................................................................................erm. oh yes~ e horizon.
Pls forgive me, once u past e quarter of a century, Senile strikes anytime of the day.
~LETS SHOW THEM SOME LOVE~
.
.
.
.
.
.
.
.
.
I seriously refused to call her Rheea.
Lijuan is soooo original n authentic. Plus is a sexy name for a sexayyyy lass.
She runs her own art pieces here
http://byrheea.blogspot.com/
She claimed shes a
"
Unquote
Seriously la, U look at her chio face u wana buy her art pieces already.
But aside from that, She embeds a thousanzillion worth of artistic flair.
Lets check out her graduation piece,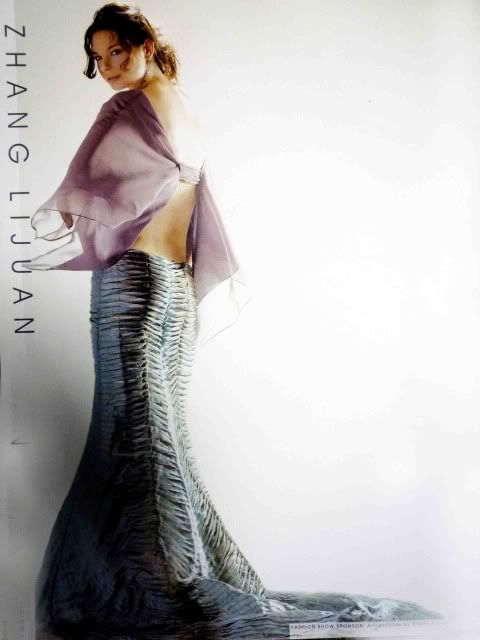 AWEsome mermaidish outfit right!!!

Pls hor, don't attempt use a fish scraper to remove the mermaid's tail, this is definitely not ur local cuisine.
Instead focus on the painstakingly sewn techniques that manages to achieve these scale-liked effect. I loved her use of organza, can see, cannot see like tat... alluring much.

She kept her top piece simple, bare-backed.
But pls do not paired that up if you have terrible back acne, may cause adverse reactions for commuters.

The only attention are focus at the bottom piece, detail-liked craft at the same time luring u to commit a crime, Like slapping the ass or something.

Enough of drooling like a Great dane, Lets move on shall we?
.
.
.
.
.
.

.
.
Bestest of all
DBLCHIN
a.k.a Ms Bitchfit
Going through Art College had been major a mind alteration for my growinghood.
I've managed ditched my Ah lianness,
although many still insist it flows in my blood stream.

I've learnt to dress up like a decent soul, instead of the past hobbit image.
I've realized awesome fashion peeps comes in many colours,
we are just like one big,
'U CB!!!'
(United Colors of Benetton)
I've educated myself to be the ultimate bitch in defense of bimbotic bitches that bitch bimboticly.
I've learn the freedom of expression through art to inspire you dblchinis & to get inspired by you.

So... this is where I've started
||
\/
™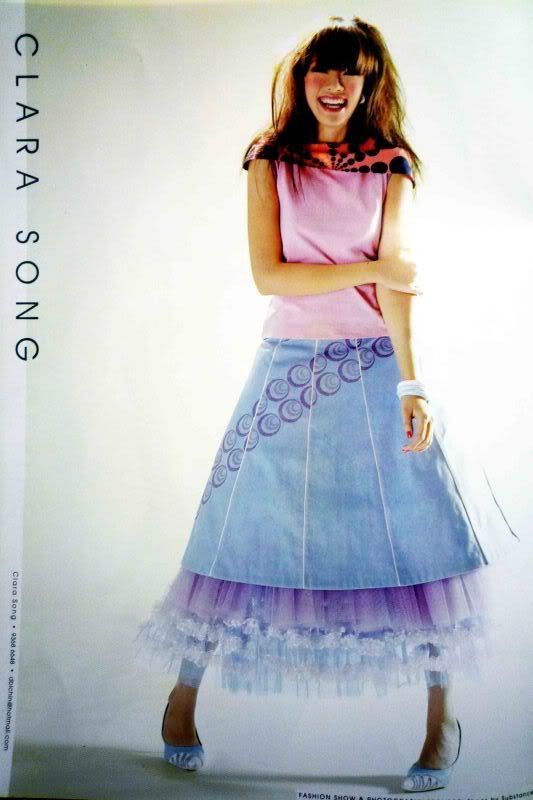 This humble piece of art might not just be as comparable to many.
But is something from the heart, from the huge load of self-effort
Right down to the clear canvas....
Every piece of fabric is started out as white (like a reborn of mankind) was sent for dying, printing.
I used lots of silkscreen techniques to achieve the circular motion. Shown on e cape, on e panel skirt.
Colored tutus were then inserted as the underneath linings.
Hoping to achieve the cyclical motion of happiness.
My love for colors never ends, be it makeup, be it outfit.
My spirit is like this graduation piece, I hope to blog a massiveload full of hues for u dblchinis.
Draw the skies & Paint those rainbows...
Last but not least...
I hope to give every dblchini a piece of an advice:
rephrasing the notion from Michelle Phan's
videos
with mine in regards to 'Chasing Dreams' :
Don't wait for dreams to come baby feed ur needs, god knows u might wait a lifetime for this shit.
Instead,
be as thick as an elephant's skin, Reap the way through hell for ur dreams.
There is nothing in this world u can't achieve. If u really can't, u just need plastic surgery.
Toodles~
*ps do check lotsa 'like/s' on the below if u love these 2 great people.

*Disclaimer, my friends did not beg, kneel, bribe or threatened to shove their privates at me to post their great achievements, they are just mind-blowing impressive that I just have to share it with you guys.