I've been raving about how awesome
Purer Skin
is in my last few post but how do I measure up the effectiveness of their product? Here's something to prove it!
In this post we will be making use of a small little device called the 'Skin Analyser' to test the hydration levels of my skin in terms of Moisture, Oiliness and Roughness.
Testing out the hydration level on my skin after 5 hours of makeup on.
A simple guide to this device:
Bar decreases leftward
Moist- skin is more dehydrated
Oil- skin gets less oilier
Bar increases rightward
Moist- skin is increasingly hydrated
Oil- skin is increasingly oilier
Soft- skin becomes softer
*Centre portion represent a standard bar to determine the readings.
Here are my test results:
Test shows skin is in-dire of moisture.

-2 for Moisture
-2 for Oil levels
-2 for Skin Roughness

Test came out all negative and it shows skin is in-dire of moisture!


Unfortunately if we refer to the guide above, the result weren't so satisfying, 2 bars on the left shows the level of moist, oil and softness is what I'm lacking.
I'm going to do the test again after removing all traces of makeup and the use of Purer Skin products.

#1-cleanse
I first remove my makeup using a makeup remover wipe before proceeding to wash my face with Purer Skin Creme Cleanser.
#2- Tone
This is a safe step for cleaning all traces of makeup and prepping your skin for the essence to come on. I'm using Purer Skin Clarifying Toner here.
Use light sweeping motions to apply toner with a cotton pad.
#3- Feed
I used 2-3 drops Purer Skin Miracle Serum sparingly across the face with my finger tips to ensure even application.
Using circular motion, rub essence lightly onto skin for better absorption.
#4-Moisturise
Using a q-tip, I dug up a dollop onto my face and applied the Purer Skin Night Recovery on required areas. Yes is alright to skip areas, like the T-zone or chin.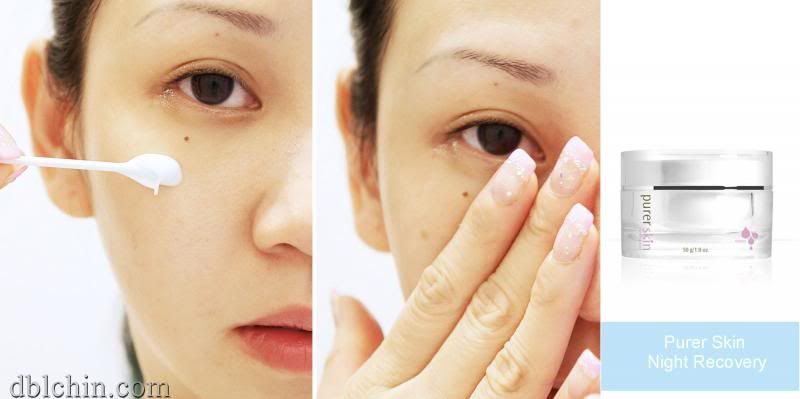 Do not overuse moisturiser if your skin is sensitive to rich creamy products.

After applying my night regiment, lets conduct another test.

The time round the results are satisfying, my moisture and softness level shot up from a negative '-2' to a whopping positive '+5'
The level of oil content had also increase slightly but thats enough, a little too much will make me look like an oily mess.
Purer Skin products is proven a surge in moisture and softness level.
After 3 months with Purer Skin*, I'm really enjoying my healthier and stronger skin. Even though I'm not getting younger, my skin condition somehow seems to reversed back in time when it was used to be firmer. Purer skin has helped me to retain my youth and earned me some bragging rights!
*with the incorporation of my other skincare products.
I'm going conduct 1 more test on the effectiveness of Purer Skin Miracle Serum using 2-3 drops at the back of my hand.
Significant results on the before and after test.
Before application of Purer Skin Miracle Serum, Negative results of:
-5 for Moisture
-4 for Oil levels
-5 for Skin Roughness
After application of Purer Skin Miracle Serum, Positive results of:
+5 for Moisture
+2 for Oil levels
+5 for Skin Roughness
Look at No.2 and 4, notice the dramatic increase in the all the levels? I wouldn't be surprise the bar goes beyond + 6,7,8 (if there is a device for that), must be the highest concentration of liquified Bird's Nest found in its product that boosted all the levels!
You can find Purer Skin online at
www.PurerSkin.com
or Watson store location listed below carrying Purer Skin:
ION Orchard, Parkway Parade, Bugis Junction, JEM, Ngee Ann City, Jurong Point, Marina Square, Vivocity, Raffles City, Toa Payoh (HDB) Hub, Compass Point.
Also be sure to 'Like'
Purer Skin's FB
to receive latest updates on promotions and giveaways:
Also please find retail prices for Purer Skin products in Watsons:
1. Purer Skin Crème Cleanser – S$25.90 (incl. GST)
2. Purer Skin Clarifying Toner – S$35.90 (incl. GST)
3. Purer Skin Miracle Serum – S$66.90 (incl. GST)
4. Purer Skin Night Recovery – S$40.90 (incl. GST)
5. Purer Skin Symphony - $168.00 (incl. GST)
♥Dblchin
* This is a sponsored advert