It has been a wonderful 2 month journey with Purer Skin (
Read Part 1 here)
, my skin is looking more radiant than ever. My favourite product is still the Purer Skin Creme Cleanser which manages to remove impurities from my skin yet still retain moisture. Unfortunately it runs out pretty quickly! So glad I'm their Ambassador, it means free redemption haha!
However, there is one thing I must highlight, because of the high concentration of fruit acid they use, when your skin suffers cuts or pimples try to avoid using this product as it might tend to sting. No harm done here but just the pain factor that is the main concern. There was a day I was happy picking at a blackhead on my columella (the area below my nose) and I kind of over-picked it, so that area was pretty sore. When I apply the products my face pretty much jerked in frenzy lol. So be cautions with that.
Purer skin Clarifying toner works the best when I get home from a long day outside.
The cotton pad actually picks up so much dirt that it shows! I have never come across other toners that manage to clean my face so thoroughly and all along I thought my skin never gets dirty, I was actually living in self-denial lol!
As for the Purer Skin Miracle Serum and Purer Skin Night Recovery, I'm alternating it with my other existing products to incorporate into my regiment. I have to say I enjoyed the mega-fast amount of time the serum is needed to set on my skin.
Incase you haven't noticed,
Purer Skin has finally launched its brand in Watsons, there are a total of 11 stores!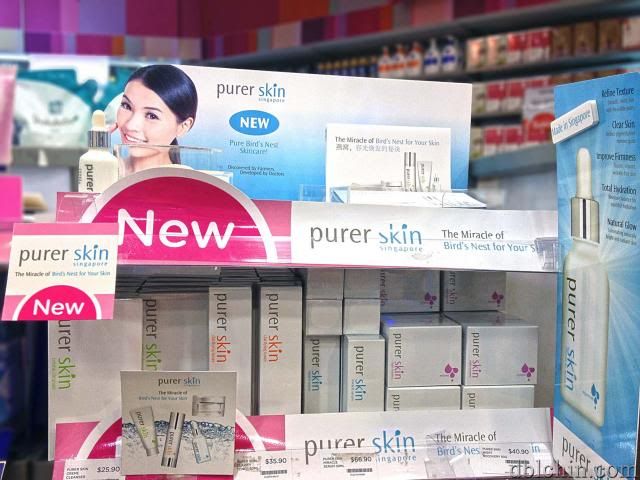 ION Orchard, Parkway Parade, Bugis Junction, JEM, Ngee Ann City, Jurong Point, Marina Square, Vivocity, Raffles City, Toa Payoh (HDB) Hub, Compass Point.
Also please find retail prices for Purer Skin products in Watsons:
1. Purer Skin Crème Cleanser – S$25.90 (incl. GST)
2. Purer Skin Clarifying Toner – S$35.90 (incl. GST)
3. Purer Skin Miracle Serum – S$66.90 (incl. GST)
4. Purer Skin Night Recovery – S$40.90 (incl. GST)
5. Purer Skin Symphony - $168.00 (incl. GST)
To hype up the Purer Skin area, the tester of Purer Skin Miracle Serum and Night Recovery is placed on the shelf so you Dblchinis could try out the product for yourself! I love how clean looking the shelf is, you know some brands they so kiasu that they want to place everything on their display area and in the end it ends up looking like a mess, I'm glad Purer Skin ditched the idea of wanting to put everything up.
Without having too many elements, it makes the job for shoppers like us easier!
The highlight of this display area, I have to say is the real 'bird's nest', no not the skincare but the one for consumption! Omg look so delish!
Incase you haven't notice, we (the ambassadors and I) filmed a video during our tea party at Halia, watch here :D
Now time to give back a little reward to my readers!
Giveaway on Purer Skin's FB
50 pieces of Delux Miracle Serum Sample to giveaway!
Starting from 31 august to 2nd week of September.
The giveaway citeria is really simple:
Simply "SHARE" this
post
and tell us where you heard of this giveaway from in the below link and Purer Skin will send you one!
http://bit.ly/16sTymk
See how cute it looks!!!
Please Thumbs up for my page :D
*This is a sponsored post.