Hi dblchinis!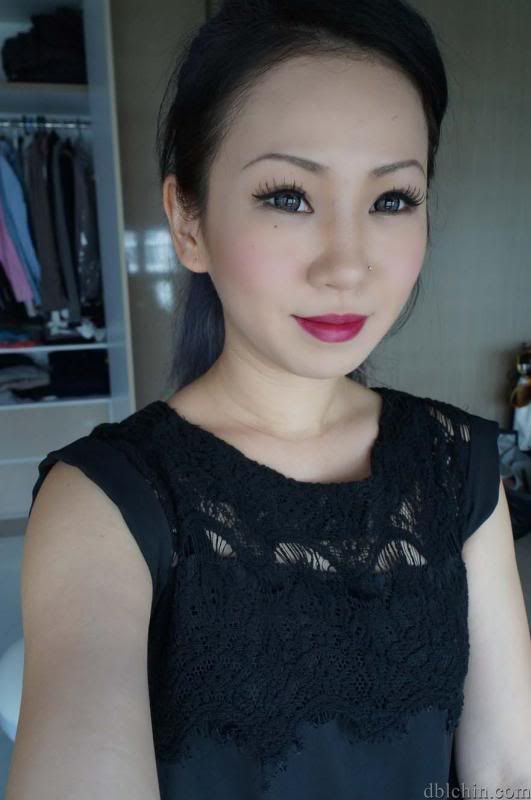 I'm sure some of you have seen my latest posting of the above look on my
Facebook
. I have no idea y I look chubby here, probably because I took too much sodium (or maybe I naturally just have a fat face lol!). My face ballooned up to a ball whenever I munch on instant noodle during late nights!
Anyways, please don't get too bothered by my puffy face, to achieve this clean subtle cat-eye look you need to use a light and fluffy foundation that gives a polish finish.


Here I'm using
Missha M signature Radiance 2-way compact in No.21
a UV blocking cosmetic that shields you from the sun (SPF27 PA++)
It comes in a exquisite gold shell and I immediately feel rich after using it lol!
Powder is really light and fluffy, however takes some effort to set onto the skin as it is pretty chalky, best if you use a good primer beforehand.
As you can see it aside from the chalkiness, the powder decently sets on my skin balancing out the darker areas and minor imperfections.
Here is the completed look, nothing too fancy just a thicker stroke of eyeliner and winged it a lot higher
to give it a cat-eye feel.
I'm wearing my favourite Contacts from GEO Bambi Sesame Gray 15.0mm (Princess Mimi) which gives instantaneous big eyes effect. Also in order to compensate that subtle look I decide to give my lips are stronger colour of ruby red from Revlon Colourstay Ultimate Suede (098 Fashion Forward)
Thanks for dropping by, cya!
*Missha product is sponsored,
they are a
vailable at Singapore main outlets:
AMK #B1-10, JCube #01-03A, White Sands #03-05, Jurong Point #B1-36A.
Selective products available at Watson or Sasa
♥Dblchin
Please Thumbs up for my page :D