Hi Dblchinis!!!


I finally came up with my very own fashion store, yays!


These are special handpicked pieces to showcase to you dblchinis,
Yes just for you.

This is why it is called DblchinStore,
Cliche I know but simplicity is the new complicated. Ok nothing is coming out right, think I just ate a whole lot of junk earlier.

Well, If you don't buy from me, that's ok! (of course I'll be happy if you do!) what's important is you dblchinis get various ideas/inspirations on ways to pair an outfit all together from here.
However, I'm sure U won't regret reading/buying coz is all worth it.

I'll probably launch a new collection once a month or every bi-monthly, I haven't decide yet But I'll definitely regulate this if response is positive~



Anyways hope you see something you really like and if you would like to make your purchase, please email the following to

dblchinistore@hotmail.com




Name :

Email :

Item Code:

Size :

Color :

Quantity :

Mode of delivery (Normal mail / Registered Mail /Meet-ups : weekdays at Woodlands, Weekends at Sengkang)

Mailing Address :

*I will not be held responsible for any lost/Damage items should you not opt for Registered Mail.

Postage charges will be emailed to you separately once order is received.


Behold for first collection.....ok no need to hold, read now.

Model: ehem.... Dblchin
Height: 153cm/5ft
Size : S/6-8UK



#DB1001

Panama Pleated Pants S$28.00




This pair of pleated pants is oh so comfy and suitable for petite size to tall girls, if you are slightly taller simply pull the elastic waistband lower/higher to your preferred spot.
I paired this with a ruffled front chiffon top, threw on a little gold & it immediately makes me a little more expensive.
What I'm short of is a classy clutch.

Also as it is pleated, it gives the illusion of longer slimier legs. However, Be careful of the hips though, if you have a slightly wider hips is best not to set the band on your unflattering curves.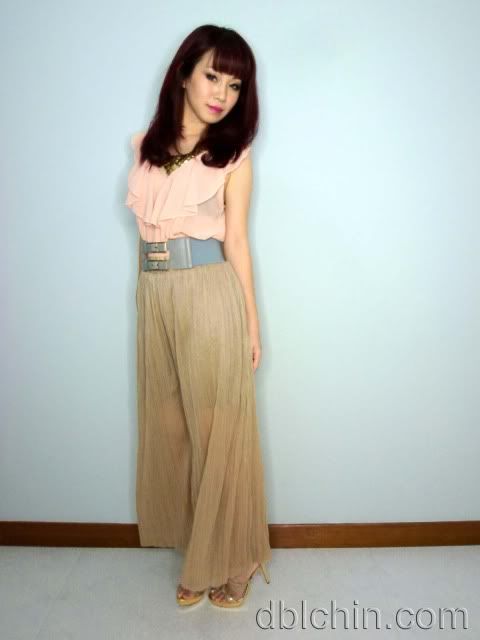 #DB1001

Panama Pleated Pants S$28.00

Measurements


Length : 37"
Waist: relax-12.5" Stretched - 16"
Material : Cotton poly pleated woven



Could go with:



#DA1001

Scallop necklace S$22.00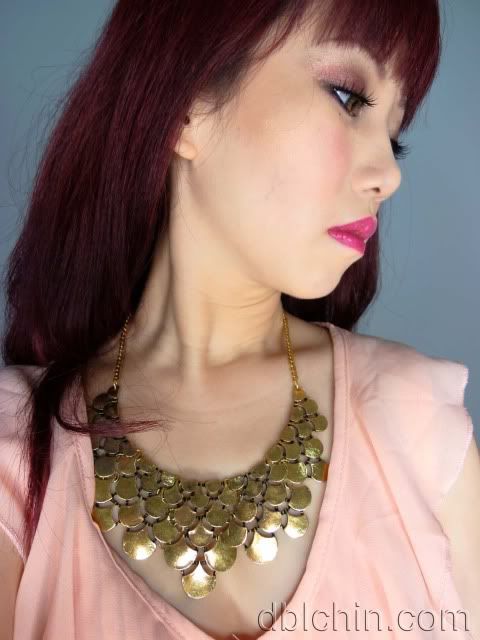 #DB1002
Double split maxi skirt S$28.00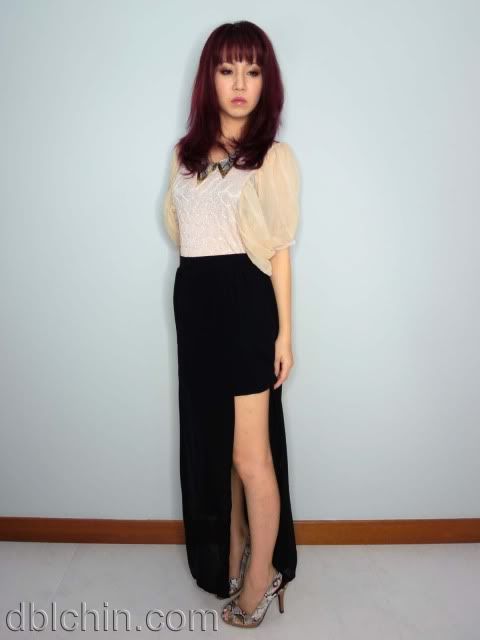 This is a

DblchiniSweeBo!!!


Means is highly recommended by me la.
Superb chiffon Quality and awesomely fitted for this tropical weather, confirm you won't sweat through your panties.
This double side split skirt's edgy yet sexy.
Peek through slits showing off the now you see me & now you don't is like playing catching with the legs.

Now you can officially do this shit!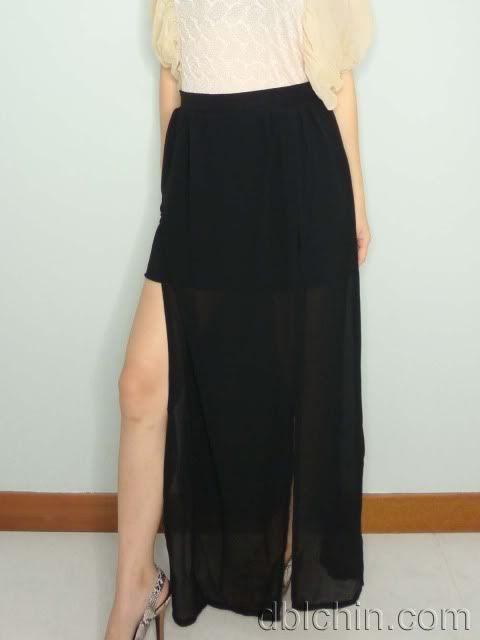 Close...but not yet, I'm still working on it.


#DB1002

Double split maxi skirt S$28.00


Measurements
Length : 38"
Waist: relax-12.5" Stretched - 16"
Material : Chiffon



Could go with,





#DA1002

Python collar chain S$22.00



#DD1001
Button down romper S$28.00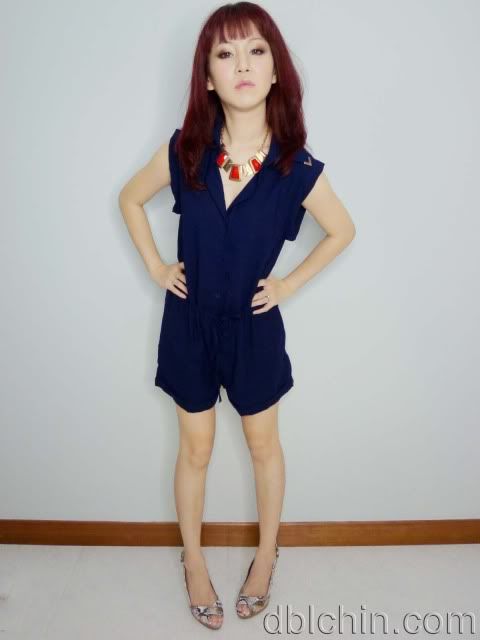 Seriously? This is a die for Romper, because it is sooooo comfortable & roomy but yet able to show those curves with that drawstring conveniently located at waistline.
Collar is tipped with this metal piece that makes the entire look chic, not forgetting trendy.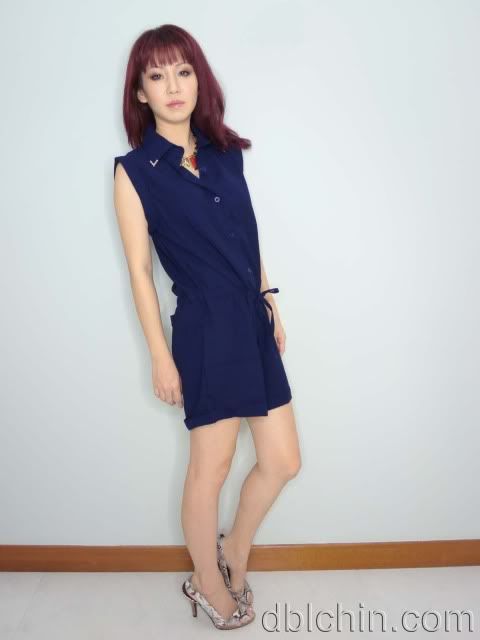 Loving the folded hemming, these are the little details that sets the men on fire. (WTF?!)





#DD1001

Button down romper S$28.00




Measurements


Length: 29"
PTP : relax-14" Stretched - 18"
Waist: Drawed-13" Relax - 17"
Material: Moss Crepe





Could go with,





#DA1003

Ruby Chunk Necklace S$22.00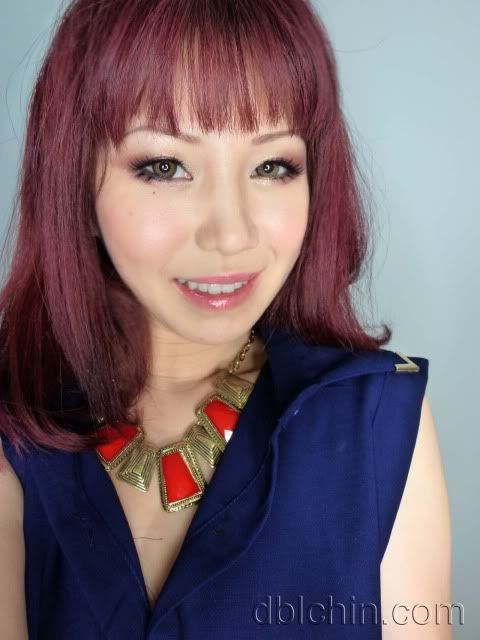 Could also go with,
#DA1004
Peacock Eye Necklace S$22.00
#DB1003
Candy Shorts -Mint Green S$25.00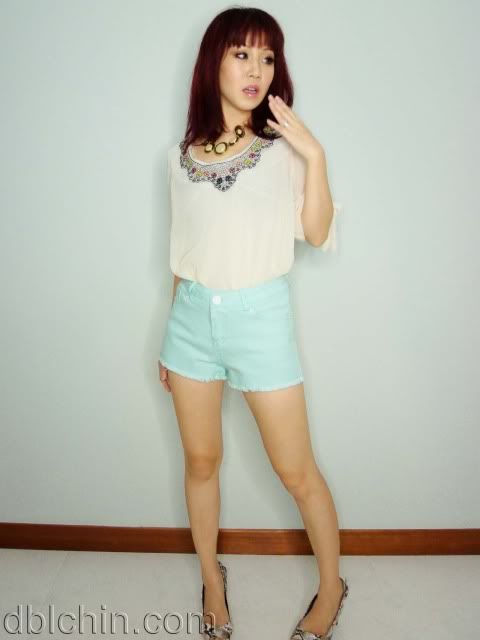 I'm a complete sucker for shorts, especially this pair of pastel fray shorts.
They are of light denim and very stretchable, the colours are also very summerish, definitely a great catch for this June.



The back pockets are must haves to stuff your napkins & hankies. Maybe not iPhones, unless you like cracked screens.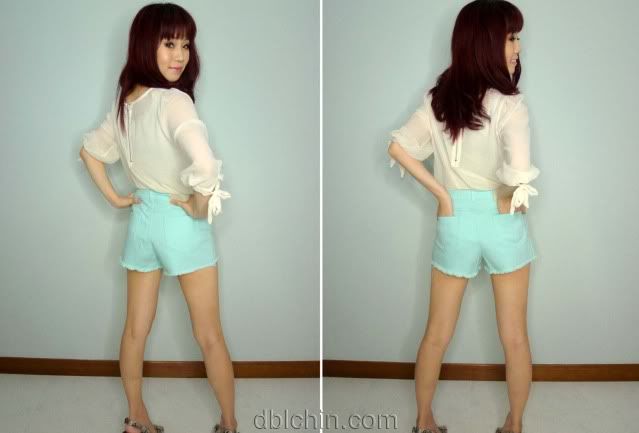 #DB1003

Candy Shorts -Mint Green S$25.00




Measurements


Size

S


Waist: 13" across
Hips: 16" across
Length: 10" from waist

Size

M


Waist: 14" across
Hips: 17" across
Length: 11" from waist

Material : Stretch cotton mixed



Could go with,





#DA1005

Faux Ecru stone necklace S$22.00



Also comes in,
#DB1003
Candy Shorts -Sky Blue
S$25.00



#DB1003 Candy Shorts -Sky Blue

S$25.00




Measurements


Size

S


Waist: 13" across
Hips: 16" across
Length: 10" from waist

Size

M


Waist: 14" across
Hips: 17" across
Length: 11" from waist

Material : Stretch cotton mixed




And could go with,


#DA1006
Tribal chain necklace S$22.00