Sponsored

Helloooooooooooooo
nurse
dblchinis!
I duno y but I think I'm a good person, that's y people always ask me to go for events.
U think? nvm I don't need ur answer.
Anyways, I was invited to Vichy's (loreal) event sometime back and they came up with this newly improve anti-imperfection from their Normaderm range.
It fight against imperfections as well as mattifies ur skin with long last hydration.
Srsly I dunno how is it done but the slides will show u to.
But first, the signature mojito like cocktail.
But I never drink la...blame it on the time of the month.

Vichy normaderm hydrating care provides, anti-imperfection, mattifying and provides 24 hr hydration! Awesome not?
The probability of Singapore women suffering from oil skin is 3 out of 5. This is crazy, I suffer from both dry n oily skin.
ok here comes the slides...
Where can u get complete Medical care that protects and moisturize the skin at the same time?
Since it has matte finish, it would be an easy application on putting on your foundation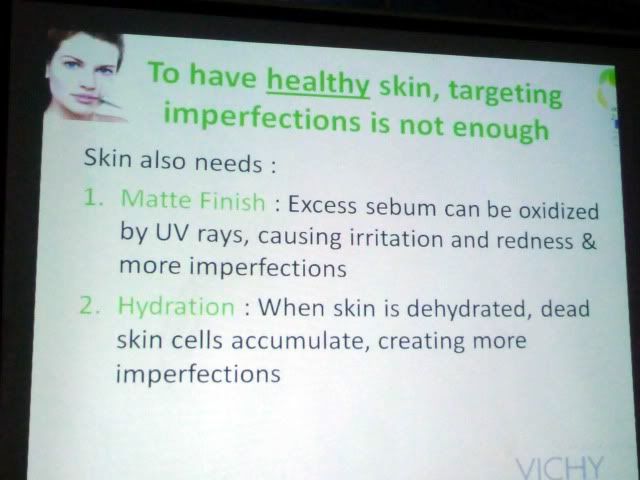 The reason this product so powerful is because it carries the same function as dermatological peels.
Lets read on the slides...
The trick to having blemish free skin is their active ingredients
all the acids.
And their combination of peeling effect.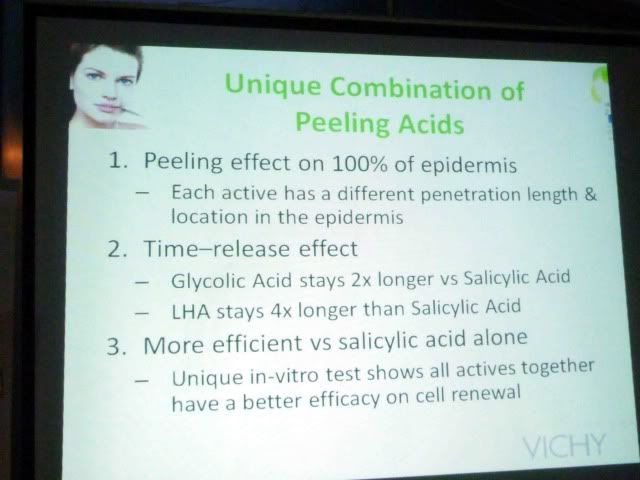 I would say the peeling is barely visible to the eye.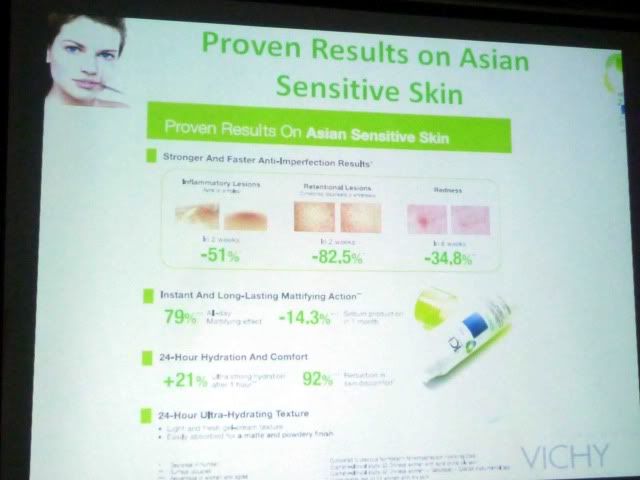 semi cream gel base, Texture is very smooth and light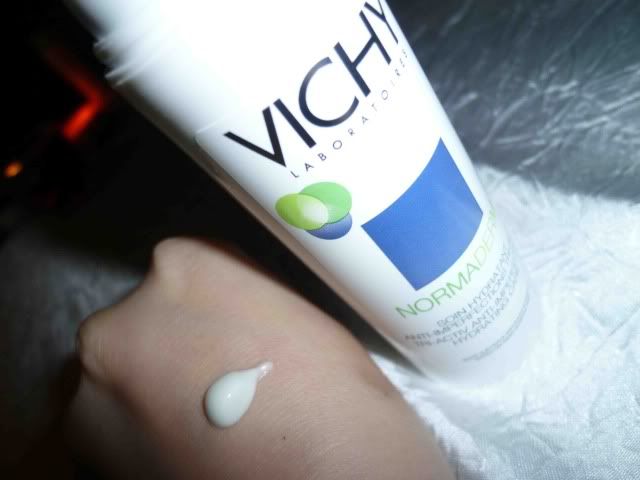 &
easily absorbed into the skin.
Due to the huge demand of younger generation, they have reduced the new selling price to be:
50ml @ $39
30ml @ $19
after all the pampering face information, now is time to pamper my stomach.
freaking canapes!
YUMMY!!!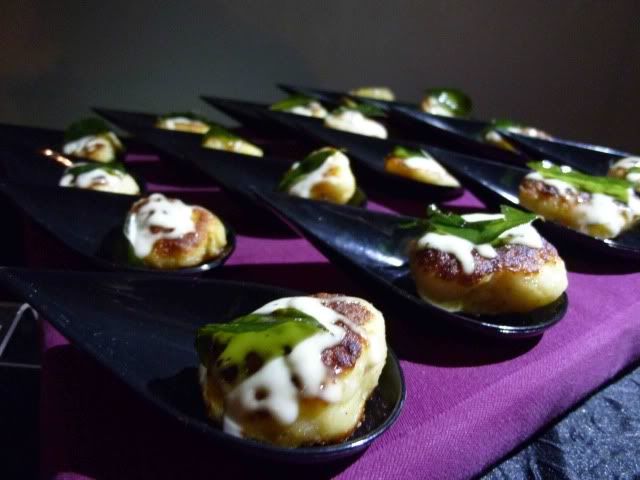 Is soooo awesome the food there, Love it love it love it!!!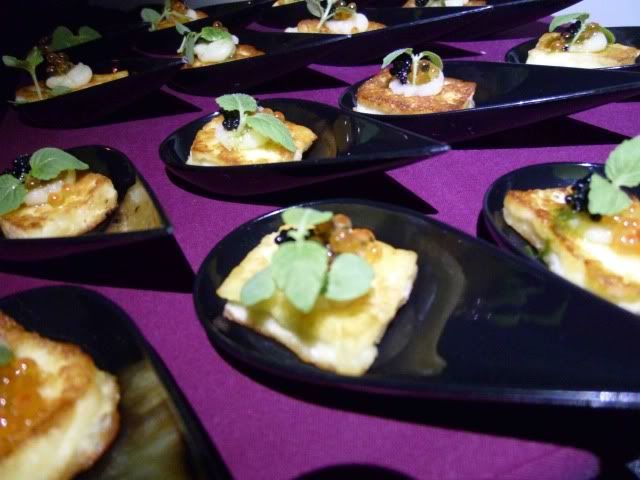 Chicken? I forgot.
This is lamb.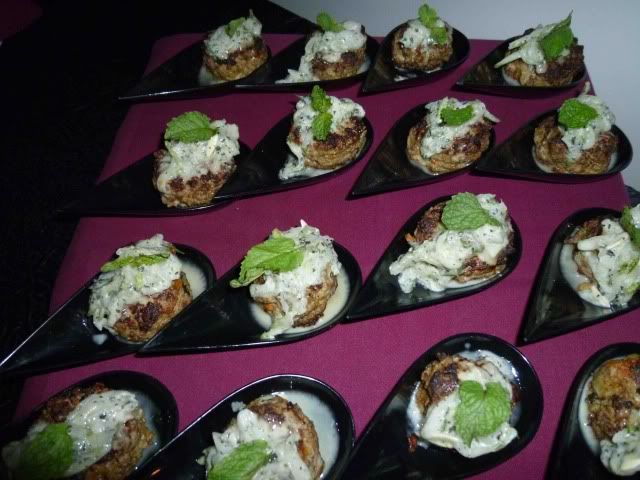 All four in one. Yums.
Goodies I brought home!
Normaderm anti-imperfection Deep Cleansing Foaming Cream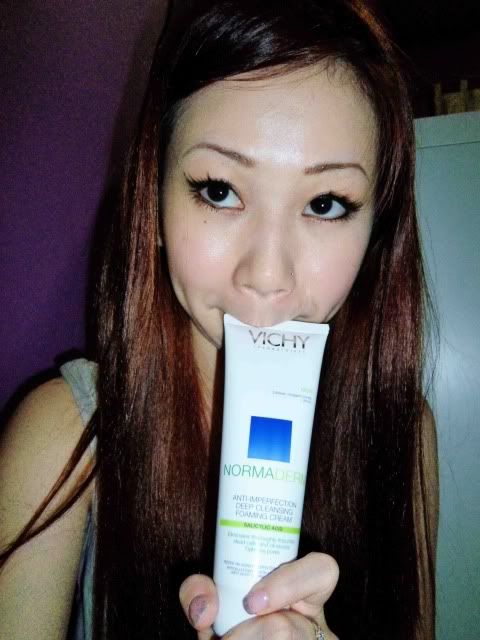 I'm using this once or twice a week for deep cleansing.
so far so good. Doesn't feel over cleansed, I still can feel a tint of moisture when I'm done washing my face.
Normaderm Purifying Cleansing Gel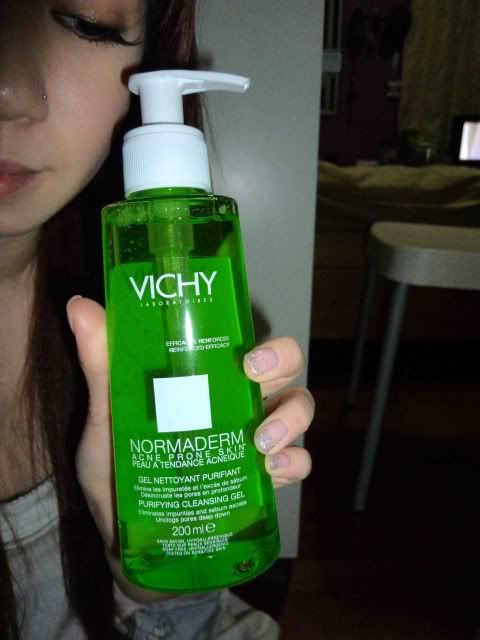 I'm not a huge fan of this but it works ok for me but a little drying though.
So I wouldn't recommend using this everyday if you have slight sensitive or dry skin.
Normaderm Tri-Activ Anti-imperfection Hydrating care.
I've mentioned earlier that the gel based cream feels light but I rarely use this because I don't have huge problems with my skin.
However, my bf totally digs this.
His skin improved quite a huge bit after using it.
Hope u enjoy reading the event n my short review of these products!
Toodles!
*Vichy is available at all Guradian outlets


*Im not paid to blog this