sponsored
Hello dblchinis!
Another blog post just fer u ladies!
In this entry I'm gonna intro u this product from
Hanamei
, a treatment that targets intimate areas in producing fairer skin at ur v jay jay or other areas like underarms.
Please try nt to attempt to use on ur dblchin if u hv any.
Hanamei hair removal aftercare (brightening serum)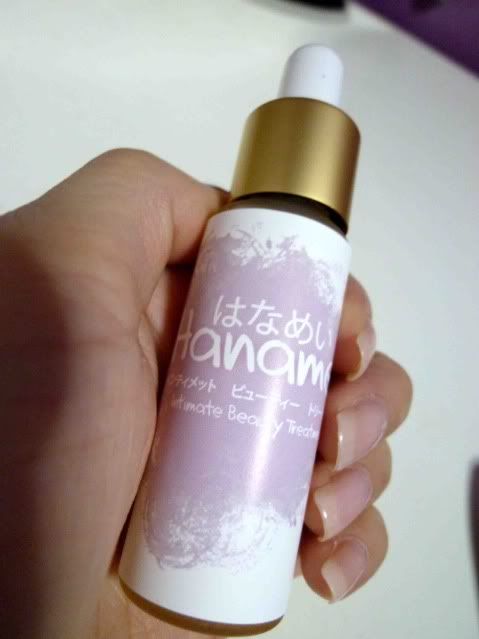 I'm sure every dblchini reading this hopes to achieve fairer skin (intimate areas) to match up with the rest if ur body parts.
Just imagine those embarrassing moments when u got spotted for wearing a bikini not because of the sexy curves u carry but the dark patches in-between ur thighs...
So this is the product that helps with brightening certain areas so no matter what kind of swimsuit u wear u wont carry any gradient effect.
Well of course to those that are more conservative and hardly reveal any flesh to the world might think 'y do I need this?'
ans : for self satisfaction and the gd for ur husband eyes.
This brightening serum is suitable for daily use & at the same time brighten and moistures ur skin.
Serum feels light and Gets absorbed easily into the skin.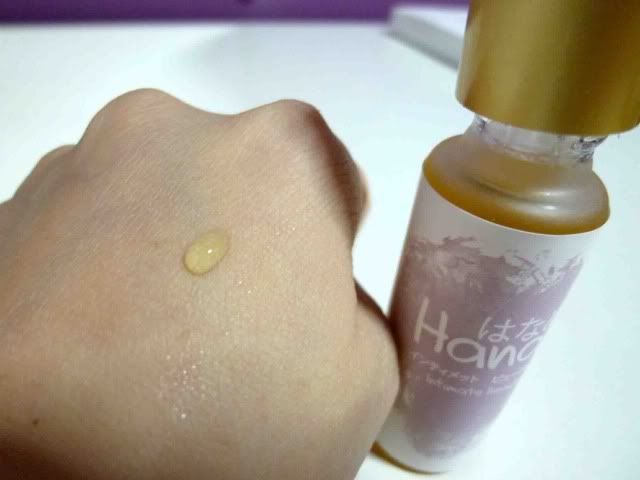 Is Gd to test run the produce at a small area in case u get sensitivity or allergy.
Hanamei comforting mask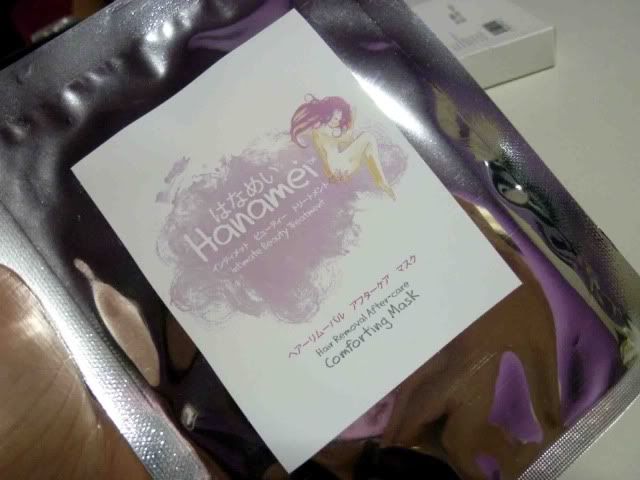 Each box comes with 7pcs of mask.
This is v good for ppl that just had their waxing done. It soothes the area with Oubak, one of it's ingredient. With that, the mask also helps to reduce the redness as well.
And the reason everyone goes for waxing is because they would like to see less follicles growing in time & this mask aids in reducing the growth in hair follicles and prevents infection from waxing.
Each individual pack comes in a foil (shown above),
Remove seal and u will see this odd shaped looking mask
Warning, pls do not attempt to put on ur face. Cox u will never get to find the opening if the eyes on that mask.
Instead pls place the mask to ur most delicate area, dun tell me ur most delicate area is ur nostrils hor, I dun buy that.
U may remove it after 10-15mins, try to do it 7continuous days after
waxing for max results.
for Hanamei products, pls contact 6343 0157 or you may choose to email
hanamei@ilypl.com
for order placement
ok,
lets quit talking about intimate products for nw,
Lets head back to our face with
Viccal
Viccal Detoxify & Heal 2.11 (Serum)
a product that is not here to change your skin type,
it is a product that is made suitable for your skin.
This serum is gentle on the skin, it helps to renew new skin cells at the same time diminish visibly pores over time that are all 100% active & it means they only formulate their very own product instead of using mass commercial brands.
Their skincare are au natural with the use of flowers, herbs and plants in the formulation.
This is suitable for skin types that are prone to eczema as well as comedones a.k.a black & white heads.
After using this product for 2 weeks or so I could feel my pores tighter but the black and white head reduction is not significant. I probably need to use it a bit longer to see visible results.
The product doesn't feels heavy & it absorbs easily into my skin, I would strongly recommend this to those that dislikes oily sticky feeling this product.
you are to apply 3-4 drops twice daily after a cleanse face into your skincare regime.
you can get Viccal right here:
http://www.syrup.sg/staging/VICCAL/
VICCAL is also currently stocked at 2 clinics listed here:
http://www.themedicalpractice.com.sg/our-clinic.html
O well, hope u dblchinis like my review.
Till next time~
more
* I'm not paid to blog this