OMG! SORRY DBLCHINIS!!!

Incase U dunno, If u dblchinis hv follow my tweets (
http://twitter.com/dblchin
) I'm so occupied with worldcup! I hadn't blog for a while!
I used to hate Foot Ball like how u hate ur pet peeing on ur fav carpet, But now I'm nuts about it!
I think is the Octopus that Predicts Germany Victory/Loss put a Curse on me to get hooked on football. Btw if u hadn't learn about this greedy Oracle octopus named PAUL, u should read
here.
Psst, he predicted Germany's loss over Spain in the semi-finals tonight. Wtf, I think he ate too much.
Now all the German players v scared (Read
here
) . Y scared? hiya dun b la, Dblchin gives u full support. I plan to stay up for the Eggiciting show tonight!!!
I've Nothing against Spaniards, I just feel that Germans play better on the field.
Anyways, that's all the side note.
Now Lets get back on to track.
Talking about beauty, I just did my makeup on my bro.
He look me right in the eye and told me he wanted to change SEX, so asked me to giv him a heads up on makeup.
So I gave him a full transformation...
.
.
.
.
.
.
.
.
Chio not???
NO LA!!!
I'm just purely kidding, Just like how I joked about having Octopus sashimi for dinner!

WEll... Anyways, I did Makeup on my bro for cosfest event!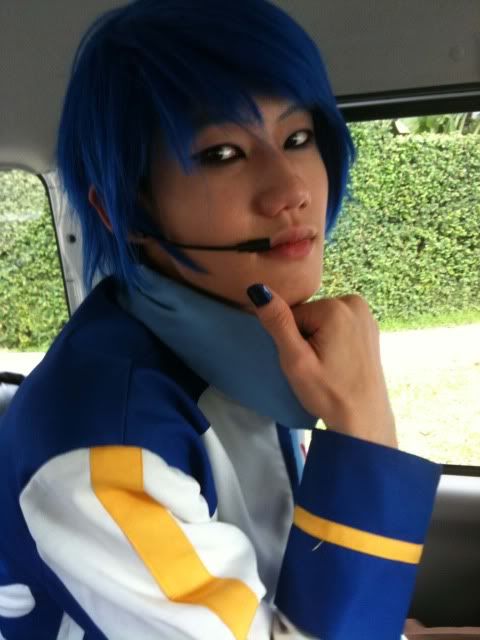 He's suppose to cosplay a character named Kaito from the Japanese anime vocaloid
Here's the character for ur reference
And the mini Figurine!

What do u think???
I have to say, I like my brother's height.

My Bro at the Venue.
pics with one of the fans! HAHA LIKE REAL!

Some Say the makeup looks more like
'L' from Deathnote
Well Whatever it means, is a fun filled day for him!
BTW my mum asked me whether is he trying to b a woman??? HELLO!?
Last but not least, seen Kaito in Glasses yet???