Sponsored
I really love my dblchinis!
Coz u guys are really awesome, always leaving great comments down below.
Yea... talking about below, I just had a revamp on my Downsouth.
N I'm ex-creamly happy!!!
U know the feel of cracking open a
rambutan
n discovered something smooth and tender inside?
I think I better attach an image incase u foreign dblchinis dunno about this local fruit.
Here you go...
WAH SEY! Bushy!
.
.
.
.
.
.
.
.
.
.
.
.
.
Sey...Quite Clean
.
.
.
.
.
.
.
.
.
.
.
.
WAH SEH! VERY VERY CLEAN!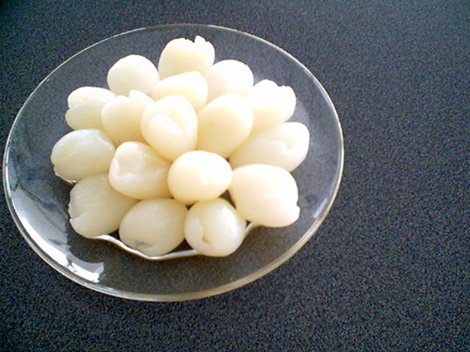 Now u know how clean I'm oredy huh?
And so which heroine that did the deed???
Pink Parlour
"WEEEehuuuuut WEeeeet~!" *blows wolf whistles*
When they invited me to try out their waxing, I'm like OH YES! Y not!
free somemore! *puts on freebie soh costume*
I really like to keep my V jay jay really clean, is like the first in my to do list.
Ok less talk, more images.
Headed down to PINK PARLOUR @ LIANG COURT
||
||
||
||
||
||
||
||
||
||
||
\/
™
Array of products displayed
isn't that uber awesome?
After waxing care.
EVERY pussycat(
no pun intended)
needs grooming.
Whee... something for the bumpy ride!
This thing smooths out the skin to erase the bumps & ingrowns.
Nobody likes ingrowns, they make ur skin pimple-like crazy!
Templates for your desire shape.
It means if u want ur bush to b starstruck, they can leave a star on that platform of yours.
or maybe if u r looking for love, they can die-cut that heart shape out.
For me, ALL TO GO!
customizing is definitely not my style.
Just before the session begins, I got to slip on these furry bathroom slippers
And the PR personnel brought me around that cozy shop of Pink Parlour.
Some awesome displays
An apple a day keeps the doc away.
2 apples a day still keeps the doc away.
These caps are really bling.
Like how I sometimes paint my polishes bling Bling.
Well... Though Waxing is their forte, the do have other pampering stuffs for lasses.
My uber favourite.
MANI & PEDICURES!
I like to do mani & pedi & subconsciously wriggling my toes.
If there are too many 'FOREST' Waiting-in-line,
U just have to wait at the waiting area to wait for your turn.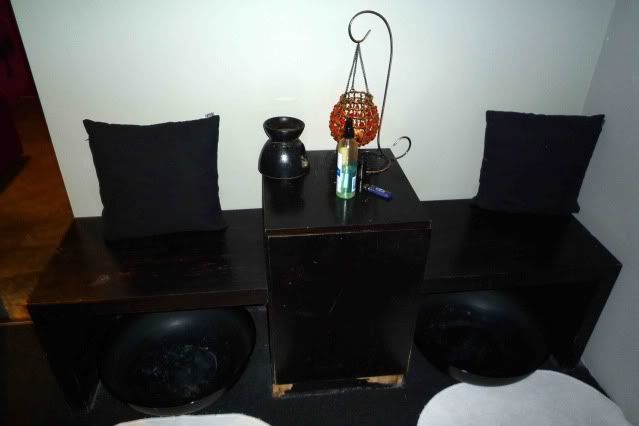 One seat for dblchin & the other for 'u' dblchini.
Before u start waxing, ur pee pee needs to b free from outside odor.
So....
Shower time!
looks like an uber space craft
All onboard ~! weee~
Got to shoot this lovely chandelier.
I like how the warm lighting emits such hue ambience
The Waxes.
Pink. Yummy~
Preparing for my Wax experience at Pink Parlour....
trotting around in my robe
I think I look like one of those villains !
OWED $$$ PAY $$$
Waxing experience is fast and clean but however, pain factor is far more than usual though. Maybe coz I haven't did anything for the past 2 mths thus looking like a cave man down there. So the hair got rooted deeper & making it much more painful than usual BUT is still as tolerable definitely.
This thing magnifies your V JAY JAY
I hereby challenge u to count the total strains of hair!
I love how they care on the hygiene for all customers: using gloves, no double dipping and such.
But one thing special is, they get us to shower before hand, which is definitely a good practice. At the same time, customers like us can bring down our body temperature with a nice shower after a hot and humid day before getting down to the painful ordeal.
Disposable tools for waxing.
NO DOUBLE DIPPING!
YAY to cleanliness~
For those who are interested in trying out their service, do print out the e-coupon below & Quote "dblchin"(double chin) to enjoy this 1 for 1 treat!
Do join their fan page on facebook too!
Pink Parlour Girls' Fan Page
There is no escaping from pain, like seriously, regardless on the level of agony.
But If u wana feel really clean like the rambutan I describe earlier.
Grit your teeth and enjoy the end product.
TOODLES~!
*Though I'm sponsored for this treatment, every word on this blog entry is my own honest thoughts and opinion.