*Sponsored


dblchinis, no I didn't go under the knife
BUT I did something similar under the BUT I did something similar yet minimally invasive under the big umbrella of Plastic Surgery.
DERMAL FILLERS
at
NEUGLOW
*Epic Music with rock and roll beats*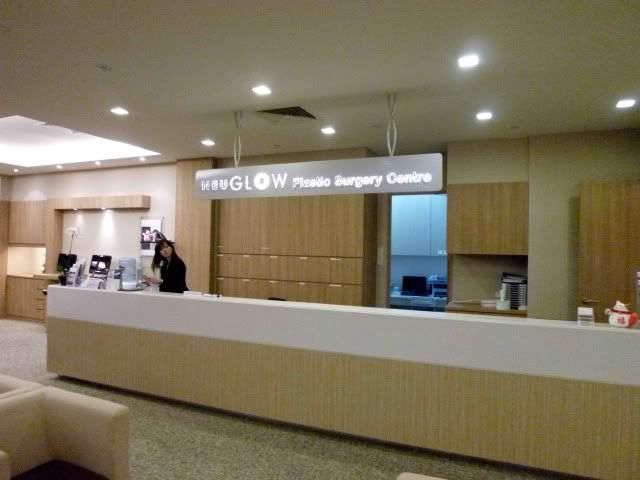 Before I even get to consult the doc, I was feeling rather tense, like the anticipation was killing my braincells.
My left brain was speaking to my right brain to just brave that one or 2 jabs and I'll be chioer for the next few months.
My right brain wasn't convince thus sending jitters signal back to the left one.
and then...
Oh sorry, I didn't explain to you dblchinis about fillers eh, ok here comes:
What are dermal fillers?
They are clear transparent liquid that are used for treatment of lines, wrinkles & folds. You can create certain face shaping contours with fillers.

It works best when you have the hollows in certain areas of your face to restore volume such as cheek and chin.

Sounds too good to be true right? So here comes the sad truth, it will only last for 6 to 18 months MAX.
First I had consultation with Dr Angela Hwee, she is one of the best doctors around, U'll c y later.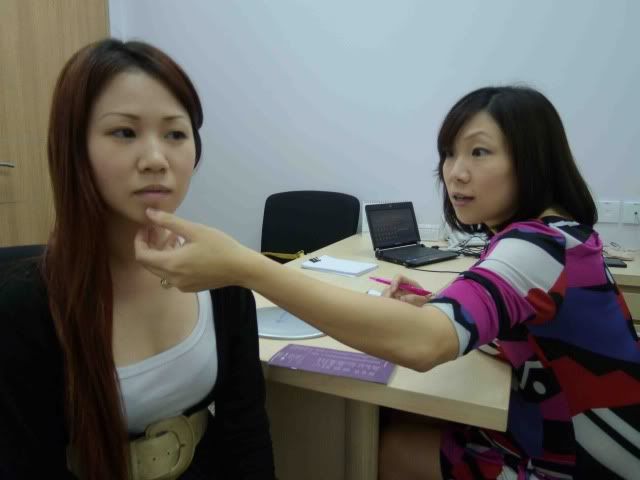 I mentioned to her about my concerning factor of my double chin, she kinda agreed that I have got some fats under my chin thus the non-invasive way to make my chin look less receded and double is to elongate and create a slightly protrude chin.
But don't get my wrong, Fillers doesn't decrease the volume of my double chin, that's for sure. If I really were to go ahead with reducing the fats under my chin, Liposuction is the key.
A lot of pressing and touching involve gently.
I'll not only be getting a longer and more prominent chin but also a higher nose bridge.
After the consultation, Dr Hwee decides to use Revanesse Ultra, a type of fillers made from Hyaluronic acid that last 6-9 months maximum.
Each vial cost $800 and whats good about this is if you are not able to finish up the fillers you can keep it for the next touchup with no additional charge.
Pics of me before the treatment : Front View
Pics of me before the treatment : Right side View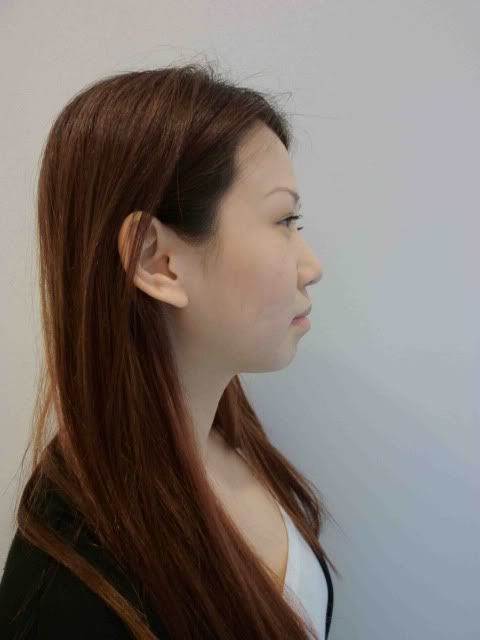 Pics of me before the treatment : Left side View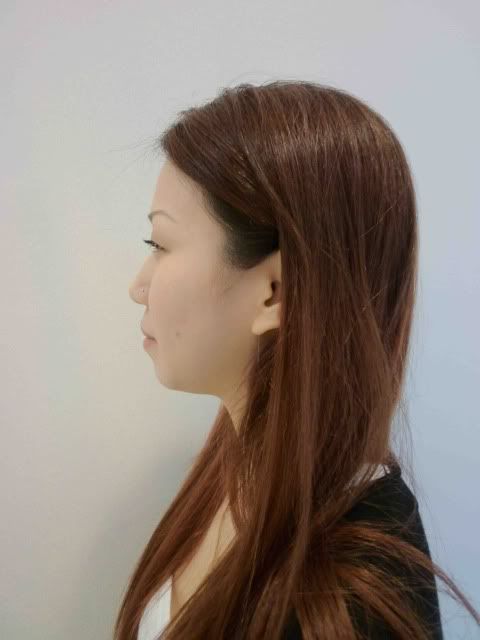 The staff nurse then show me to a room for application of numbing cream.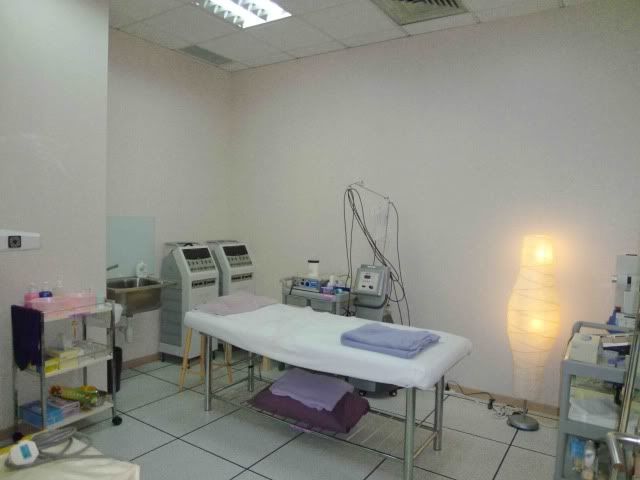 She first needs to cleanse my skin well before numbing.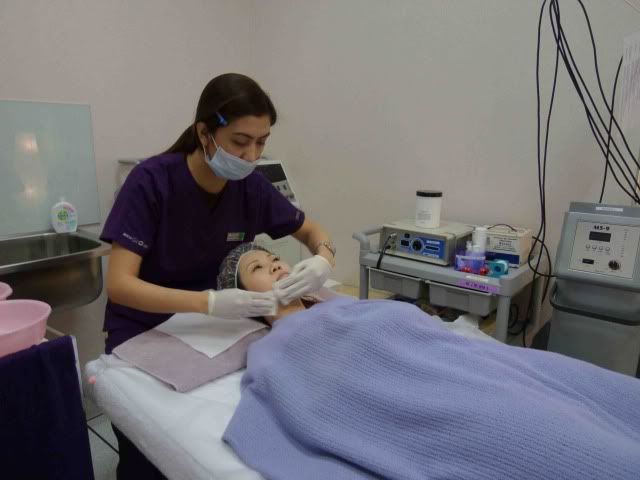 Areas affected needs to be free from makeup, you can choose to remove all your makeup or just areas where fillers are applied.
The staff nurse then cling wrap(15 mins) to further numb the areas.
To be honest, my heart is thumping real quick.
ok now everyone is gonna stare at my breast.
After all that preparation, is time for the real deal.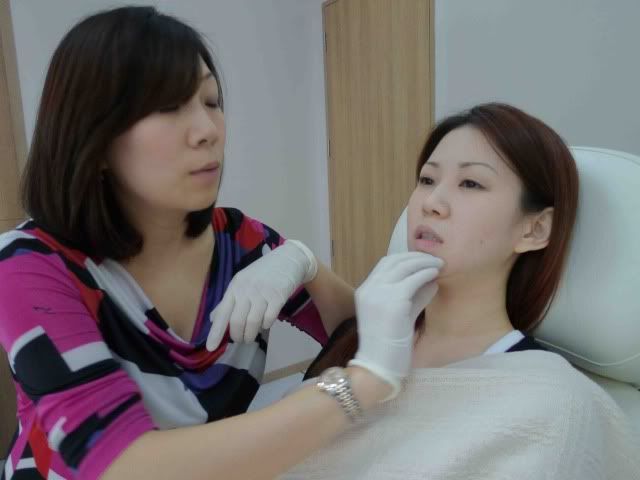 Doctor telling me to relax my chin and be cooperative!
No la shes real nice a just told me to take it easy.
first they Put on the dry ice to furtherer (further already taken up by the numbing cream) numb the area.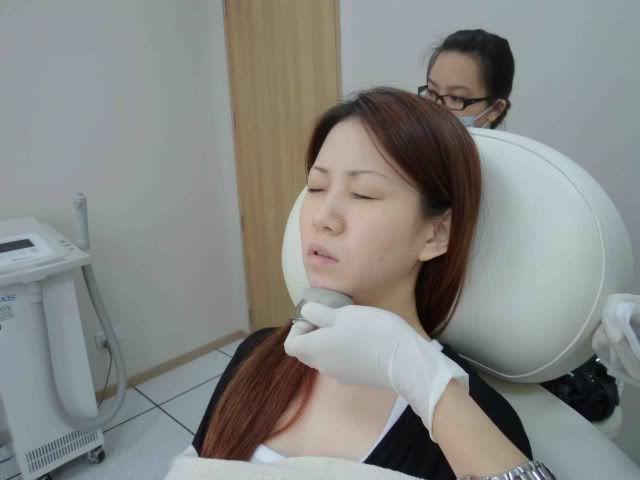 ok Now to Jab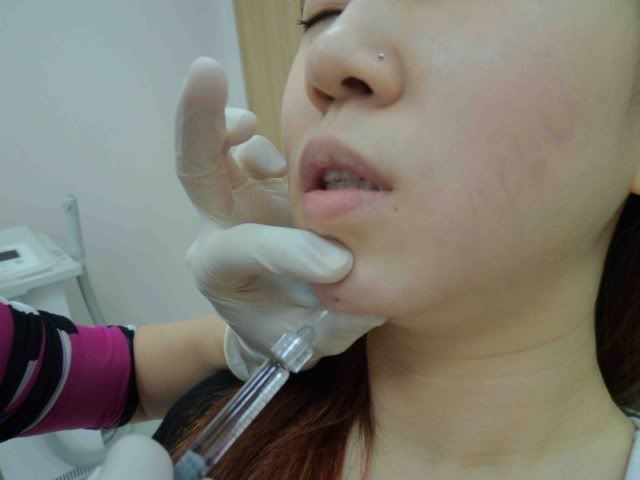 I didn't open my eyes throughout the whole procedure u can see the anxiety from my face.
As I typed I feel pain for myself too.
Actually the tolerance level pain from the jab is still bearable...
Until the molding and pressing starts.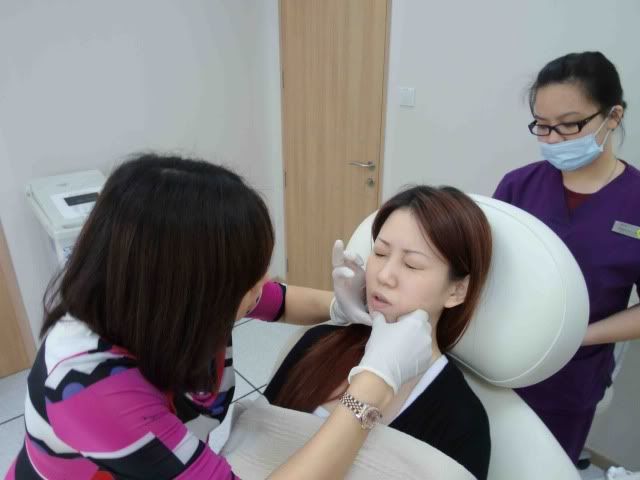 she molds quite a bit before proceeding for another jab.
WHAT?! Another JAB?!
The reason a couple of jabs are needed is because if the doctor pump too much fillers at one time and is too overwhelming for the chin, there is no way she could take it back out...until the hyaluronic acid absorbs into the skin months later.
ok more molding...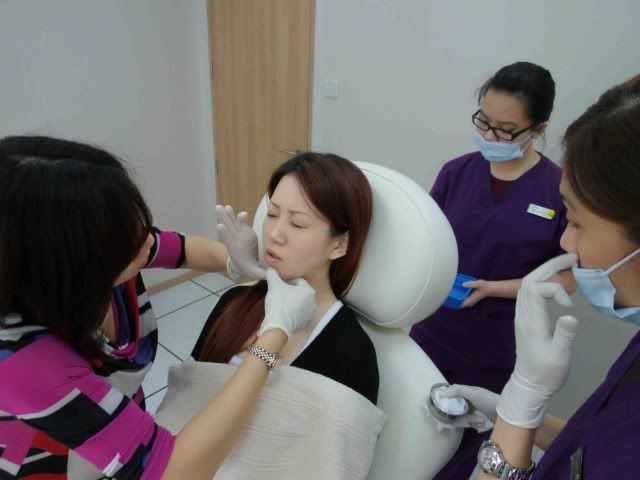 I couldn't take it when the doc molds my chin, wave of nausea swept past and they had to lie me flat before proceeding to raise the chair for the next round.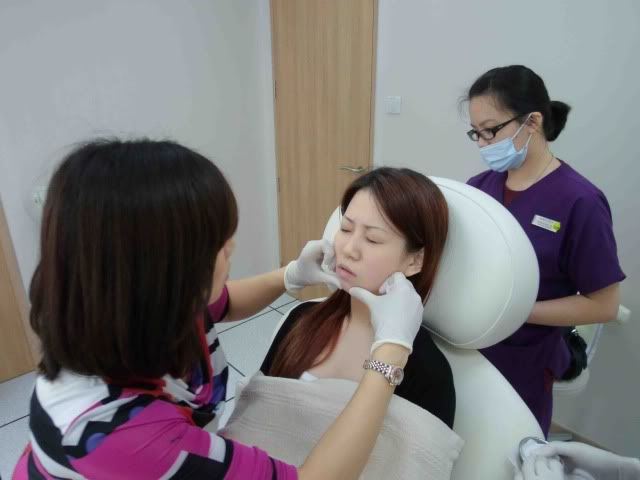 It took around an hour for the entire session, coz I was feeling lightheaded the entire time.
But Doctor Hwee is soo kind and patient.
More jabs!!!!
and molding...
and finally Doctor Hwee hands me the mirror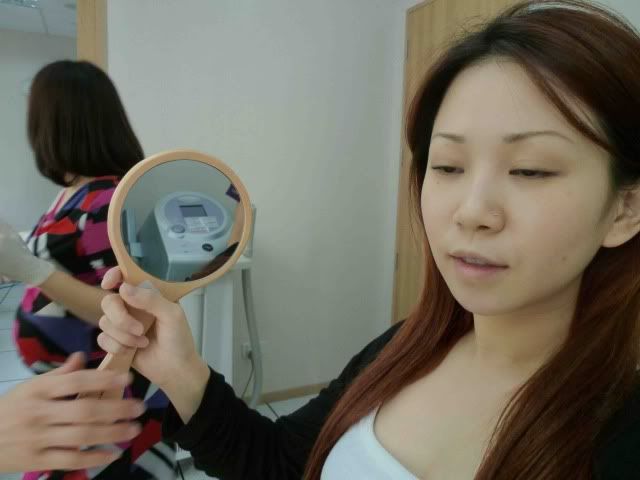 I look like crap but the fact u can seee my chin is sharper is all worth it.
Admiring myself in the mirror.
ok now for the nose.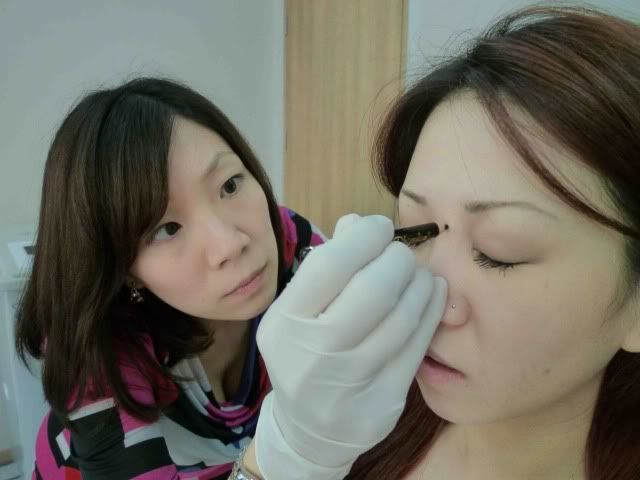 and dry ice...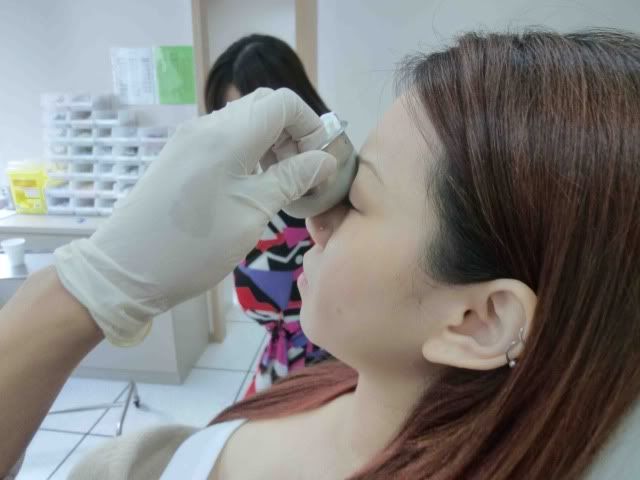 Jabbing begins...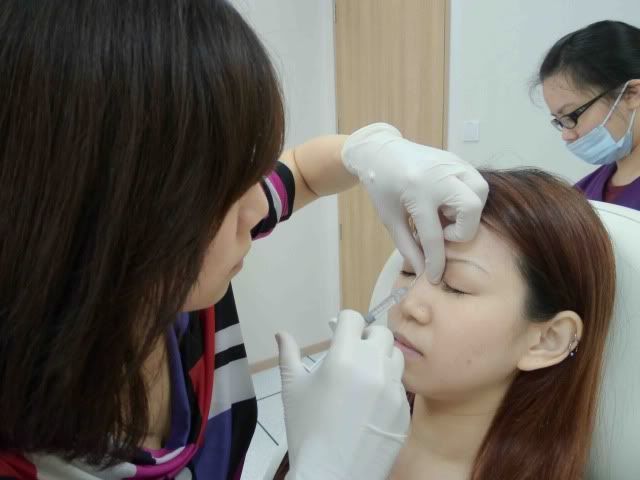 You can only do it with steady hands and Doctor has it all.
I was a little more calm when I had the jab on my nosebridge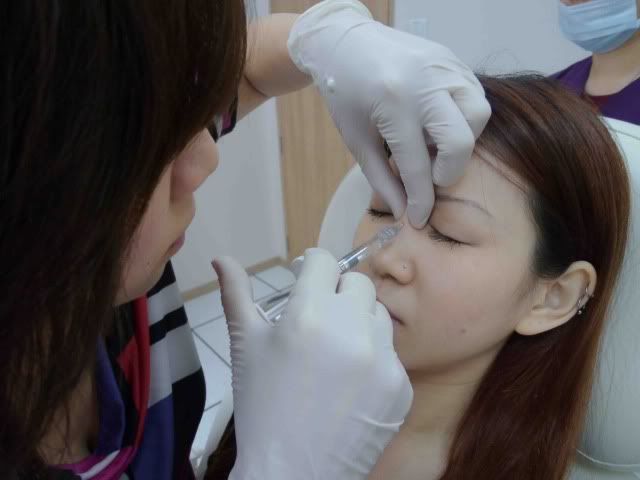 Doctor then proceeds to mold my nose.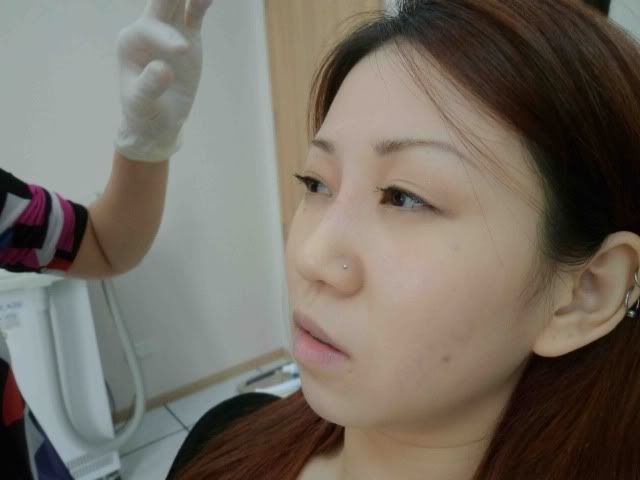 cleaning the area.
I love this pic, it show the dedication in their doctors!
I had to put lie down while she molds my nose, yea wuss but I can't help it.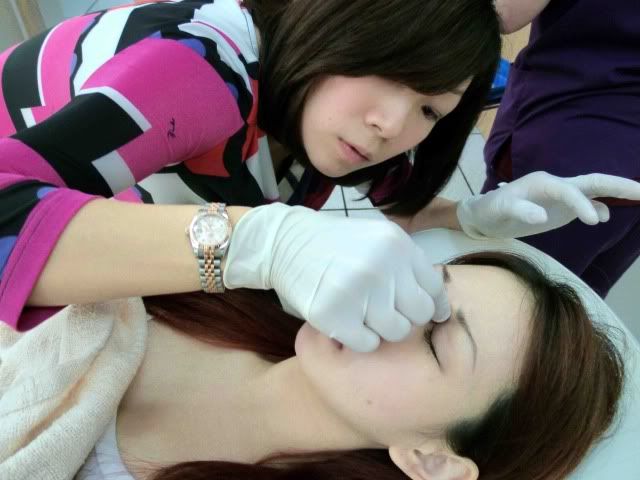 Doc showing me the area that has been raised.
Finally...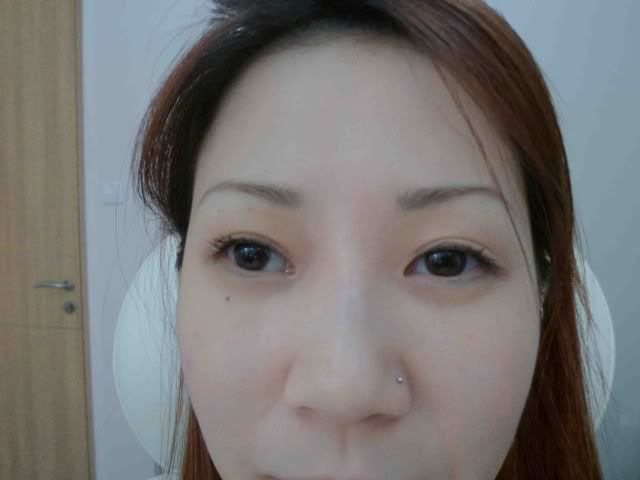 C the before and after!
These pics are snt by Doctor Hwee, thanks Doc~

For my chin


less receded and longer


The changes on my nose is much more significant!


Higher bridge at least.


and the overall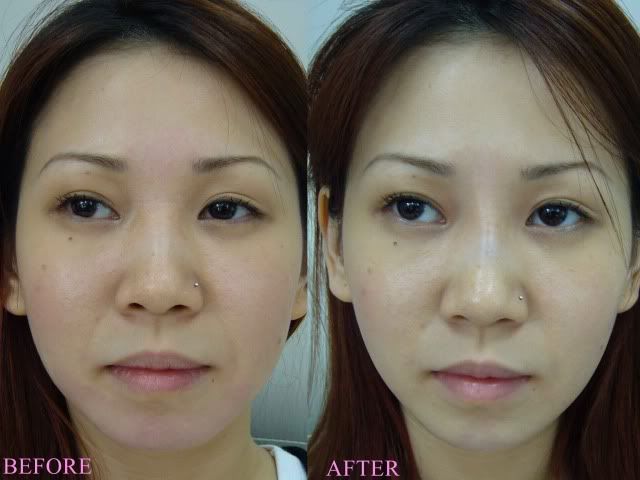 my face looks less flat.
Doctor says fillers are not suppose to change how u look but instead they are to enhance certain points of your face/ desired areas.
I gotta agree with her on that!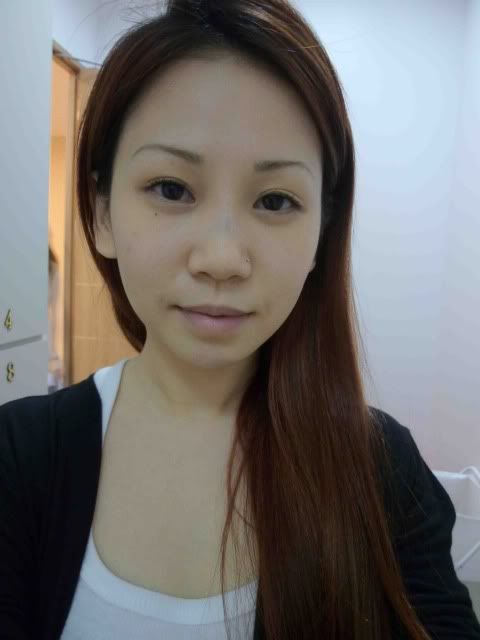 Dos and don'ts after the procedure:
-Keep face relax, don't behave like a grumpy pie.
-Minimum exposure to harmful rays and heat for at least 2 weeks
-try to avoid touching the injected areas
-You may apply makeup/skincare the very next day.
-Avoid pressing the affected areas for 2weeks, u wouldn't want to create an impression on that area.
Do expect bruising as well, I get to see the doc 2 weeks later for a review and I did a touch-up too. (will explain more in my next entry)
few days after the injection of fillers.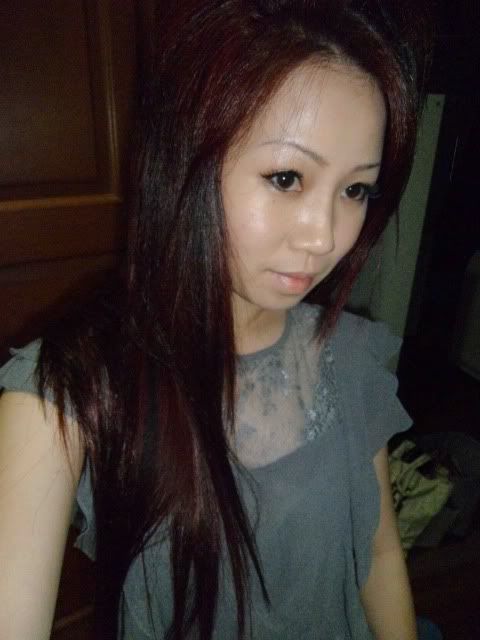 Now I spend less time contouring/shading my nose!
I think because of the raised on my nose bridge, my eyes look more deep set now!
Close up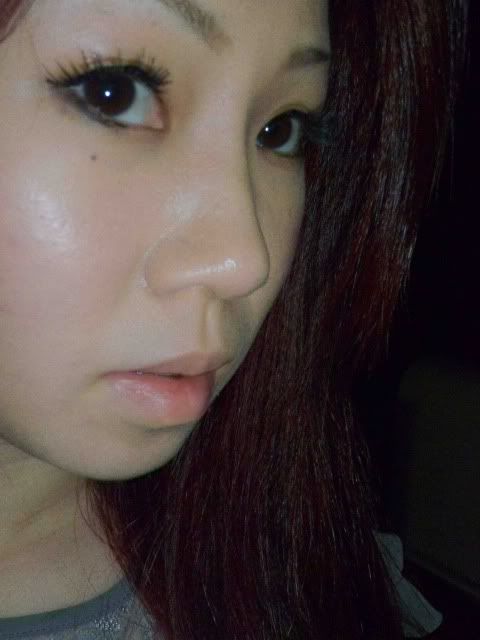 BTW I've 1/2 syringe of fillers left...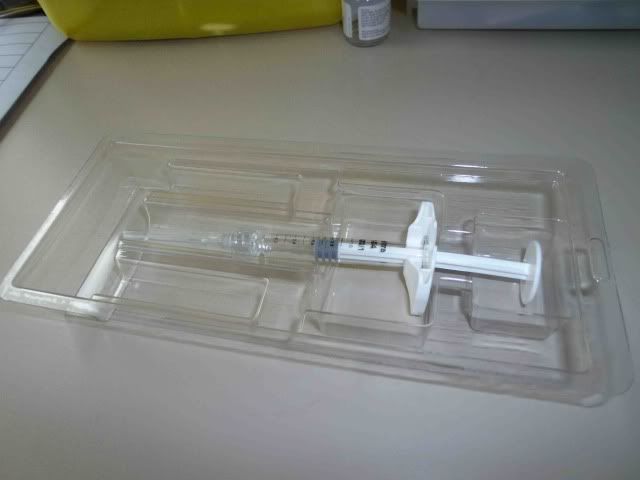 Stay tune for my next post!
* This treatment is fully sponsored by Neuglow, I'm not paid to blog this